Bugatti news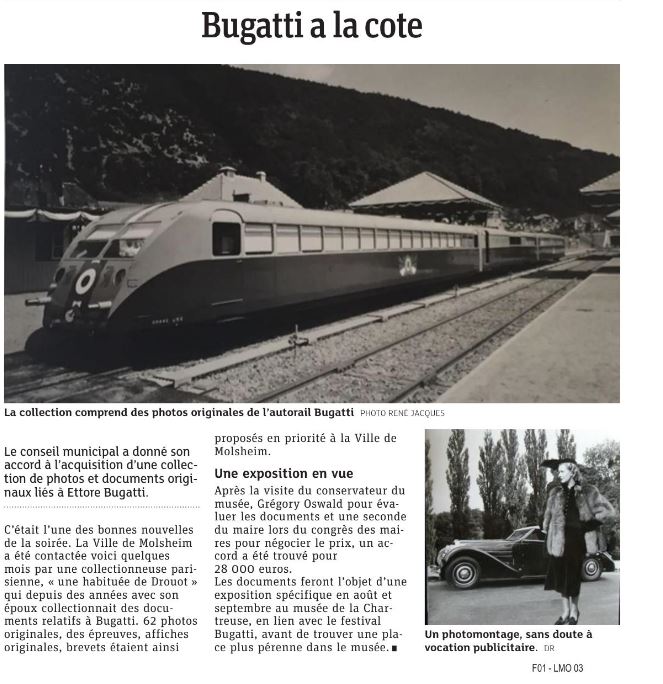 February 18, 2018

Molsheim acquires a collection of Bugatti photographs and documents

The DNA, Dernières Nouvelles d'Alsace, published today that the town of Molsheim was contacted by a collector from Paris, who had during years been collecting together with her husband. The collection comprises original photographs, publicity posters and patent documents.

After consulting with Grégory Oswald, curator of the Musée de la Chartreuse, the collection was bought for 28.000 euro.

The documents will be object of a special exhibition in the Musée de la Chartreuse in August and September, to coincide with the Festival.

Thanks to Guy Schitter
---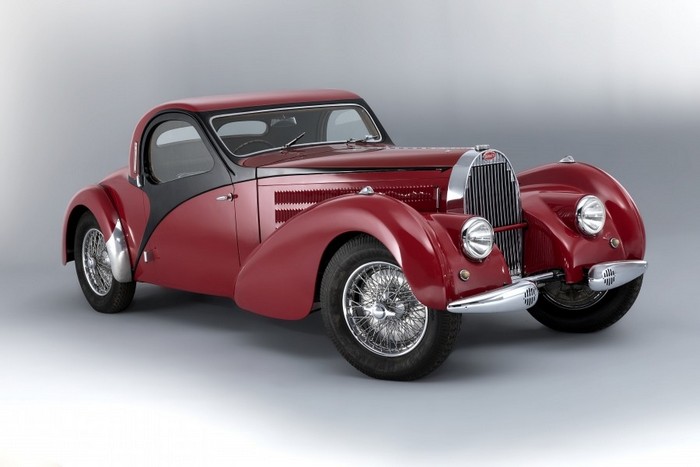 February 10, 2018
Auctions results
February 7, 2018 RM Sotheby's auction, Paris
1925 Bugatti Type 35 Grand Prix, Chassis "4394" Estimate €500.000 - €700.000: Sold for € 387,500
1993 Bugatti EB 110 Super Sport Prototype, Chassis No. ZA9BBU2E0PCD39006, Engine No. 0026, Estimate: €850.000 - €1.100.000: Sold for €1,152,500
2017 Bugatti Chiron, Chassis No. VF9SP3V39HM795042, Engine No. DAL001/022, Estimate: €3.200.000 - €3.600.000: Sold for €3,323,750
RM Sotheby's enjoyed a fantastic night at its fifth annual Paris sale, 7 February, bringing in a sale total of €23,745,225 with 83 percent of the 84 lots successfully sold. Demonstrating continued interest in low-production modern-era hypercars, the 2017 Bugatti Chiron was the night's top seller, achieving an incredible €3,323,750, while a 2005 Maserati MC12, one of just 50 ever built, took second billing at a final €2,001,875. Proving that blue-chip post-war classics also remain very much in demand, the beautiful and remarkably original 1958 BMW 507 Roadster Series II rounded out the top three, realizing €1,776,875.

Only 500 Bugatti Chirons are slated for production and worldwide delivery, so its position as a prized collector car will undoubtedly forever be cemented. Launched at the Geneva Motor Show in 2016, the Chiron is capable of an electronically limited top speed of 420 km/h, thrust by no less than 1,500 bhp. The car sold by RM Sotheby's in Paris had less than 1,000 km on the clock and was presented in beautiful Atlantic Blue over French Racing Blue and a brown leather interior. A lucky new owner took this ultimate hypercar home at a final €3,323,750, a world-record price for a Chiron offered at public auction.

An earlier supercar from the famed French marque, a 1993 Bugatti EB110 SS Prototype, attracted numerous bidders in Paris, selling for a final €1,152,500 to set a new record for the model at auction. Ultra-rare, sporting unique factory modifications and a mere 3,300 km from new, the SS is unquestionably one of the most significant of the 36 examples produced.

February 8, 2018, Bonhams, Les Grandes Marques du Monde au Grand Palais, Paris
1928 Bugatti Type 40, Chassis no. 40717 Engine no. 710, Estimate €300,000 - 400,000: Sold for €529,000
1935 Bugatti Type 57 Tourist Trophy Torpedo, Chassis 57264, Estimate €780,000 - 1,300,000: Sold for €713,000
1937 Bugatti Type 57 Pillarless Sports Coupe by Graber, Chassis no. 57443, Estimate €280,000 - 340,000: Sold for € 293,250
February 9, 2018 Artcurial Auction, Paris
1938 Bugatti 57C Atalante Coupé, Chassis 57624, Engine 448, Estimate: 3 M€ – 3,5 M€: Sold for 2,5 M€ + Auction costs
I was present at this auction, rather flat bidding, went to 2 million in a few seconds, then went steadily to 2.5 and stopped.
1936 Bugatti Type 57 Galibier, Chassis 57291, Engine 124, Estimate €120,000 - 180,000: Sold for €210,000 + Auction costs
Bugatti Type 57 Cabriolet Vanvooren, Vanvooren body n° 2940, Engine n° 546, Estimat €650,000 - €950,000: Sold for €550,000 + Auction costs
1926 Bugatti Type 40 Grand Sport, Chassis 40131, Engine 31, Estimate: €200,000 - 260,000: Sold for €180,000 + Auction costs
Unless stated otherwise, prices are including auction costs
---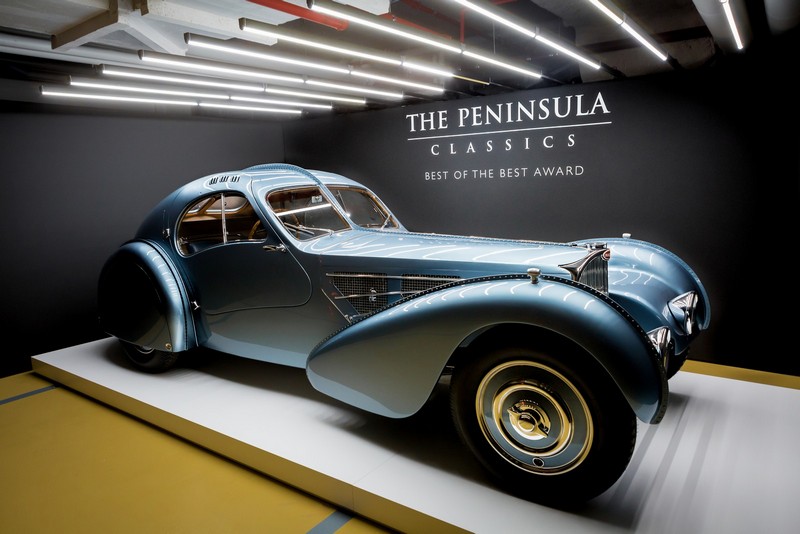 February 10, 2018
1936 Bugatti Type 57SC Coupé Atlantic Wins Third Annual The Peninsula Classics Best of the Best Award
PARIS-February 8-A rare and beautiful 1936 Bugatti Type 57SC Atlantic was named the winner of the prestigious The Peninsula Classics Best of the Best Award today at The Peninsula Paris hotel.
Now in its third year, The Peninsula Classics Best of the Best Award brought together eight of the world's finest classic cars—the best of show winners from the top international concours—to compete for the title of the most exceptional motor car in the world. The Bugatti is co-owned by the Mullin Automotive Museum, and Rob and Melani Walton, located in California, USA, and was named "Best of Show Concours d'Etat" at the 2017 Chantilly Arts & Elegance.
Speaking of the award's legacy, The Hon. Sir Michael Kadoorie, Chairman of The Hongkong and Shanghai Hotels, Limited and co-founder of the award said, "My great hope is that we not only succeed in thrilling long-term car enthusiasts, but that this award will also ignite a new-found passion for those just discovering the world of motoring."
Powered by a supercharged engine and considered by many to be the first supercar ever made, the winning Bugatti is one of four Type 57 Atlantic models ever produced, with only three in the world remaining. The vehicle was designed at the height of the art deco movement by Jean Bugatti, Ettore Bugatti's son. Jean based the car on his other design, the 1935 Aérolithe concept car, which was famously riveted externally, for fear of the magnesium-alloy body parts catching fire. Jean kept this signature riveted seam on the all-aluminium body of the Atlantic. "The Bugatti Type 57SC Atlantic is the crown jewel of the automotive circuit," said Bugatti Head of Tradition Julius Kruta. "This car was Jean Bugatti's masterpiece with its beautiful and breath-taking lines, plus its unmatched performance for the time. Today, it remains the ultimate expression of the Bugatti legacy: unparalleled power and beautiful design."
This model, chassis number 57374, was the first Type 57 Atlantic produced and is the only surviving "Aéro Coupé," a designation given to the first two cars that were mechanically very similar to the Aérolithe. The car was delivered new in 1936 to Britain's Nathaniel Mayer Victor Rothschild, third Baron Rothschild, and has since passed through few owners in its 82-year history. The car has been displayed internationally, and most recently, was on display at the Los Angeles-based Petersen Automotive Museum for the "Art of Bugatti" exhibit.
"The Atlantic represents the pinnacle of everything I adore about French automotive styling and is widely described as the Mona Lisa of the automobile collector world," said Peter Mullin, Founder and CEO of the Mullin Automotive Museum. "From its signature curves to its aviation-inspired rivets, to the Jean Bugatti designed sleek all-aluminium body, the car is truly a remarkable piece of art. I'm very honoured to have shared it with the world amongst other worthy 'Best of the Best' contenders."
"I second Peter's thoughts – the other seven nominees were simply stunning, which makes winning the award feel even more special," said Rob Walton, co-owner of the winning car. "What this award does is allow us to take a step back and admire the quality and beauty of the greatest classic cars in existence today. For an automotive fan like myself, it's a joy."
The founders of The Peninsula Classics Best of the Best Award are each known as some of the world's foremost motoring experts, and were brought together by their shared passion for fine motor vehicles, impeccable restorations, as well as the preservation of tradition and heritage.
The Hon. Sir Michael Kadoorie, together with award co-founders Christian Philippsen, William E. "Chip" Connor and Bruce Meyer, created the award. The gentleman each cite a passion for automotive excellence as the inspiration behind the creation of The Peninsula Classics Best of the Best Award.
According to Bruce Meyer, "For the third year, the ultimate standard for judging The Peninsula Classics Best of the Best Award was that of uncompromised quality and design. Of course, this made the selection process most challenging for the esteemed group of panellists." He continued: "In the end, the 1936 Bugatti Type 57 SC Coupé Atlantic emerged victorious, with its exceptional, bespoke design making it a marvellous combination of art and technology."
Previously presented during Monterey Car Week, the award moved to Paris this year to be presented during the world-famous Rétromobile event. The Bugatti was presented at an exclusive reveal party in The Peninsula Paris' subterranean garage, following a private dinner.
The winning vehicle was selected after being reviewed by 24 automotive experts, designers and notable celebrities within the motoring world. Learn more about each judge, in addition to the seven other nominees by clicking here.
The Peninsula Hotels, owned and operated by The Hongkong and Shanghai Hotels, Limited, is proud to sponsor The Peninsula Classics Best of the Best Award, a natural extension of the group's passion and appreciation for luxury, travel and the motoring lifestyle. With 10 hotels in global gateway cities throughout Asia, USA and Europe, The Peninsula Hotels celebrates glamour in travel, and aims to showcase the ultimate in sophistication, innovation and design. Known for its timelessly elegant hotels, discreet integration of technology and functionality, and extensive fleet of luxury transport, the group aims to bring its heritage and expertise to celebrate the very best in the world of motoring.
---
February 5, 2018

Famous Dutch Bugattiste Pim Faber passed away at age 92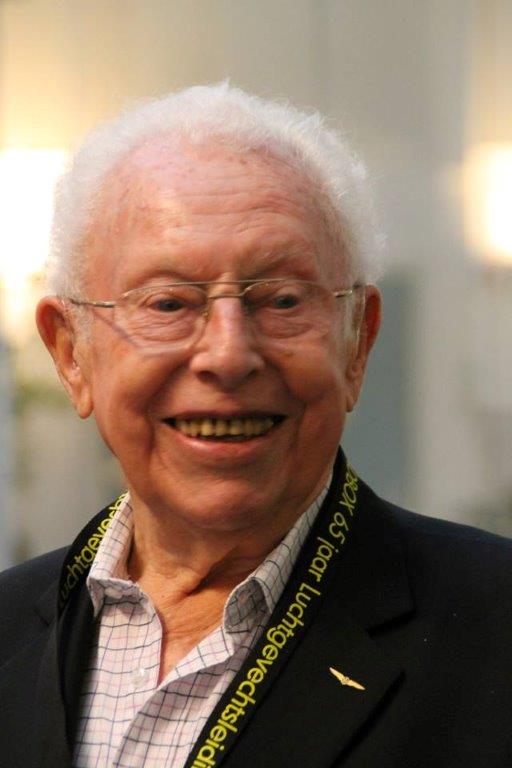 Willem George Adolphe (Pim) Faber passed away on January 30, 2018, at the age of 92, the funeral was today, February 5 in his home-town Ermelo in the Netherlands. Pim was the first non-owner to become a member of the Dutch Bugatti Club BCN, an avid collector of models and books, and of course an enthusiast of the Bugatti 100P airplane. His role in the club was making the famous BCN Newsletter with the blue cover or "Journaal", which he did for decades.

I must have known him for over 20 years, and I probably last met him at the BCN spring rally in 2016. A kind man, open to talk to anyone, and often about his days in the military in the Dutch Indies, see: www.veteranennw-veluwe.nl. Also I used to meet him at a model car swap-meet, where he was not very actively selling his last Bugatti miniatures, he was much more there to talk to everybody (I don't remember buying anything from him, though I may be wrong. He did present me once with a tiny piece of fabric from the covering of the Bugatti 100P). A remarkable man indeed.

I wish for his wife Wil and the children a lot of strength in these difficult days.

I had not known about this, if it had not been for fellow Bugattiste Ken Kessler, who wrote the following memories of Pim:

Remembering Pim Faber 1925-2018

It is difficult writing about a friend whom I never met in person, but over 30 years, Pim Faber and I got to know each other through letters, and then e-mails. He was one of the most enthusiastic Bugattistes I met during the 50 years that I have been a devotee of the marque.

We connected through other collectors, the common thread being Bugatti models. I'm not sure how we found each other, but back in the 1980s, it wasn't a simple case of a Google search. Over the decades, Pim proved to be an invaluable source of Bugatti news. In return, thanks to my work as a journalist, I was able to supply him with information that came to me via the Bugatti press office, while living in the UK meant that he had a contact who could keep an eye out for British magazines, models and other Bugatti-related items.

Because Pim was, initially, a completist, I would always look for the fun, but hard-to-find models, the notions and toys and novelties that one acquired by luck, as in Kinder Eggs. Pim returned the favour with continental-sourced models and we exchanged numerous tiny Bugattis over the years. The most enjoyable aspect of this was that money was never mentioned. We simply liked helping each other.

I recall Pim selling off much of his collection, but he maintained focus on the modern Bugattis, notably the Type 110/112 and VW's Bugattis. I was always finding weird toys (it would be too much to call them scale models!) of Veyrons in the local Poundland. But where I was really able to help Pim was in his pursuit of models of the British railway locomotives that Ettore Bugatti had a hand in designing, such as the Mallard. As a friend worked at Hornby/Meccano, I never had a problem addressing Pim's other model collecting interest - certain military models, e.g. Bren gun carriers.

Pim's emails always included fascinating glimpses of his military past, and in the last few years, we discovered our mutual love of wine - Pim's qualifications being far in excess of mine. My two regrets, then, are that we never met in person, and that I never had a chance to let him loose in my wine cellar.

I suspect that at this moment, in another plane, Pim is deep in conversation with Ettore Bugatti, Jean Bugatti, René Dreyfus, "Williams" and all of the other characters who informed his passion. As Pim signed every card and letter and e-mail, I am sure that his parting remark to all of us would be, "Vive la marque!"

Ken Kessler
---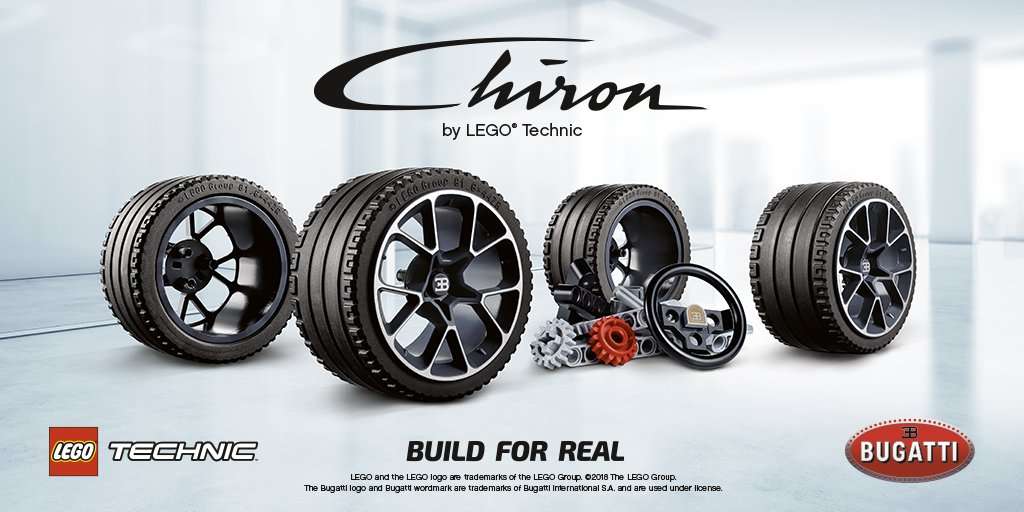 February 1, 2018

Bugatti and Lego are partnering to present a Lego Technic Bugatti Chiron

Where before we presented a 1:4 scale model of the Bugatti Chiron 16 cylinder Engine by Amalgam, this is different. Remember your young days when you made your cars out of Lego bricks? And many a time only did so to then crash this one into another? I remember from long ago building wind propelled Lego Technic vehicles that we ran on the (reasonably quiet) street in front of our house. Fun!

However, this one is rather different:
Bugatti confirmed via Twitter on Tuesday that there's a Chiron Lego Technic set coming. The 45-second teaser video shows one of Lego's designers building the set at Lego's headquarters in Billund, Denmark, next to an actual Chiron. The clip doesn't actually show the finished set, but after the Porsche 911 GT3 RS set that Technic put out last year, we have every bit of confidence that Bugatti's offering is going to be awesome.

According to The Brick Fan, the set will hit stores in August and cost 369 euros ($458), however, U.S. pricing is not confirmed. It will supposedly have 3,599 pieces.
---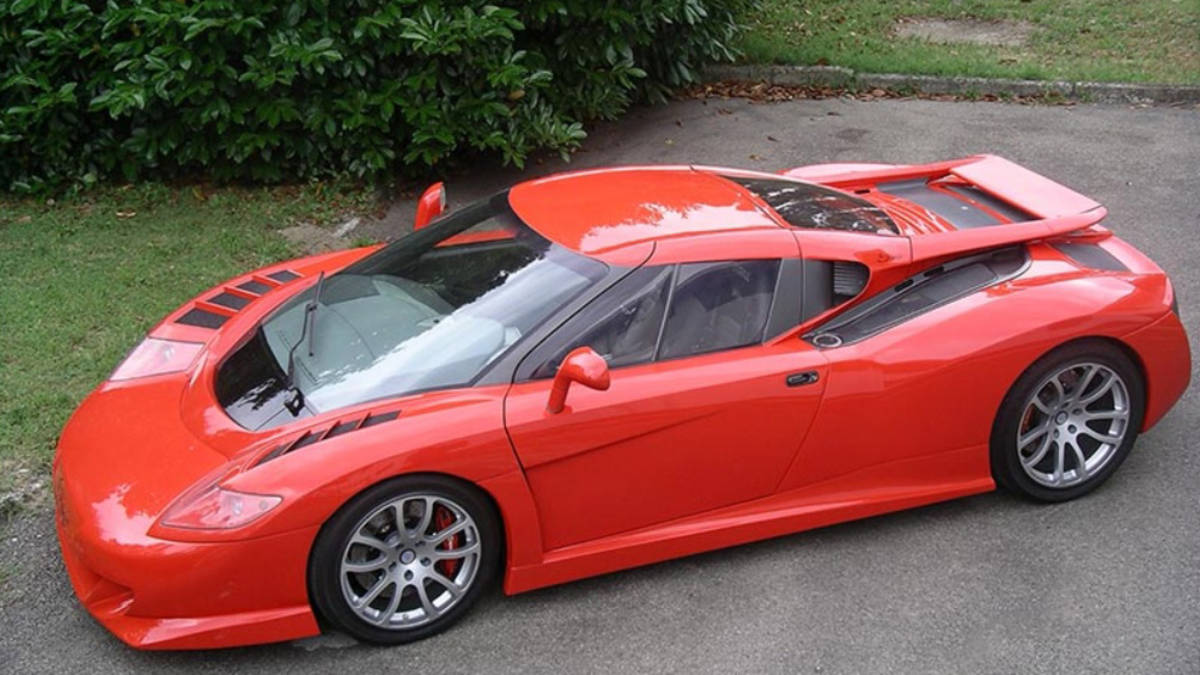 January 27, 2018

Bugatti EB110-based Edonis is finally almost in production

3.8-liter V12-engined supercar to use leftover Bugatti EB110 components

The Bugatti EB110 is coming back, but not in the way you think. An American outfit called Casil Motors has partnered with Modena-based B Engineering, which services EB110s to this day, to produce "the ultimate analog supercar" based on Bugatti-produced EB110 chassis and powered by a 720-hp 3.8-liter V12.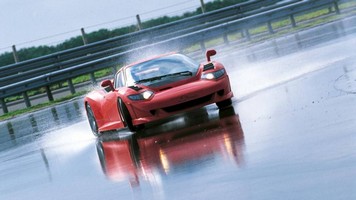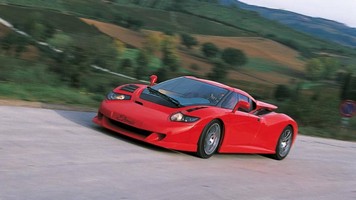 The basis of this effort will be the original EB110's carbon-fiber monocoque chassis, a number of which were purchased from Bugatti when EB110 production ground to a halt. Casil and B Engineering plan to clothe the car with a newer exterior but otherwise stick close to the specs of the now-old Bugatti, featuring a number of updates throughout. The overall promise of the project is to offer an EB110 experience to those who missed out the first time around, with a few updates here and there.
If this project sounds familiar, it's because B Engineering tried this once before: The company envisioned a run of 21 supercars called the Edonis based on leftover EB110 hardware years ago, but the project stalled early on. Casil Motors and B Engineering are now back with plans (and money) to finally put those leftover EB110 parts to use, offering buyers a choice of two exterior designs and plenty of interior customization.
The stated performance specs -- perhaps the main draw here -- are 3.4-second sprints from 0-60 mph and top speeds of 220 mph, accomplished with technology that's mostly 25 years old. Instead of all-wheel drive, the Edonis will be rear-wheel drive, so the driving experience won't all be apples to apples.
If you're in the market for something that is mostly an EB110 underneath and packs a 3.8-liter V12, the price of entry this time around will be about $850,000. Casil Motors and B Engineering plan to produce just 15 examples of the Edonis.
Actual EB110s, in case you're wondering, trade hands for around $600,000, up from about $300,000 a decade ago. We think we know which car would have a better investment potential, but there's also the draw of being able to hoon a V12 supercar without worrying about its investment potential.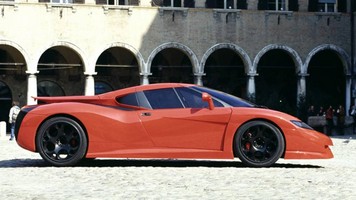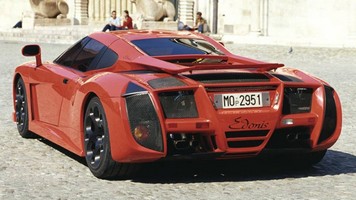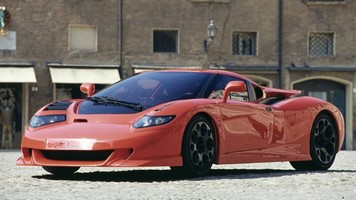 ---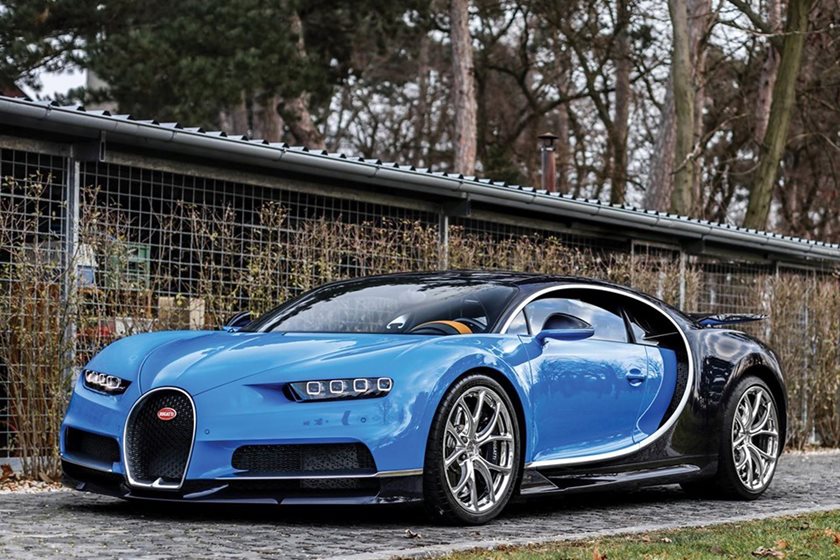 January 27, 2018

Why Are So Many People Trying To Sell Their Bugatti Chirons?

Because they can flip it for a huge profit, of course.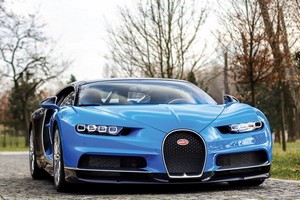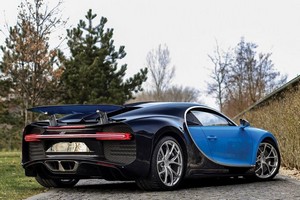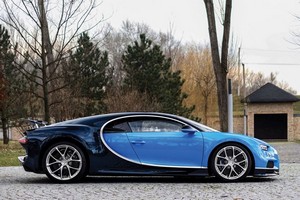 Ordering a new Bugatti has to be one of the most gratifying experiences in the world. The new Chiron is a pinnacle of engineering achievement and the ultimate symbol of status and class. For around $2.5 to $3 million dollars you'd expect the Chiron to be special and it most certainly is. Ordering a new Chiron must be nice, but we imagine that taking delivery would be one of the greatest moments that it is possible to have in life. The Chiron is one of the fastest cars in the world, thanks to an 8.0-liter quad-turbo W16 with a massive 1,500 hp.

If we were to take delivery of a Chiron, we couldn't wait to get behind the wheel and take it for a spin. But if the Chiron experience is as good as we've made it out to be, why are there currently so many used examples on the market? Perhaps it's merely our plebeian point of view, but if we bought a Chiron we'd would go out in a fevered frenzy to get the most enjoyment out of our purchase. Chiron owners seem to have a very different point of view because many examples, including some of the first ones to be shipped to the US, are already crossing auction blocks on their way to their second owner.

There are only a few reasons that we could come up with as to why owners would want to part ways with such a beautifully crafted and expensive object like the Chiron. We struggle to even call it a car because with an optioned price of well over $3 million, the Chiron is so much more than a vehicle for transportation. The first reason might be that (for some odd reason) the owner did not care for the Chiron experience. Even though we have been swooning over the Chiron and its unbelievable engineering, a Bugatti customer is used to multi-million dollar yachts and private planes. So perhaps the Chiron just didn't live up to their lofty expectations.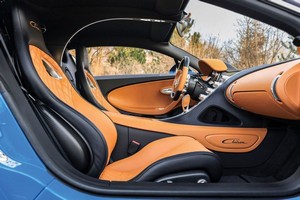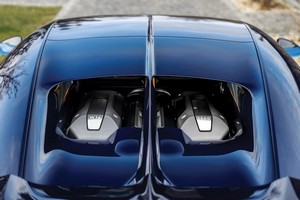 We offered this as our first alternative, but we firmly believe that the real reason why so many Chirons have come up for sale is because their owners only wanted to make a profit. We found at least six Chirons listed on James Edition and an additional Chiron listed on the DuPont Registry. Of the roughly seven Chiron examples that we found, only two are listed with prices. One of the cars is a two-tone blue model in Germany that has a listing price of $3,833,150. The other is being sold in Los Angeles with a list price of $4,350,000. The Chiron can vary greatly in price depending on options, but the original owners of these cars are looking at anywhere from $800,000 to $1.3 million in profit just from buying a car.
It may not sound like this is a big trend, considering that we only found seven cars for sale, but remember that only 500 Chirons will be built in total and that only 70 will be built per year. That means that one in every 10 Chiron built this year is already for sale. There are a lot of people out there who defend car flippers like this. They tend to use arguments that owners are only doing what makes financial sense and that our stance on the issue was only formed out of jealousy. Obviously, we'd love to be afforded the privilege of making a small fortune just from buying and selling a car, but it isn't the reason why we love cars in the first place.
While we commend collectors for buying classic cars and preserving them like they would works of art, we are firm believers that new cars should be driven. The fact that many of the Chirons are up for sale with anywhere from 15 to 300 miles on the odometer means that the owner didn't even get to enjoy the car before selling it. Cars, especially ones like the Chiron, can certainly be considered art, but the thing that makes cars so much more exciting is the fact that they can be expressed in living motion and thrill us in ways that staring at a painting or sculpture can't do. The sound and feel of a car is part of what makes it special.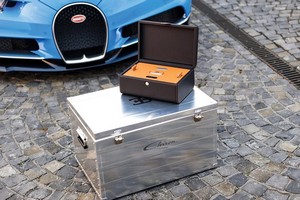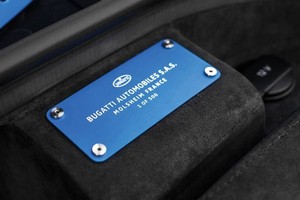 Buying a car like the Chiron only to sell it before driving it a single mile is a bit like buying a beautiful painting and selling it before even laying eyes on it. Our opinion may be a controversial one, but we think that flipping a car so quickly is a great way to dilute the hobby. It is fantastic for the wealthy owners that are given the opportunity to buy them, but it keeps raising the prices even further so that regular car enthusiasts will never be able to afford them. It isn't wrong to flip new cars like the Chiron to make a profit. In fact, given the chance we'd love to make such an enormous profit just from selling a car. It just isn't why we became car enthusiasts in the first place.
From Carbuzz.com
---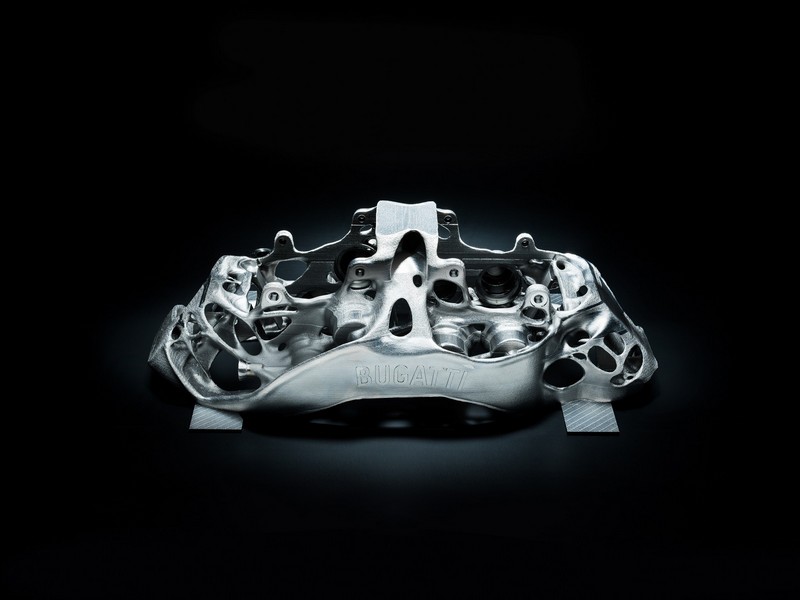 January 27, 2018

Bugatti develops world's largest titanium functional component produced by additive manufacturing
New eight-piston monobloc brake caliper is the world's first brake caliper to be produced by 3-D printer
Also largest brake caliper in the automotive industry as a whole
Bugatti is the first series manufacturer to use titanium, a material calling for extremely complex and challenging processing
Worldwide innovation is the result of cooperation between the Bugatti Development Department and Laser Zentrum Nord in Hamburg
French super sports car brand reaches new milestone in development of 3-D printing as a future-oriented technology
As the technical development laboratory of the Volkswagen Group, Bugatti leads the way in 3-D printing and is a worldwide innovation driver
3-D printed components to be trialled for series production this year
Experience gained to be used in research and development projects of the Volkswagen Group and its brands
Molsheim / Wolfsburg, 22 January 2018.
With its Veyron and Chiron super sports cars, Bugatti has established a position as a pioneer for new technical developments and innovations in the extreme performance sector of the automotive industry over the past few decades and has set breathtaking performance data and records. Now the Development Department of the French luxury brand has achieved a new coup. For the first time, the Bugatti developers have succeeded in designing a brake caliper that can be produced by 3-D printing. But that is by no means all. While the main material used for the additive production of vehicle components to date has been aluminium, the new brake caliper is made from titanium. This is therefore the world's largest functional component produced from titanium using 3-D printing processes. This new milestone in the development of 3-D printing was reached in cooperation with Laser Zentrum Nord of Hamburg, an institute that has formed part of the Fraunhofer research organization since the beginning of the year. With this world debut, Bugatti has underlined its lighthouse function for 3-D printing within the Volkswagen Group and its role as an innovation driver in the international automotive industry. Vehicle trials for the use of the 3-D titanium brake caliper in series production are to start in the first half of the year.
"Vehicle development is a never-ending process. This is particularly true at Bugatti," says Frank Götzke, Head of New Technologies in the Technical Development Department of Bugatti Automobiles S.A.S. "In our continuing development efforts, we are always considering how new materials and processes can be used to make our current model even better and how future vehicles of our brand could be designed."
"As our performance data are often at the physical limits, we are especially demanding," adds the 48-year-old machine tool and production technician, who holds a degree in engineering. "This is why Bugatti always goes at least one step further than other manufacturers in the development of technical solutions."
Götzke has worked for the Volkswagen group for more than 22 years. He joined Bugatti in 2001 and played a key role in the development of the Veyron as Head of Chassis Development and in the development of the Chiron1 in his current position.
Bugatti currently uses the most powerful brakes in the world on the new Chiron. The brake calipers were an entirely new development. They are forged from a block of high-strength aluminium alloy. With eight titanium pistons on each of the front calipers and six on each of the rear units, these are also the largest brake calipers currently installed on a production vehicle. The brake calipers of the Chiron are produced using bionic principles on the basis of a natural model. The new architecture combines minimum weight with maximum stiffness. The inspiration for the design and mode of operation of the brakes was taken from motorsports. P> With the newly developed titanium brake caliper from the 3-D printer, Bugatti is now going one step further and breaking new ground. This particular titanium alloy, with the scientific designation of Ti6AI4V, is mainly used in the aerospace industry, for example for highly stressed undercarriage and wing components or in aircraft and rocket engines. The material offers considerably higher performance than aluminium. For example, even as a 3-D printed component, it has a tensile strength of 1,250 N/mm2. This means that a force of slightly more than 125 kg be applied to a square millimetre of this titanium alloy without the material rupturing. The new titanium brake caliper, which is 41 cm long, 21 cm wide and 13.6 cm high, weighs only 2.9 kg. In comparison with the aluminium component currently used, which weighs 4.9 kg, Bugatti could therefore reduce the weight of the brake caliper by about 40% at the same time as ensuring even higher strength by using the new part.
To date, this approach was not feasible because it is extremely difficult or even impossible to mill or forge components from a titanium block as is normal practice with aluminium due to the extremely high strength of the material. This problem has now been solved using an extremely high-performance 3-D printer, which also opens up the possibility of generating even more complex structures which are significantly stiffer and stronger than would be possible with any conventional production process. Frank Götzke found the selective laser melting units required in Hamburg, at Laser Zentrum Nord.
"Laser Zentrum Nord is one of many scientific institutes with which we have developed very good cooperation over the years," Götzke explains. "Thanks to the large number of projects completed, mainly for the aviation industry, the institute has comprehensive know-how especially in the field of titanium processing and offers mature technology." Over the past few years, the Hamburg production scientists have received a large number of highly regarded national and international innovation awards for their work in industry.
"Cooperation with Bugatti is a key lighthouse project for us," says Prof. Dr.-Ing. Claus Emmelmann. Prof. Emmelmann was formerly Managing Director of Laser Zentrum Nord GmbH and has been Head of the Fraunhofer Institute for Additive Production Technologies (Fraunhofer IAPT) since Laser Zentrum Nord was incorporated in the Fraunhofer research organization under this name at the beginning of the year. He also heads the Institute of Laser and System Technologies (iLAS) of Hamburg University of Technology. Emmelmann takes pride in the cooperation between his institute and Bugatti. "We were thrilled to be contacted by Bugatti. I do not know any other carmaker which makes such extreme demands of its products. We were pleased to face up to this challenge."
The development time for the 3-D-printed titanium brake caliper was very short. From the first idea to the first printed component, it only took about three months. The basic concept, the strength and stiffness simulations and calculations and the design drawings were sent to Laser Zentrum Nord by Bugatti as a complete data package. The institute then carried out process simulation, the design of the supporting structures, actual printing and the treatment of the component. Bugatti was responsible for finishing.
The special 3-D printer at Laser Zentrum Nord, which was the largest printer in the world suitable for titanium at the start of the project, is equipped with four 400-watt lasers.
It takes a total of 45 hours to print a brake caliper. During this time, titanium powder is deposited layer by layer. With each layer, the four lasers melt the titanium powder into the shape defined for the brake caliper. The material cools immediately and the brake caliper take shape. The total number of layers required is 2,213. Following the completion of the final layer, the remaining titanium powder which had not melted is removed from the chamber, cleaned and preserved for reuse in a closed loop. What remains in the chamber is a brake caliper complete with supporting structure which maintains its shape until it has received stabilizing heat treatment and reached its final strength.
Heat treatment is carried out in a furnace where the brake caliper is exposed to an initial temperature of 700°C, falling to 100°C in the course of the process, in order to eliminate residual stress and to ensure dimensional stability. Finally, the supporting structures are removed and the component is separated from the tray. In the next production stage, the surface is smoothed in a combined mechanical, physical and chemical process which drastically improves its fatigue strength, i.e. the long-term durability of the component in later vehicle operation. Finally, the contours of functional surfaces, such as the piston contact surfaces or threads, are machined in a five-axis milling machine which takes another 11 hours to complete its work.
The result is a delicately shaped component with wall thicknesses between a minimum of only one millimetre and a maximum of four millimetres.
"It was a very moving moment for the team when we held our first titanium brake caliper from the 3-D printer in our hands," Frank Götzke remembers. "In terms of volume, this is the largest functional component produced from titanium by additive manufacturing methods. Everyone who looks at the part is surprised at how light it is – despite its large size. Technically, this is an extremely impressive brake caliper, and it also looks great."
The first trials for use in production vehicles are due to be held in the first half of the year; the time schedule is still to be finalized. At that stage, the engineer promises that it will be possible to considerably shorten production times, especially for machining.
Götzke and his team are presenting the results of their work to the Group and its brands. "In 3-D printing development, Bugatti is the leader in the Volkswagen group," Götzke emphasizes. "Everyone can and should benefit from our projects. This is also part of Bugatti's role as the Group laboratory for high-tech applications."
The 3-D-printed titanium brake caliper is only one example of Bugatti's current research and development work. "We have not only developed the world's largest titanium component produced by additive manufacturing but also the longest aluminium component to date made by 3-D printing," Götzke explains, proudly taking a 63-centimetre-long lightweight aluminium windscreen wiper board out of the cabinet. The board only weighs 0.4 kg, half the weight of a conventional die-cast lightweight aluminium board, without any reduction in rigidity. But that is another story.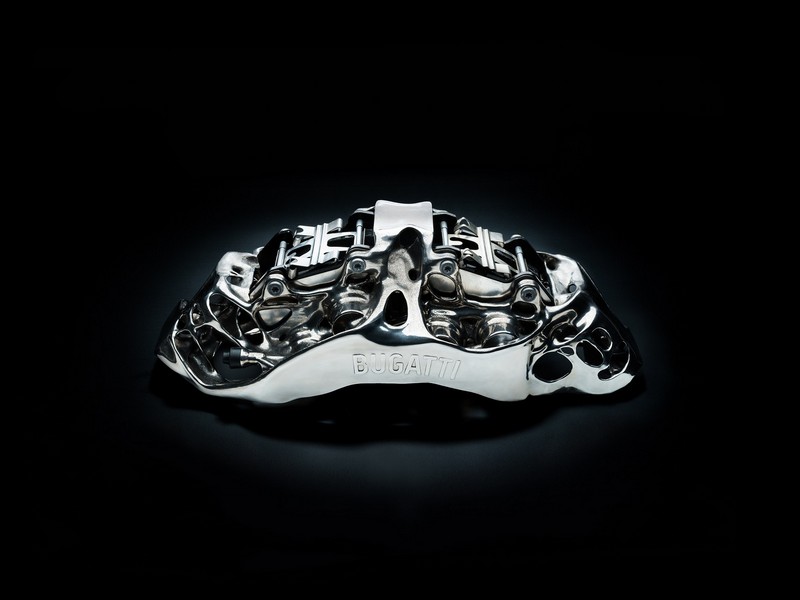 ---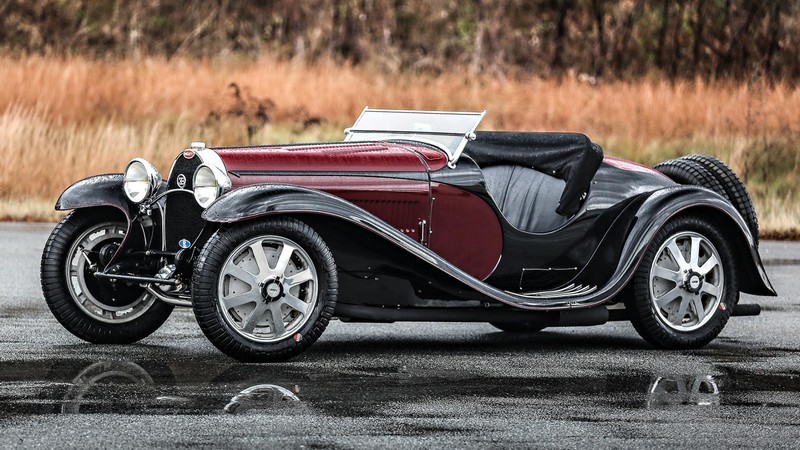 January 24, 2018

Auction results

January 19-20, 2018 Gooding & Co - Scottsdale auction
1931 Bugatti Type 55 Roadster, Chassis: 55201, Estimate: $4,000,000 - $5,000,000: Sold for $4,070,000
1922 Bugatti Type 29/30, Chassis:4008, Estimate: $800,000 - $1,000,000: Not sold. Now Asking Price: $800,000
RM Sotheby's - ARIZONA 2018 (January 18/19)
1993 Bugatti EB110 GT, Chassis No. ZA9AB01E0PCD39056, Engine No. 0064: Sold For $967,500
---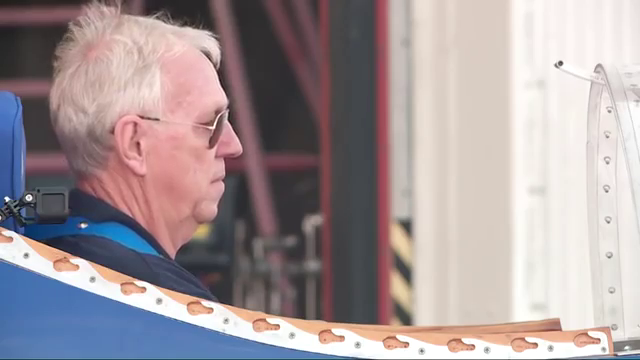 December 30, 2017
Additional info on the Scotty Wilson accident with the replica Bugatti 100P
The last NTSB information is now available, and some of it is available for download, see the Bugatti Aircraft Association website.
---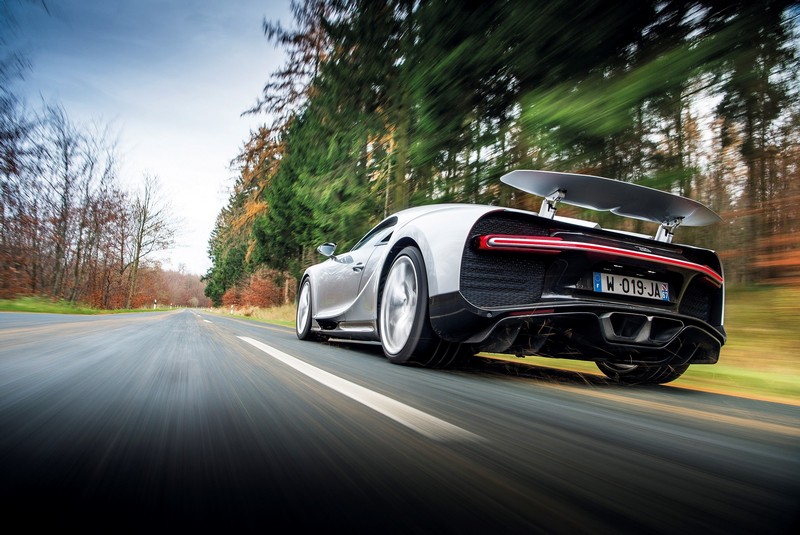 December 27, 2017
evo Magazine UK chooses Bugatti Chiron as Hypercar of the Year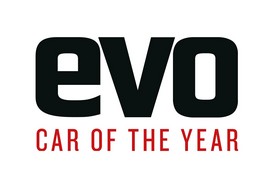 Molsheim / London, 26 December 2017.
At this year's evo Car of the Year Awards, the Bugatti Chiron was honoured as "Hypercar of the Year". The jury of the renowned British motoring journal explains the award as follows:
"The Chiron doesn't conform to regular supercar or hypercar rules. No words come close to genuinely expressing what it is to have such unimaginable and totally deployable performance at your behest. It completely changes your perception of speed. What's possible, what's reasonable, what's marginal and what's plain stupid. It warps your mind."
This year, the evo Car of the Year Awards were presented for the 19th time. The category "Hypercar of the Year" is new and was created especially for the Chiron.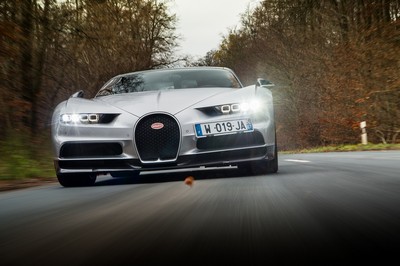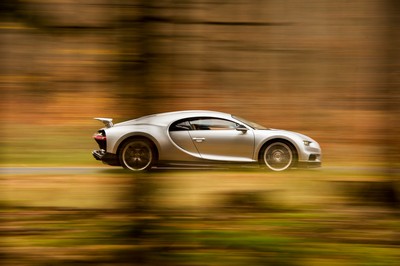 ---
Bonhams Auction - London Olympia, Collector's Motor Cars and Automobilia, December 6, 2017:
1998 Bugatti Type 55 Roadster Replica, BC146, Estimate: €210,000 - 270,000: Sold for £214,300 (€243,334) inc. premium
---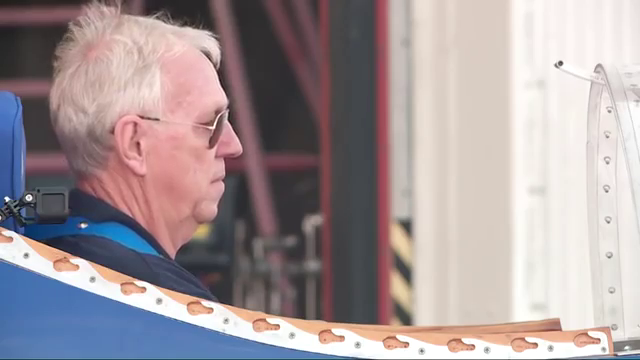 November 27, 2017
NTSB releases factual report on the Scotty Wilson accident with the replica Bugatti 100P
The NTSB has, as of last week, released the final report on the crash that occurred on August 6, 2016. The report is publicly available on the NTSB website. The Accident ID number is CEN16FA307. With the release of the report, we are now able to comment on the many questions we have received about the cause of the accident.

It is clear that there was a loss of power to the forward propeller, this is documented by the GoPro cameras that were mounted in the cockpit and is consistent with the eyewitness accounts. Having analysed the cockpit video, the external video and the wreckage, the only reasonable conclusion is that the power failure in the forward engine drive train was the result of a clutch failure in the forward engine.

The degradation in the power transfer from the engine to the propeller is demonstrated clearly by the engine RPM increasing while the air speed and rate of climb remained steady at first and then degenerated. To be clear, the NTSB did not analyse the engines or their integral clutches, so it is the Bugatti 100P team that has drawn this conclusion as the only logical explanation.

The power failure occurred gradually, just after the aircraft became airborne, but appeared to become progressively worse (possibly to the point where there was no thrust provided by the forward propeller) leaving Scotty no choice but to attempt to clear the perimeter fence at the end of the runway or face crashing into it head-on. We can infer from the video, where Scotty's actions are clearly visible, that he was calm, clearly in control, and clearly aware that he was experiencing a power failure. We can further deduce that, as soon as Scotty cleared the perimeter fence, he began attempting to maneuver for an emergency landing in the field where the crash occurred. He had only 80-100 feet of altitude, no ability to climb, and no room to maneuver the plane into the proper attitude. These events took place in just under two seconds as he fought off one apparent stall, turn the airplane into safe landing area, with the air speed dropping below the stall speed.

To an individual, those that have viewed the data and have the flight experience agree that sadly there was absolutely nothing Scotty could have done to avoid the crash.

From the Bugatti 100P project team Facebook page
---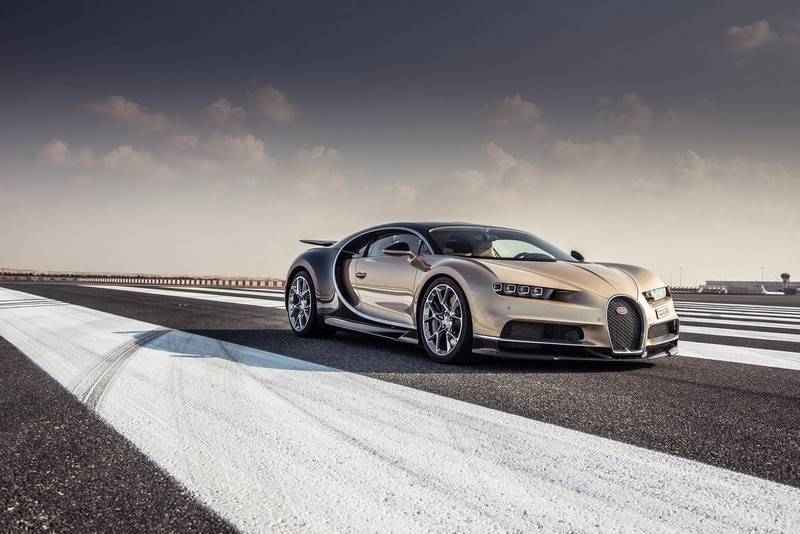 November 27, 2017
BBC TopGear Magazine honours Bugatti Chiron as "Hypercar of the Year"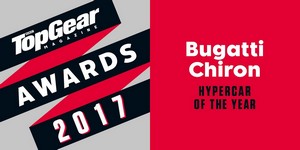 At this year's BBC TopGear Magazine Awards, the Bugatti Chiron1 was presented with the accolade of "Hypercar of the Year". The jury gave the following reason for its decision: "The thrust from rest to 100 mph (161 km/h) is insane but the way it bulldozes its way through the next 100 mph is spooky, and it just keeps going."
The Chiron is designed not only for maximum speed but also to meet the highest possible demands in terms of luxury, comfort, everyday drivability and durability. It combines the best in all these areas and embodies a harmonious concept that makes it a unique super sports car. And the Chiron is also a success story. One and a half years after its world debut at the 86th Geneva International Motor Show, more than 300 vehicles have already been sold. Only 500 of these exceptional cars are to be made.
To date, BBC TopGear Magazine has only awarded the "Hypercar of the Year" accolade five times since it was first presented in 2006. Bugatti is the only brand to have won the award twice. The Bugatti Veyron 16.4 took its place on the podium in 2006.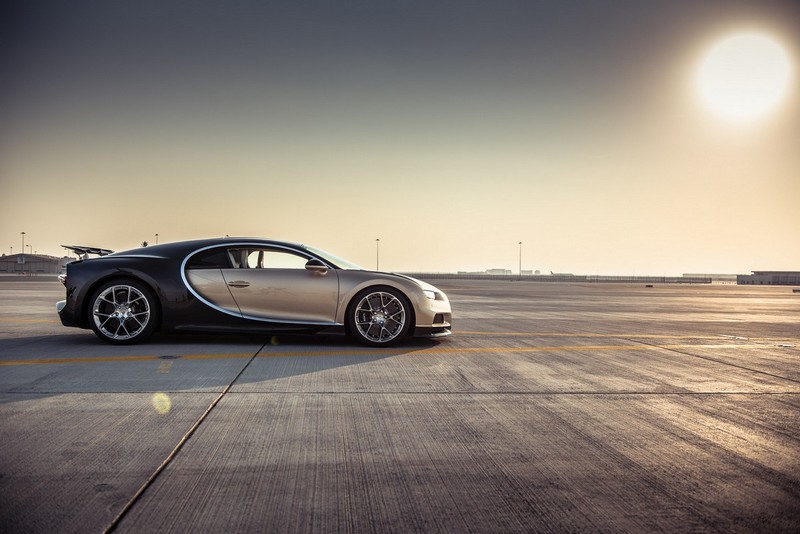 ---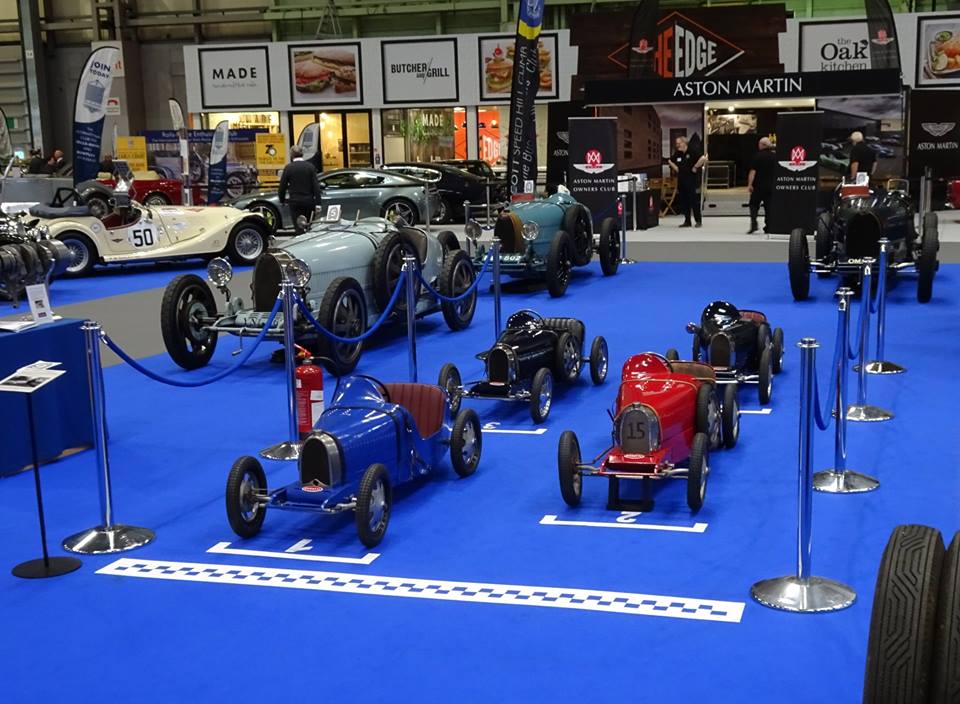 November 16, 2017
Best large stand award at NEC Classic Motor show
The Best Large Stand award of last weekend's show went to the Bugatti Owners' Club which, together with the Bugatti Trust, gathered an incredible selection of pre-war Grand Prix machinery in Hall 1.
The original GP Bugattis were surrounding a starting grid of Baby Bugattis, which were often used by the real young enthusiasts to get a feel of the old days, or get their photograph taken.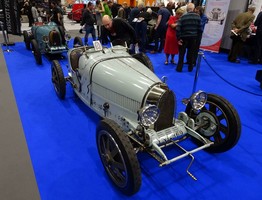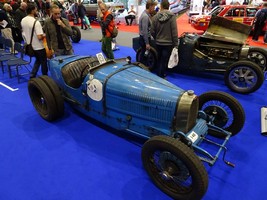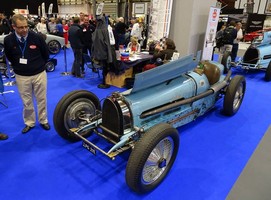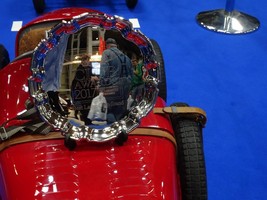 And the GP Bugattis? These were not just the T35's and T35B's, of the 8 GP's present there was also a T39, a T51, T54 and T59.
Photographs by Harpo Fotografics
---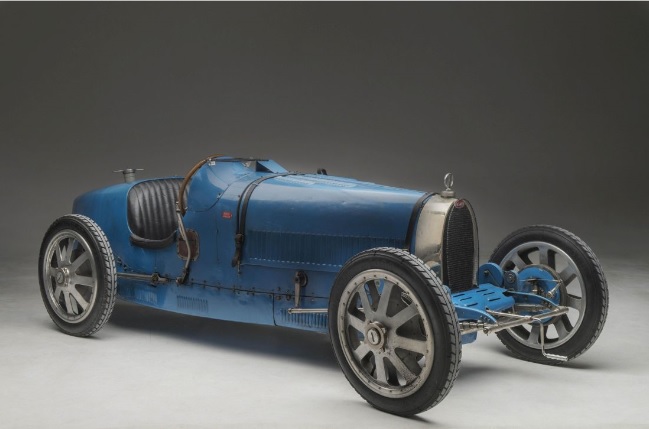 November 8, 2017
Auction result
Artcurial Automobiles sur les Champs 11 auction, November 5, 2017, Paris
1925 Bugatti Type 35, Chassis 4451, Engine 25
Estimate 1,000,000 - 1,350,000 € : Sold for $1,438,880
---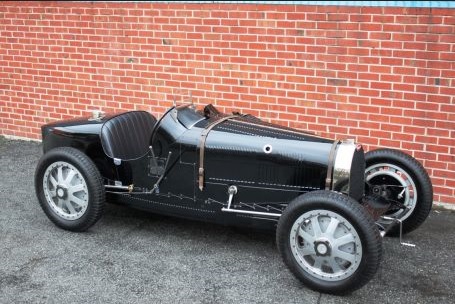 November 3, 2017
About a scam and some good advice
About a week ago, I saw a Bugatti T35B on Autoscout.nl, for just 26,000 euro (The advert has now disappeared).

Even though it was just a Pur Sang, it seemed too good to be true, and it was...

As this vehicle was worth twice as much for the parts alone, which should be easy to sell if the car had no registration, so I sent an e-mail.

A few days later I received a reaction from Alexis Stefanos, e-mail: alex.stefanos1972@gmail.com

The car is in good condition. The paint is impeccable. No problems known, but I would recommend an inspection before buying.
All the services were done on time, it has new tires, very well maintained.
Unfortunately, I am forced to sell the car because I am unable to keep the car in the long term.

Here you can see all the photos of the car: drive.google.com

I was already cautious, but asked for more info, apparently he was forced to sell the car because of a divorce and blablabla.... The car now is in Spain, and not in Cologne, Germany. However, our seller Alexis knows of a special service:

The ad was listed by a professional from Spain and it was advertise around all Europe. The car has Spanish registration. I have all the documents in order.

I have been in contact with a transport company yesterday for another person interested. I have negociated a transport cost of 750 euro to Most, Czech Republic. I can pay this cost of transportation. The problem is the guy is offering 20k only and I am not willing to sell it under 25k.

Their website is : tj-globallogistics.com You can find feedback here : www.uship.com/profile/rasrool/ Please feel free to send them an email if necessary.

If you are interested, they are offering an escrow service.
Briefly, here is the procedure: I leave the car in their custody. They contact you after they inspect the car. The payment will be made to the company (a 30% deposit). They will hold the funds. The car will be delivered to you in 5-7 days. You can inspect it for 3 days at your local service.

If you agree with the condition and you keep the car, the company transfer the funds to my account. If not, they will make a refund immediately to your bank account.

I want to emphasize the fact that the payment will be made transparently by bank transfer for your protection.

Woow! That sounds good, and how helpful, shipping the car for just 750 euro, including an e-scrow service!

But then, why would he give me the link to a feedback giving website?? Why talk about my protection??

So I started to google tj-globallogistics.com, and received only two hits???

However, there is a service in the big bad internetworld, where you can find info on a website: https://www.whois.net/, so I searched there for tj-globallogistics.com, and found out something very interesting:

Domain Name: TJ-GLOBALLOGISTICS.COM
Registry Domain ID: 2180871289_DOMAIN_COM-VRSN
Registrar WHOIS Server: whois.namecheap.com
Registrar URL: http://www.namecheap.com
Updated Date: 2017-10-29T20:58:13Z
Creation Date: 2017-10-29T20:56:33Z
Registry Expiry Date: 2018-10-29T20:56:33Z

Thus, the website was created only a few days before!

There is another service, www.netim.com, where you can find the actual owner of a domain, searching for tj-globallogistics.com gives, apart from the same info which whois.net gives, something more interesting even:

Registrant Name: WhoisGuard Protected
Registrant Organization: WhoisGuard, Inc.
Registrant Street: P.O. Box 0823-03411 
Registrant City: Panama
Registrant State/Province: Panama
The owner of the website is hiding behind a special service to make hiding possible, in Panama!
For fun, type in BugattiPage.com in netim.com; you get my full name, address and even phone number!

Thus, the website was created only a few days before!, by somebody who wants to hide his identity!

Then you know how it will proceed, one would make the payment or downpayment, and receive an e-mail that the car will be on transport within a few days. After a week or so, you would receive another e-mail, stating that there have been some problems with the transport, but that it will now be only a few more days. Maybe you receive another response when you send a reminder e-mail, but in the end all responses from the seller or from tj-globallogistics.com will stop.
Of course these mails all have the same goal, to gain time to be able to run a whole series of scams, probably on many advert sites in various countries, using many different names and selling very different items. By the time one becomes really aware that there is something wrong, the tj-globallogistics.com website has disappeared, and so has your money.... The clever thing is that the tj-globallogistics.com website is not mentioned in any of the adverts, but only later in e-mail communications. That makes it impossible to find the other scam-adverts!

So, Mr. Alexis Stefanos, e-mail: alex.stefanos1972@gmail.com, I'm sorry, but this time I do not fall for your trick!

And, for all of you out there who are looking for a bargain: If something seems to be too good to be true, it usually is!

Checking for website owners using the above tools may help a bit, but whenever you're in doubt, go there in person! (Not taking all of the cash with you, because that's another trick out there)
---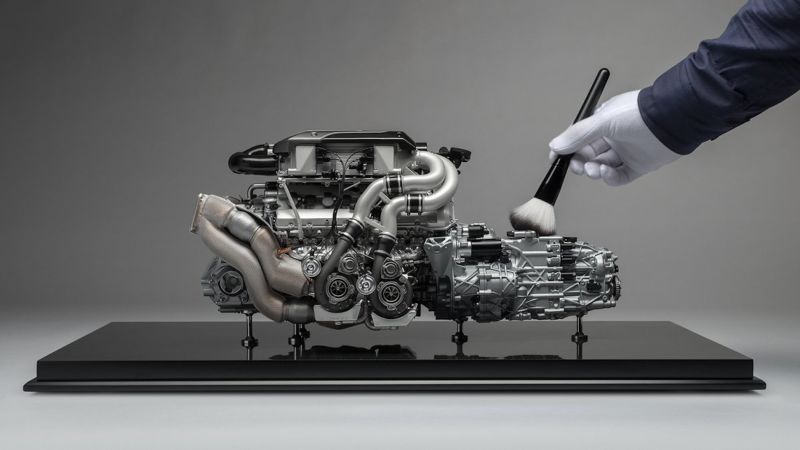 October 24, 2017
New 1:4 scale Bugatti Chiron engine by Amalgam
A perfect miniature of the quad-turbocharged 8-litre W16 engine, the scale model still technically has more cubic capacity than a Formula Ford racer, even if it's not actually functional. Premium model car builder Amalgam has paid close attention to detail in the design of the model, working with actual Bugatti engineers to ensure even components like the tension clamps and barcodes are accurate, just smaller.

It takes roughly 220 hours to assemble each model, making the £7,320 ($9,365) price-tag sound perfectly reasonable considering Dacia Sandero Laureate takes only 18 hours from start to finish and costs the same sort of money. Built from a combination of faithfully recreated materials, the model is made up from a total 1040 components, which is also probably more than that Sandero too. However, this model is only 18 inches long and 9 inches high.

If you can't quite stretch the budget to buy the real thing, this might at least bring you a quarter of the satisfaction. Alternatively, it could be the perfect Christmas gift for the Bugatti Chiron owner who has, almost, everything.
---
October 24, 2017

Stephan Winkelmann new CEO of Bugatti

Wolfgang Dürheimer, CEO of Bugatti and Bentley, will retire at the end of this year as earlier reports have suggested. His replacement at Bugatti will be former Audi Sport chief Stephan Winkelmann, while Adrian Hallmark from Jaguar Land Rover will take the helm at Bentley.

Winkelmann leaves his role as Managing Director of Audi Sport after having joined in the spring of 2016. Along with rolling out the new R8 Spyder and RS 5 coupe, he told Automotive News he had hopes for an Audi Sport hypercar. Prior to that appointment, he led Lamborghini for 11 years and helped the brand triple its number of dealerships. He starts his new post on January 1, 2018.

Hallmark will begin his new role at Bentley on February 1. Most recently, he served as Global Strategy Director at Jaguar Land Rover. Earlier in his career, he served as Bentley's Sales, Marketing and PR board member, helping to roll out the Continental GT in 2003.
---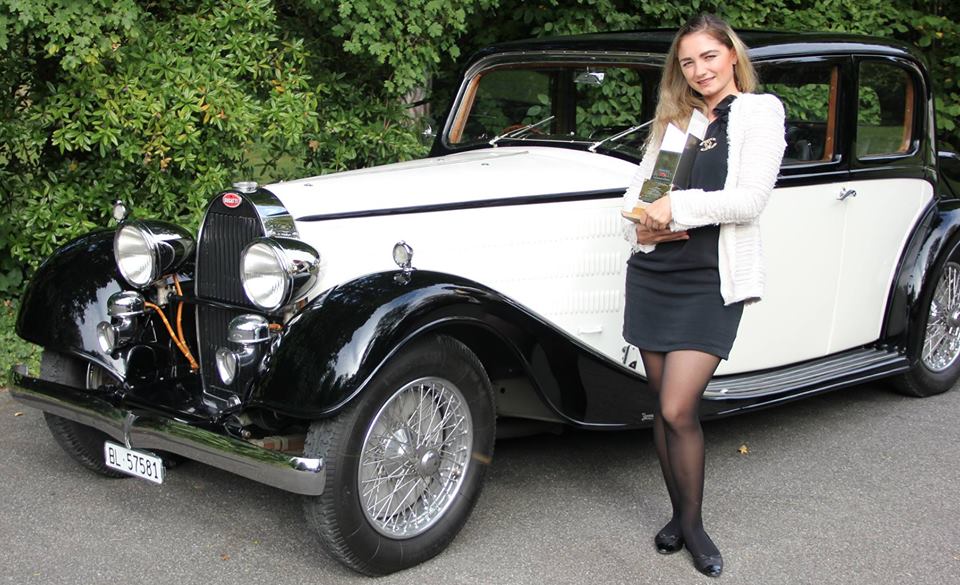 September 24, 2017
Andrea & Alexandra Capra win main prize at Molsheim Festival
At the last (36th) Molsheim Festival, under threatening rainclouds, the annual public presentation was held on the Sunday 17th. Andrea Capra took not just one, but two impressive type 57's with him, not just the 57414 Saloon by Van Vooren (driven by his wife Alexandra), but also the first Type 57 Galibier, 57102.
The whole weekend took place under a constant threat of rain, which sometimes did come down by the bucketful. This was especially during the half-hour when the Bugattis could be taken out on the Anneau du Rhin, as a pre-programme of the 500 Nocturnes GT race. Rain came pouring down all the time! More about this later in an issue of the Bugatti Revue.
Some of the prizes:
Trophée de la Fondation Bugatti: 1st prize for the 57414 of the Capra's
Trophée Lalique: 1st prize for the 38221 Torpédo of Damien Bourgaux
Coupe des dames: 1st prize for the 44547 Cabriolet 4-places of Annick Friederich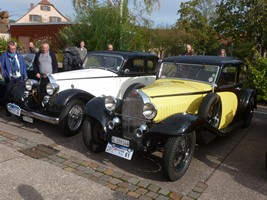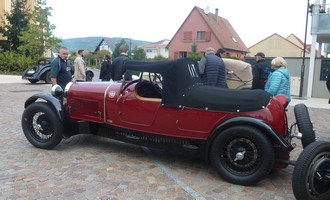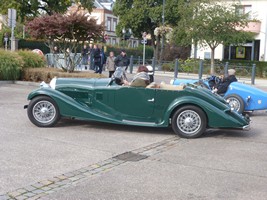 57102 (and 57414), 38221 and 44547
---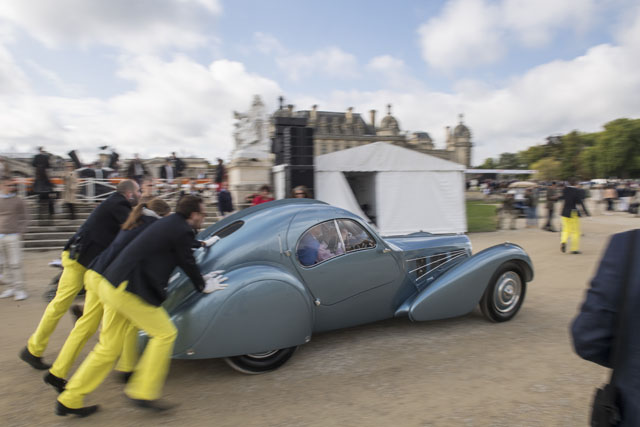 September 24, 2017
Mullin's Bugatti T57SC Atlantic Pushed to Best of Show Win
Chantilly, France, September 10 :
The famed event north of Paris , gave it's top honor to Peter Mullin's T57SC as it was literally pushed past all other contenders including some wonderful T57SC's for a Best of Show win. Crowds gathered as Mullin and onlooker experts tried to determine why the ''Mona Lisa'' of all cars would not start.
When the resident experts asked if it was just out of gas Mullin said, ''I am not sure. It just arrived by plane and I haven't checked. ''. The Bugatti Atlantic, Ex: Peter Williamson , was pushed onto the podium where Mullin said ''She's having a bad day''. The Mona Lisa of all collector cars, as Mr. Mullin has dubbed her , was a shoe-in for the top award gleaming with it's better than new restoration outshining several stunningly original SC's . The Post War Best of Show went to a 1958 Ferrari Testa Rossa racer.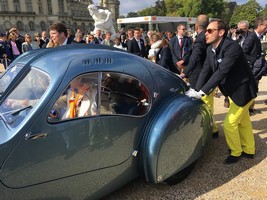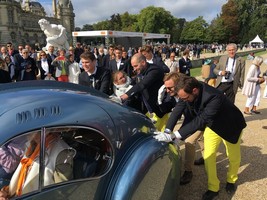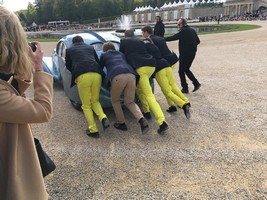 All Bugatti wins:
Best of Show Concours d'Etat
Pre-war: Bugatti 57 S Atlantic (1936)
Post-war: Ferrari TR 58 (1958)
Small & Big
1st: Bugatti Type Baby (1926) & Bugatti Type 35 (1926)
The Bugatti 57 S
1st: Bugatti 57 S Atlantic (1936)
Special award: Bugatti 57 SC Atalante (1937)
2nd: Bugatti 57 S Gangloff Coupé (1937)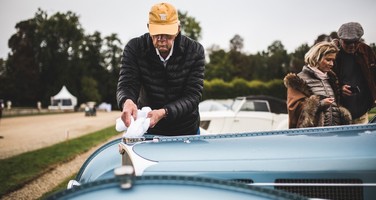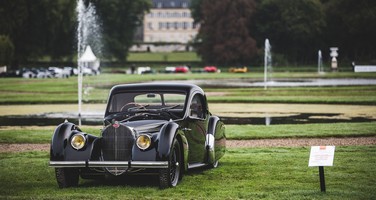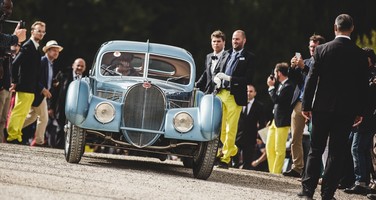 Some of the photographs were taken by Chris Gardner, some by Mathieu Bonnevie
---
---
Bugatti events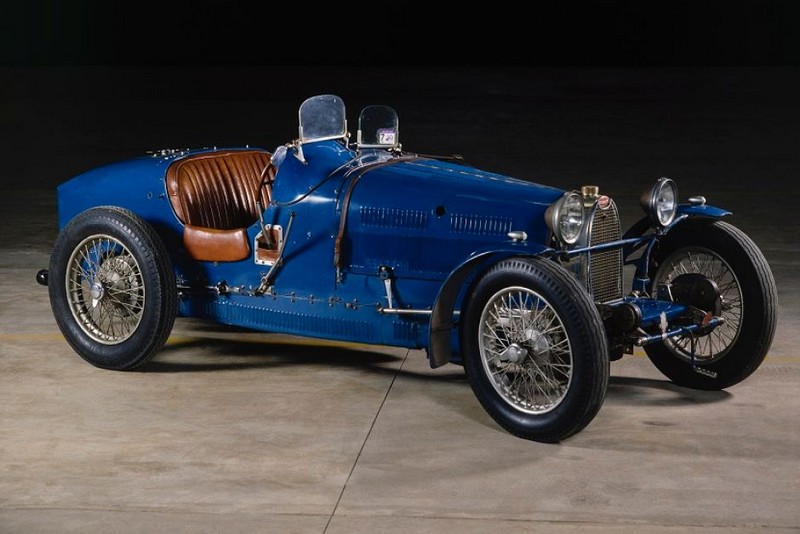 October 15, 2016 - permanent Icons at the Powerhouse Museum Sydney, Australia
Have you ever explored a museum exhibition and wondered, "how do they know which items are worth collecting?" — I have.
So when I talked to Jacqui Strecker, the head of curatorial at the Museum of Applied Arts and Sciences in Sydney, it was one of the first questions I asked.
She had just pieced together a new exhibition entitled Icons at the Powerhouse Museum in Sydney.
It is a kind of "best of the best" exhibition of the more than 500,000 items in the News South Wales collection.
The 70 rarely-displayed items, chosen by Dr Strecker, have been put together to challenge the traditional stereotype of an icon.
"Traditionally, we've associated icons with religious paintings that have a special spiritual power, that draws us to those items as an object of worship or admiration," she said.
"Now we understand icons as digital icons that help us navigate our way around computers and smart phones.
"What I've done with this exhibition is really gone through our basement, our extraordinary collection, and I've chosen my favourite objects that I think tell an interesting story and are really worth looking at and challenging the viewer to think about what constitutes an icon today."
The items range from Aboriginal pottery; a silver, brass and wooden crucifix worn on a necklace; a 1928 Bugatti racing car (so valuable Dr Strecker would not tell me how much it was worth); Australian performer Johnny O'Keefe's red suit and the Olympic torch Cathy Freeman used to light the cauldron at the Sydney Olympics.
Photo: 1928 Bugatti driven to victory by Arthur Terdich at the 1929 Australian Grand Prix.
---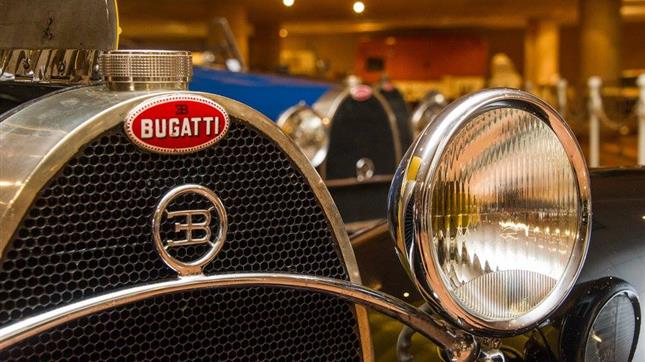 December 18, 2017 - March 10, 2018 Exhibition of Bugattis at H.S.H. the Prince of Monaco's Car Collection Monaco

Fifteen iconic Bugatti Grand Prix and Sport-type vehicles can be admired at this unprecedented exhibition in a unique setting. All are in working order and come from private collections.

Founded in 1909 by Ettore Bugatti, an industrial designer from a family of artists, the brand and its cars are considered true works of art, both aesthetically and technically. Featuring stylish lines and unique designs, Bugattis are reputed to be the most elegant, fastest and most powerful cars.

Among the exceptional cars dating from 1910 to 2016 that will be on display is the Bugatti type 35 C, which took part in the 1st Monaco Grand Prix in 1929 as number 8, driven by Marcel Lehoux.

As a reminder, at this 1st Grand Prix, the Bugatti brand topped the podium with the 35 B and 35 C models (similar to the Lehoux model). Subsequently, in 1930,1931 and 1933, Bugatti cars won the Monaco Grand Prix races with spectacular success.

There will also be a major focus on sports vehicles, with an EB 110 model from 1991, the Veyron from 2015 and the Chiron (loaned by the brand and on show in January 2018).
This Chiron model was named after Monegasque racing driver Louis Chiron, who won the 1931 Monaco Grand Prix in a Bugatti type 51.

H.S.H. the Prince of Monaco's Car Collection
Les Terrasses de Fontvieille
98000 MONACO
Tel.: +377 92.05.28.56
---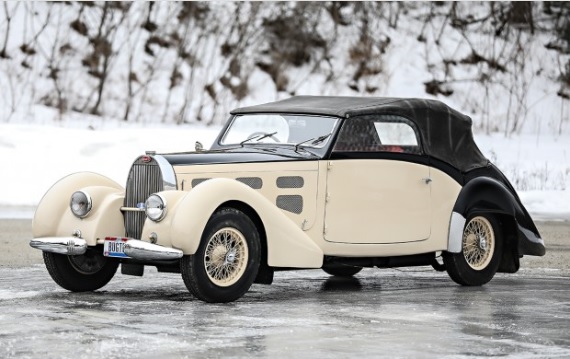 March 9, 2018 Gooding & Co - The Amelia Island auction Amelia Island, FL, USA
1936 Bugatti T57 Stelvio Gangloff
Chassis 57442
---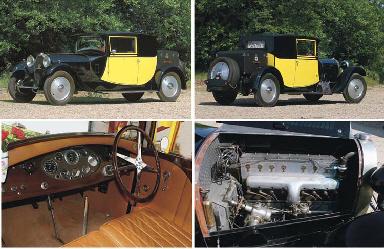 March 24, 2018 Coys Auction Techno Classica Essen, Germany
1928 Bugatti T44 Fiacre by Gangloff
Chassis 441141
---