Italian, German Bugattis and Bugatti Replicas for sale
Maintained by Jaap Horst
---
If you have a little money to spare, Bugattis are for sale sometimes.

However, If you do not have the money for a real Bugatti, and find miniatures too small, you may always consider a replica. Quality replicas can be advertised on these pages, as are the Modern EB110's from Campogalliano and the Veyrons and Galibiers from Molsheim.
---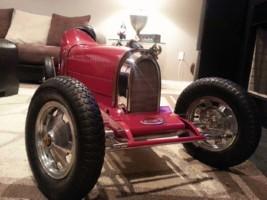 Authentic Models Baby Bugatti.
It has the original Bugatti badge and certificate from Authentic Models.
It is brand new, never been sat in, driven or even touched the pavement.
Adrian Luna Jr, e-mail: adrianluna350@yahoo.com

12-10-2013
---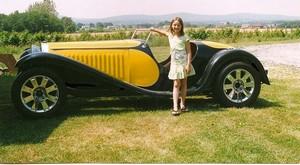 1929 Bugatti Type 55 Roadster Replica

The T55 replica I have is not a de la Chapelle but rather my own creation molded from chassis #55229.

I aquired a body fender set from Harry Kennedy back in '03, Harry was an English tin knocker in Stuart Beach Florida. He was retired from GM. He related that back in the early 80's he was hired to make a new aluminum body for #55229 around the Phily, Pa. area. He cherried the original with filler and what have you and then took molds. It was from these molds my body was created.

I have created a double rail all tube chassis for this car. It's very strong yet very light. I created a copy of the Bugatti suspension and axles with 12" disc brakes.

The rea is a narrowed 9" Ford with posi 3.78 gears. The engine is a brand new from Chevrolet LS3 with 440 HP and all aluminum. (487 LB) The transmission is a Richmond 5 spd as used in NASCAR.

The car weighs only 1900 LB and is very lively to say the least.

Asking price: $100 K

Richard Heinrich, e-mail: r4heinrich@aol.com


30-12-2011
---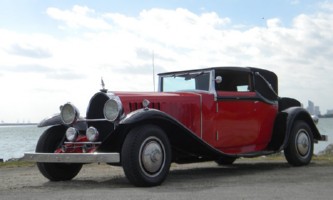 1929 Bugatti Type 41 Royale Weinberger Replica

Comment from the seller website:
Absolutely one-of-a-kind replica of the most expensive automobile in the word: 1929 Bugatti Type 41 Royale Binder Coupe de Ville. Originally built in the early '80's by body hammered steal and fenders of fiberglass, besides being able to take off the front section of the roof; it took over $250,000 and 2 1/2 years to build. Incorporating original Bugatti and Rolls-Royce parts, the chassis is from a GMC motor home on a 159" wheelbase, using a Big Block GM with 3-speed automatic transmission.

Ettore Bugatti had certainly succeeded in building the ultimate luxury car, but now came the difficult part; finding customers. The biggest obstruction was the high price Bugatti asked for the car. At the 1932 Olympia Show in London one of the chassis was offered for a staggering £6,500, which was twice as much as the most expensive Rolls-Royce.

Eventually only five additional Royales were constructed, which was well short of the 25 car run Bugatti had quietly hoped for. Only four of these found an owner; the first and last car produced remained in the hands of the Bugatti family for many years. Ironically none of the Royale's owners were royals and to this date none of the six Type 41s has ever been owned by a royal. Bugatti did manage to turn a profit out of the project by selling Type 41 engines to a train manufacturer. With the subsequent Type 46, 50 and 57 models, Bugatti did manage to conquer the luxury market.

The first Royale customer was clothing manufacturer Armand Esders. He had Bugatti fit a two-door roadster coachwork, penned by Jean Bugatti. Considering the size of the chassis, the 2+2 body was surprisingly elegant. No lights were fitted as Esders never drove at night. This Royale came closest to becoming royal property as reputedly the King of Romania had the car rebodied by Henri Binder with a coupe de ville style bodywork. The design was very similar to the Coupe Napoleon body on Ettore's own Royale. Due to the outbreak of the War, the King never took delivery of the car. It survived the second world war, hidden in the sewers of Paris. When peace returned it was sold to England and eventually ended up in the Harrah collection in the United States.

In 1986 the Binder bodied Royale was bought by Californian collector General William Lyon. He offered the car during the 1996 Barrett-Jackson, where he refused an offer of $11 million; the reserve was set at $15 million. The new owner of the Bugatti brand, Volkswagen, bought the car in 1999 for a reputed $20 million in 1999.

Why Pay $27 million when you can own it for $2,200,000.00!

Remarks: The Car of course looks much more like the Weinberger Cabriolet, but who cares at this ridiculously low price!

Ted Vernon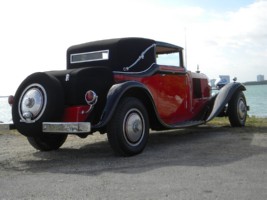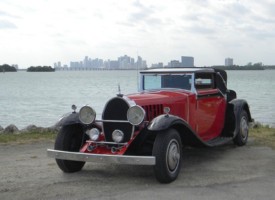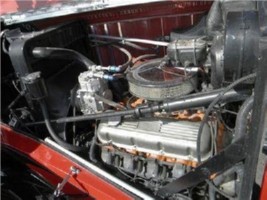 28-8-2011
---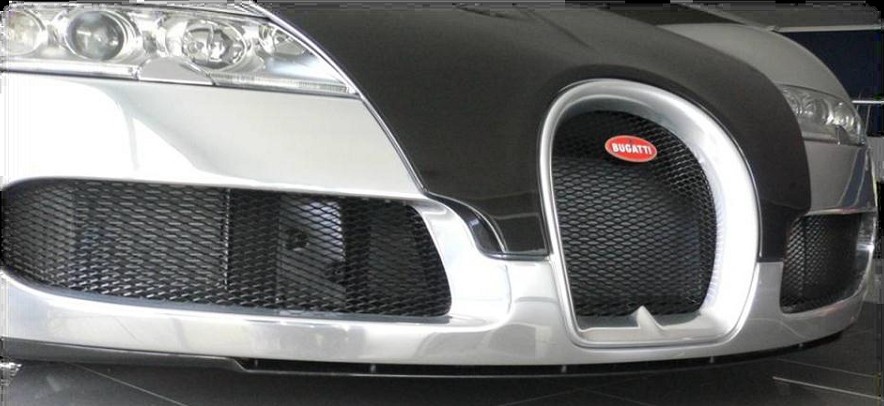 2008 Bugatti 16.4 Veyron Pur Sang

Only 5 cars worldwide. Off market car

No registration, only this car

Only some KM

Price 2,500,000€ (excl. commissions)

Contact the seller through Jaap Horst, e-mail: J.J.Horst@BugattiPage.com


9-2-2011
---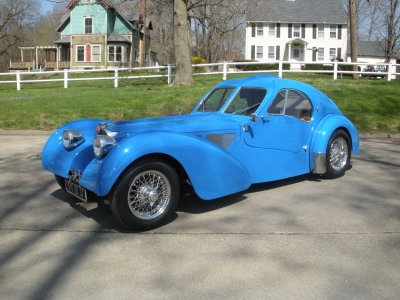 1937 Bugatti Atlantic

This classic automobile has been hand crafted from the ground up using a combination of modern technology and classic artisan craftsmanship. The car sits on a custom tubular and box steel chassis with integral forward firewall and cowl structure for torsional rigidity. A T 3.8 Litre twin overhead cam straight six motivates the car, while the twin carbs, polished manifold and covers, as well as generous bright work adorn the engine compartment that features an authentic engine-turned aluminum firewall. This exquisite automobile is the result of over two and a half years of construction.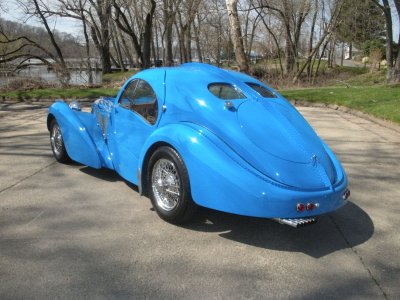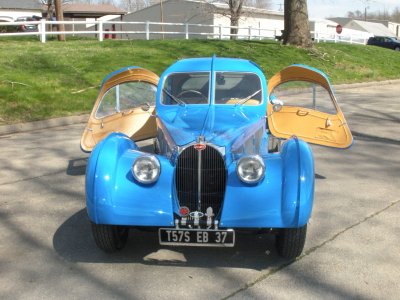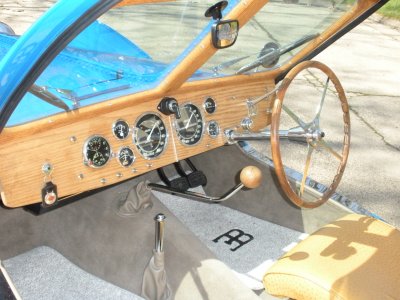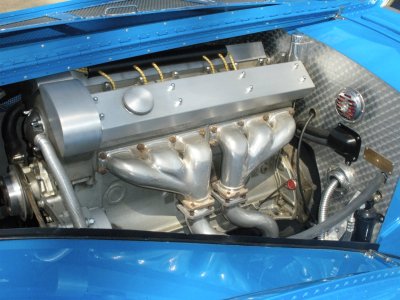 $250,000

F-40 Motorsports, 464 Portland-Cobalt Rd, Portland, CT 06480, (860) 342-5705
www.f40.com

19-10-2010
---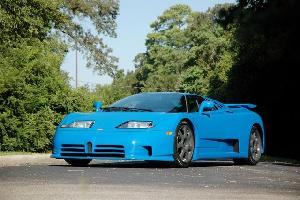 1994 Bugatti EB110 SS
Chassis No. ZA9CB02U3SCD39030
Engine: 3.5L, 60-Valve, Quad-Turbocharged V12
Transmission: 6-Speed Manual
History:
Bugatti was one of the finest car manufacturers of the 1920s and 1930s, but after the death of founder Ettore Bugatti in 1947, the company ceased production. In an attempt to revive Bugatti, Italian entrepreneur Romano Artioli bought the rights to the legendary name. In 1989 he announced the return of Bugatti. A state of the art factory was constructed just north of Modena, Italy. So just like Ettore himself, Artioli's Bugatti was Italian.
No expense was spared in designing the new Bugatti. Built from scratch, it was one of the most advanced vehicles of its day. Launched on the day of Ettore's 110th birthday (09-15-1991), the new car was aptly named 'EB 110'. Scene of the launch was the Versailles Palace, the former domicile of the French royal family.
Much like its predecessors the EB 110 featured a uniquely styled body complete with the characteristic horse-shoe shaped grill. Responsible of the design was the Italian designer Marcello Gandini. Unlike his previous wedge-shaped designs like the Lamborghini Countach and Lancia Stratos, the EB 110's body is round and voluptuous.
To save weight, the entire body was made of aluminum. The aluminum body panels were bonded to a carbon fiber monocoque chassis. The EB 110 was the first road car to feature a monocoque using this exotic material. Due to the difficult production process of the composite material, the tubs were constructed by French aviation company Aerospatiale. Suspended all around by double wishbones, the front suspension features push-rod operated shock absorbers and the rear dual shock absorbers on each side.
Not just the chassis was advanced for the time; the engine was as well; it remains as one of the most complex powerplants ever constructed. Being a 60 degree V12 engine, its configuration is very much Italian, but the ancillaries are what make the 3.5 liter V12 extraordinary. The dual overhead camshafts operate five valves per cylinder, a setup only seen in the Ferrari F1 racers of the day. Four IHI Turbochargers wre mated to the high revving engine, giving the EB 110 an unprecedented output of over 550 bhp.
To best suit the Turbocharged engine's characteristics, a 6 speed manual gearbox was fitted. It ensures that the revs could be kept in the 3500+ rpm area after shifting up. The incredible amount of horsepower and torque are delivered to the road through all four wheels. The permanent four wheel drive delivers 27% of the power to the front wheels and the other 73% to the rears. Plenty of stopping power is provided by large ventilated Brembo discs.
A year after launching the EB110 GT, Bugatti developed the high-performance variant of its initial model called the Super Sport. The SS took the GT's performance one step further. Featuring lighter bodywork and a revised 3.5L 60-valve quad-turbocharged V12 engine, this model scores an impressive 3.2 seconds on the 0-60 mph sprint and a top speed around 216 mph. With 650 bhp on the tap, the SS is a genuine race car for the road. Some styling cues distinguished the GT and SS, most notably the air holes behind the side windows on the SS and a fixed rear wing. Seven spoke alloy wheels replaced the BBS wheels found on the GT as well. Bugatti only produced 31 SS units through 1995. The Super Sport later served as base model for Edonis.
Just recently offered from the respected private collection, this gorgeous LeMans Blue EB110 SS is sure to bring much attention to the market. While only 31 EB110 SS's were ever made, this particular example is one of only two U.S. prototypes produced as an attempt to introduce the SS into the U.S. market. This example still remains in beautiful condition as it has been meticulously maintained in a secured climate controlled facility its entire life. With only 685 recorded miles, it is a rare example that will be a centerpiece of any supercar collection.
Price: $425,000.00
Contact Jose Romero: jose@driversource.com
6-8-2010
---
2006 Bugatti Veyron, with only 850km!

The car is red/black, please send an email for more information, serious enquiries only

Price indication: 950,000 euro

Send an e-mail to J.J.Horst@BugattiPage.com
14-5-2010
---

FOR SALE - "1927 faux Bugatti 35B Técla"

I have been having fun driving this very well designed and built handcrafted car since November 1993, accumulating nearly 30,000 trouble free miles (48,000 Km). The article "My faux Bugatti" in the Bugatti Revue Volume 10 issue 1, describes the car and included some nice pictures.

The condition of the car is good, with only a 1,000 miles or so on new set of five Dunlop B5 tires fitted just last year. New brake shoes, cylinders and a new battery were installed this spring Although the car has appeared in a number of car shows and is an award winner, its main purpose is to be driven: a result of this is that the car has developed a patina. There are a few chips on the paint, and the squab has a small tear which is hidden except when it is folded forward to access the boot.

The following is included with the car: a four volume manual with detailed drawings and diagrams produced to a professional standard and service logs; a complete tool kit under the passenger seat; a locked box under the driver's seat; a custom made fitted car cover; a set of five used tires with some life left, some new inner tubes and small bits and pieces such as ignition bits also come with the car

A life style change and shifting priorities has prompted this sale which is a traumatic life altering sacrifice. If you are interested in this car, the price is $25,000 CDN. Call me at (905)677-9259 or send an e-mail to paul_whittaker@rogers.com
15-5-2007
---
Replica T35, Ruska - VW based, extensive rebuild

9500 Euro
Rob Guerain, E-mail: rob@guerain.com
www.guerain.com
21-8-2004
---
Bugatti EB110 GT, 1995

237.500 Euro

Van Asselt Weesp, the Netherlands
Tel.: +31 294 461 220
www.vanasselt.nl 2-2-2003
---
Bugatti EB110 GT, 1995

Snellers, the Netherlands
Tel.: +74 2766111
Fax.: +74 2780542
www.snellers.nl 2-2-2003
---
1994 EB110GT, Blue

1997 EB110SS, Blue


19-5-2002
---
Bugatti EB 110 GT

Bugatti EB 110 GT
1993 $258.686

Bugatti EB 110 GT
$376.270

Bugatti EB 110 SS
1995, $330.605

Bugatti EB 110 Supersport

http://www.brinkert.classicdriver.de/de/find/
17-10-2001
---
Bugatti T35 replica

Hi , my name is Alex Urrutia. I'm a representative in the United States of the only company in the world that builds the 1927 Bugatti type 35 (frame, body and engine). We can build up to 3 cars per month and we can also reproduce any part if necessary. All cars are hand made and the price is $130.000. If you want to contact me, my phone # is (954) 572 0417.
---
BUGATTI ROYALE REPLICA

convertible steel body, needs interior, real head turner, £1,200. Tel 0151 476 9550. (UK)
---
We have for sale a NEW Bugatti EB 110 0 KM
In silver / Leather creme
Price: 410.000 DM without taxes

E-mail: cs@gms.lu

Our URL: www.carshop.lu May 29, 1997
---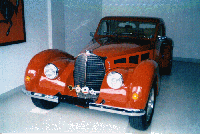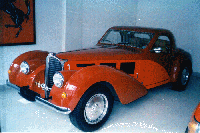 1993 Bugatti 57 S Atalante(Replica)
One of only 2 built in 1993 by the famous "De la Chapelle"/France. 3.0 liter BMW engine, tuned by Schnitzer/Alpina. Color: Red & Burgundy. Interior: Beige Conolly leather. 800 miles. Condition: Like new. Air condition. Stereo CD sound system. A fun car for daily use. New: US$ 170,000. Now: US$ 65,000 or best offer. Bernard, CA, USA, Phone: (805) 688-9884, FAX: (805) 688-5984 April 21, 1997
---
---
---
Vive La Marque !!
---
Back to the Bugatti Page