Bugattis for sale
Maintained by Jaap Horst
---
Fraud Warning
I have had various reports of, and received a fraud attempt myself from people who said they wanted to buy an item for a client and that the money would be paid to me with a "certified bankers cheque" (usually claimed to be coming from another client who owes them money)

Usually the scam is that the amount on the cheque is more than the item to be paid for. They want you to return the difference to them.

In case anybodyÝs identity is unknown, take any cheques to the bank first, and when this is Ok, then ship the item. Do not send any money to cover up the difference.

If you have any Bugattis for sale, or know of any Bugattis for sale, please write or e-mail me.

If you're succesful buying or selling a Bugatti because of this page, I would appreciate it if you let me know (to remove the ad), and of course all financial donations are welcome. (Consider 1/2 % of the price, so I can buy my own Bugatti after selling two hundred) :-(
---
Search possibility
I know that many sellers don't want to publicly offer their Bugattis (I often get a request if I know of a possible buyer for a certain Bugatti), on the other hand, I also know that some possible buyers have similar requests, if I can look out for a certain car (sorry guys, I lost the file with all your names and the types of bugattis you are looking for! Please send again.)

Please write or e-mail me if you have a request, and want me to look out for a certain type of Bugatti (or major part) for you!.
---
French Bugattis
For sale:
Type 44 Fiacre "Coach".
T49 engine, which has been in the car for a long time.
Please contact the seller through me, e-mail: j.j.horst@BugattiPage.com
23-10-2015
---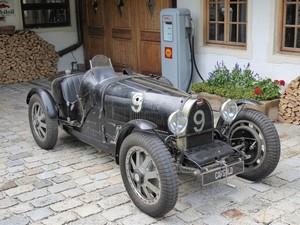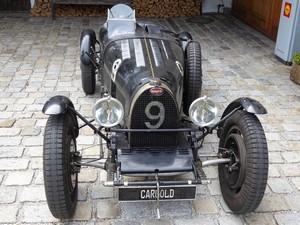 Bugatti 35 B 1926 - Pur Sang-
(indeed the car is 5 to 8 years old)

Type 35 was THE Grand Prix - Bugatti, and the model B the strongest, evolutionary stage. Contemporarily only 45 units were built.

About 5.000 kms since "new".
Serviced recently.

German ownership documents and registration.

Modified and optimized for a better use:
ignition system
electric starter
electric fuel pump
auxiliary fan (starting automatically)
hidden AC lighting dynamo
Stunning authentic appearance.

Eligible for lots of races and rallies.

Beuerberg-Collection GmbH
Beuerberg 19
D- 83083 Riedering
+49 (0)8036-7004
+49 (0)8036-3972
e-mail: info@cargold.com

19-9-2015
---
For sale:
Type 49 roadster, disappearing top. New interior. Frame-off rebuild.
Original Coupé body also available
Type 40 Roadster, 1927
Type 37A
Please contact the seller through me, e-mail: j.j.horst@BugattiPage.com

27-7-2015
---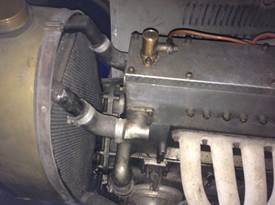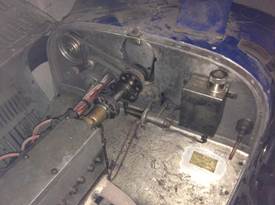 1928 Bugatti 35C
Stored for many years in a garage , full of dust.
Chassis number 4865
For any more details , contact Udo Joerges , e-mail: ujoerges@aol.com
27-7-2015
---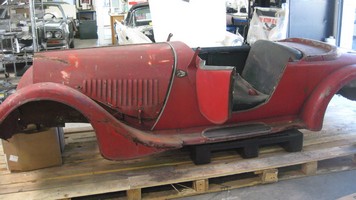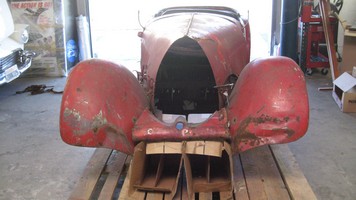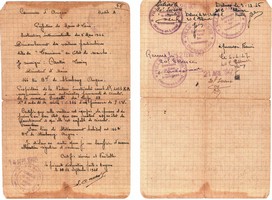 Due to severe FIVA regulations orignal bodies on historical cars become very important now. This body still has the old French registration painted on the body from Departement du Nord, Lille 9395 BW 59 and has a fully historical documentation. Body comes with French EU papers VAT is paid.
According to Kees Jansen et Pierre Yves Laugier, historians of the brand, the original car, châssis # 231346 with an 8 valves engine, was delivered as a chassis to the coach-builder Lavocat on April 7th 1922.8 Lucien Cantin, plant manager at Saint Quentin, bought it in 1935 as a chassis (ill.1) and provided it with an elegant craft-made roadster body made of steel plates built on a wood-frame (ill.2), and probably manufactured between 1929 and 1933. The lengthened rear was very elegant. It was paint in a pale shade and the radiator honeycomb was covered by a non-standard grill (ill.3). The 1946 rationing coupon for petrol from the prefecture of Maine et Loire in Angers, indicates that M. Cantin was granted 5 X 20 liters of gasoline between October 1946 et April 1947 for the use of his Bugatti.
The Bugatti reappeared on December 17th 1954, in the hands of M. Edmond Messeant, farmer in Houchin. Painted in red at the time, it still has the same shade today. However, the rear was shortened to modernize the line of the car. It was registered under the number 1390 EC 62. In 1956, it is sold to a man by the name of Garnier, driver in Béthune and in 1957, it is purchased by M. Dourlens, an inhabitant of Labuissière. On March 4th 1959,it is sold to M. Duquesnoy, a merchant of Roubaix and registered under the number 9395 BW 59, which is still painted on the body.
This attractive roadster is mainly sound and complete with its molding and its seat. After restoration, it will easily outfit a 23 type or 40 any. (wheelbase 255 mm and tracks 115 mm).
Please contact:
Andrea Capra
acapra@bluewin.ch
0041 78 670 61 20
29-6-2015
---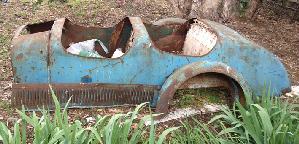 Body for T30 or T38, Unknown coachbuilder

For any more details , contact Udo Joerges , e-mail: ujoerges@aol.com

24-5-2015
---
For sale:

Type 37A, the T37A is probably half original parts. It is a splendid car, with every detail done precisely and in the Bugatti mode.
Car is in the USA.

Offers in the range of $500,000

Please contact the seller through me, e-mail: j.j.horst@BugattiPage.com

3-5-2015
---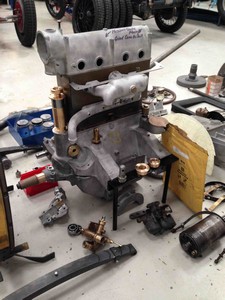 For sale, Bugatti Brescia kit!

See the pictures to see what is in the kit.

Tula engineering

Tel: 01285 831694
Mobile: 07710 512586
Fax: 01285 831188
Email Charles Knill-Jones: charles@tula-bug.co.uk


1-4-2015
---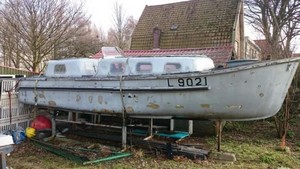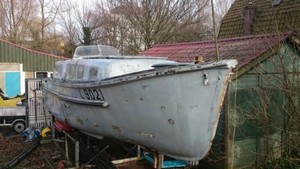 For sale, unique Bugatti engined boat!
The engine of course is a 6 cylinder 85HP Diesel, type 102V!
For more info: see this article in the Bugatti Revue
For sale in Holland.
For sales information Marktplaats.nl
30-3-2015
---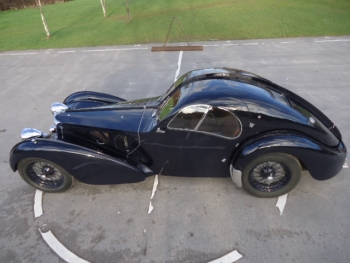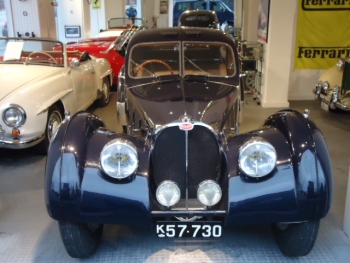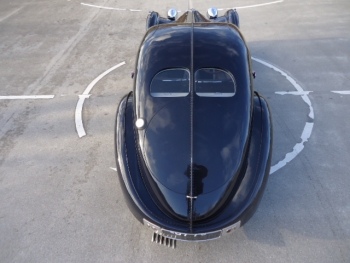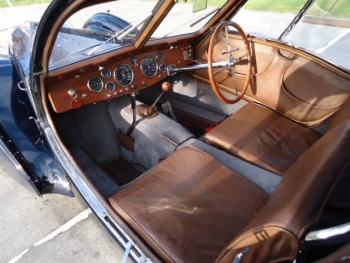 Bugatti T57S Atlantic replica by Erik Koux
For sale in Denmark, By Daytona in Hellerup.
For more information daytona.dk
1-2-2015
---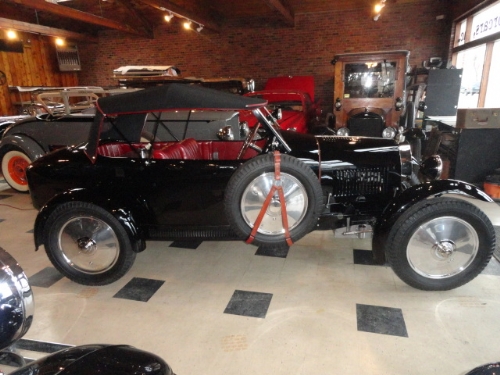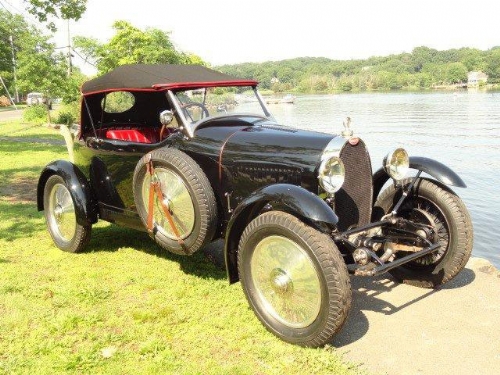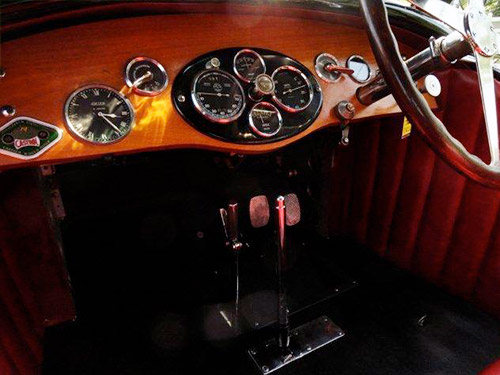 1929 Bugatti Type 40 Grand Sport
Chassis# 40496, Engine# 403
Offered here is a beautiful example of Ettore Bugatti's work, a Type 40 Grand Sport. This is a matching numbers car that was sold new with a sport body, and was upgraded to Grand Sport coachwork. It is nearly impossible to find any Bugatti with all matching engine, rear and front axle, numbers as it left the factory.
The Type 40 was built from 1926 to 1930 and used a 1.5 liter 3-valve inline four that was first used on some of the later Type 37s. The lineage of this historical Bugatti is traced all the way back to its original owner, a man named Neville Burkitt. Records indicate that Burkitt bought his Bugatti at the Taylor Brothers Bugatti dealership in Sydney, Australia and then used it in RACA Reliability Trials. Later that year, it was also driven by Bill Thompson in RACA sanctioned speed trials. This Bugatti then went into a long ownership with Jim Perry, who owned it from 1939 to 1982. It was club raced by him and described as "very fast". He installed removable cylinder head cover for racing in the 1940s.
This Type 40 Grand Sport recently arrived in the U.S. and this marks the first time that this Bugatti has been offered here. Finished in gleaming Black with side mounted spare tire, this is an outstanding car from any angle. It is also eligible for VSCCA events and would certainly make a spectacular entrance to any concours field. Jay Leno owns a sister car and he said in his video "his Type 40 was his favorite Bugatti".
Dragone Classic Motorcars
176 Post Road West
Westport, CT 06880
United States
p: 203.349.8840
f: 203.335.9798
Info and contact details: www.dragoneclassic.com
22-8-2014
---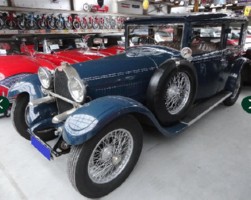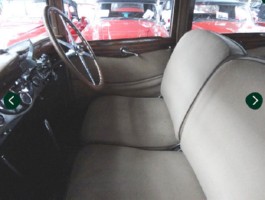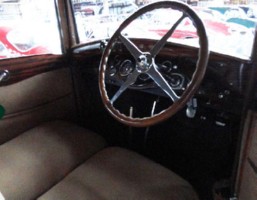 Bugatti Type 44 Saloon, 1931
Very nice, all original type 44 Bugatti with the original perfect running 8 cil engine!
The car has Dutch registration.
Info and contact details: www.stolzeclassiccars.nl
Stolze Classic Cars B.V.
Lierweg 34A
2678 KA De Lier
Tel: +31 174-520884
Mobiel: +31 6-55102015
Fax: +31 174-520886
info@stolzeclassiccars.nl
Stolze Classic cars also has a choice of Bugatti Pedalcars e.g. Eureka, and "Baby" replica's http://www.stolzeclassiccars.nl/classics/4/pedalcars/
22-8-2014
---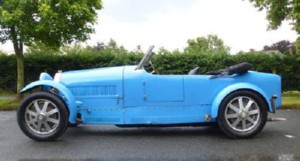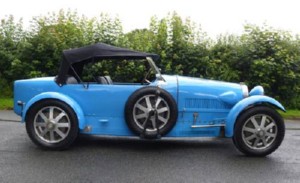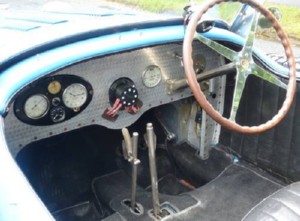 Bugatti Type 44 Grand Sport
This car represents the chance to acquire one of Bugattis finest touring models - the 3 litre eight cylinder Type 44.
All major mechanical components are original Molsheim.
Fitted with Grand Sport coachwork and late pattern aluminium wheels giving the appearance of the famous Type 43, but without the complication of the roller bearing crank. Further information available on request.
For sale in Leicestershire, UK
Info and contact details: www.carandclassic.co.uk
22-8-2014
---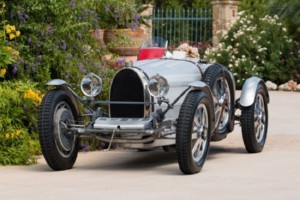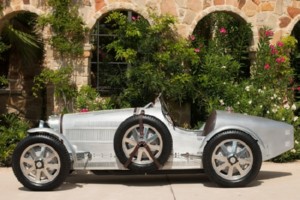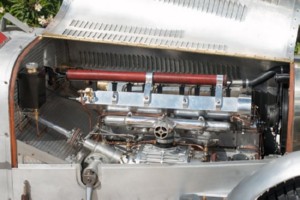 1931 Pur Sang Bugatti Type 51
Estimate £150,000 – £170,000, Starting Bid £130,000
This 1931 Pur Sang Bugatti Type 51 Re-construction offered here is the product of a faithfully craft-based atelier. Pur Sang Argentina is respected and renowned for adopting the concepts and philosophies of Ettore Bugatti's Molsheim. Virtually every reconstructed part of this Type 51 was built within the shops of the Villa Lola. Pur Sang uses artisanal techniques and methods throughout the manufacturing process, basing each and every part on the originals produced in Molsheim.
So accurate are Pur Sang's restorations and part recreation that they are the world leaders in semi-finished parts to owners of Molsheim-built Bugattis. Complete engines and gearboxes are used in touring and historic racing restorations and re-constructions.
The twin cam Bugatti Type 51 occupies a special place in Bugatti, and racing, history. Conceived in 1924 and introduced at the ACF Grand Prix in Lyon with a team of six examples, of which five raced, the Type 35 set the scene for later models to come. Powered by a 1,991 cc inline eight-cylinder single overhead camshaft engine operating two intakes and one exhaust valve, the Type 35's were beautiful and quick. The spare, narrow, streamlined bodies were highlighted by another Bugatti innovation, 8-spoke cast aluminum center lock wheels with integral brake drums.
The twin cam head dramatically improved the Bugatti eight's performance from under 100hp in the original unsupercharged Type 35, to 170hp on gasoline in the 2.3 litre (2,262cc) Type 51. Only 41 were built in a six-year run and they were bought and raced by the elite of Bugatti's customers, Achille Varzi, Marcel Lehoux, Jean Pierre Wimille, Louis Chiron and Arthur Conan Doyle among them.
The Type 51 represents the ultimate evolution of the brilliant and famed series that began with the Type 35. It is the pre-eminent re-construction among Pur Sang Argentina's work, remarkable not only for the fidelity of its construction and the meticulous finishing for which the eight-cylinder Bugattis are justly famed but also for the faithfulness of the Pur Sang Type 51's driving experience.
This 1931 Pur Sang Bugatti Type 51 reconstruction is powered by the 2.3 litre dual overhead camshaft straight eight supercharged engine, with 170 brake horsepower. Weighing only about 1,700 pounds in GP trim, even adding a driver and passenger brings the weight only to the vicinity of a ton, under 12 pounds per horsepower at peak.
The engine has a one-piece cast block, light alloy crankcase and pressure lubrication. A single Solex updraft carburetor supplies the supercharger running at 1:1 crankshaft speed with 4-5psi boost pressure at maximum. The aluminum body is unfinished and full road equipment including cycle-style mudguards, headlights and a spare wheel and tyre allow it to be driven on the road. It is upholstered in black leather and is fitted with an electric starter, thermostatically controlled electric radiator fan and a concealed alternator driven off the driveshaft.
Offered with USA title documents, import tax will be due on this car at the prevailing rate based on the country of its final destination.
On auction on September 4, More info: www.liveauctioneers.com
21-8-2014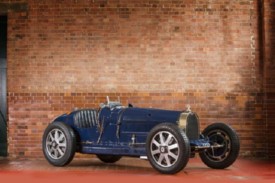 Type 35B R Grand Prix '1930', by Geraint Owen
Built around some parts of an original chassis frame
Robert Glover ltd.
More info: robertglover-ltd.com
In the annals of motor racing history few cars, if any, rank higher than the Bugatti Type 35. Between 1924 and 1931 they won over 1,000 races and were quite simply the car to beat during the vintage period of Grand Prix racing.
Produced between 1927 and 1931, the final and most powerful incarnation of the Type 35 was the type 35B which was powered by the 2.3-litre straight eight-cylinder overhead camshaft engine from the earlier Type 35T, fitted with a larger and more powerful version of the roots-type supercharger from the 2-litre Type 35C.
It is not, however, only its race winning credentials that give the Bugatti Type 35B such iconic status. The distinctive horseshoe shaped radiator, cast alloy spoked wheels and perfectly proportioned tapered tail make for a thing of exquisite beauty and, as such, they are regarded by many to be the prettiest Grand Prix car of all time. Add the superb spine tingling sound produced by the straight eight-cylinder 2.3-litre supercharged engine into the mix and one is left with an almost perfect package – there really isn't anything not to like. To this end they have been sought after, restored, raced, rallied and enjoyed by enthusiasts ever since they were first rolled out in 1927.
A Doctor of Engineering, the vendor of this particular example was responsible for putting the car together himself, while a lot of the complicated engine machining work was farmed out to marque specialists Ivan Dutton Ltd. The radiator is an original Targa type on which the entire line of the car is based. Particular attention was paid to the bodywork, which was constructed by Peel. To ensure that the bodywork was completely correct the finished article was sent back for modifications. A further example of the attention to detail are the wings, which although not often on the car, are beautifully designed with hollow tapered wing stays fitted with correct type Marchal headlights.
The rebuild was completed in 2008 and the quality of the finished result is a testament to the owner's engineering skills and eye for detail. Aside from a problem during its maiden outing the car has proved almost unbeatable at VSCC events since. It has won multiple trophy races proving to be not only fast but also extremely reliable, exactly as the current owner had intended when he started the project. The proof of its success is, in part, listed below and makes for impressive reading:
VSCC Silverstone 'Spring Start', April, 2008 – Winner of The Itala Trophy Race
VSCC 'Spring Start' Silverstone, April 2009 – Winner of The Itala Trophy Race
VSCC Wiscombe Park Hill Climb, May 2009 – 1st vintage in sports car class
VSCC Curborough Sprint Trials, May 2009 – 1st vintage in sports car class
VSCC Prescott Hill Climb, August, 2009 – 1st vintage in sports car class
VSCC SeeRed, Donington Park, September 2009 – Winner of The Vintage Seaman Trophy Race
The Autumn Sprint, Goodwood, October 2009 – 1st vintage in sports car class
VSCC 'Spring Start' Silverstone, April 2010 – Winner of The Itala Trophy race
VSCC Hawthorn Memorial Trophy, Oulton Park, May 2010 – Winner Boulogne Trophy Race for Vintage cars
VSCC Prescott Speed Hill Climb, August, 2010 – Fastest Bugatti and 1st vintage in racing car class
VSCC 'Spring Start' Silverstone April, 2011 – Winner of The Itala Trophy Race
VSCC Richard Seaman Memorial Trophies Race Meeting at Donington Park, May 2011 – 2nd overall
Silverstone Classic, July 2011,HGPCA pre 61 race – Fastest vintage car and fastest Bugatti beating some post war cars in Saturday race
VSCC 'Spring Start' Silverstone, April 2012 – Winner Itala Trophy Race
VSCC Prescott Speed Hill Climb, August 2012 – Fastest Bugatti, 2nd fastest and 2nd fastest vintage overall
British Championships Weekend, Prescott Hillclimb, September 2012 – Fastest Bugatti
VSCC 'Spring Start' Silverstone, April 2013 – Winner of The Itala Trophy Race and Winner of the Boulogne Trophy for first vintage in Standard and modified racing car race on the Sunday
More recently the vendor's wife enjoyed an outing in the Bugatti at the 72nd Goodwood Members Meeting.

With a huge number of race wins under his belt the current owner has, rather reluctantly it must be said, been forced to part with the Bugatti to make way for another exciting vintage racing project that has close historical links with his family. Aside from the evident attributes of speed and reliability the owner describes the car as highly tractable and relatively easy to drive. This might have something to do with his experience in driving aero engine monsters and an extremely rapid V8 1950s sports racing car but suffice to say the results speak for themselves. Furthermore the Bugatti Type 35 was often the racer of choice of privateers in the vintage period for the very same reasons of ease of use and relative reliability from a Grand Prix car.

This particular Bugatti Type 35B Grand Prix represents an excellent opportunity to enjoy fast VSCC racing, sprints and hillclimbs as well as a good number of international events. Aside from its competition credentials it makes for a surprisingly good road car and could equally be used for numerous rallies and tours. Conversion to petrol is a straight forward task, and in the spares package are further parts to detune the car further for long distance road work – again the fitting is a straight forward exercise.

It is offered for sale with the aforementioned lights and wings set up, its current VSCC Buff Form (which will require renewal), F.I.A. application forms correctly filled out and a spares package via separate negotiation. If at all possible viewing is highly recommended. Subject to availability and by prior appointment the owner is happy to demonstrate the car either on public roads or on the private airfield at Bicester Heritage where the car is now located.

To behold a Bugatti Type 35B being driven in anger for the first time is something most motoring enthusiasts will never forget. To drive one for the first time is a luxury precious few of us have ever been able to enjoy. They not only look and sound fast but they even smell fast too and provide a driving experience that is both rewarding and exhilarating in equal measure.

Given the impressive performance, undeniable charm and superb credentials it is no wonder then that the Bugatti Type 35B has been sought after by collectors and racers for over 80 years. For sale here is an opportunity to enjoy all that the legendary Grand Prix Bugatti has to offer. It has been put together by a long time VSCC member and Doctor of Engineering to the highest possible specification with reliability and performance in mind.

As Type 35Bs did in late 1920s, it has proved itself to be an unbeatable race winner time and time again – a Grand Prix Bugatti in the true spirit of the company and a motor car that Ettore would surely have been proud to call his own…

16-6-2014
---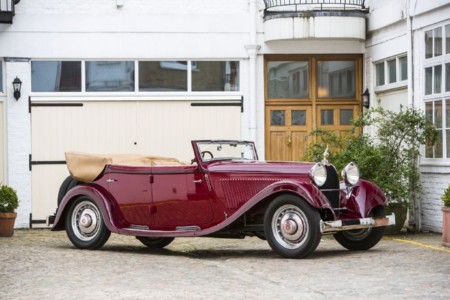 1930 Bugatti Type 46 S

Chassis: 46525

During the late 1920s and early '30s the unmistakeably grand Type 41 'Royale' topped the Bugatti range. With its staggering 4.3-metre wheelbase and a herculean straight-eight engine displacing 12.7-litres, the T41's notoriety was assured. What's more, it created an enormous void between itself and the company's next largest model.

To bridge the gap Ettore Bugatti needed to build a car of similar appeal and distinction but with smaller proportions. Launched in 1929, the Type 46 met the brief perfectly. Although affectionately known as the 'Petite Royale', nothing about its 5,359cc straight-eight or 3.5-metre wheelbase chassis was small.

Jean Bugatti penned a number of in-house bodies for the car, most notably the Superprofilee, but approximately 40 external coachbuilders received commissions to work on a T46. A test performed by The Motor in 1930 reported that the car combined 'the luxury of a large limousine and perfect flexibility and top-gear performance of a thoroughbred low carriage with the perfect road holding, speed and acceleration of the best type of sports model.'

With the Great Depression looming and contemporaries like Bentley being placed into receivership, Bugatti did exceedingly well to sell over 400 examples. Despite utilising torque through a three-speed gearbox customers craved more power, and an 'S' variant joined the range in 1930. The addition of a Roots-type supercharger and two Zenith carburettors provided an increase of 20bhp, but the significant price of the T46 S, and its largely unfelt improvement, put customers off. Ultimately, fewer than 20 were sold.

The Type 46 proudly offered by Fiskens (chassis 46525) is one of the ultra-exclusive S models sold new to Swiss Bugatti importer Bucar. Bodied in Switzerland by Reinboldt & Christie as a four-door cabriolet, 46525 eventually resurfaced in the USA.

Discovered and acquired in the 1980s by world-renowned collector Henry Petronis, 46525 began a 14-year long restoration in which key original parts were sourced to return the car to its former splendour. Finished in enchanting claret red with a complementary beige folding hood, this is believed to be the only open T46 S left in existence, and arguably the best restored example.

Type 57s receive the lion's share of classic Bugatti attention, but the 46 is now unquestionably the connoisseur's choice. What better car to offer than this beautifully presented and unique example of the rarest T46 S series?

Fiskens, England.

More info: www.fiskens.com

25-5-2014
---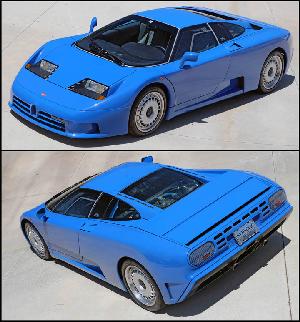 1993 EB110GT
Chassis No. ZA9AB01E0PCD39023

This is the 6th of only 95 Bugatti EB110GT Sports cars completed from 1992 to 1995. Of those only 85 are know to still survive and fully accounted for. This is a single owner from new vehicle that has covered 8,000 kilometers from new (4,900 miles.)

The original owner took delivery of this vehicle in at the Bugatti Factory and the following year entered and ran the car in that year's Bugatti Club Rally in Italy. After the rally, the car was serviced and then shipped to the owner's museum collection in Japan where it remained until being sold to a dealer there and then earlier this month to us.

This Bugatti has just completed full "Show & Display" compliance work here in the States and it is EPA/DOT exempt and now ready for immediate purchase and delivery. It can also be exported and imported back to Europe with extremely favorable VAT rates and no additional duty.

This is a completely accident free, matching numbers example with no signs of repaint, wear or damage anywhere. All services and safety checks are completely current and up-to-date. (The original key and FOB remain wrapped in their original protective delivery plastic!)

Nearly 100 high-resolution inspection photos and background notes can be accessed by clicking on this link:
symbolicphotos.weebly.com

Symbolic International
Symbolic Motor Car Company
7440 La Jolla Blvd.
La Jolla, California 92037 USA

Phone 619 840 7811
Email bnoon@symbolicmotors.com

21-5-2014
---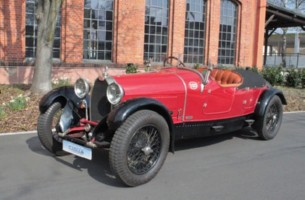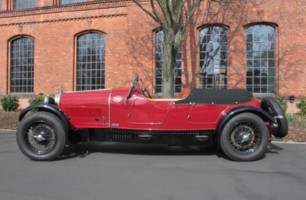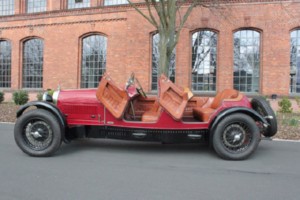 T38 A Lavocat & Marsaud (Paris).
Chassis 38221
Gearbox and chassis original to the car, restoration executed by an English specialist, using original Bugatti parts.

Price: 590.000 EUR
The engine is not a full T38A, as it lacks a supercharger
Pyritz Classics GmbH
Orberstr. 4a
60386 Frankfurt am Main, Deutschland
Tel. : +49 (0)69 40895518
More info: suchen.mobile.de
17-5-2014
---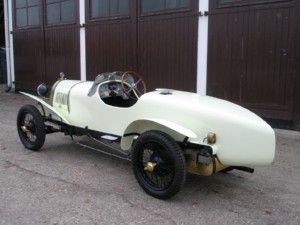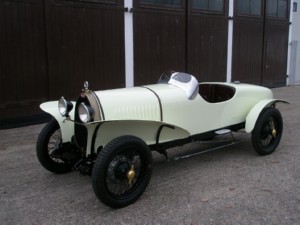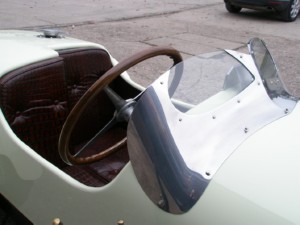 1924 Bugatti T23 Brescia

Chassis no. 2180, engine no. 573.

Recently restored. History and authenticity confirmed by written certificate of the Bugatti archives in Molsheim.

Concours condition throughout, superb handling and driving. Owned by an experienced collector of Bugattis.

Klassische Automobile Dr.Markus Müller
Elisabethenstrasse 14
63225 Langen (Germany)
Telephone: +49 6103 7069062

More info: www.classiccars-langen.de

3-2-2014
---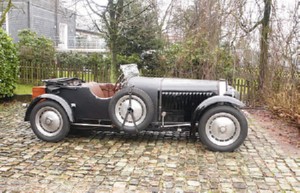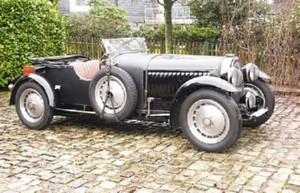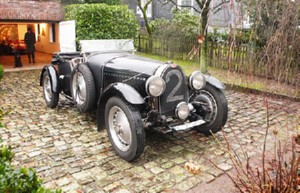 Bugatti Typ 50

Chassis 50138
Engine Nr. 3

Very interesting history documented by David Sewell

Klassische Automobile GmbH & Co. KG
Wuppertal (Germany)
Please contact: Mr. Klaus Werner
Telephone: +49(0)202-752575

More info: www.klaus-werner-autos.de

3-2-2014
---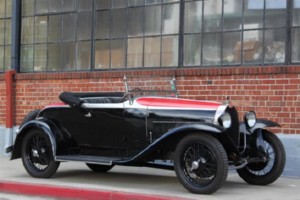 1929 Bugatti Type 40 Roadster
Chassis 40845, engine no. 769

1 of 42 Type 40 "Jean Bugatti Roadsters" Built, and 1 of 13 Surviving Cars, Superb Integrity and Matching Numbers Throughout

Built in the heyday of Bugatti's illustrious Grand Prix successes, the Type 40 was among the company's smallest offerings, but incorporated many of the same innovations that distinguished the company's cars both on and off the track. The engine was virtually identically to that of the Type 37 Grand Prix car, a single overhead camshaft inline four with three valves per cylinder. A 4-speed gearbox transmitted power to the rear wheels. A total of 775 examples were built, of which just 42 wore the most sporting and beautiful "Jean Bugatti Roadster" bodywork, itself adapted from the stunning open bodywork he had designed for the eight-cylinder Type 43A.

Of the 42 Type 40s built with this bodywork, just 13 survive today, and this is an exceptionally original example that retains its original body, frame, engine, and gearbox. Jean Bugatti personally kept the first Type 40 with this bodywork, finished in the same color that this car wears: two tone black and red. Originally ordered by Bugatti's Paris agent, Larrousé, this chassis was completed in January of 1930 and the body completed in August of 1930. It is one of four such cars ordered by Larrousé. The car was sold new in France and remained with French owners its entire life until 2013. By the 1950s, the car is believed to have found its way to the Loire valley, registered 243 BW 41. It was acquired in that region in 1961 by a Jean Montot, who owned the car, then registered 188 FA 37, until his death in 1984. Its next keeper had the car painted and owned the car for 29 years, from 1984 until 2013, at which point it was sold to an American and imported to the United States.

The car retains all of its original mechanical components, numbered consistently to the chassis, as well as its original chassis plate and wood panels stamped "22", identifying this car as the 22nd Jean Bugatti Roadster built. The dashboard instruments are also entirely correct. Few Bugattis can claim such an exceptional level of originality.

The car's presentation is quite authentic and generally original in appearance, although the paint was renewed about thirty years ago. It is now showing patina with some stress cracks and areas where it is lifting or peeling. The wood subframe of the body is in excellent shape throughout and the car appears quite correct in terms of accessories and equipment, including wheels, Scintilla headlamps, and other lighting. The glass is in good shape, as are the lights. The chrome is in good shape although not freshly restored. The top is excellent and appears recently restored, including the wood frame.

The interior is in very good condition with excellent leather seats and door panels. The wood steering wheel is in excellent restored shape, as are the instruments. The dashboard wood is in very nice condition while the pedals and shifter show patina and retain the intricate mechanical appearance that distinguishes Bugattis of this period. The tachometer is inoperative at this time.

The engine compartment continues the beautiful mechanical aesthetic that is visible in the interior of the car. The engine and firewall are beautifully etched alloy, and carefully wrought piping conveys fluids to and from the engine. The appearance is generally authentic and period correct, with original equipment such as charging system, choke, and ignition advance/retard mechanism.

The car runs and drives well. It starts easily, and operates as it should. The brakes work well, the transmission shifts properly, and the chassis and steering are coherent and communicative. The previous owner reports that it is very reliable.

This is an exceptional opportunity to acquire an extraordinarily rare car. Wearing the most sporting and desirable body available on the Type 40, this "Jean Bugatti Roadster" is one of just a handful in existence and is exceptionally honest and undisturbed, retaining its original engine, gearbox, and body. The car has been inspected and documented by Bugatti historian Pierre Yves Laugier and enjoys excellent history with few known owners. It is widely eligible for the world's most prestigious events including the Mille Miglia and will be an exceptional addition to any collection.

Contact Information
Fantasy Junction +1 510 653 7555 Emeryville, California 94608 USA

More info: www.fantasyjunction.com

8-1-2014
---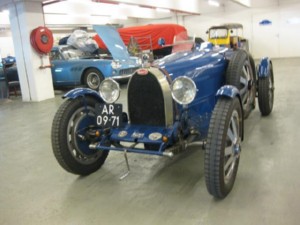 BUGATTI 35B PUR SANG 1928

Stunning Bugatti 35B by Pur Sang. Great looking car in absolute fantastic overall condition. Privatly pre-owned car, no extra taxes. We will be glad to show you this car on appointment.

With registration: 01.07.1928
Price € 230.000

More info: www.beerens.be/classic-division

8-1-2014
---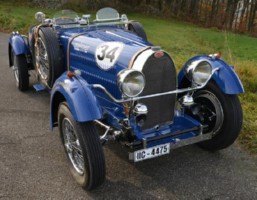 1934 Bugatti Type 57 Tourist Tropy.

Chassis number 57175
Engine Number 33 (matching numbers.)
Price: £620,000 (approx €735,506 euros)

One of a two type 57's we are selling; The cars are available individually or together as a pair.

The chassis was delivered in 1934 to Guidelam Ltd in Southampton, UK for the consideration of 60.000 Francs It was then shipped to Vanvooren to recieve a very elegant open body. The model was called Ventoux Tourist Trophy Torpedo.
Similar bodys were built for chassis 214 - 224 - 228 - 231 -244 and 414.

An all new aluminium body was built some years ago (replacing the original body) in the style of the T 57S Competition Torpedo Prototype with inch perfect dimensions taken from the original factory blueprints. The full restoration took an enormous amount of time & a vast sum of money; the equivalent of 500.000+- Euros in today's money was spent. Many early Bugatti experts were involved and most parts were sourced new in Molsheim. The car Moved into the hands of the current owner more than a decade ago. The now elderly owner, a very well known Bugatti expert brought the car up to the concours condition we find it in today. The engine, chassis and aluminium bodywork were redone and detailed to perfection. The attention to detail is incredible. The owner has used the car regularly for himself touring in the southern parts of Europe.

This T57 drives & sounds like a Grand Prix Bugatti and the engine is very powerful. It pulls from low revs and is incredibly strong. Compared to other similar models, which are much heavier of course, it behaves a little like a Grand Prix Alfa Romeo 8c. Very very fast and precise, but also utterly stable & civilized.

The car is well known in Bugatti circles but was never on the open market. It starts at the button and needs nothing. A real opportunity for the ... collector.

The car will be displayed on our stand at Technoclassica in Essen if a sales contract has not been entered into by the start of March.

More info: www.vintagerollsroycecars.com

15-12-2013

Editors comment: the car seems odd, at least the wheels should be a size larger!
---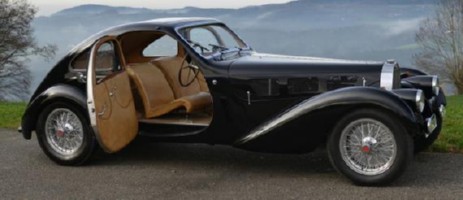 1938 Bugatti Type 57 By Guillore of Paris.

Chassis number: 57651
Engine Number 505 (Matching.)
Price: £850,000 (approx €1,008,355 euros)

A stunning Jewel of a car in absolutely top order. This is one of a pair we are selling for the owner & are available as a pair or separately. This car was dismantled during the war due to a lack of readily available spare parts & stored for the duration. After the war it was discovered by Kurt Kiefer, the founder & then president of the German Bugatti club. He undertook a complete rebuild of the engine utilizing the services of Bugatti "Pope" Hans Wilde at his workshop in Gelsenkirchen.

An original Guillore of Paris body was obtained for the car which had been found in Molshiem & originally destined for a 57 before hostilities interrupted its progress. The Guillore body has a unique glass sliding sunroof not dissimilar to the atlantic design. It is a delightful tear drop fastback shape which looks stunning from any angle.

In 1984 the engine was dis-assembled checked & found to be in superb order with a new crank shaft, pistons, valves etc etc. Since then the car has been sparingly used on private tours. The car is thus in superb condition mechanically & absolutely ready for use.

We photographed the car near the current owners German home after driving it up a nearby mountain to take advantage of the early morning light & stunning views; a perfect setting for the car. Hearing the straight eight engine howling up the mountain was music in itself. One has to drive & experience this car to appreciate how special it is & how it touches ones soul.

The car features in Barrie Prices type 57 book on page 111. It was also the template for a die cast model series, a piece of which comes with the car.

Finished in deep black the exterior is flawless & in simply superb condition set of beautifully by the chrome wire wheels to the 4 corners. Under the bonnet the twin cam straight eight is highly detailed & perfect. The interior of the car is a wonderfully mellow tobacco leather to the seating surfaces & door cards, complimented by a walnut dash board. The requisite instrumentation is all present & correct.

More info: www.vintagerollsroycecars.com

15-12-2013
---
12-12-2013
---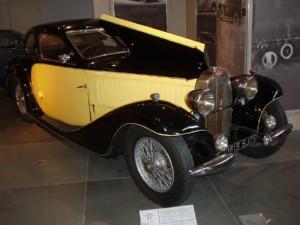 ex - Jean-Michel Cerede, French-history rich, Bugatti Type 57 Ventoux Coach

Specifications:
Year: 1934
Type: 57 Ventoux Coach
Chassis number: 57319
Engine type: 3.3lt, 8-cyl, twin OHC.
Engine number: 84/57126 non-matching (1968 replacement)
Options: Last Molsheim production model, integral 4sp gearbox, reversed quarter-elliptic springs at the rear.
Color: black/yellow
Registration: French, 1313 SJ75, in Greece under classic VAT status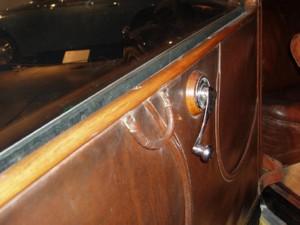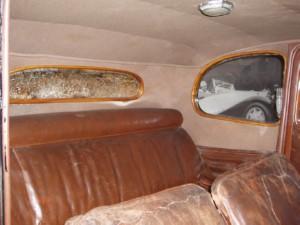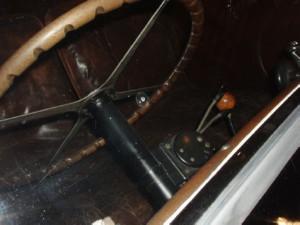 General history: This Bugatti Type 57 was purchased in 1966 by Jean-Michel Cerede from Claude Martin, son of 'Bear Martin' pilot and champion of Amilcar and ever since it has been French-registered as '1313 SJ 75'. In 1967 some spare parts for the rear axle were bought from the factory and fitted on the car by Vergt while the following year a replacement engine, found in Marseilles by Jacques Dumontant and rebuilt by Bugatti specialist Hauswald (Levallois Perret) was installed (84/57126 designation). This engine is deemed to be the last engine completely rebuilt by Hauswald before he ceased operations. During assembly it was equipped with an intake pipe of type 101 and a dual Weber carburetor body inverted provided by the Bugatti factory. The bodywork was restored and repainted in 1982 by Gervais, and the interior re-carpeted in 1985.
Jean-Michel Cérède completed numerous rallies with his Type 57: Paris-Deauville many times, Wiesbaden in 1967, 100 Bugatti à Deauville in 1978, several Paris-Bordeaux, etc. The car comes with its French Carte Grise recording the correct chassis number.
Its current owner purchased the car on 7 February 2006 through an auction in France. Once he imported in Greece he decided to carry out several minor paint repairs.
The asking price is 440000 euros.
Please contact: Nicolas Alexacos, Athens, Greece
Tel.: +30 6945 159 602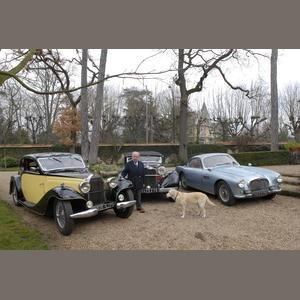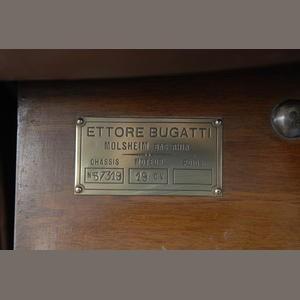 17-9-2013
---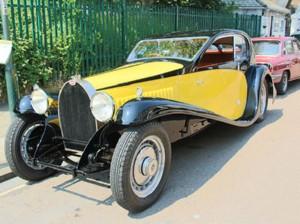 Bugatti Type 46 Super Profilee

1930

Raven Black over Acid Yellow

This is an absolutely breathtaking example of what is often considered as the finest design work of Jean Bugatti, the Super Profile. Totally rebuilt to absolute concours standard our Bugatti is ready to be shown at many of the worlds top concours events. Finished in the amazing art deco colour scheme of Raven Black with Acid Yellow sides and tan Ostrich leather interior complemented by fine wood and turned polished alloy fittings.

Automobile rolling art at its very best and most beautiful this important motor car would be a high point of any major car collection worldwide.

Daniel Donovan
Kew, Surrey
tel: 07850 88 88 80
Info and contact details: www.DDClassics.com

22-8-2014
---
More information: www.ddclassics.com
9-9-2013
---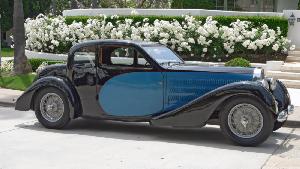 1937 Bugatti T57 Ventoux Coupe

Chassis No.: 57345
Engine No.: 57345 282
Body No.: 1146
Gearbox No.: 113
Rear Axle No.: 585

This Bugatti was ordered new by the official agent Arnaud in Lyon, France for an unknown clien in December of 1935. Assembly took place in January and February of 1936 and the car was fitted from new with a standard Type 57 engine with the internal number 282 which it still retains to this day. The car was fitted with an optional down-draft carburetor and four-wheel hydraulic brakes. The Ventoux coachwork is the early Series One type with separate partitioned rear trunk. It was otherwise a standard production example with normal right-hand-drive steering.

Chassis 57345, would be one of the few Ventoux-bodied cars that would be completed without running boards. It was finished with the usual Ventoux touches of the flat, uncluttered wooden dash, simple steering wheel and the single-panel leather seats, as well as devoid of external running boards, 57345 would also have the 3.3-liter DOHC eight-cylinder engine with the single Stromberg carburetor helping to produce easily around 145bhp at an astonishing 5,000rpm.

Unfortunately, the car's early history is relatively unknown but it would survive the Second World War remarkably well and would eventually be sold in 1960 by a dealer in Paris where it had been hidden away safely during the war. From there, the Ventoux Type 57 would be bought by J.W. Harrison of Arlington, Virginia, and therefore, would make its way to the United States. Soon after arriving, the car would become registered with the American Bugatti Club where it has always been considered the benchmark of originality and correctness by which all others are judged.

The car would remain with Mr. Harrison until the early 1970s when it was purchased by David Uihlein. Uihlein would not purchase the car and have it sit as part of some boring, static collection, Instead, 57345 would be a car regularly driven to and from different everyday events and would continue in this capacity well into the late 1990s when David's health prevented his full enjoyment of his most treasured Bugatti.

Over the course of its life, the Type 57 Ventoux has been maintained and has undergone a number of necessary cosmetic and mechanical work but always under David's watchful eye to ensure it remained both functional and as original as possible. Finished in a Black and French Blue livery, the car is a striking thing to behold. Retaining its original motor, 57345 would appear to be highly original in a number of other ways, including its leather interior. In addition to that, each panel and piece of trim and bright work is delicately stamped with the Type No. "57" and the vehicle's body number "1146" is likewise found on all major alloy body panels.

This period correct and highly desirable first series Bugatti Type 57 Ventoux was a personal favorite of David Uihlein who was a most avid fan and collector of original, unrestored and ultra period-correct vehicles of all types. He told me personally on several occasions that this particular Ventoux was one of the most original and correct examples he had ever encountered and that it would remain with him until he passed away... something that in the end came to be.

David enthusiastically enjoyed the car for more than 30 years and it was never restored while in his care or needed to be as he never intended it to be anything but fun transportation. Aside from regular services, paint and touch-up work to deal with age related issues, the car remains essentially as ordered, built and delivered new.

When I last saw the car nearly 20 years ago, I considered it to be a remarkably original survivor. Many back then however deemed it only suitable as a starting point for a full restoration given the fact that it had at that point never been touched or restored before. Today, it is treasured for its originality and purity and likely one of the very last survivors that remains this original and correct.

During my most recent inspection, I was amazed to find hand written notes from June 1977 on the back of a letter addressed to David in which he details recent services and work he performed to the car. In addition to this was a a Standard Oil Company Map of Wisconsin from 1970, something that likely came in quite handy for David as he travelled out and about the countryside in his treasured Bugatti. Shortly before his death, he left his family a set of written starting and driving instructions. These two have been carefully preserved and were left under the driver's seat upon his passing to make ease of use for the next owner that much more enjoyable.

David is no longer with us, but his passion and enthusiasm are forever preserved in this amazing automobile!

More info: symbolicphotos.weebly.com Symbolic International
Symbolic Motor Car Company
7440 La Jolla Blvd.
La Jolla, California 92037 USA

Phone (+1) 619 840 7811, Email bnoon@symbolicmotors.com

13-5-2013
---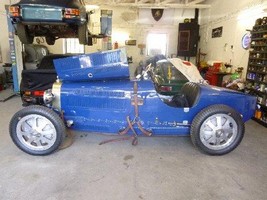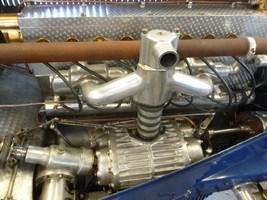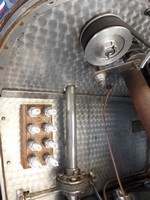 Pur Sang, Bugatti T35b compressor, with german TUEV, Street legal, price € 239.000,-.

SUPERSTRADA, Tony Erker, Germany

www.tonyerker.info, superstrada@aol.com

23-4-2013
---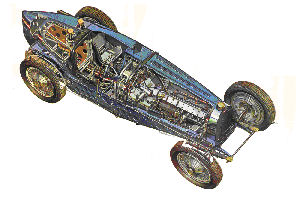 For Sale: Bugatti T59 Bugatti Project

A true and correct collection of parts, castings and panels to assemble a replica of arguably Bugatti's finest Grand Prix car, the Type 59.

Offered by Tula Engineering, well know for there knowledge of this model is an excellent chassis, full engine set of castings, Carbs, supercharger, bell housing, complete 4 speed gearbox casing and components, brakes, bulkhead panels, oil and fuel tank and body, flip caps, fuel tap and pipe work castings.

A full list of the parts is available on request from charles@tula-bug.co.uk

Offers in the region of £60,000

18-2-2013
---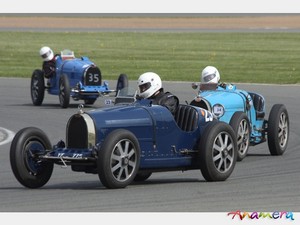 1930 Bugatti T35B

An opportunity to purchase one of the most iconic racing cars of all time. This car has been built from a mixture of original and new parts and subsequently maintained by a skilled engineer to the highest standards. Tuned for performance and engineered for improved reliability, the car remains a delight on the road, yet boasts the performance to ensure it is currently the fastest GP Bugatti racing worldwide. Beautifully presented, with a subtle patina from use, it is one of the better looking GP Bugattis you will see.

The car has been very successfully used for a variety of races and hillclimbs by its current owner over the last 7 years (with the VSCC, BOC and HGPCA). Proving time and again it is one of the quickest vintage cars on the track it is well known in VSCC/BOC circles. VSCC Buff form and FIA HTP. .

It is fully sorted and "on the button". Despite the "hype", a fully sorted 35B can be prepared and run by an enthusiast owner driver, especially using the support of the excellent Ivan Dutton Ltd for the really difficult stuff. The car is ready for the 2013 season and ready for a new owner to fill their trophy cabinet!!!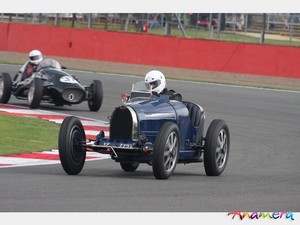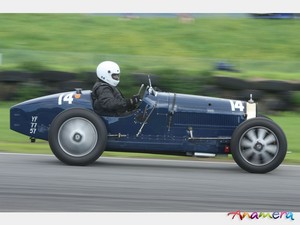 Extensive spares package available to purchaser (no parts available prior to cars sale)
Offers over £400,000 invited
Geraint Owen
e-mail: ensgwo@bath.ac.uk
Tel.: 00 44 1981 570245
1-2-2012
---
FOR SALE - Bugatti Type 59 recreation.

Built to full Bugatti specification.

Car was initially laid down in the early 1990's, it has been evolved over 20 years to the present stunning condition.

Please contact e-mail: davebish@sky.com, Phone: +44 7902 758443

11-11-2012
---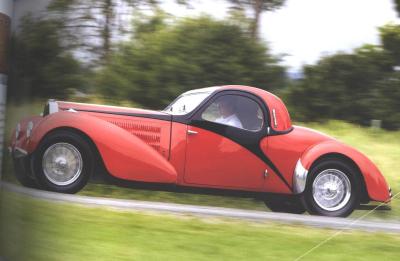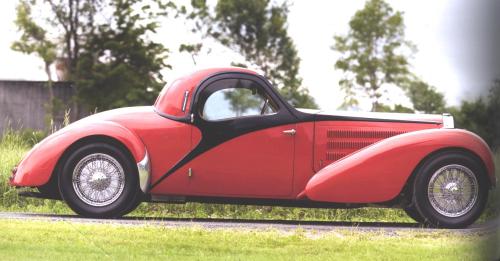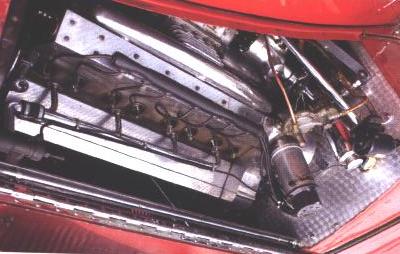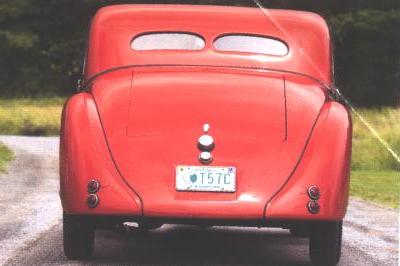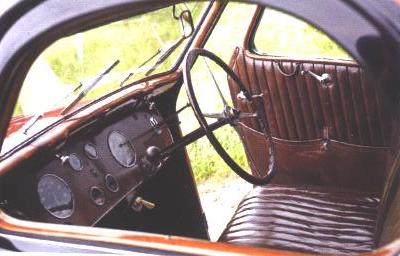 Bugatti T57C Atalante
1939, Chassis N° : 57624
Colours : Red and black, cognac interior
Sold new in Switzerland.
Sold in the USA in 1960, in the Williamson collection since 1963.
Perfectly original.
Ultra rare late 57 Atalante with compressor and hydraulic brakes.
GTC, France
www.gtc-collection-cars.com
11-11-2012
---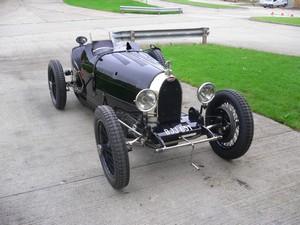 1927 T37A Bugatti.

Built up from many original parts in 1988. It was given full FIA papers in September 1995. Current owner since November 2003.

Chassis number BC77. Crankcase number 97, front axle number 141, rear axle number 41, original Bosch 8 cyl mag (FH8/4), original steering wheel, steering arms, hubs and brake drum cooling fins, with many other original parts. The car is road registered BJJ651 and currently has VSCC Buff Form.

Holder of the 4 cylinder Bugatti long and short course records at Prescott, the class record at Etretat (amongst many others), all on petrol. Featured in French Racing Blue book by David Venables, as well as a number of VSCC orientated publications.

Car has participated on many Bugatti Rallies, both in UK and abroad, and regularly used on the public road. It is probably one of the best put together and quickest of its type in the UK.

Offers considered in excess of £275,000.

Contact Info: Edmund Burgess, (UK) 01787 248135 or 07973 960213; email edmund@eburgess.fsnet.co.uk

29-5-2012
---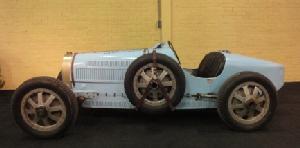 1930 Bugatti 35B Compresseur
Grand Prix 1930
9-5-2012
---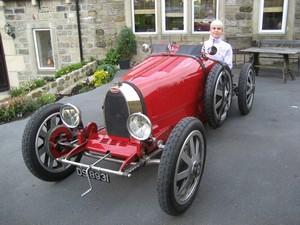 Bugatti Type 35
Imported into UK from Belgium by Sir Anthony Pilkinton in 1988 after having competed in that years Mille Miglia.
Registered as 4805 by the Belgium Veteran car club and the Bugatti has old style FIA papers, VSCC buff form and UK MOT.
I have rallied and hill-climbed the car for the last 17 years and now find the car has stood the test of test much better than my back!
Looks very period with beaded edge tyres on alloy wheels, fitted with modern plain bearing crank for reliability and electric start for convenience. Registered as BC48 with the BOC as car has a gap in its history between 1948-69.
PRICE: £425000 sterling.
Mike Wood, +44 7973 361384, e-mail: woodmri@gmail.com
3-5-2012
---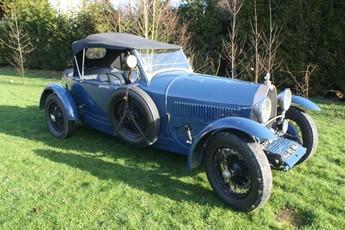 1929 Bugatti 44 original Torpedo Grand Sport Carte grise française d'origine. Véhicule en parfait état de fonctionnement, révision recente chez Novo.
1929 Bugatti 44 genuine Torpedo Grand Sport french registration. The car is fully working, it's come with a control by Novo (bugatti specialist)

Prix sur demande et reprise possible.
Price on request.

Porez Auto Retro, porez.fr, e-mail: p@porezauto.fr
Phone : 0033674674879 (french) or 0033645811326 (english)

5-4-2012
---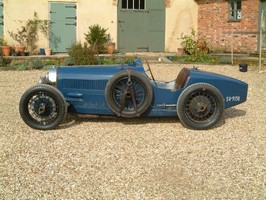 Type 35 Grand Prix Bugatti.

Campaigned in over 50 VSCC and BOC events over the last ten years (winning the Bruton Trophy several times, the Kenneth Bear Trophy and a second in the Williams). Well known car that is always driven on the road to and from events. Presently fitted with 2995cc type 44 straight eight engine but could be converted back to 2300cc spec.

Car built up in the UK out of a combination of original and replica parts. Available with the 44 engine or without (at a reduced price) if you have a 2300cc you wish to fit.

Best offer over £300k

For more information and photographs please contact Bruce Stops on 0044 (0)1858 555550 or 07976 912266; Email bruce(at)gbstops.co.uk replacing (at) with @

The racing photo was staken at the Williams Trophy race at Donington Park.

1-4-2012
---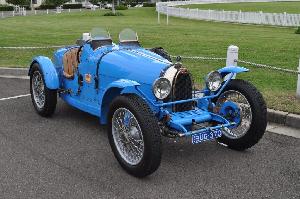 This Bugatti Type 37 has been built from many original parts and has been authenticated by the owners club and given the chassis number BC57.

This expertly assembled Type 37 has many original and new parts in its makeup of which a list can be given to any purchaser. Together with full details and records of the build.

The car was finished in 2005 and attended international Bugatti rally held here in Australia. This remains in first class order today and performs faultlessly. More photos of this car can be found on our website www.cumminscars.com. Keenly priced for a quick sale.

Please feel free to contact me on +61 297434479 or at Jeremy@cumminscars.com .

19-3-2012
---
Bugatti Garages
Current Bugatti factory
The Bugatti EB16/4 Veyron is made by Bugatti S.A.S. Addresses:

Bugatti Automobiles S.A.S
1, Château St. Jean
Dorlisheim
67120 Molsheim France

Press contact:
Liaison office Lausanne
Phone: +41 21 601 4141
Fax: +41 21 601 4142

---
Argentina
"Pur Sang"
We remanufacture Type 35, Type 43, Type 52 and the vice with its supports.
Commercial director: John Bothwell
email: john@pursangweb.com.ar
Arg mobile: +54.911.3475.1247
U.S. mobile: +1.949.294.5719
Address: Almafuerte 2650- 3100 Paraná, ER - Argentina
Fax: 54 - 343 - 4260326
E- mail: pursang@arnet.com.ar

---
Canada
The Guild of Automotive restorers Inc.
My old site for the Guild (incorrect contact info)
---
France
Jean NOVO's garage is now taken over by his son Fred The specialist for Molsheim Bugattis Restauration and Repair:
Telephone and Fax: 33 1 69148286 (please speak French on the phone) 3, rue puits de l'orme, 91630 MAROLLES en Hurepoix
France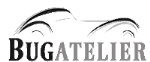 Bugatelier en Alsace
Christian Schann
F-67205 Oberhausbergen
?Tel: +33 (0) 674 44 74 59
bugatelier.eu
Ventoux Moteurs Engineering (Laurent Rondoni)
56 Bd Louis Giraud
84200 CARPENTRAS
FRANCE
Tel: 0033 4 90 60 23 98
Fax: 0033 4 90 60 51 75
www.ventoux-moteurs.fr
---
Germany
Werkstatt für automobiles Kulturgut
Martin Strohhammer
Neukammer 1
Traunstein
e-mail: Strohhammer@gmx.de
00498612097747

We are specialised in restauration and service of Bugatti cars, located in southern germany near the austrian border.
---
the Netherlands
Klopper Engineering
Broekdijk 69
7663 TG Mander
tel.0541-680 360
fax 0541-680 229

EBS
Ernand Jonker
Wippertdijk 11
7437rc Bathmen
tel: +31 573221388 or +31 636171770
e mail: info@ebs-engineering.nl

Harry's Engineering Service
Harry Kouwen
Phone: +31 523 681140
fax: +31 523 681141
---
New Zealand
Auto Restorations Ltd, Christchurch, New Zealand.

Alan Stanton , Gavin Bain.
52 Stewart Street
Christchurch 8142
New Zealand
PH 64 [0]3 669988
FAX 64 [0]3 3665079
www.autorestorations.co.nz

Nordell Restorations http://www.nordellrestorations.com/bugatti.htm
---
United Kingdom
Brineton Engineering
Over 350 listed spares for Bugattis
Fieldgate, New Street, Walsall, West Midlands, WS1 3DJ, UK. phone: 0922 20070/614605. Fax: 0922 722875

Crailville Limited Complete Coachbuilding Service Canal Yard, Hayes Road, Southall, Middlesex, England.
Not really specialized on Bugattis, but they are very good in reconstructing bodywork, see their Atlantic

Crosthwaite and Gardiner Tel: +44 (0) 1825 732240, Fax: +44 (0) 1825 733363 .
Loads of spare parts, see www.crosthwaiteandgardiner.com

David Sewell, Independent Bugatti Consultant, Green Farm, Middleton-by-Youlgreave, Bakewell, Derbyshire DE45 1LS, United Kingdom, Tel./Fax.: +44 (0)1629 636288. Mr. Sewell is an independant Bugatti consultant who for many years was the Registrar of the British Bugatti Owners Club. Services offered include historical research on specific automobiles, valuations and brokerage.

Ivan Dutton Ltd. , Peacehaven Farm, Worminghall Road, Ickford, Aylesbury,Buckinghamshire,HP18 9JE, UK.

His current ventures include:
manufacturing hollow GP axles
T35/43 cylinder blocks
Paper elements oil filters to fit inside standard oil filter
Scintered metal clutches (crash free gear changes)
Dyno testing of engines (including Royal) Info: Jon Rose E-mail: jrose01@buckscol.ac.uk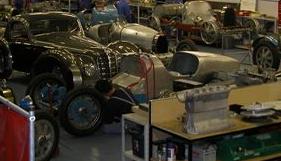 Gentry Restorations Ltd
www.gentryrestorations.co.uk
12 Wornal Park
Menmarsh Road
Worminghall
Aylesbury
Buckinghamshire
HP18 9JX
Phone ++44 (0) 1844 338346
Fax ++44 (0) 1844 338347
gentryrestor@btconnect.com
Click the picture!
FARNDON ENGINEERING
Performance Components
Farndon Engineering are an established manufacturer of engine block components and have been so for over 30 years. Supplying mainly the autosport and classic markets world-wide we have a reputation for being masters at manufacturing crankshafts, connecting rods and flywheels specifically to our customers needs in batches of one upwards. We can manufacture our components for any engine and have a great deal of experience with Bugatti parts.
If you would like us to send you copies of our product information pack or if you would like to know anything further please contact me at any of the numbers shown below.
Annerley Howard
Farndon Engineering, Bayton Road, Exhall, Coventry CV7 9EJ, UK
Tel: +44 (0) 1203 366910
Fax: +44 (0) 1203 644698
E-Mail: AnnaHow@aol.com
www.farndon.com
Star Engineering
run by John Underwood. He has been building radiators for pre-1940 Bugatti, Bentley, etc since 1983 and is known to many enthusiasts.
The Garth, Usk Road, Caerleon, Gwent NP18 1LQ, tel and fax. +44 (0) 1633 423915
John and his team will restore or build radiators from raw materials and also manufacture cores for resale to private and commercial restorers.
Rod Jolley
Rod Jolley Coachbuilding Ltd.
37 Gordleton Industrial Park, Sway Road, Lymington, Hampshire SO41 8JD, England, UK.
Tel: +44 (0) 1590 683702
Fax: +44 (0) 1590 683634
Email: enquiries@rodjolley.com
Tula Engineering
tula-bug.co.uk
Based in the Cotswolds and close to Prescott Hill
Tel: 01285 831694
Mobile: 07710 512586
Fax: 01285 831188
Email Charles Knill-Jones: charles@tula-bug.co.uk
Email Accounts Department: accounts@tula-bug.co.uk

---
USA
Competition Motors 40 Longmeadow Road
Portsmouth, NH USA
Telephone: 603-431-0035
Fax: 603-431-0590

Our email address is: Bugatti@competitionmotorsltd.com
competitionmotorsltd.com

Owned by Donald Koleman, who is always thrilled to show the shop to visitors! Competition Motors has done mechanical restorations on several Pebble Beach winners.


Jim Stranberg has a specialized Bugatti Garage High Mountain Classics in Berthoud, Colorado, USA.
Phone 970 - 532 2339. or fax.: 970 - 532 2350.

Old Foundry Toy Works
We offer professional restoration and repair work to the original Bugatti Type 52 "Baby" as well as modifications and motor installations to the current Authentic Models reproduction of the Type 52, we of course also offer sales of the reproduction model.
1020 South 10th Street
Lafayette, Indiana 47905, USA
tel. 765-742-1020
www.oldfoundry.com
---
Vive La Marque !!
---
Back to theBugatti Page