Bugattis for sale
Maintained by Jaap Horst
---
Fraud Warning
I have had various reports of, and received a fraud attempt myself from people who said they wanted to buy an item for a client and that the money would be paid to me with a "certified bankers cheque" (usually claimed to be coming from another client who owes them money)

Usually the scam is that the amount on the cheque is more than the item to be paid for. They want you to return the difference to them.

In case anybodyÝs identity is unknown, take any cheques to the bank first, and when this is Ok, then ship the item. Do not send any money to cover up the difference.

If you have any Bugattis for sale, or know of any Bugattis for sale, please write or e-mail me.

If you're succesful buying or selling a Bugatti because of this page, I would appreciate it if you let me know (to remove the ad), and of course all financial donations are welcome. (Consider 1/2 % of the price, so I can buy my own Bugatti after selling two hundred) :-(
---
Search possibility
I know that many sellers don't want to publicly offer their Bugattis (I often get a request if I know of a possible buyer for a certain Bugatti), on the other hand, I also know that some possible buyers have similar requests, if I can look out for a certain car (sorry guys, I lost the file with all your names and the types of bugattis you are looking for! Please send again.)

Please write or e-mail me if you have a request, and want me to look out for a certain type of Bugatti (or major part) for you!.
---
French Bugattis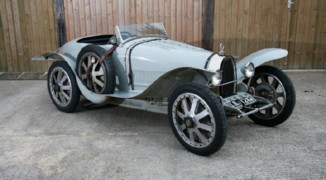 Bugatti Type 39 Grand Prix Touring
Registration YR 1212

An incredibly rare opportunity to acquire a car from one the most highly respected and renown members of the Bugatti community.
In his ownership for over 40 years.
Beautifully presented throughout and with original features that are unique to this car.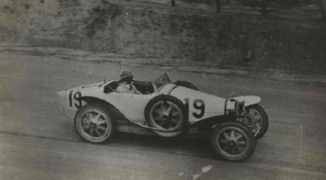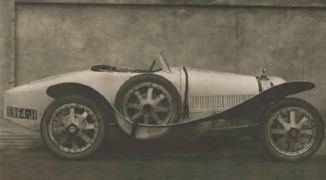 As a prelude to the change in formula for the 1926 season, the Factory ran a number of unsupercharged 1.5-litre engines on three separate occasions during the 1925 season. Firstly in two monoposto Type 36, which appeared but did not run at Montlhéry in May. The second and considerably more successful outing was for a team of five road-equipped cars which competed in the 1,500cc class of the Touring Grand Prix held at the same venue in July.
The rules and regulations of this event were briefly as follows - Each car in each class had to equipped with 'touring' coachwork, the design of which was left to the constructor. Strict restrictions governed the size of the screens and stipulated the requirement, in open cars, for an efficient hood of ample proportions, to be fully operable by the driver. Two spare wheels were allowed, along with an unlimited number of tyres and tubes and any spare parts desired that could be carried. All accessories had to be fitted in a proper manner and all cars had to fitted with an electric starter. No starting handle was allowed except carried, under seal, in the tool box for emergency.
The Bugatti team was a resounding success. Of twenty two entrants and after 11hrs 12 min and 7 sec of racing, covering 950km, Bugatti took 1st, 2nd, 3rd and 4th in the 1,500cc class. Driven by Costantini (No.22), de Viscaya, Foresti and Goux accordingly. The impressive point to take from the end results is that the Bugattis, at an average of 84.8km per hour, only averaged 1.2km per hour less that the big 5-litre cars.
These same five cars, now fitted with standard GP bodies went on to contest the Voiturette Grand Prix at Monza in September of the same year.
About a year later a factory supplied a car, a factory photo of which can be seen below, fitted with a four-cylinder engine that was reportedly driven by Williams. The wings had been modified to bring the spare wheel aft of the bonnet on the drivers side and the second spare wheel had been removed. A similar car, maybe even the same car, was then imported by Jack Lemon-Burton to England in 1927. Owned by DC Cook it ran at Southport in 1927.
This stunning car we are delighted to have the unique opportunity to offer for sale represents the passionate restoration of one of the most highly respected and renown names in the Bugatti community. A man whose career racing and collecting Bugatti spans right back to the early 1960's where he was a regular visiter to the Bugatti Factory itself when all of the spares and final parts were being disbanded.
The restoration of this car started back in 1971 with the dream of restoring a car back to the specification of those five team cars from the 1925 Touring Grand Prix. Riding on a chassis supplied by renown collector Uwe Hucke in the late 1970's all of the mechanical components, where possible, are original even down to the dynamo, magneto drive, and incredibly rare original gearbox lid carrying its original starter motor. The back axle is a correct factory single bolt early example, the front axle is correct, original and numbered, all of the springs, shock absorbers and brakes are original (fitted with new shoes), there is even a very rare set of five original beaded edge wheels with the car. The gearbox center casing is new but with original end plates and internals.
Fitted with an original Bosch magneto all of the instruments are correct and original. The original inlet manifold is unique to the unblown 1.5-litre engines and the screen is one of the original screens manufactured to those five cars and came from the factory spares bought by the Bugatti Owners Club back in the early 1970's.
The engine, No. 112, is a proper original 2-litre GP engine. Due to the originality of the 2-litre, numbered, roller bearing crankshaft, the specification was kept as 2-litre. The cam box and lid is original and numbered and even the cylinder blocks are original. The elegant body with its flowing wings has been beautifully crafted during the restoration and bar the original screen and the original early (re-cored) radiator, is new.
The attention to detail and originality that has gone into this restoration is second to none and it would be physically impossible to assemble this many original parts to restore a car to this level again. Perfectly balanced and a delight to drive as all of those early beaded edge cars are and with a noise that you only get from a straight eight Grand Prix Bugatti, this is a unique opportunity to acquire a Grand Prix Bugatti with the subtle refinements of a racing touring body.
William I'anson Ltd
T. + 44 (0)1285 831 488
M. + 44 (0)7717 600 175
E. cars@williamianson.com
16-11-2013
---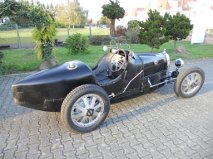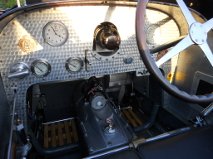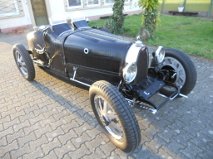 For sale Bugatti T37C reconstruction Argentine.
French papers T37
170000€
Email: caribug@hotmail.com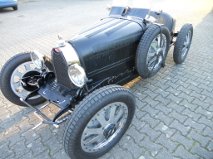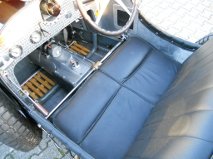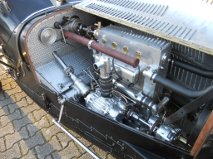 12-11-2013
---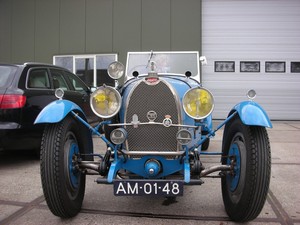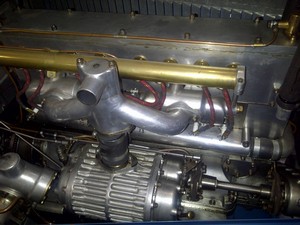 For sale: 38/43 Bugatti fully restored by Gentry Restorations in England (one year 100 K job).
The car is based on a shortened 38 chassis years ago in Spain with new engine, rebuilt by Gentry Restorations with for the rest all original Bugatti parts.
€ 230.000,-.
Jos Fruytier 00 31 6 53 473789
6-11-2013
---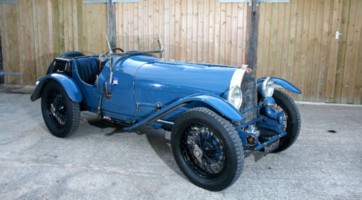 1928 Bugatti Type 44

Chassis No. BC81/44876
Engine No. 470
Registration SV 4707

This particular car is well known in Bugatti circles. Assembled and restored by Ivan Dutton in the early 1990's using mostly original Type 44 parts. The chassis a shortened Type 44 frame stamped 44376, with the middle section modified by Allan Wragg to look like a Type 43. The stamping of 44376 on the front near side indicates that it was probably delivered to Germany or Holland or another country that required the chassis to be stamped on the frame itself. The engine is number 470, probably ex-44725, and is fitted with with Ivan and Tim Dutton's prototype fabricated inlet manifold fed by a pair of SU carburetors. The gearbox is a replica GP box and the car, as described in the BOC register, 'in all other aspects it is a standard Type 44'.

The front and rear axles are both original and the rear axle is numbered. The wheels and brakes are also original and the radiator is of original Type 43 origin. The sporty looking lightweight body is new, with a very practical trunk mounted behind the two seats making this a very usable and exciting fast touring car.

Ivan Dutton finished the restoration in time to use it as the support car in the 1995 Italian Rally. Ivan sold the car to well know Bugatti enthusiast Dereck Hitchman in 1996 who campaigned and used the car successfully before it passed into its current ownership, another well known and regarded member of the BOC, in 2006. Serviced and maintained during the Hitchman's ownership by Ivan Dutton Ltd and in its current ownership by the owner and Malcolm Gentrey. In it current ownership it has been used for numerous European tours to Spain and France without any problems. A regular competitor at Prescott this car currently holds the hill record for a Type 44.

If you are looking for exciting performance, coupled with usability and reliability for the wide array of Bugatti rallies, hill climbs and events around the globe this is the car. Well restored, proven, well maintained and ready to go.
Also:
1922 Bugatti Type 23 Brescia

Chassis No. 1363
Engine No. 955
www.williamianson.com

William I'anson Ltd
T. + 44 (0)1285 831 488
M. + 44 (0)7717 600 175
E. cars@williamianson.com

13-10-2013
---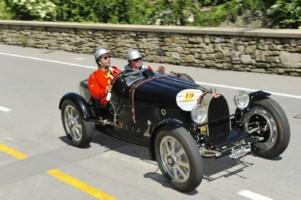 Unfortunately I have to sell my Bugatti 51 Pur Sang.

This car is in perfect condition.

Italian documents of 1934 and Regularly used on the public road.

Email info@marcofaggioli.it

21-9-2013
---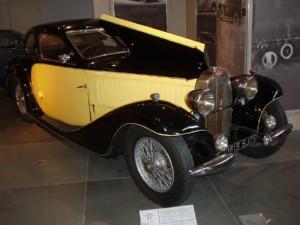 ex - Jean-Michel Cerede, French-history rich, Bugatti Type 57 Ventoux Coach

Specifications:
Year: 1934
Type: 57 Ventoux Coach
Chassis number: 57319
Engine type: 3.3lt, 8-cyl, twin OHC.
Engine number: 84/57126 non-matching (1968 replacement)
Options: Last Molsheim production model, integral 4sp gearbox, reversed quarter-elliptic springs at the rear.
Color: black/yellow
Registration: French, 1313 SJ75, in Greece under classic VAT status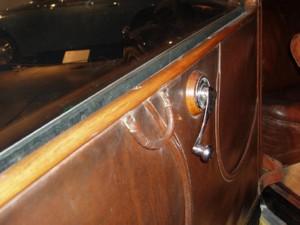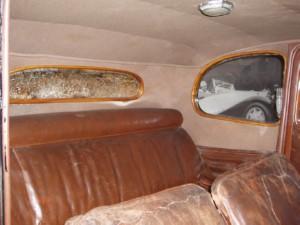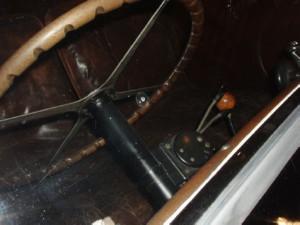 General history: This Bugatti Type 57 was purchased in 1966 by Jean-Michel Cerede from Claude Martin, son of 'Bear Martin' pilot and champion of Amilcar and ever since it has been French-registered as '1313 SJ 75'. In 1967 some spare parts for the rear axle were bought from the factory and fitted on the car by Vergt while the following year a replacement engine, found in Marseilles by Jacques Dumontant and rebuilt by Bugatti specialist Hauswald (Levallois Perret) was installed (84/57126 designation). This engine is deemed to be the last engine completely rebuilt by Hauswald before he ceased operations. During assembly it was equipped with an intake pipe of type 101 and a dual Weber carburetor body inverted provided by the Bugatti factory. The bodywork was restored and repainted in 1982 by Gervais, and the interior re-carpeted in 1985.
Jean-Michel Cérède completed numerous rallies with his Type 57: Paris-Deauville many times, Wiesbaden in 1967, 100 Bugatti à Deauville in 1978, several Paris-Bordeaux, etc. The car comes with its French Carte Grise recording the correct chassis number.
Its current owner purchased the car on 7 February 2006 through an auction in France. Once he imported in Greece he decided to carry out several minor paint repairs.
The asking price is 440000 euros.
Please contact: Nicolas Alexacos, Athens, Greece
Tel.: +30 6945 159 602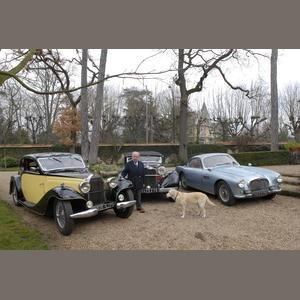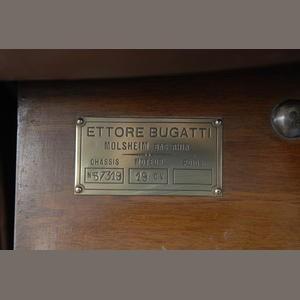 17-9-2013
---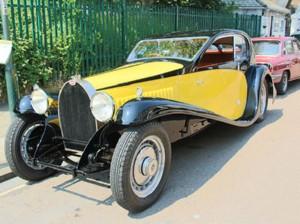 Bugatti Type 46 Super Profile

1930

Raven Black over Acid Yellow

More information: www.ddclassics.com

9-9-2013
---
FOR SALE - Bugatti 35B.

Reconstructed with many original parts. BOC and UK registered.

100% exacting detail including new Brineton crankshaft. Outstanding in quality and finish to accurate factory specification.

Offers over £300K

Please email prussell.sussex@btinternet.com for further information.

NOTE: E-MAIL ADDRESS NOW CORRECT!

20-5-2013
---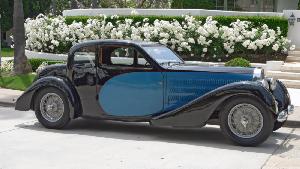 1937 Bugatti T57 Ventoux Coupe

Chassis No.: 57345
Engine No.: 57345 282
Body No.: 1146
Gearbox No.: 113
Rear Axle No.: 585

This Bugatti was ordered new by the official agent Arnaud in Lyon, France for an unknown clien in December of 1935. Assembly took place in January and February of 1936 and the car was fitted from new with a standard Type 57 engine with the internal number 282 which it still retains to this day. The car was fitted with an optional down-draft carburetor and four-wheel hydraulic brakes. The Ventoux coachwork is the early Series One type with separate partitioned rear trunk. It was otherwise a standard production example with normal right-hand-drive steering.

Chassis 57345, would be one of the few Ventoux-bodied cars that would be completed without running boards. It was finished with the usual Ventoux touches of the flat, uncluttered wooden dash, simple steering wheel and the single-panel leather seats, as well as devoid of external running boards, 57345 would also have the 3.3-liter DOHC eight-cylinder engine with the single Stromberg carburetor helping to produce easily around 145bhp at an astonishing 5,000rpm.

Unfortunately, the car's early history is relatively unknown but it would survive the Second World War remarkably well and would eventually be sold in 1960 by a dealer in Paris where it had been hidden away safely during the war. From there, the Ventoux Type 57 would be bought by J.W. Harrison of Arlington, Virginia, and therefore, would make its way to the United States. Soon after arriving, the car would become registered with the American Bugatti Club where it has always been considered the benchmark of originality and correctness by which all others are judged.

The car would remain with Mr. Harrison until the early 1970s when it was purchased by David Uihlein. Uihlein would not purchase the car and have it sit as part of some boring, static collection, Instead, 57345 would be a car regularly driven to and from different everyday events and would continue in this capacity well into the late 1990s when David's health prevented his full enjoyment of his most treasured Bugatti.

Over the course of its life, the Type 57 Ventoux has been maintained and has undergone a number of necessary cosmetic and mechanical work but always under David's watchful eye to ensure it remained both functional and as original as possible. Finished in a Black and French Blue livery, the car is a striking thing to behold. Retaining its original motor, 57345 would appear to be highly original in a number of other ways, including its leather interior. In addition to that, each panel and piece of trim and bright work is delicately stamped with the Type No. "57" and the vehicle's body number "1146" is likewise found on all major alloy body panels.

This period correct and highly desirable first series Bugatti Type 57 Ventoux was a personal favorite of David Uihlein who was a most avid fan and collector of original, unrestored and ultra period-correct vehicles of all types. He told me personally on several occasions that this particular Ventoux was one of the most original and correct examples he had ever encountered and that it would remain with him until he passed away... something that in the end came to be.

David enthusiastically enjoyed the car for more than 30 years and it was never restored while in his care or needed to be as he never intended it to be anything but fun transportation. Aside from regular services, paint and touch-up work to deal with age related issues, the car remains essentially as ordered, built and delivered new.

When I last saw the car nearly 20 years ago, I considered it to be a remarkably original survivor. Many back then however deemed it only suitable as a starting point for a full restoration given the fact that it had at that point never been touched or restored before. Today, it is treasured for its originality and purity and likely one of the very last survivors that remains this original and correct.

During my most recent inspection, I was amazed to find hand written notes from June 1977 on the back of a letter addressed to David in which he details recent services and work he performed to the car. In addition to this was a a Standard Oil Company Map of Wisconsin from 1970, something that likely came in quite handy for David as he travelled out and about the countryside in his treasured Bugatti. Shortly before his death, he left his family a set of written starting and driving instructions. These two have been carefully preserved and were left under the driver's seat upon his passing to make ease of use for the next owner that much more enjoyable.

David is no longer with us, but his passion and enthusiasm are forever preserved in this amazing automobile!

More info: symbolicphotos.weebly.com Symbolic International
Symbolic Motor Car Company
7440 La Jolla Blvd.
La Jolla, California 92037 USA

Phone (+1) 619 840 7811, Email bnoon@symbolicmotors.com

13-5-2013
---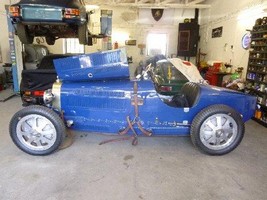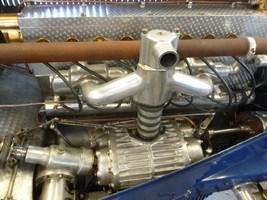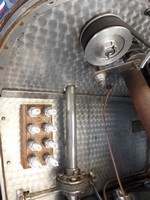 Pur Sang, Bugatti T35b compressor, with german TUEV, Street legal, price € 239.000,-.

SUPERSTRADA, Tony Erker, Germany

www.tonyerker.info, superstrada@aol.com

23-4-2013
---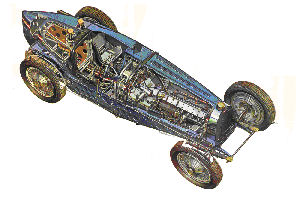 For Sale: Bugatti T59 Bugatti Project

A true and correct collection of parts, castings and panels to assemble a replica of arguably Bugatti's finest Grand Prix car, the Type 59.

Offered by Tula Engineering, well know for there knowledge of this model is an excellent chassis, full engine set of castings, Carbs, supercharger, bell housing, complete 4 speed gearbox casing and components, brakes, bulkhead panels, oil and fuel tank and body, flip caps, fuel tap and pipe work castings.

A full list of the parts is available on request from charles@tula-bug.co.uk

Offers in the region of £60,000

18-2-2013
---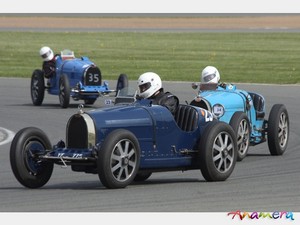 1930 Bugatti T35B

An opportunity to purchase one of the most iconic racing cars of all time. This car has been built from a mixture of original and new parts and subsequently maintained by a skilled engineer to the highest standards. Tuned for performance and engineered for improved reliability, the car remains a delight on the road, yet boasts the performance to ensure it is currently the fastest GP Bugatti racing worldwide. Beautifully presented, with a subtle patina from use, it is one of the better looking GP Bugattis you will see.

The car has been very successfully used for a variety of races and hillclimbs by its current owner over the last 7 years (with the VSCC, BOC and HGPCA). Proving time and again it is one of the quickest vintage cars on the track it is well known in VSCC/BOC circles. VSCC Buff form and FIA HTP. .

It is fully sorted and "on the button". Despite the "hype", a fully sorted 35B can be prepared and run by an enthusiast owner driver, especially using the support of the excellent Ivan Dutton Ltd for the really difficult stuff. The car is ready for the 2013 season and ready for a new owner to fill their trophy cabinet!!!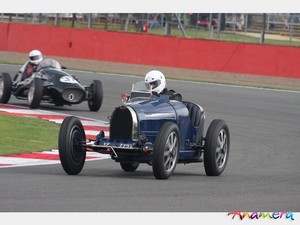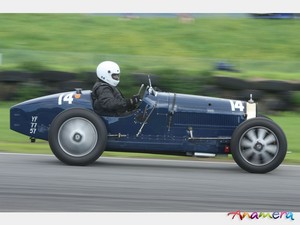 Extensive spares package available to purchaser (no parts available prior to cars sale)
Offers over £400,000 invited
Geraint Owen
e-mail: ensgwo@bath.ac.uk
Tel.: 00 44 1981 570245
1-2-2012
---
FOR SALE - Bugatti Type 59 recreation.

Built to full Bugatti specification.

Car was initially laid down in the early 1990's, it has been evolved over 20 years to the present stunning condition.

Please contact e-mail: davebish@sky.com, Phone: +44 7902 758443

11-11-2012
---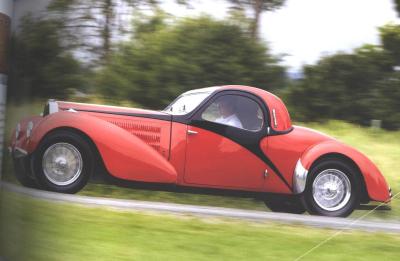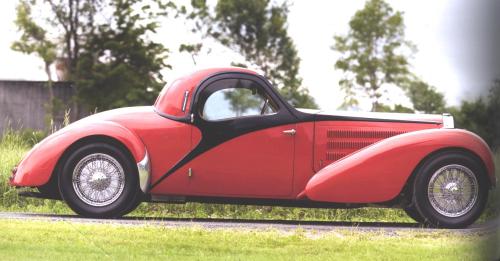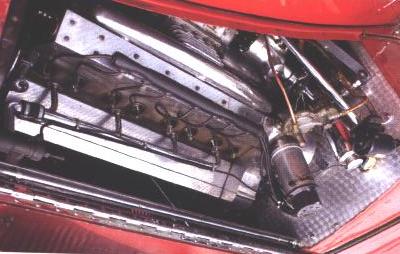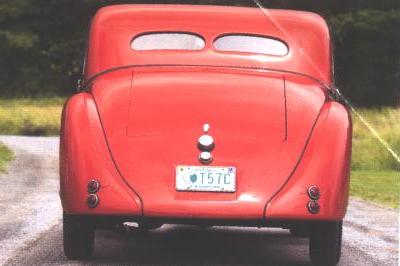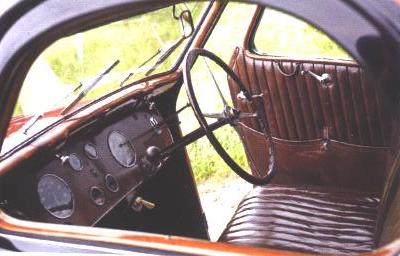 Bugatti T57C Atalante
1939, Chassis N° : 57624
Colours : Red and black, cognac interior
Sold new in Switzerland.
Sold in the USA in 1960, in the Williamson collection since 1963.
Perfectly original.
Ultra rare late 57 Atalante with compressor and hydraulic brakes.
GTC, France
www.gtc-collection-cars.com
11-11-2012
---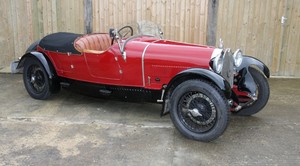 1926 Bugatti Type 38 with original coachwork by Lavocat et Marsaud

Chassis No. 38221
Engine No. 371
Registration BF 4537

Ordered by Bugatti's Paris Agency, supplied in October 1926 and beautifully fitted with this elegant and sporty coachwork by one of Bugatti's preferred coachbuilders at the time, Lavocat et Marsaud.
Believed to have been exported to America from new.
Formerly part of two prominent American Collections.
A rare opportunity to acquire such and original eight cylinder four-seat tourer still retaining its original coachwork.
This stunning Type 38 Bugatti is the epitome of 1920's style and decadence. Bugatti's legendary straight-eight cylinder engine in a sporty chassis with a strikingly elegant open four-seat coach built body by none other than Lavocat et Marsaud. The culmination of French desire for speed closely coupled with style and chic.
The replacement for the Type 30, the Type 38 first appeared in March 1926 during a period of great activity at Bugatti. With its new frame, well designed axle and details; the engine drove through a newly designed more conventional central mounted gearbox. With a lengthened wheelbase from that of the Type 30 and 50mm more track it gave the cars a more rakish look. Riding on Bugatti's hallmark rear reverse quarter elliptical springs, the front axle and springs passed through the forged axle as with the Type 35.
Like many of the successful car manufactures of his time Bugatti constantly built on the incredible interest and notoriety gained from the success of his racing cars. The close ties to the legendary Type 35 did not end with the suspension and axles. The engine was almost identical to that of the Type 35A. The crank case casting is the same that was later used on the Type 43 with the lower crank case arms being the same width front and rear. The upper crank case casting was the same on all four models the Type 35, 35A, 38 and 43. The only difference being in their machining, with the Type 35A and 38 running a plain bearing crankshaft and the other two a roller bearing example.
Often supplied as a rolling chassis to be bodied by one of the leading coachbuilders and stylists of the time. 385 examples were produced between early 1926 and 1927, 39 of which were fitted with the Type 37A supercharger and were subsequently known as 38A.
This stunning and original example was one of a batch of ten Type 38 chassis ordered by Bugatti's Paris Agency on the 21st of August 1926. Invoiced for delivery on the 5th of October 1926 it was fitted with this rakish and sporting body by none other than Lavocat et Marsaud. One of Bugatti's favorite coachbuilders, they had bodied a number of Type 30 as well as being responsible for the single seater bodies of the Indianapolis cars.
Whilst little or nothing is known at this point about its early history, respected Bugattist and the American Bugatti Registrar Sandy Leith believes this car to have been exported to America as a new car. Andy Rheault's 1979 American Register lists the car in the ownership of Mayer Pollock of Pottstown Pennsylvania who had purchased it from a dealer in Nantuet, New York, in 1974 fitted at the time with a Ford V8 which Mr. Pollock subsequently replaced with the engine now fitted.
The original engine for this car was fitted to a well known Type 38 special that can be traced back to American Hudson Mills immediately before the war. The second edition of the American Bugatti Club (ABC) Register, published in 1988, shows the ownership as having changed from Mr. Pollock to internationally renown collector Arturo Keller of Tiburon, California. Now fitted with a Type 38 engine and equipped with non standard large-braked alloy road wheels. The accompanying photograph shows the car otherwise essentially as it is today.
The Third edition of the ABC Register, compiled by Sandy Leith in 2003 lists the car as owned by David van Schaick of Newtown Square, Pensilvania, with the former owners since Mr. Keller as Dan Margulies and well known Bugatti collector Oscar Davis of Elizabeth New Jersey. Now back on its correct wire wheels the engine Type 38 engine number is recorded as 371, sourced in Eastern Europe by Mr. Pollock. From Mr. Davis ownership passed to well known American Bugatti restorer Donald Coleman before returning to the UK with its current owner in 2007.
From a recent inspection by Bugatti expert David Sewell he can confirm that the engine is original. From its part No.'s and other markings the lower crankcase is undoubtably original but is believed by Mr. Sewell to be a factory replacement some time in its early life. The original factory numbering of 371 in the usual place on the front face of the cambox and the machining on the upper crank case confirm that the engine was at one time fitted with a supercharger. This also fits in with the factory records that show that Engine No. 371 was originally fitted to the Type 38A, Ch.#38473.
The current owner has had the engine rebuilt in May 2010. Running a new pressure fed crankshaft and a set of Carello rods. The pair of original blocks have been rebored and fitted with oversized pistons taking the car and its performance to Type 35T specification. The gearbox is original and has been fitted with the popular dog box modification for ease of use. The rear axle stamped No. 140 and ratio 12 x 56 is believed to matching to the car. The original front axle has been nickel plated as have the original and stamped steering arms.
With its discreetly fitted overdrive making it ideal for long distance touring, this is the perfect car for the busy season of tours and rallies that is already upon us. It is not every day that you get to experience the performance of Bugatti's straight-eight engine in such a sporty four-seat open tourer as this.
5-6-2012
---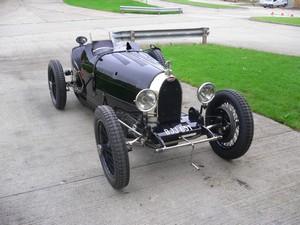 1927 T37A Bugatti.

Built up from many original parts in 1988. It was given full FIA papers in September 1995. Current owner since November 2003.

Chassis number BC77. Crankcase number 97, front axle number 141, rear axle number 41, original Bosch 8 cyl mag (FH8/4), original steering wheel, steering arms, hubs and brake drum cooling fins, with many other original parts. The car is road registered BJJ651 and currently has VSCC Buff Form.

Holder of the 4 cylinder Bugatti long and short course records at Prescott, the class record at Etretat (amongst many others), all on petrol. Featured in French Racing Blue book by David Venables, as well as a number of VSCC orientated publications.

Car has participated on many Bugatti Rallies, both in UK and abroad, and regularly used on the public road. It is probably one of the best put together and quickest of its type in the UK.

Offers considered in excess of £275,000.

Contact Info: Edmund Burgess, (UK) 01787 248135 or 07973 960213; email edmund@eburgess.fsnet.co.uk

29-5-2012
---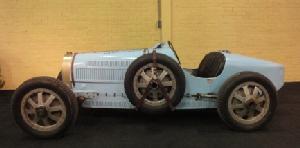 1930 Bugatti 35B Compresseur
Grand Prix 1930
9-5-2012
---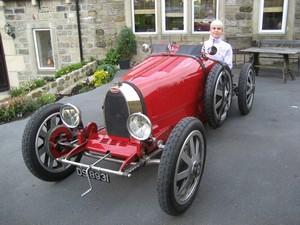 Bugatti Type 35
Imported into UK from Belgium by Sir Anthony Pilkinton in 1988 after having competed in that years Mille Miglia.
Registered as 4805 by the Belgium Veteran car club and the Bugatti has old style FIA papers, VSCC buff form and UK MOT.
I have rallied and hill-climbed the car for the last 17 years and now find the car has stood the test of test much better than my back!
Looks very period with beaded edge tyres on alloy wheels, fitted with modern plain bearing crank for reliability and electric start for convenience. Registered as BC48 with the BOC as car has a gap in its history between 1948-69.
PRICE: £425000 sterling.
Mike Wood, +44 7973 361384, e-mail: woodmri@gmail.com
3-5-2012
---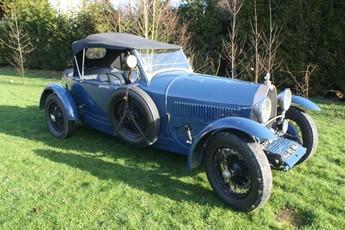 1929 Bugatti 44 original Torpedo Grand Sport Carte grise française d'origine. Véhicule en parfait état de fonctionnement, révision recente chez Novo.
1929 Bugatti 44 genuine Torpedo Grand Sport french registration. The car is fully working, it's come with a control by Novo (bugatti specialist)

Prix sur demande et reprise possible.
Price on request.

Porez Auto Retro, porez.fr, e-mail: p@porezauto.fr
Phone : 0033674674879 (french) or 0033645811326 (english)

5-4-2012
---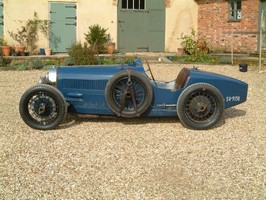 Type 35 Grand Prix Bugatti.

Campaigned in over 50 VSCC and BOC events over the last ten years (winning the Bruton Trophy several times, the Kenneth Bear Trophy and a second in the Williams). Well known car that is always driven on the road to and from events. Presently fitted with 2995cc type 44 straight eight engine but could be converted back to 2300cc spec.

Car built up in the UK out of a combination of original and replica parts. Available with the 44 engine or without (at a reduced price) if you have a 2300cc you wish to fit.

Best offer over £300k

For more information and photographs please contact Bruce Stops on 0044 (0)1858 555550 or 07976 912266; Email bruce(at)gbstops.co.uk replacing (at) with @

The racing photo was staken at the Williams Trophy race at Donington Park.

1-4-2012
---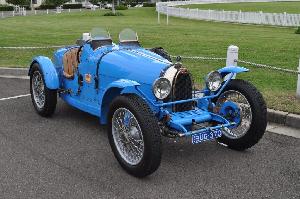 This Bugatti Type 37 has been built from many original parts and has been authenticated by the owners club and given the chassis number BC57.

This expertly assembled Type 37 has many original and new parts in its makeup of which a list can be given to any purchaser. Together with full details and records of the build.

The car was finished in 2005 and attended international Bugatti rally held here in Australia. This remains in first class order today and performs faultlessly. More photos of this car can be found on our website www.cumminscars.com. Keenly priced for a quick sale.

Please feel free to contact me on +61 297434479 or at Jeremy@cumminscars.com .

19-3-2012
---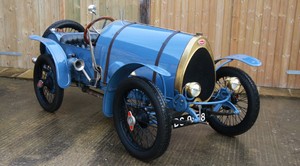 Type 13 Brescia Bugatti

Chassis BC 065
Engine 613 (ex Chassis 1045)

-A stunning example of what has to be one of the most sort after and usable Bugatti of all time.
-Fast, exhilarating, and very exciting to drive. It is very much on the handle with its Crosthwaite and Gardiner restored engine, potent Raymond Mays Camshaft and recently restored twin magnetos.
-Unstoppable on the VSCC Trails circuit and wonderfully versatile for the numerous Hill Climbs and Bugatti rallies and events around the globe.

Whether you want to dominate the muddy hills of the VSCC trials circuit, grace the winding roads of one of the many Bugatti rallies and events, or race up Prescott Hill; the Bugatti Brescia has to be one of the most exhilarating and usable Bugatti of all time. Derived from the 8 valve model introduced in 1910 and uprated to carry Bugatti's characteristic reversed quarter-elliptical springs in 1913. The 16 valve version of this model was designed and built for an important international voiturette race scheduled to be held at Le Mans on the 16th of August 1914 but canceled due to the outbreak of war. With the war thankfully behind them, production began alongside the 8 valve model in February 1920.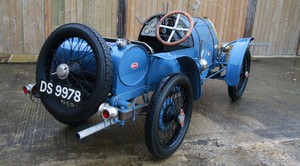 Production built up slowly but, as would become characteristic of the great marque, it was bolstered by racing success. On the 29th of August 1920 works driver Ernst Fridrich took victory at the Coupe des Voiturettes at Le Mans. On the 8th of September 1921 Bugatti entered a team of four cars into the Voiturette Grand Prix held at Brescia in Italy. They took the first four places with Fridrich taking overall victory at an impressive average speed of over 70mph. From this point on these fabulous little racing cars have been affectionately known as the Brescia.
These early race cars with their 2m wheelbase were designated the Type 13. Although the Type 13 was the most famous, the majority of the models were either the Type 22 with its 2.4m wheelbase or the Type 23 with a 2.55m wheelbase. Fitted with a variety of striking and elegant sports as well as more conventional touring bodies they were a huge success. When production of the 16 valve model came to an end in mid 1926 a total of just over 2000 examples had been built.
This stunning example was painstakingly assembled using original parts collected over a period of time from well known Bugattistes by Wolf Zeuner in 1991. Built up using a number of significant original parts including engine No. 613 formerly of chassis No. 1045, an original back axle and brakeless Crosley manufactured Bugatti front axle.
Ownership of BC065 passed through Richard Leeson of Surbiton, who had purchased the car from a Sotherbies Auction, to a Mr. R. Gates in 1995. Mr. Gates commissioned John Foy to undertake an extensive overhaul of the car.
Before the work was fully completed the car was purchased the following year by it's current owner. Himself an avid Bugatti enthusiast he had marque experts Crosthwaite and Gardiner completely rebuild the engine with no expense spared. Fitting a Brineton Engineering crankshaft, con rods and one of David Sewell's potent Raymond Mays camshafts they dynoed the engine before fitting back in the car. As one would expected it has given many enjoyable and trouble free hours motoring ever since. Meticulously and regularly maintained, it has formed a proud part of the current owners collection for the last 16 years. With the original twin Bosch magnetos rebuilt just last year it is accompanied by its VSCC Buff Log Book, UK V5, road tax and MoT and is very much on the handle ready to go.
If you have not driven a Type 13 Brescia Bugatti it is an experience to behold and if you have I need say no more. Fast, agile and very exciting to drive, you have to reach into the heady heights of the 8 cylinder GP cars to experience anywhere near this kind of performance. Unstoppable on the VSCC Trails circuit and wonderfully versatile for the numerous Hill Climbs and Bugatti rallies and events around the globe. There is a very good reason why people don't part with these fabulous little car very often and when they do they are not on the market for long!
William I'anson Ltd
T. + 44 (0)1285 831 488
M. + 44 (0)7717 600 175
E. cars@williamianson.com
1-3-2012
---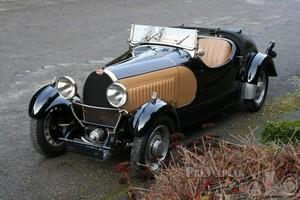 Bugatti T49 roadster, 1931

Interesting bugatti type 49, matching numbers but rear of the car rebodied some years ago

More info: www.prewarcar.com
19-2-2012
---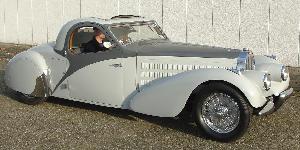 Bugatti Type 57C

Chassis #57641

Two-tone silver and grey with grey leather interior

Engine: straight eight, twin overhead camshafts, sixteen valves, Bugatti-Roots supercharger and twin-choke Stromberg UUR2 updraft carburetor, coil ignition, 3,257cc, 160bhp at 4,500rpm. Gearbox: four speed manual.

From the famous Nicolas Seydoux Collection Paris!

More info: www.lussoclassics.com, the Netherlands
17-1-2012
---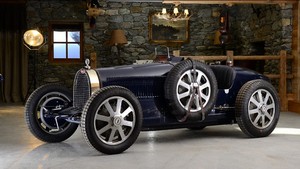 1929 Bugatti Type 35B/51 Grand Prix

ex-'Bunny' Phillips/ Terry Cardy
Chassis no. 4776 (believed originally 4935)
Price €750,000
Formerly owned by two of the most respected Bugatti experts
Built up using original Molsheim components
Suitable for vintage racing, tours and fast road use
Beautifully prepared and immensely fun to drive
The Type 51 was the ultimate evolution of the definitive Bugatti, the supercharged Type 35B Grand Prix which won perhaps more races than any other model pre-war and remains the archetypal 1920s racing car. Although superficially hard to differentiate (the twin fillers were one of the few outside clues) the Type 51 featured a twin-cam head inspired by the contemporary US-built Miller and continued Bugatti's front line competition success well into the 1930s, frequently dicing for victory with Alfa Romeo's 8C 2300 which adopted the same 2.3 litre, supercharged straight eight layout.

Given that 80 years and one world war have passed since the heyday of these cars, it's not surprising that the survival rate for totally genuine examples is relatively low. The 'bitsa', a car built up or restored using components (which were interchangeable) from different cars, is a long-established notion amongst vintage car enthusiasts and in particular Bugattistes. This is such a car, assembled over many years by American Bugatti collector Overton Axton 'Bunny' Phillips (1908-1999) but not completed before his death. At the time the car's frame was believed to come from chassis 4776, a Type 35 delivered in June 1926 to Paris, and it was sold as such during the dispersal of the Phillips collection by Christie's at their 1999 Pebble Beach auction. Subsequent research by the auction buyer, UK Bugatti historian and author Terry Cardy, suggested however that the frame (no. 636, therefore of probable 1929 manufacture) had come from chassis 4935, a Type 35B delivered new to racing driver Marcel Lehoux in Algiers in June 1929. This car had been driven by Lehoux in the VII Grand Prix of San Sebastian (3rd), the 1930 Monaco Grand Prix (DNF, rear axle) and the Grand Prix de l'ACF at Pau on 21st September 1930 (DNF, gearbox), by now equipped with twin rear fillers like the latest works cars. Later owners included Sceli (F) and Hamilton Upshur (USA) from whom Phillips is known to have acquired chassis 4935 in 1961. The American Bugatti Register (p.37) supports the idea that Phillips swapped the frames between the two Type 35s he owned, as does their numbering.

Terry Cardy completed the project with an engine built to twin-cam, Type 51 specification. The bodywork, which was restored by Dick Parravani, is believed to be of original Molsheim manufacture, as are most other major components except the replica alloy wheels. The completed car, still identified as '4776' (Cardy had not yet purchased a cache of Phillips paperwork which mentioned the frame swap), was again sold by Christie's at their 2004 Retromobile auction where it was acquired by the present owner. He imported the car to Switzerland where it has remained, unused except the occasional blast on the road with borrowed licence plates, ever since. "Fast and furious" is how he describes the experience, but work and other commitments have now determined that the Bugatti should find a new home where it will get the use it deserves. It is an exciting opportunity for the adrenalin seeking vintage motoring enthusiast and one which carries perhaps the most prestigious name of all.

More info: www.kidston.com
17-1-2012
---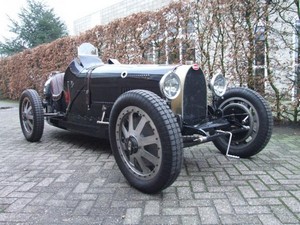 Bugatti Type 35B "1927" replica Pur Sang

Chassis number: "4706"
Engine number: "107"

More info: www.lexclassics.nl
14-1-2012
---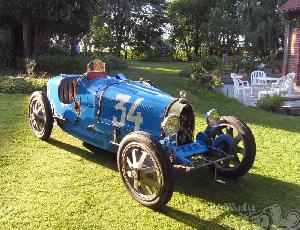 Bugatti Type 37, 1927
Bruno Vendiesse
France
Tel.: 0033 3 20 50 63 72
7-1-2012
---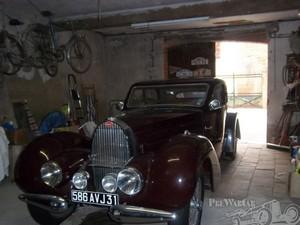 1938 Bugatti T57 Ventoux
Car in France
www.prewarcar.com
7-1-2012
---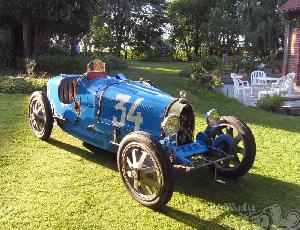 Bugatti Type 37, 1927
Bruno Vendiesse
France
Tel.: 0033 3 20 50 63 72
7-1-2012
---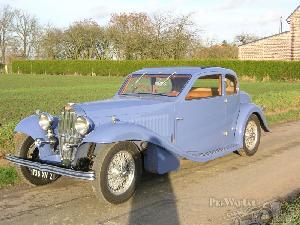 Bugatti Type 57 Ventoux, 1934
Bruno Vendiesse
France<
Tel.: 0033 3 20 50 63 72
7-1-2012
---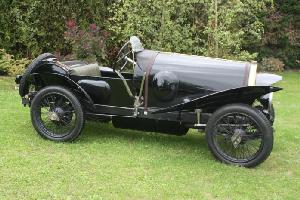 Bugatti Type 13 reconstruction
carte grise francaise
Using Argentinian and UK parts, build by JL Bonnefois Concept
price 180.000 euros
Porez, France
7-1-2012
---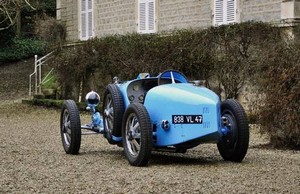 1926 Bugatti 35b Supercharged

This 8 cylinder supercharged 35b, mounted on a Type 38 chassis is certainly one of the most beautiful creations for many years. This Bugatti has been assembled using many genuine parts. The car was entirely constructed in Germany 4 years ago. Engine, gearbox and chassis have easily traceable numbers.

During the renovation the T35b was made more reliable by replacing the roller bearing crankshaft with a modern robust 5 bearing crank. This Bugatti is in concours condition, even though she is used weekly. A very fast reliable car which sounds and looks fantastic.

Can be viewed at JCB. Northen France (15 miles from Calais)

Car in France, Telephone: 0033 640 131 649

More info
24-12-2011
---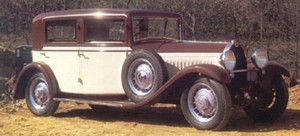 1931 Bugatti 49 VanVooren Saloon

Superb Bugatti type 49, berline, 4 doors, restored some years ago, continous history

Car in Belgium, Telephone: 00.32.477.902.588

More info
24-12-2011
---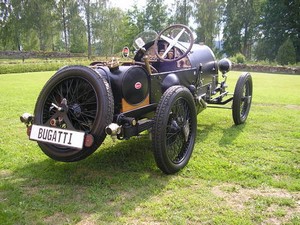 1923 Bugatti T 13 Brescia

chassis No 1829
engine No 206
gearbox No 1251
rear axel No 1245

T13 Full racer. Engine block with dual spark plugs and dual Scintilla magnets. Twin Solex carburetors. completely renovated to the highest standards. For serious interest can complete specification transmitted.

Car in Sweden, Telephone: 0046 321 41608 or 0046 709 820 255

More info
24-12-2011
---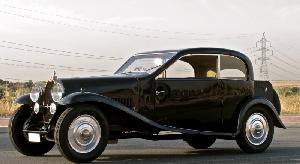 1929 T44 Coupe
With Ventoux-style body.
30-10-2011
---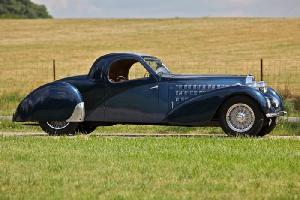 1937 Bugatti Type 57 Atalante
$1,800,000
This stunning Type 57 Atalante Chassis number 57570 and engine number 420 was ordered by Mister R. Du Pouget in France and completed on October 1937 the 19th according to the Bugatti Trust archives. It has been ordered in black with some special fittings such as the non incorporated head lights ( indeed this was no more used at this time on factory bodied 57s ), half incorporated fog lights ( one off ), four pointed wings at their submit with a very nice and round back styled in a very similar way to the Atlantic. 57570 passed through two hands, until its purchase by Mister Lecorchet, a reputed French pioneer collector from Clermont-Ferrand. During the mid 1960s the car was repainted into its current colours and sold to Albert Prost from Roanne via the famous dealer Johnny Tuisberg located nearby Cannes. Albert Prost was assembling at this period his wonderful collection, which gathered Delages, Hispanos, Bugattis and Ferraris including a 250 LM. Albert Prost very sparely used the Atalante, accordingly it has been very rarely seen during his ownership. Like most of his cars it was carefully kept and maintained during four decades until his death in the early 2000s. The Type 57 was retained by the family until it was sold to a French collector in 2008. During his ownership, it made a sensational appearance to the "Centenaire Bugatti" held at Molsheim in 2009. Prior to our purchase in June 2011 it has been serviced by the Garage Novo near Montlhéry, the best French Bugatti specialist, who confirmed the amazing originality and authenticity from this Atalante. Indeed it was never dismantled, only serviced, refreshed and repainted when needed. Since the repaint in the late 1960s it has never been restored, having been very sparely used since, it shows a very little and nice patina but can be described has being in very nice condition. This stunning automobile which never left France until we received it, is a very unique opportunity to purchase one of most original Atalante, virtually coming from four decades of display in a private and rarely seen collection.
Contact POREZ Auto Retro, e-mail: p@porezauto.fr, phone : 0033 674 674 879 or 0033 645 811 326
www.porez.fr
30-10-2011
---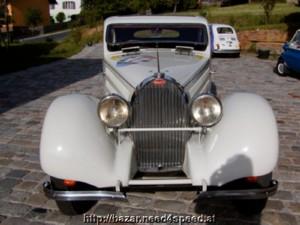 1936 Bugatti T57 Ventoux

Good condition

Agentur Need4Speed
Oliver Posch
Klimtgasse 6
2301 Oberhausen, Austria
Telefon +43 (699) 13333396
E-mail: office@need4speed.at

16-10-2011
---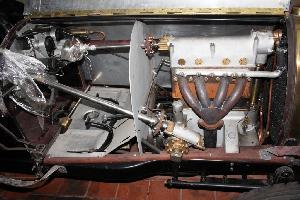 Bugatti T13 Brescia

Number on differential: 187

Body is a reconstruction, chassis said to be original

Asking price: $170,000

E-mail: autoscars18@yahoo.com.ar

26-9-2011
---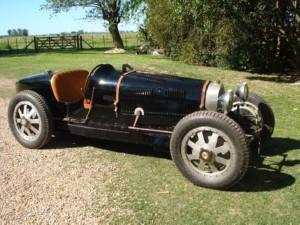 Bugatti grand prix Type 37A supercharged, 1927

Car with chassis 37294, engine 199, supercharger later added, currently in Argentina

Asking price $380,000.

please contact Jose Varaka

Email: autoscars18@yahoo.com.ar

25-9-2011
---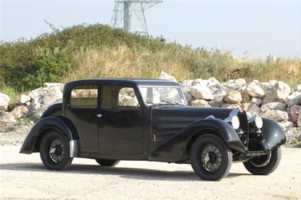 1936 Bugatti T57 Galibier

Chassisnumber: 57415
Enginenumber:313

Very nice restoration.

Cheap entry in the Bugatti world, ready to enjoy.

Jaap Braam Ruben

28-8-2011
---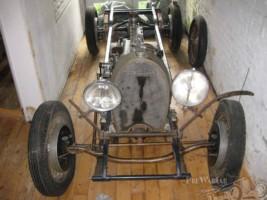 Type 44 1929 Bugatti modified (purchased over 20 years ago as rolling chassis.)

18" removed from parallel section of chassis frame (No 112).
Engine number 695/4972.
Gearbox number 464 moved back 7".
Radiator 4" back to create close coupled sports or competition car a la Kenneth Bear 1931 or Le Mans 1929 entry of Baron de Rothschild without the excessive posterior.

Crack tested, statically and dynamically balanced.
Rebuilt by Mike Bailey proprietor of Sutton Rebore under direction and advice of the late John Gardner of Crosthwaite and Gardner.
Gearbox rebuilt... parts supplied by Crosthwaite and Gardner.
Clutch fully rebuilt to original multi plate wet spec.
Rear axle rebuilt including brake linings; front axle the same.
Steering box appears faultless.
Dynamo and starter overhauled, Schebler carb (Claudel Hobson removed but supplied.) Period petrol pump, petrol tank, bonnet. All nominally assembled for photograph.

Faults: Riley wheels, sans bulkhead, chassis plate and connections to throttle and A/R. New steering wheel.
Headlights need adjusting.

Instruments: Nivex and assembly, 160kph speedo, oil button. Marchal headlamp. Original fishtail Brooklands can, Klaxon, 2 torpedoes, exhauster, etc.

£150,000

Alan McKay, tel +44 7845 468 768

44, Pier Road, Littlehampton, West Sussex. BN17 5LW, UK

28-8-2011
---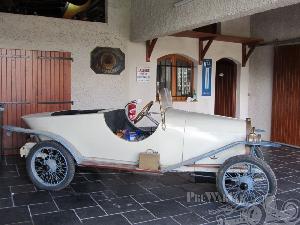 BUGATTI BRESCIA 1921
For renovation
Original, except for the body
Christian Décombas , France, Phone: +33(0)473536046
www.automobiles-anciennes-decombas.com
10-8-2011
---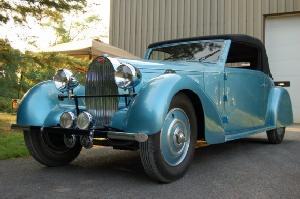 1934 Bugatti T57 Gangloff Stelvio

This 1934 Bugatti Type 57 (serial number 57195) is offered publicly for the first time in over 40 years and represents one of the earliest type 57s known and available. Finished in its elegant Gangloff coachwork as a "Stelvio" cabriolet, 57195 represents a well cared for example with strong ownership history. There has been much invested in sorting and cosmetic updates, all completed by well known marque specialist, culminating into a very nice driver quality example that could certainly qualify as a #2 condition car according to the seller. It is available in Pennsylvania for $645k.

Noticeable throughout are many original features including proper dash instruments, Marchal head lights, fog lights, and trafficators to mention just a few. This car represents a well cared for example that will not disappoint, and could be an easy invitee to many concours events.

The 61000 miles are said to be original actual miles, and the car will be sold as a well-serviced, running, driving car for the new owner. The seller states that he will have a full service performed before delivery to the new owner.

Check out the photos of other Gangloff T57's for comparison over at coachbuild.com. Note that they reference this model being built from 1934 to 1939, and that this one has an earlier serial number than any shown there.

Though not our normal practice at BaT, due to the privacy wishes of the seller those seriously interested can inquire for over 150 photos and more detailed information on this special car.

Contact us at mail@bringatrailer.com if you are interested.
---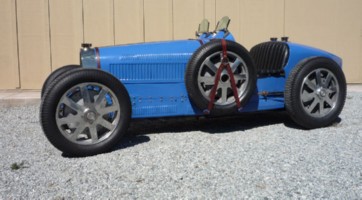 Bugatti Type 51 Recreation
Chassis No. BC133
-The stunning car you see before you here is a tool shop recreation of the legendary Bugatti Type 51.
-Road registered with a BC chassis number it is a true recreation right down to the roller-bearing crankshaft.
-Meticulously assembled using parts mainly supplied by Tula Engineering, Brineton Engineering and the Bugatti Owners Club.
To the Bugatti aficionado the Type 51 has to be the ultimate Grand Prix Bugatti. It was was the final development of arguably the most successful Grand Prix car of all time, the Type 35. Launched at the Paris Salon in 1930 the Type 51 was the direct replacement for the Type 35B, the main improvement being the engine. The never ending quest for speed is at the heart of motor racing and the time had come to look beyond the single camshaft configuration of the Type 35B. The inspiration came not from Bugatti's European competitors but from the powerful American Millers.
An engine from one of these cars was acquired and put on test at the Bugatti factory and it was not long before the new twin cam engine was born. The Type 51's crankcase, roller bearing crank, connecting rods and pistons were unchanged from the Type 35B. The significant difference was in the block. The Type 51 has one piece block with an integral head and two individual valve ports per cylinder, twin overhead camshafts and a modified inlet manifold creating a significant improvement in horsepower over its predecessor.
The Type 51 was a success straight from the start winning on its fist ever outing and going on to take numerous illustrious victories including winning the Monaco Grand Prix in 1931 and 1933. Raced by some of the greatest names in pre-war racing like Achille Varzi and Louis Chiron, the Type 51 was the pinnacle of the Bugatti's racing legacy.
The stunning car you see before you here is a tool shop recreation of the Type 51. It is a true recreation right down to the roller-bearing crankshaft. Assembled by the owner, a renown Bugatti expert of over 40 years, using parts mainly supplied by Tula Engineering, Brineton Engineering and the Bugatti Owners Club.
The chassis has been beautifully crafted by Gino Hoskins while the engine was meticulously assembled by internationally respected Bugatti specialists Tula Engineering using Brineton parts. The front axle is a Bugatti Owners Club forging with Brineton stub axles, the gearbox was manufactured by Brineton and the limited-slip rear axle was assembled by the owner using Brineton parts. The supercharger and 1:1.22 supercharger drive were again assembled by the owner using Tula, Brineton and Bugatti Owners Club parts. Breathing through a replica Solex 2 1/4" updraft carburetor and sparked by an original Scintilla MN magneto, no expense or time has been spared on putting together this stunning example. Beautifully finished and presented throughout, the body was made by the well known builders Peel Brothers.
Impressive to drive to say the least. Powerful, fast, with that legendary Grand Prix Bugatti road holding. Few pre-war cars match the Type 51's impressive braking capabilities, direct and agile steering and 'knife through butter' like gear shift. With a BC chassis number and road registration the current owner has effortlessly used the car on numerous long distance tours and rallies. Currently set up on petrol it can be easily converted to methanol for circuit use. With the price of original Grand Prix Bugatti ever climbing it is not every day that the opportunity to acquire such a well executed, accurate and road registered recreation of a Grand Prix Bugatti, let alone a Type 51.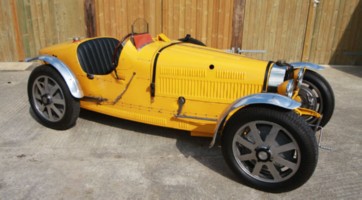 Bugatti Type 35B
Chassis No. BC 111
-Expertly built up by one of the most respected names in the Bugatti world around a number of significant original parts and with a Brineton Engineering roller-bearing crankshaft.
-Road registered with a BC chassis number.
-Very much ready for road or track use. All you have to do is swing the handle!
Nothing combines art, engineering and racing pedigree to the same extent as the legendary Bugatti Type 35B. The straight 8 2.3-litre supercharged engine resembles a piece of art as much as a racing engine. With that distinctive sound that you only get from an eight cylinder Bugatti, their raw speed and legendary road holding, it is not difficult to see why they captivate peoples passion and hold their position at the pinnacle of motor racing history.
The Type 35 made its debut at the 1924 Paris Motor Show and embodied all of Ettore Bugatti's experience, talent and sense of aesthetic beauty. With its sleek streamlined body and trademark horseshoe radiator, it is one of the iconic designs of the 20th century.
The Type 35's beauty was matched by its performance. With its debut at the 1924 French Grand Prix at Lyon marred by a defective batch of tires the Type 35 soon realized its potential at the San Sebastian Grand Prix later in the season. In its second season the Type 35 really started to show its true form.
Until early 1926 the Type 35 had only been run either as a 2-litre or 2-litre Supercharged (35C). In early 1926 in preparation for the Targa Florio, Bugatti lengthened the stroke of its 2-litre engine to 2.3-litre to produce the 35T. This was to become the start of the 35 in its ultimate format. Bugatti's superior road holding meant the team of three works cars entered into the event, driven by Constantini, Goux and Minoia, finished 1st, 2nd and 3rd at a record speed and contributed to Bugatti winning the 1926 World Championship.
For the 1927 season the 35T was supercharged, initially using the smaller Type 39 supercharger it was briefly known as the Targa Compressor (TC). At some point later in the year the larger 185mm wide blower was fitted and the fabulous 35B was born.
In 1928 the 1 1/2 litre Grand Prix formula as abandoned and it was from this point on that the potent and delicately handling Type 35B was to come into its own and consolidate Bugatti's reputation for years to come. The Bugatti Type 35 in different guises became a dominant force winning countless Grand Prix and sports car races in the late 20's and early 30's in the hands of Works drivers and amateurs alike. Convincingly winning the Targa Florio in 1925, 1926, 1927, 1928 and 1929; the French Grand Prix every year from 1926 to 1930 and what has to be the most significant victories in motor racing history when William Grover-Williams won the inaugural Monaco Grand Prix in 1929. So successful was the Type 35 that out of 23 cars on the grid for the 1930 Monaco Grand Prix 14 of them were Bugatti. Type 35B's are still raced hard to this day at some of the most prestigious circuits around the world including competing for that same cup the Williams won all those years ago.
This stunning car has been painstakingly built up to the highest standards by one of the leading names in the Bugatti world. Beautifully presented throughout and importantly running a correct 2.3-litre Supercharged roller-bearing crankshaft engine, most of the none original parts have been sourced from Brineton Engineering. Both the owner and restorer of this fabulous example have gone to great lengths with all of the intricate details that are require to make these cars correct.
Sitting on a Gino Hoskins chassis the front axle, gearbox and rear axle are all original factory parts and as such make this a "three out of five" car. A lot of time and effort have gone into the fine details of this car. The body has been beautifully crafted and as you can see the car currently carries a complete set of road equipment including a pair of original Marshall head lamps.
Accompanied by a split and full tonneau as well as an aluminium side cowing for racing, a number of years work have gone into the preparation of this stunning car. With the final touches recently completed the engine has been run up on the dyno and is very much ready to go. It is ideal for road and track alike.
With its BC chassis number, UK road registration and with original parts such as these few and far between and commanding a very high premium if they are available; this is a rare opportunity to acquire such a well appointed example of what has to be one of the most successful Grand Prix cars of all time.
More info: www.williamianson.com
---
Bugatti Garages
Current Bugatti factory
The Bugatti EB16/4 Veyron is made by Bugatti S.A.S. Addresses:

Bugatti Automobiles S.A.S
1, Château St. Jean
Dorlisheim
67120 Molsheim France

Press contact:
Liaison office Lausanne
Phone: +41 21 601 4141
Fax: +41 21 601 4142

---
Argentina
"Pur Sang"
We remanufacture Type 35, Type 43, Type 52 and the vice with its supports.
Address: Almafuerte 2650- 3100 Paraná, ER - Argentina
Fax: 54 - 343 - 4260326
E- mail: pursang@arnet.com.ar

Canada
The Guild of Automotive restorers Inc.
My old site for the Guild (incorrect contact info)
France
Jean NOVO's garage is now taken over by his son Fred The specialist for Molsheim Bugattis Restauration and Repair:
Telephone and Fax: 33 1 69148286 (please speak French on the phone) 3, rue puits de l'orme, 91630 MAROLLES en Hurepoix
France

Ventoux Moteurs Engineering (Laurent Rondoni)
56 Bd Louis Giraud
84200 CARPENTRAS
FRANCE
Tel: 0033 4 90 60 23 98
Fax: 0033 4 90 60 51 75
www.ventoux-moteurs.fr
---
the Netherlands
Klopper Engineering
Broekdijk 69
7663 TG Mander
tel.0541-680 360
fax 0541-680 229

EBS
Ernand Jonker
Wippertdijk 11
7437rc Bathmen
tel: +31 573221388 or +31 636171770
e mail: info@ebs-engineering.nl

Harry's Engineering Service
Harry Kouwen
Phone: +31 523 681140
fax: +31 523 681141
---
New Zealand
Auto Restorations Ltd, Christchurch, New Zealand.

Alan Stanton , Gavin Bain.
52 Stewart Street
Christchurch 8142
New Zealand
PH 64 [0]3 669988
FAX 64 [0]3 3665079
www.autorestorations.co.nz

Nordell Restorations http://www.nordellrestorations.com/bugatti.htm
---
United Kingdom
Brineton Engineering
Over 350 listed spares for Bugattis
Fieldgate, New Street, Walsall, West Midlands, WS1 3DJ, UK. phone: 0922 20070/614605. Fax: 0922 722875

Crailville Limited Complete Coachbuilding Service Canal Yard, Hayes Road, Southall, Middlesex, England.
Not really specialized on Bugattis, but they are very good in reconstructing bodywork, see their Atlantic

Crosthwaite and Gardiner Tel: +44 (0) 1825 732240, Fax: +44 (0) 1825 733363 .
Loads of spare parts, see www.crosthwaiteandgardiner.com

David Sewell, Independent Bugatti Consultant, Green Farm, Middleton-by-Youlgreave, Bakewell, Derbyshire DE45 1LS, United Kingdom, Tel./Fax.: +44 (0)1629 636288. Mr. Sewell is an independant Bugatti consultant who for many years was the Registrar of the British Bugatti Owners Club. Services offered include historical research on specific automobiles, valuations and brokerage.

Ivan Dutton Ltd. , Peacehaven Farm, Worminghall Road, Ickford, Aylesbury,Buckinghamshire,HP18 9JE, UK.

His current ventures include:
manufacturing hollow GP axles
T35/43 cylinder blocks
Paper elements oil filters to fit inside standard oil filter
Scintered metal clutches (crash free gear changes)
Dyno testing of engines (including Royal) Info: Jon Rose E-mail: jrose01@buckscol.ac.uk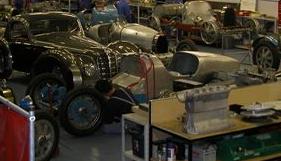 Gentry Restorations Ltd
www.gentryrestorations.co.uk
12 Wornal Park
Menmarsh Road
Worminghall
Aylesbury
Buckinghamshire
HP18 9JX
Phone ++44 (0) 1844 338346
Fax ++44 (0) 1844 338347
gentryrestor@btconnect.com
Click the picture!
FARNDON ENGINEERING
Performance Components
Farndon Engineering are an established manufacturer of engine block components and have been so for over 30 years. Supplying mainly the autosport and classic markets world-wide we have a reputation for being masters at manufacturing crankshafts, connecting rods and flywheels specifically to our customers needs in batches of one upwards. We can manufacture our components for any engine and have a great deal of experience with Bugatti parts.
If you would like us to send you copies of our product information pack or if you would like to know anything further please contact me at any of the numbers shown below.
Annerley Howard
Farndon Engineering, Bayton Road, Exhall, Coventry CV7 9EJ, UK
Tel: +44 (0) 1203 366910
Fax: +44 (0) 1203 644698
E-Mail: AnnaHow@aol.com
www.farndon.com
Star Engineering
run by John Underwood. He has been building radiators for pre-1940 Bugatti, Bentley, etc since 1983 and is known to many enthusiasts.
The Garth, Usk Road, Caerleon, Gwent NP18 1LQ, tel and fax. +44 (0) 1633 423915
John and his team will restore or build radiators from raw materials and also manufacture cores for resale to private and commercial restorers.
Rod Jolley
Rod Jolley Coachbuilding Ltd.
37 Gordleton Industrial Park, Sway Road, Lymington, Hampshire SO41 8JD, England, UK.
Tel: +44 (0) 1590 683702
Fax: +44 (0) 1590 683634
Email: enquiries@rodjolley.com

---
USA
Competition Motors 40 Longmeadow Road
Portsmouth, NH USA
Telephone: 603-431-0035
Fax: 603-431-0590

Our email address is: Bugatti@competitionmotorsltd.com
competitionmotorsltd.com

Owned by Donald Koleman, who is always thrilled to show the shop to visitors! Competition Motors has done mechanical restorations on several Pebble Beach winners.


Jim Stranberg has a specialized Bugatti Garage High Mountain Classics in Berthoud, Colorado, USA.
Phone 970 - 532 2339. or fax.: 970 - 532 2350.

Old Foundry Toy Works
We offer professional restoration and repair work to the original Bugatti Type 52 "Baby" as well as modifications and motor installations to the current Authentic Models reproduction of the Type 52, we of course also offer sales of the reproduction model.
1020 South 10th Street
Lafayette, Indiana 47905, USA
tel. 765-742-1020
www.oldfoundry.com
---
Vive La Marque !!
---
Back to theBugatti Page