---
Bugatti books for sale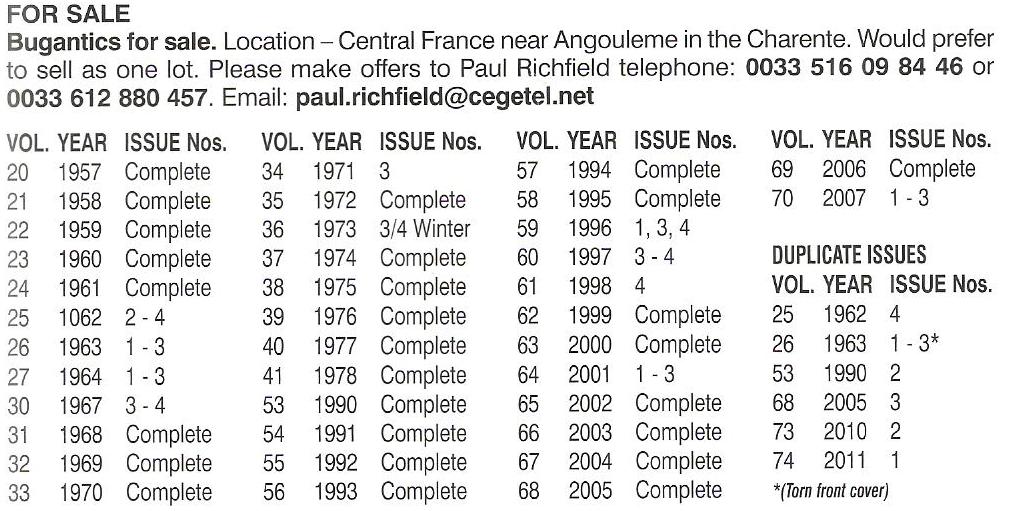 Paul Richfield, E-mail: paul.richfield@cegetel.net
12-3-2016
---
For sale:

Bugatti 19 original lithographs signed by ALot, perfect condition, 55 x 34 cm, number 11 out of total 75 made

These showing typ 50, 59, Royale, 57 engine, 53, 55, 50, 30, 46, 100p, 43, 5 litres, 35 B, 3 L GP, 57, rail, 10 and 13.

A very rare opportunity, price 2500€

Jacques Michon, cary.jm@wanadoo.fr

7-12-2015
---
For sale:
Bugatti en course (French language) - good condition
Bugatti Automobiles et Autorails - Amary Lot - good condition but dust cover torn
Thoroughbred from Molsheim - P. Dumont - average condition
Das Grosse Bugatti Buch (German) - Erwin Tragatsch - Good condition
Bugatti Automobiles in the Czech Lands (English and Czech) - excellent condition
Eliška Junková - biography in Czech language - Excellent condition
Bugatti Type 40 by A.B. Price and Jean Louis (Hardback, 1999) - Like new
The Big Bugattis: Type 46 & 50 - Barrie Price HARDBACK - Very good condition
Roger Redford, E-mail: rogerwredford@googlemail.com
15-5-2015
---
For sale:

For sale several literature:
Including original T44 handbook, well used and parts list, in French, the parts list is in very good condition, the handbook was much used in the 1930s, with oil marks, loose pages (none are missing) and servicing details for an unidentified T44 written in the back.

Also an English sales brochure (probably reproduction as it is in perfect condition) and BOC data book.

Mike Holt, E-mail: bugattiste1@me.com

15-4-2015
---
Bugatti Magnum by Conway and Sauzay

German edition.

Rudolf-Werner GIB, E-mail: Halogen-Gibb@t-online.de.

19-1-2015
---
For sale:

Notice de conduite et entretien du chassis 1500 Type 40 et du chassis 2 litres Type 38

This is an original manual in French only, from the 20's, NOT a later copy with English translation.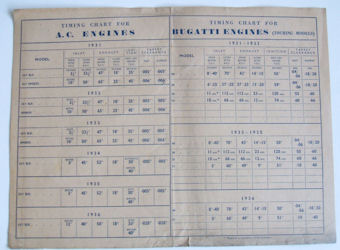 Very rare.
1930's Bugatti and AC timing chart.
In English.
Roger Redford, E-mail: rogerwredford@googlemail.com .
6-10-2014
---