Lot 128 : 1931 Bugatti Type 49 Roadster by Gangloff Chassis no. 49431, Engine no. 275, Estimate: $900,000 - $1,100,000
Sold for $852,500
Lot 143: 1931 Bugatti Type 49 Grand Sport Coachwork by A.P. Compton & Co. Chassis n° 49119, Engine: L12, Estimate: $550,000 - $750,000
Sold for $962,500
Lot 183: 1920 Bugatti Type 13 Châssis n° 981, Moteur n° 538, Estimation 360 000 - 420 000 €, Sold for 357,600€
Lot 211: 1995 Bugatti EB110 Super Sport Châssis n° ZA9BB02E0RCD39017, Engine n° 0103, Estimate: 800000 - 1200000€, Sold for 929,760€
Lot 212: 1995 Bugatti EB110 SS Competizione Le Mans Châssis n° ZA9BB02E0SCD39044, Engine n° B11001, Estimate: 800000 - 1200000€, Sold 941,680€
Lot 213: 1999 Bugatti EB112 Berline Châssis n° ZA9CC030ERCD39003, Not Sold
Together with its sales partner in the Netherlands, Pon's Automobielhandel B.V., Bugatti inaugurated a new showroom at the dealer's headquarters in Leusden on Thursday evening. This is the first location of a Bugatti dealer in Europe with the new showroom design. The French super sports car maker had presented its newly developed corporate identity to dealers last autumn and has already opened the first showrooms in the USA. Bugatti currently has 27 dealers in 13 countries.
"Some of our most loyal customers live in the Netherlands," said Dr. Stefan Brungs, Member of the Board of Management of Bugatti Automobiles S.A.S. responsible for Sales, Marketing and Brand Lifestyle, speaking to the many guests attending the inauguration. "The opening of this facility in Leusden is the first stage in a roll-out programme for our showrooms in Europe which will be implemented this year. I would like to thank our partners Pon for their highly considered commitment and the sustainable investment which they have made in our brand."
Pon has succeeded in providing an appropriate home for the Bugatti Chiron in the Netherlands in good time ahead of the new model's world debut at the Geneva International Motor Show in March.
The showroom, with floor space of 90 square metres, is located in 'Het Koopmanshuis', a central building on the Pon Campus in Leusden, near Amersfoort. It was here that the Pon family built up its business as a car dealer in the late 1920s. Pon has been an official sales partner of Bugatti since 2012.
The RETRO CLASSICS in Stuttgart will have an exclusive first with the presentation of a new Bugatti Royale "Esders".
The replica roadster has been built over the last years in the Netherlands, by the same team who built the Bugatti Royale "Packard" replica which was presented at the Molsheim Festival in September 2011 seen below. This replica will be of the same magnificent quality, the main question remaining what question the longest roadster in the world will be, and how many differences can be spotted between it and the existing replica of the same car.
As the original body was destroyed, the existing photographs, only 12 of them, were used to make a 3D-model of the car and especially the body. The car is said to be reconstructed in every detail, until the last nut and bolt.
The RETRO CLASSICS® will take place from March 17 - 20, 2016 at the Messe Stuttgart, Germany.
Bugatti fans across the globe can rejoice as details on the new Chiron EB16, set to be unveiled in Geneva in March 2016, are finally revealed.
According to a December 28 post by Magazin ProDriverCZ, this more aggressive new model will feature 1500hp with maximum speeds reaching 467 km/h (290 mph) and an acceleration of 0-62 in 2.2 seconds. The same 8 litre W16 cylinder engine is retained, however with electrical turbochargers.
Bugatti is set to produce 100 pieces per year for 5 years capping off at 500 pieces total for this exclusive car. Already, Bugatti has received 130+ orders for the vehicle. The car is priced at an estimated $2.4 million.
To add to the anticipation, Bugatti released the above photo.
---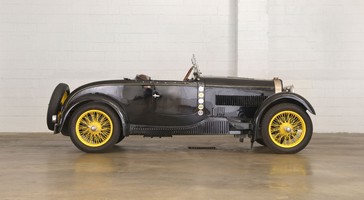 January 4, 2016
Auction result
Keno Brothers auction, 'Rolling Sculpture', NYC 19th November 2015
1929 Bugatti Type 40, Chassis: 40810, Engine: 711, Sold: $464,800 USD
The Bugatti that Crossed the Sahara
This Type 40 was built in 1929 and delivered to its first owner, M. Pierre de Brou de Lauriere in January, 1930. He promptly took it out for a spin with his wife… in the Sahara Desert on the Rallye d'Algers. This was the start of a long, be-ribboned life in racing for the car, continuing up to 2004 in the Le Mans Historic races. Today's high level of interest in Bugatti automobiles derives from their rarity, meticulous build, astonishing design and beauty as well as an unparalleled history of excellence on road-racing courses and highways around the world. This car is one of the bright stars in that history.
---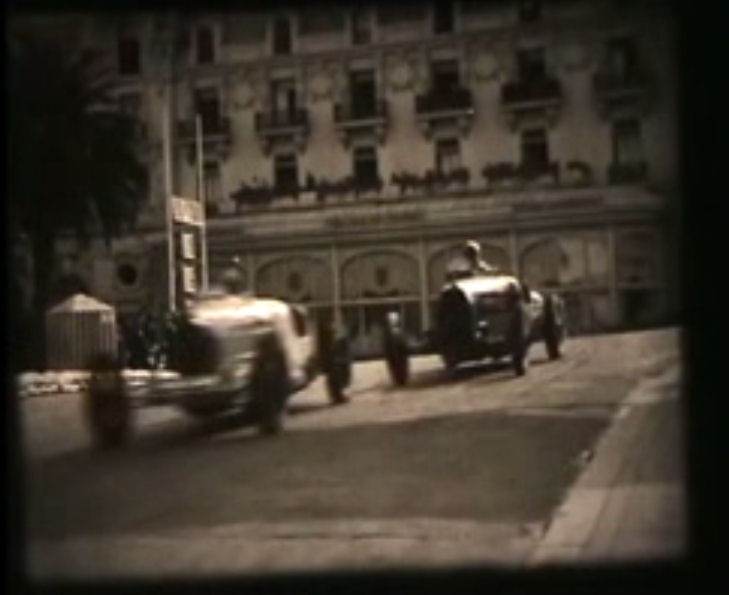 January 2, 2016
New movie of Monaco Grand Prix, 1930
From Yvon Mosser, France, I received a previously unpublished piece of footage from the 1930 Monaco Grand Prix, not a copy from PATHE or GAUMONT.
Dreyfus won this 2nd Monaco Grand Prix on a Bugatti T35B, while Chiron came second in a T35C. All 6 finishers were Bugattis, by the way, with 11 of the 19 starters retiring during this 3 hours 40 mins race!
Click the picture above, or this text to start the movie
Your computer must be able to play .avi movies, for example the VLC media player.
---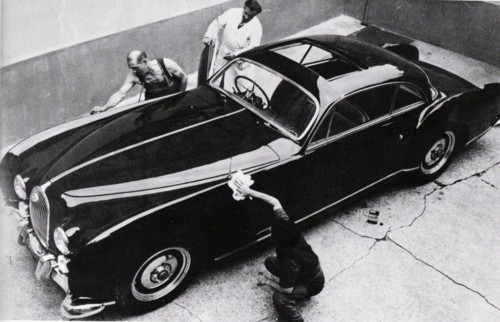 January 2, 2016
Harry John Hyams passed away
Harry John Hyams, the Englishman, who commissioned the construction of the Saoutchik Bugatti #50146 and who presumably has owned it all this years, died recently on December 19, 2015. He had been born on January 2, 1928. Perhaps we will once again have an opportunity to see this beautiful Bugatti in the next several months or years, as his estate is liquidated.
Obituary:
www.telegraph.co.uk Thanks to: John Dormer
Below: Harry Hyams in 1974 Photo: The Telegraph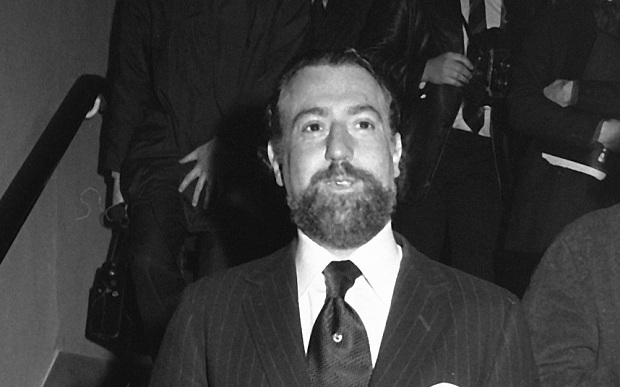 ---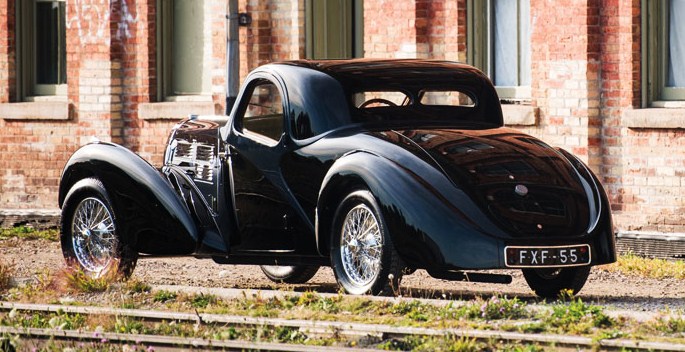 January 2, 2016
Auction result
New York - Driven By Disruption RM Auction, December 10, 2015
1938 Bugatti Type 57C Atalante, estimate: $2,200,000 - $2,500,000 : Not Sold
---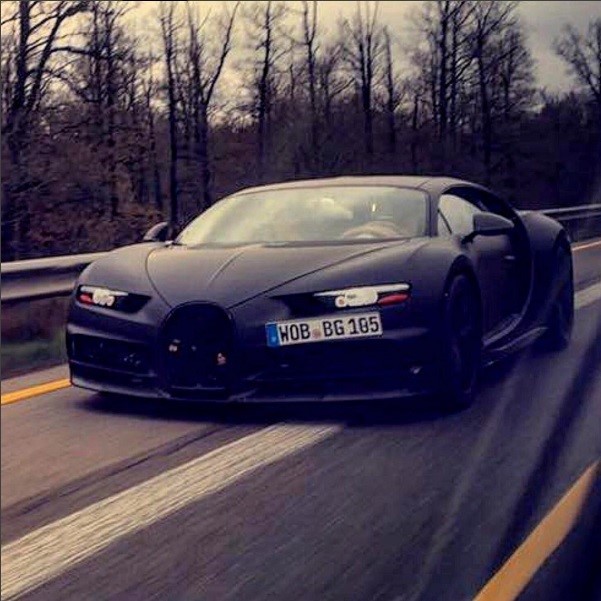 November 29, 2015
More news about the Veyron - successor
This successor, I don't believe that the name is officially released by Bugatti, though everybody uses the name "Chiron" after another famous race driver from before WW2, and so will I.
These photo's seem to show a Chiron very close to it's final shape, though of course there will be some changes.
Specifications are quite constant for some while, with 1500HP, 1800Nm, delivered by the 8-litre W16 engine from the Veyron, assisted by a "Hybrid" system, thus some electrical engines, plus batteries. That will not really help to bring the weight down! From the photo's, the new Chiron will be the same size and wheelbase as the Veyron, enabling to re-use the major components.
0 - 100 kmh should be in 2.3 seconds, 0 - 300 kmh in 15 seconds, top speed around 450 kmh. Just what I need in the morning to get to work!
All this power will be brought to the pavement by Michelin Pilot Sport PAX tires, 20 inch at front, and 21v inch at the rear.
However, one big question mark remains, as a dark shadow over the introduction of the Chiron: Will Volkswagen pull the plug on Bugatti? VW loses a lot of money after their "problems" with diesel engines, and must make decisions to cut costs somewhere. Bugatti has been rumoured to be one of the possibilities to just do that. If VW pulls the plug, that would be probably the end for Bugatti, again.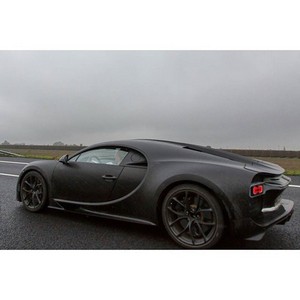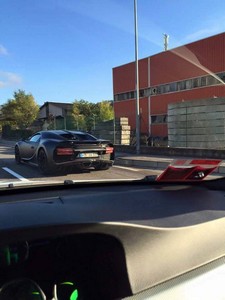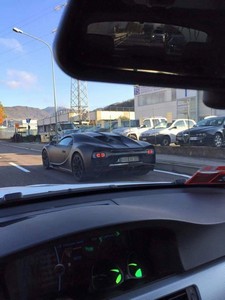 ---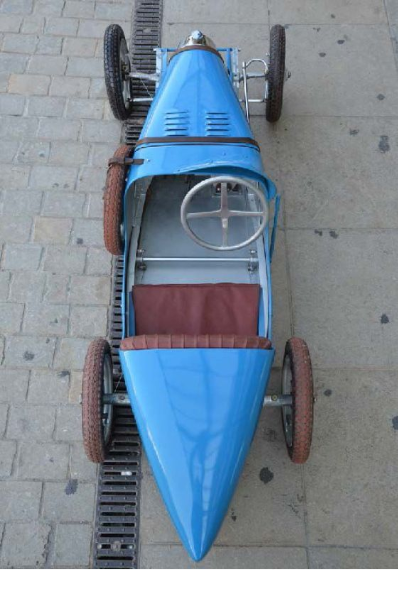 November 22, 2015
Auction result
Aguttes Auction: Automobiles de Prestige et de Collection, Automobilia, November 7, 2015
1927 Bugatti "Baby", one family since the 1930's.
Chassis number 127
Sold for 74 400 €, (estimate 25 000 - 35 000 €)
I remember having been offered a T40 for 74 k$ not too long ago....
---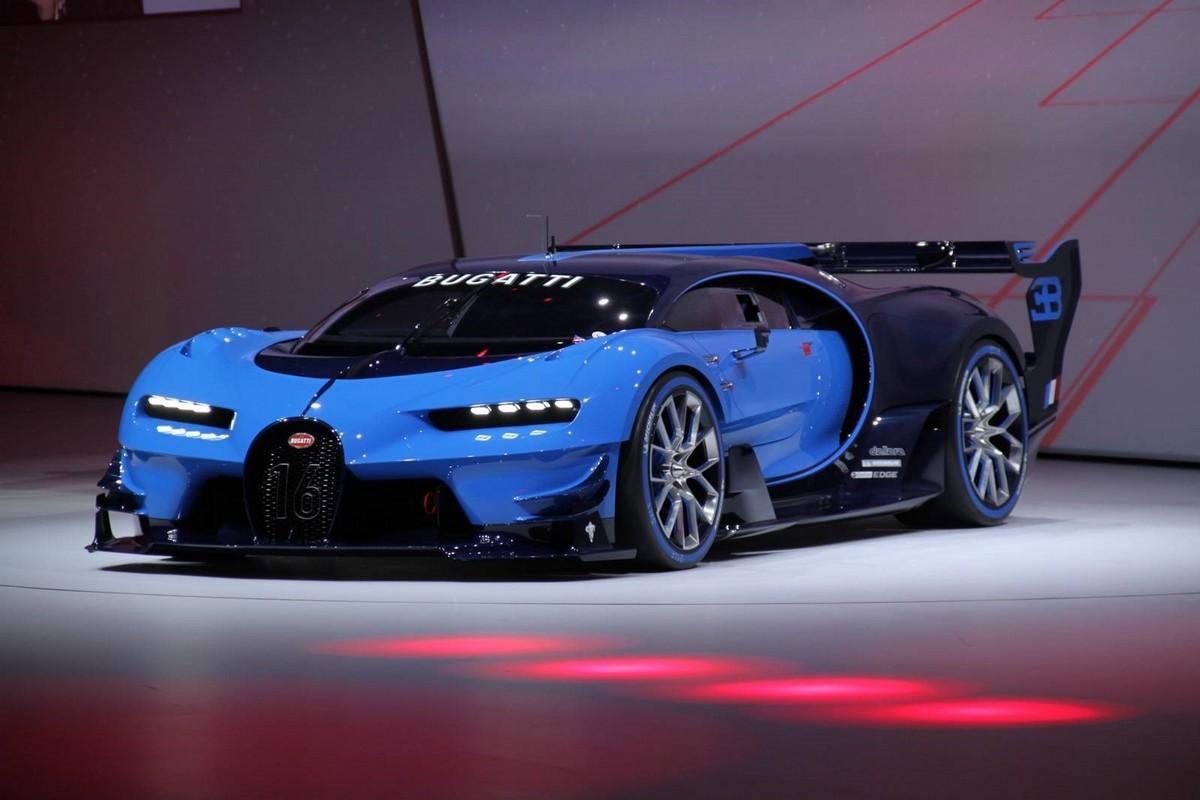 September 27, 2015
Bugatti presents new full size digital "Bugatti Vision Gran Turismo"
Virtual Reality coming to life!
In creating a new concept car for the 'Gran Turismo' video game, Bugatti's designers have previewed the look of the Veyron's successor. But the 'Monster of Molsheim' also appears tailor-made for a return to Le Mans…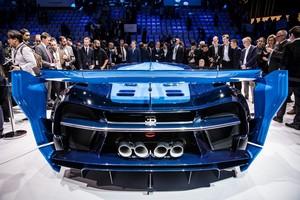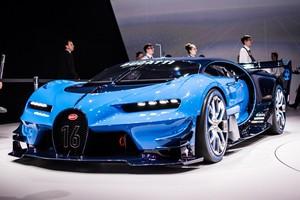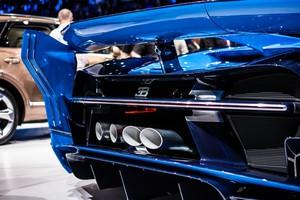 Last time a Bugatti took overall spoils at Le Mans, it had to fend off competition from Delages, Delahayes and Lagondas. During the most recent victory, in 1939, a certain Pierre Veyron was behind the wheel. With its new 'Vision GT' concept, Bugatti has wowed Frankfurt with a supercar that has a distinctly LMP1-like appearance, giving enthusiasts a glimmer of hope that the marque might one day return to Le Mans. In the meantime, however, they'll have to settle for a 'Monster of Molsheim' lapping La Sarthe in the virtual world.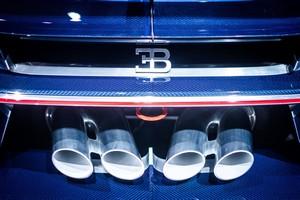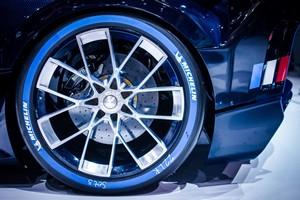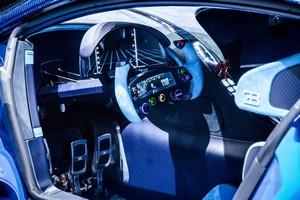 However, the engineers at Molsheim went one step further, and realised a full-scale model of the Vision Gran Turismo, which was presented at the IAA Autoshow in Frankfurt from September 17 until today. Though officially no comments are given, some of the design may actually be seen in the Chiron, the Veyron successor. We will have to wait for the Chiron (for which Bugatti already received various orders) introduction to see if that is true. There are others who say that this design looks very much ready for the Le Mans 24 hour race. We will have to see if that really materialises, though a lot of changes to the Veyron basis will have to be made before that will have any chance in Le Mans.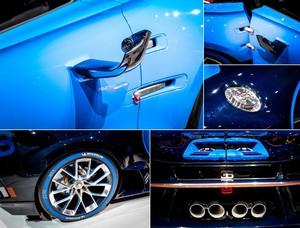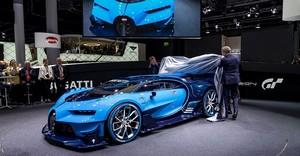 See the Bugatti website to see more: www.imaginebugatti.com/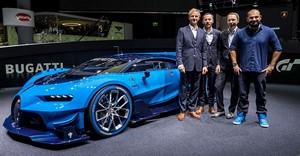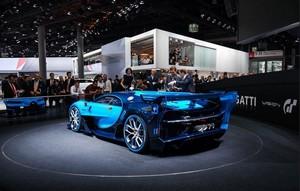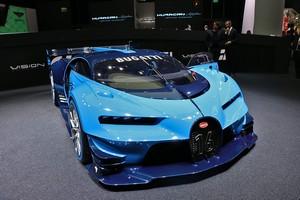 ---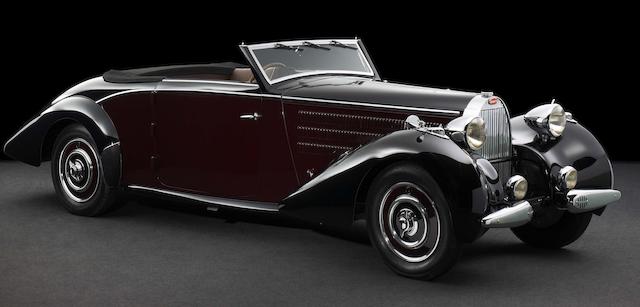 September 19, 2015
Auction results
Bonhams' The Chantilly Sale, Sept. 5, 2015 :
Bugatti Type 57 Cabriolet 1938, Carrosserie par Albert D'Ieteren, Châssis n° 57589: €1,265,000 (estimate: €1,400,000 - 1,700,000)
Bugatti Type 101C coupé Antem 1954, Châssis n° 101 504: Not sold (estimate: €1,500,000 - 1,800,000)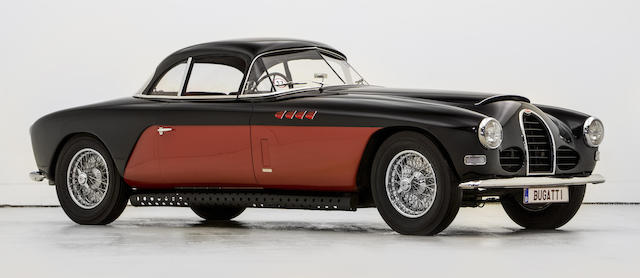 Star of the sale was one of my personal favourites, the Maserati Boomerang. I like it's straight lines, and the windscreen which is so flat, you could easily mistake it for the roof!
---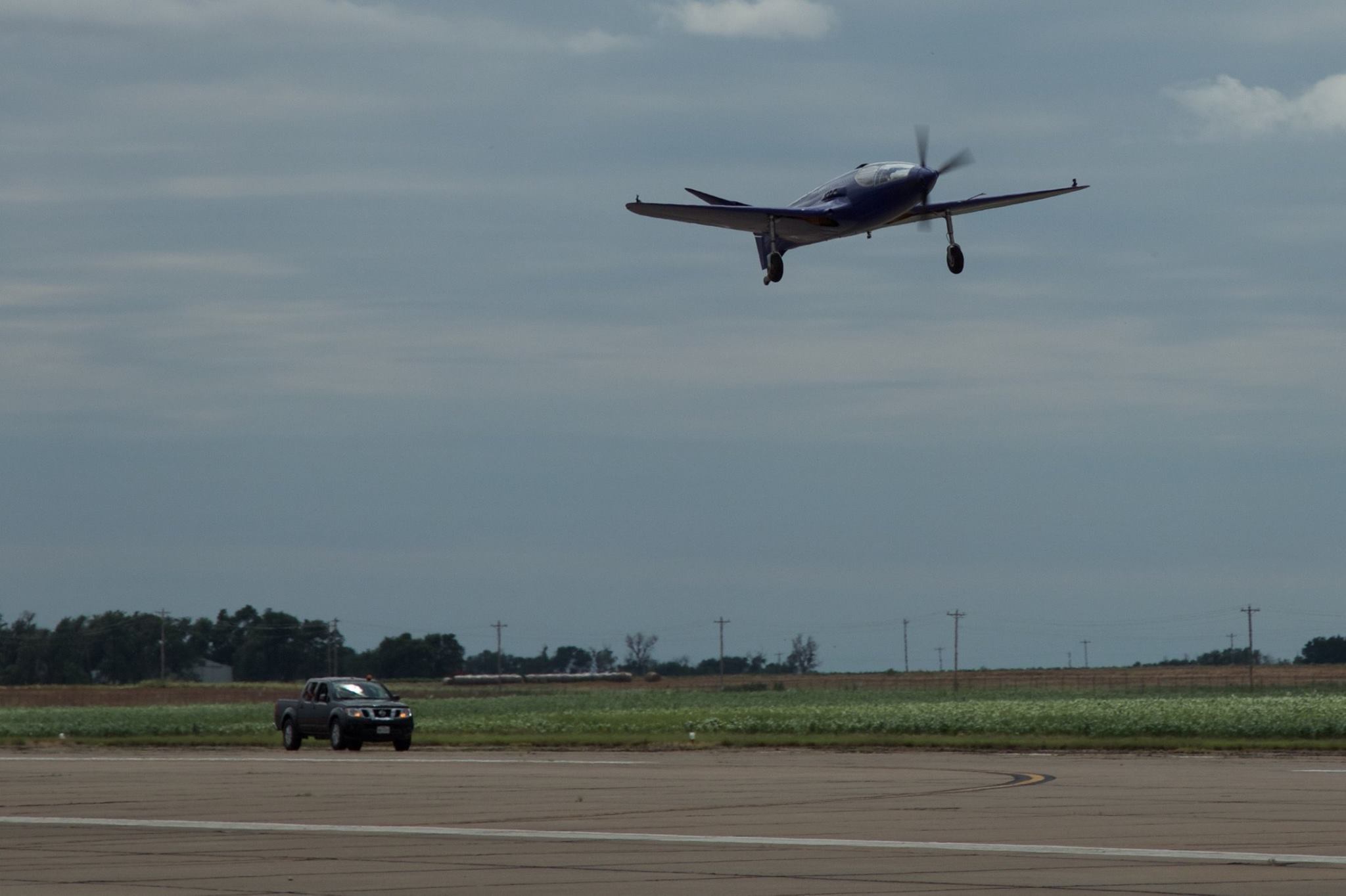 August 20, 2015
First flight Bugatti airplane replica
Yesterday, August 19, the replica Bugatti 100P airplane built by Scotty Wilson and his team flew for the first time, at an airfield in Oklahoma.
This is what Scotty himself said about this:
We intended this flight to be limited to a short hop down the runway to check power required/power available and to check control responsiveness in all three axes. Preflight preparation and before-takeoff checks were normal. Takeoff was normal and at a predetermined reduced power (80%) setting; takeoff roll was 3000 feet and I became airborne at 90 knots. I climbed to 100 AGL to check power and control responsiveness. The plane responded as expected to all power changes and control inputs. Maximum airspeed was 110 knots.
I reduced power for landing but the airplane floated much more than we anticipated. I landed further down the runway than planned but with sufficient distance to stop the plane. Unfortunately, I lost the right brake and the airplane departed the left side of the runway at slow speed. Due to heavy rains the night before, the ground was soft and the airplane tipped upward on its nose, damaging the spinner and both props.
Such is the nature of flight testing a new design. The relevant news is we successfully flew the Bugatti 100P for the first time. The plane flew beautifully.
See the first flight here!
---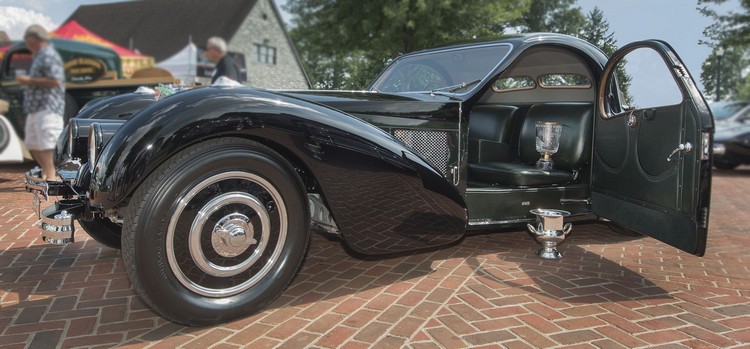 July 27, 2015
1937 Bugatti T57S Atalante named top car at Keeneland Concours d'Elegance
A 1937 Bugatti Type 57SC Atalante won Best of Show and the Children's Choice Award during the 12th annual Keeneland Concours d'Elegance, held in Lexington, Kentucky on July 16 - 19.
More than 130 historic cars were on display, including two classes of Maseratis, the featured marque, which celebrated its centennial in 2014. Other cars on display ranged from a 1908 Simplex Speedcar to a 2015 Dodge Challenger SRT Hellcat, with classic cars, European super cars and American performance cars well represented.
"Each year the Keeneland Concours attracts some of the top collector cars in the country, and we are so appreciative of their owners' willingness to share them with us, and another strong crowd shows that Central Kentucky is full of automotive buffs who love to spend the day on the beautiful grounds at Keeneland," said Tom Jones, co-chair of the Concours.
The Judges' Choice Award went to a 1935 Pierce Arrow Model 1245 Rumbleseat Convertible Coupe, with a body by Brunn, presented by Evergreen Historic Automobiles. A 1970 Maserati Ghibli Spyder won the Junior Judges Award.
The Bugatti Type 57SC Atalante, presented by the Patterson Collection of Louisville, is one of seven similar cars and was owned by the Harrahs Collection and then Carlos Hank and Arturo Keller until 2001. The car was recently returned to its original color and configuration by RM.
Dr. Anthony Manganaro of Ohio was given the Lee Iacocca Award in recognition of his lifetime of supporting the collector car hobby and his philanthropic endeavors.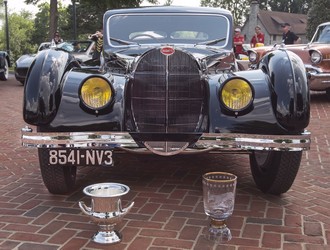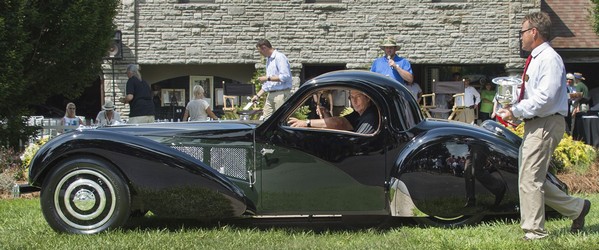 ---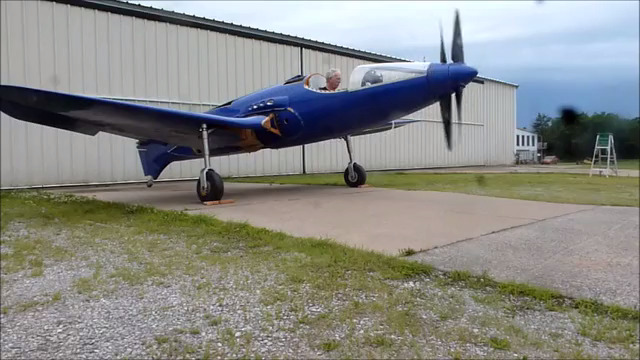 June 29, 2015
Test of the complete drive train of the Bugatti 100P Airplane replica
This is the first test of the completed drive-train system. Scotty Wilson limited the RPM to idle for this test, and will increase the engine speed gradually over the next few tests during the coming few weeks.
---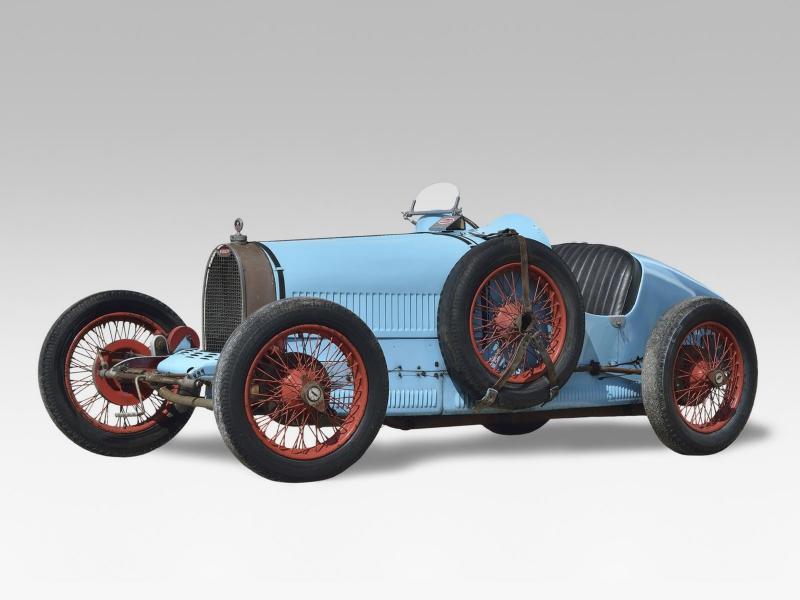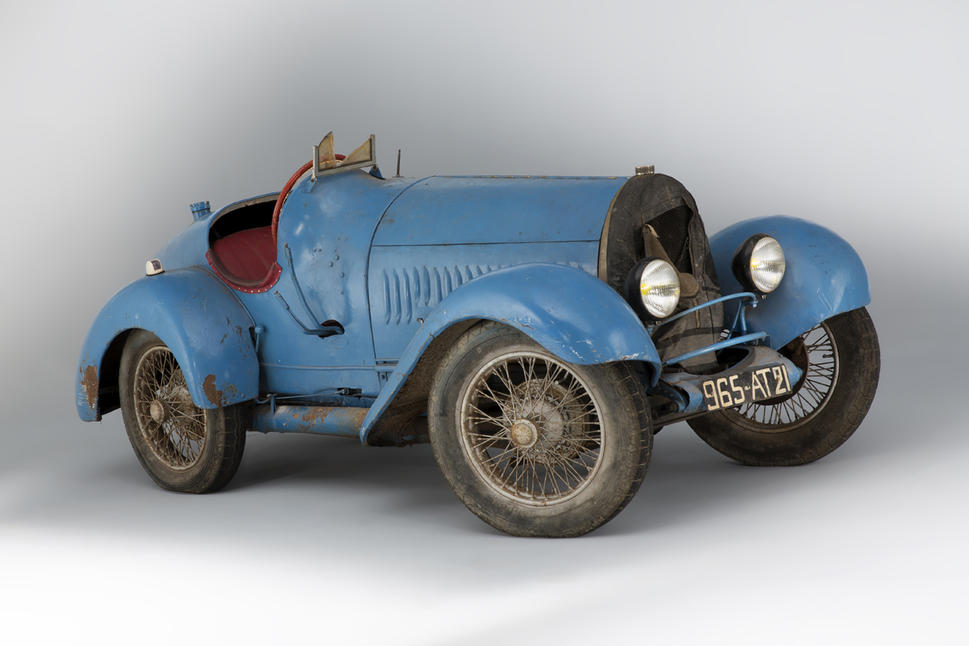 June 29, 2015
Auction results
And surprising ones for that:
Osenat in it's Automobilia and Automobiles de collections auction on June 14 in Fontainebleau, France, sold a T37 for a tremendous €920,000 ! Châssis n° 37291 had had the same owner for 44 years.
And: Artcurial in it's Automobiles Sur Les Champs auction on June 22, sold one original, though rather shabby looking Brescia for triple it's estimate of €250,000 (Car offered with no reserve!) to be finally sold for €834,400! The Brescia was in the same family since 1953, and has a body by Maron-Pot et Cie, Chassis n° 2628, Engine n°1028.
On the other side of the Atlantic, another record wass broken, that for a Bugatti Stelvio: The 1938 Bugatti Type 57C Stelvio Cabriolet, Chassis No 57748, sold for $1,595,000 in Bonham's Greenwich Concours d'Elegance Auction, on May 31.


---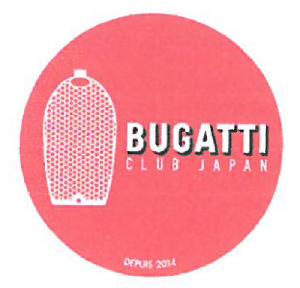 June 28, 2015
Bugatti Club of Japan founded
At long last, and after years of preparation, the Bugatti Club of Japan was officially established on April 4, 2015, when 32 Bugatti owners and enthusiasts attended the Club's inaugural meeting in Tokyo.
The President of the BCJ is Koichi Sugita, contact details for the club: info@bugatti-jp.org
We wish this new addition to the long list of Bugatti clubs a lot of good fortune, in the "Land of te rising Bugatti."!
---
---
Bugatti events
July 4 to ??, 2015 Exhibition: The last French Bugatti - T57 Altlussheim, Germany
The exhibition is in the Museum Autovision
---
January 14 - 17, 2016 Interclassics MECC, Maastricht, the Netherlands
---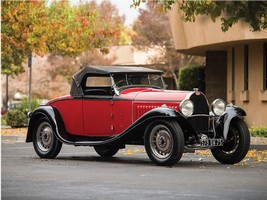 January 28, 2016
RM Sotheby Auctions
Phoenix, Arizona, USA
Lot 128; 1931 Bugatti Type 49 Roadster by Gangloff
Chassis no. 49431
Engine no. 275, Body no. 393, Gearbox no. 277, Rear axle no. 277
Estimate: $900,000 - $1,100,000
This car was one of two identical examples ordered at the same time by Bugatti agent Antonin Joly et Frères of Tunis, and it was sent to Alsatian coachbuilders Gangloff, that great favorite of the Bugatti factory, for their especially lovely roadster body with a "dickey" seat, folding windshield, and artfully flowing fenders. It is important to note that this very sporty coachwork actually predates the similar design credited to Jean Bugatti for the later Type 55! With body number 393 installed, the car was subsequently delivered by Joly to a client who wished to register it in France.
The history of this Type 49 picks up in 1955 in Paris, where, still very original and intact, it was registered as 579 DW 75. Several years later, the attractive little roadster participated in the 1958 International Bugatti Rally, organized by the Dutch Bugatti Club, which included stops at Château d'Ermenonville, the home of Ettore's daughter Lydia, as well as Le Mans. It also appeared the same year in a French film, La Chronique Provenciale.
In 1967, the Type 49 came up for sale at Henri Novo's garage in Montrouge, Paris, and was subsequently sold to Jess Pourret, the well-known collector and historian famous for his works on Ferrari. Monsieur Pourret reported the car to Bugatti historian Hugh Conway as 49431, with engine number 275, in 1974, indicating that it had retained both its original identity and engine up to this point. He participated with the car in a Bugatti rally at Bec Hellouin in 1968 and at a Bugatti Owners Club meeting at Prescott in 1969. Later, the Bugatti became one of many wonderful automobiles owned by the noted French collector Michel Seydoux, before its eventual sale through well-known broker Edgar Bensoussan.
At some point, the Type 49 gained the serial number tag 49122, however, in studying the Bugatti and its components, there is no question that this is actually 49431. Aside from the replacement of the original carburetor with a Weber unit and the addition of an auxiliary radiator under the chassis, there is no evidence of major changes made to the car during its long history.
The woodwork in the body bears the Gangloff number 393, and the drivetrain appears to be completely matching with engine number 275, transmission number 277, and rear axle number 277. The internal frame number is 1179, which, at a glance, appears to be a late Type 44 number, however, Jansen notes that, by the time of this car's production in late 1931, the short-wheelbase Type 49 was available only by special order. Rather than manufacture a new frame, the factory would use one of the leftover stock of the Type 44 chassis, which were of the same dimensions and virtually identical, so this last major component appears to be original to 49431 as well.
---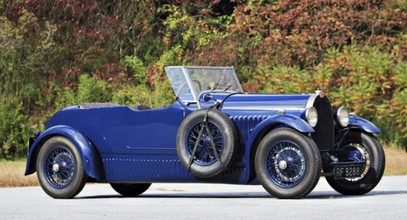 January 29 - 30, 2016
Gooding & Company, The Scottsdale Auctions
Scottsdale, Arizona, USA
Lot 143; 1931 Bugatti Type 49 Grand Sport
The 1931 Olympia Motor Show Car | Two Private Owners from New
Coachwork by A.P. Compton & Co.
Estimate: $550,000 - $750,000
Chassis: 49119
Engine: L12
Arguably the Finest Ettore Bugatti-Designed Touring Car Early Type 49 with Matching Numbers Engine and Sporting Original Coachwork Displayed on the Bugatti Stand at the 1931 Olympia Motor Show Exceptional Provenance, Just Two Registered Owners from New Beautifully Preserved, Largely Original Leather Upholstery and Canvas Top
---
February 3 - 7, 2016
Retromobile
Paris, France
---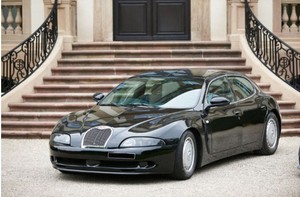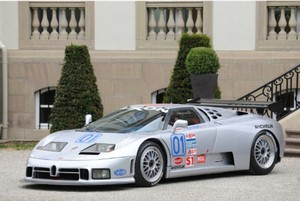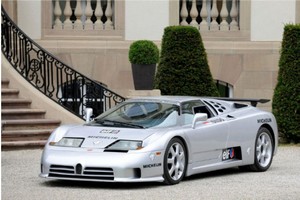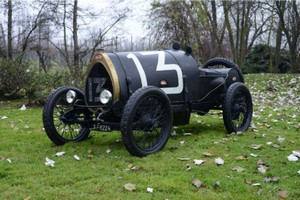 February 5, 2016
Artcurial Auction
Retromobile, Paris, France
Lot 183; 1920 Bugatti Type 13
Châssis n° 981, Moteur n° 538
Estimation 360 000 - 420 000 €
When he designed his four cylinder, 16 valve 1.5 litre engine in 1914, Ettore Bugatti unveiled a masterpiece which powered his cars to the first four places in the Brescia Grand Prix of 1921. And that is why they were named after this city. The car we offer today is considered to be a Type 13 and this is confirmed by David Sewell's report which is authenticated by both the Bugatti Owners Club and by the Bugatti archivist, Julius Kruta.
According to the factory records Chassis No 981 fitted with Engine No 538 and Gearbox No 488 was a Type 23/27 delivered on 5th September 1920 to Louis Pabanel of Paris who was the Diatto's agent for France. Type 23 denotes a 2.55 metre wheelbase chassis whilst Type 27 denotes the 16 valve engine which was designed for racing in 1914, but did not enter production until February 1920 when it superseded the previous 8 valve model introduced in 1910. A Type 23/27 therefore indicates a Type 23 chassis fitted with the new 16 valve engine.
Shortly after the end of the World War I, Bugatti had entered into a contractual agreement with Pabanel to supply him with 50 Bugatti chassis, complete except for radiators and bulkheads, for him to market as Diatto-Bugattis fitted with rectangular Diatto radiators. Production of the new 16 valve model started at Chassis No 901, and the last of the fifty Diatto-Bugattis was Chassis No 1031 delivered in December 1920.
The first owner of this car is not recorded, nor is its original bodywork, but by June 1922 it was registered in the then extensive Marseille region with the number 2775 M 2,and retained this number after moving to Draguignan, 70 miles north-east of Marseille in September 1926. On 16th October 1928 it was sold to Edmond Autran of Toulon, in whose name it was registered 291 YU. In the new French registration system introduced that month, Toulon was in the Var region, 1 YU being the first registration number issued there.
A later French owner was named Pesnin, after which there is a long gap in the car's history until it reappears in the early Sixties with Weerte Ley of Cleveland, Ohio. It subsequently passed on the early Seventies to Paul Moser of Santa Barbara, California in whose name it is listed in the 1978 American Bugatti Register as a Type 22/23 (not sure of its wheelbase!) with a two seater roadster body but with no recorded registration number.
In the second edition of the American Bugatti Register, published in 1988, it was listed as untraced, but it was subsequently discovered that by 1989 at the latest it had gone to Japan to be owned by Yoshiyuki Hayashi, in whose name it is listed (as a Type 22) in a Japanese Bugatti Register dated January 1995. Later that year the car returned to the USA and was owned first by Rick Rawlins, then by American Bugatti Club archivist Leo Keoshian of Palo Alto, California. In 2012, the car was purchased in the Pebble Beach auctions by its actual owner, an Italian collector dreaming of racing the Mille Miglia with it.
Like at least two other Diatto-Bugattis it was eventually fitted with a Bugatti radiator. It is unclear exactly when its chassis frame was shortened to become a (2.0 metre wheelbase) Type 13, but presumably either whilst in Japan or shortly after its return to the USA. However there is no doubt whatsoever that this car is Chassis No 981 dating from 1920 and that it retains its original Engine No. 538, Gearbox No 488 and most probably its rear axle which, like all examples of this model, were never numbered.
Recently this car has taken part in several historic events in Europe, including a successful run in the 2013 Mille Miglia. This is a light and lively car which will bring its new owner as much pleasure as a Type 37 Bugatti for a fraction of the price. Connoisseurs will appreciate that this is a matching numbers car.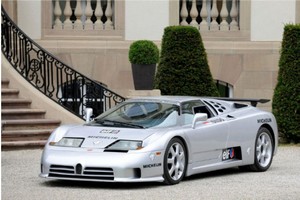 Lot 211; 1995 Bugatti EB110 Super Sport
Carte grise française Châssis n° ZA9BB02E0RCD39017, Moteur n° 0103
Ice speed record car in 1995
From the collection of Gildo Pallanca Pastor
The development of four-wheel drive supercars gave Gildo Pallanca Pastor, amateur racing driver, CEO of Venturi and member of the wealthy entrepreneurial Monegasque Pastor family, the idea of breaking the ice speed record. The initial plan was to use a Porsche Turbo, but the attempt was finally made in this Bugatti EB110 SS, bought new from the factory. Prepared in Italy (which principally involved adapting the gearing and adding ballast of 270 kg), the car was taken to a 7 km track in Finland, near the city of Oulu. On 3 March 1995, fitted with regular production tyres, without spikes, Gildo Pallanca Pastor achieved a speed of 315 km/h, ultimately homologated by the FIA at 296,34 km/h. This record stood for some time and was only beaten in March 2013 by an Audi RS6. During an interview on 2 May 2013 with the Monaco Hebdo, Gildo Pallanca Pastor said : " It was 3 March 1995 Oulu, in Finland, on the frozen sea. I reached a top speed of 315 km/h on tyres without spikes. It was a pretty crazy record as I could see waves at the end of the track. The greatest challenge was to avoid ending up in the water. I had it all. Reindeer crossing the track for example...In any case, the Finns were intrigued to see a Monagesque go faster than them on the ice... "
It is this record-breaking car that we are presenting today. It is one of some 31 examples of the Bugatti EB110 SS built. First appearing in 1992, this model was lighter and more powerful, producing some 603 bhp at 8 250 rpm. It was capable of a top speed of 355 km/h and travelled from 0 to 100 km/h in 3.26 seconds. A more exclusive car than the McLaren F1, with a comparable performance, it was easy to use with four-wheel drive and a V12 3.5-litre engine with four turbochargers.
Presented in perfect condition, this ice record-breaking car is likely to have had a layer of paint added in the Monaco Racing Team workshop a few years ago. There are a few incidental marks to the paintwork on the door openings and front bumper. The coachwork sports Michelin and Elf stickers, both sponsors of Gildo Pastor for his record attempt. The interior presents no wear at all and the leather, carpets and seals are immaculate. The engine compartment is also extremely clean. With a French title and new technical inspection (MOT), this car is simply outstanding. Items to be delivered with the car include : a made to measure cover, the four wheels, echoing those of the Bugatti Royale, that were used to break the world record ! A second engine on a palette (B110-01-003) will accompany the car along with the service book and factory record !
Very attached to this car, Gildo Pallanca Pastor kept it carefully for many years in Monaco, before selling it last year to another marque enthusiast. This Bugatti EB110 SS, with the odometer recording just 1 373 km, is in good running order and will be serviced before the sale. Last September the car was driven to, and exhibited at, the 32rd Bugatti Festival at the Jesuits' park in Molsheim. Since then it has been used regularly by its second owner on the roads in Alsace. An exceptional lot, this car is a testament to the early period of hypercars and the race for power and speed that ensued. With such a performance and so few miles on the clock, this rare machine also boasts a history as a record-breaking car.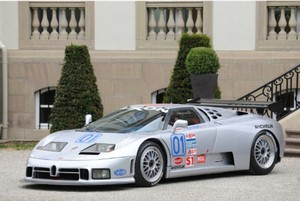 Lot 212; 1995 Bugatti EB110 SS " Sport Competizione - Le Mans "
Châssis n° ZA9BB02E0SCD39044, Moteur n° B11001
Built for the IMSA series and Le Mans 24 Hours
Ran in practice for 1996 Le Mans
From the collection of Gildo Pallanca Pastor
A true racing enthusiast who loved Bugattis, Gildo Pallanca Pastor decided after getting his world speed record on ice to prepare another EB110 SS Bugatti for racing. Already in touch with the factory at Campogalliano, it didn't take long to get the agreement of the directors to give their technical support to this new venture. Gildo had several plans in mind for 1995 but after competing in the 1994 Sebring 12 hours, he was enthralled by the IMSA championship, then at the height of its popularity in the USA.
Based on the Monaco Racing Team he had set up in 1994, Gilldo Pallanca Pastor and the factory spent the winter fettling their car. Daniel Pernoud, formerly a member of the Ligier Formula 1 team, was the director. Its preparation involved a long list of jobs to do and parts, such as making a carbon fibre front spoiler, fitting light weight Makrolan side windows, installing ceramic brakes (production brakes were steel, and Le Mans regs then required that brakes were of the same material), fitting an FIA approved roll cage, double fuel lines, special BBS wheels, Magnetti Marelli dashboard and instruments, specific electronics and telemetry, quick release fasteners, a special steering wheel, bucket seats, harnesses, fire extinguishers.....even though the all wheel drive system was retained, the car was still 200 kg lighter and stiffer than before. The engine delivered 611 BHP and was tuned to deliver increased torque over a wider range. With drivers Patrick Tambay from Formula 1 and Gildo, the car was entered in IMSA races at Watkins Glen, Sears Point, Suzuka, Zhuha and Daytona. The car was called The American Dream and it was fast enough to target Le Mans. Even though Bugatti was now in bankrupcy, the following year found the car practicing for Le Mans. Patrick Tambay had a lot of experience at Le Mans but had an accident in qualifying and the car was damaged. There wasn't enough time to repair it, so the car was a non starter. The beautiful dream was over....
Monaco Racing Team bought a quantity of spares when the factory was bankrupted and repaired the car. The EB would be seen again at a BPR race at Dijon. But that was its last outing. Today the condition of this Bugatti EB110 Super Sport or Super Competizione depending on which register you use as a reference, is beyond criticism. The car has a new carbon fibre chassis and its looks are all the better for its more curvaceous rear wings. The car has as many modifications as Michel Hommel's car, which he entered in the 1994 Le Mans where it lapped almost as fast the Porsche 962s. The standard EB 110 SS had a four turbo 3.5 litre V12 and a top speed of 355 kph. This was exceptional for the 1990s and still is even now.
Gildo Pastor registered the car in Monaco and it comes with a clean road worthiness certificate, several sets of wheels with wets and slicks as well as a set of five BBS magnesium wheels. The car has always been well maintained and its second owner sent it to be serviced by the top specialist for the marque in Italy before the sale. The car is running well and was driven to Molsheim for the most recent Bugatti Festival. Its driver was heard to say, "If anything, it's really too easy a drive!" This car has a fabulous history, and it's the embodiment of Gildo Pastor's dream to enter a Bugatti again at Le Mans, the world's most famous endurance race. This unique car combines beauty with ultra high performance. It's also one of the most accomplished racing GTs of the Nineties. Road registered and useable on the roads.... What more do you want?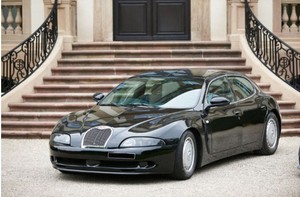 Lot 213; 1999 Bugatti EB112 berline
Châssis n° ZA9CC030ERCD39003
Only two examples built
From the collection of Gildo Pallanca Pastor
Romano Artioli dreamed of following up the EB110 coupe with a saloon just as Ettore Bugatti had done with the Type 57 Galibier. A concept car, still retaining by the brand, was shown at the 1993 Geneva Motor Show but never reached production and in September 1995 Bugatti threw in the sponge and production ground to a halt. After the company's bankruptcy certain assets were put up for auction and were bought by Gildo Pallanca Pastor, along with a large quantity of spare parts. One lot included three pre-production EB112s, in mid build. In 1998 he managed to make two complete cars in 1998 in his Monaco Racing Team workshop, one bordeau and one black. A few years later the first EB112 was bought by a russian collector, while the second car, that on sale today, stayed in Gildo Pallanca Pastor's ownership for the next 19 years.
The car is impressive to look at and its lines are reminiscent of the Panamera.....but it precedes it by 20 years. It's the work of Giorgetto Giugiaro, and inspired by the backbone that ran the length of Jean Bugatti's 1936 57S Atlantic. The car's roof slopes right down to the back bumper as in a fast back. It's a fair comment to describe it as a precursor of today's sports saloons. The EB112 starts with the advantage of inheriting the technical refinement and luxurious equipment developed for the EB110. It shares a carbon fibre chassis, aluminium bodywork and an all leather interior. Engine turned aluminium fittings are inspired by the Type 35's dashboard to complete the ensemble. The plan was to sell the EB112 with a Porsche 928 engine, but this one was fitted with the Bugatti V 12, 6 liters, 60 valves and normally aspirated. Its 455 BHP propelled this luxurious saloon from 0 to 100 kph in 4.4 seconds on its way to a top speed of 300 kph. The car has all wheel drive and a six speed gearbox.
This EB 112 is offered in the most superb condition, not a scrape or even the slightest scratch. The panels are perfectly aligned and the 17 inch wheels make a subtle reference to the Royale's wheels. The leather upholstery is uncreased and the stitching immaculate. Gildo Pallanca Pastor's intense desire to follow in Ettore Bugatti's footsteps comes through strongly and contributes strongly to the charm of this hand built car. Amazingly the car looks new, even though it was built out of 20 year old parts. It comes with its two original black leather suitcases and an umbrella with a handle in the shape of the rampant elephant, like the one sculpted by Rembrandt Bugatti to grace the bonnet of the Royale.
Gildo used the car while he still lived in Monaco and was sometimes spotted driving it in the Principality. The present owner bought it last year. The car starts on the button, drives perfectly and was driven under its own power to the recent Bugatti Festival in Molsheim. This car is a thoroughbred, there are only two of them and we all have to thank Gildo Pallanca Pastor for bringing them to life. It's a masterpiece by one of the greatest designers of the century, it's got one of the most famous names in the history of the automobile and it's got a powerful engine. Well, do you want any more superlatives ? I don't know where you could find more in any one car.
---
March 17 - 20, 2016
RETRO CLASSICS
Stuttgart, Germany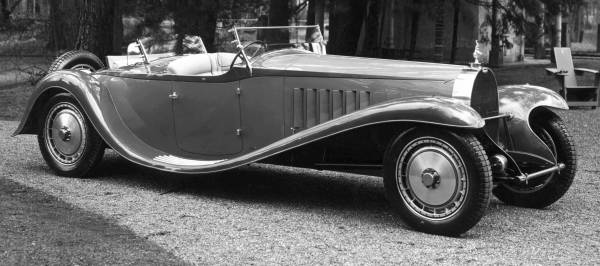 New Bugatti T41 Royale Esders Roadster Replica to be presented
The RETRO CLASSICS in Stuttgart will have an exclusive first with the presentation of a new Bugatti Royale "Esders".
The replica roadster has been built over the last 6 years in the Netherlands, by the same team who built the Bugatti Royale "Packard" replica seen below which was presented at the Molsheim Festival in September 2011. This replica will be of the same magnificent quality, the main question remaining what question the longest roadster in the world will be, and how many differences can be spotted between it and the existing replica of the same car.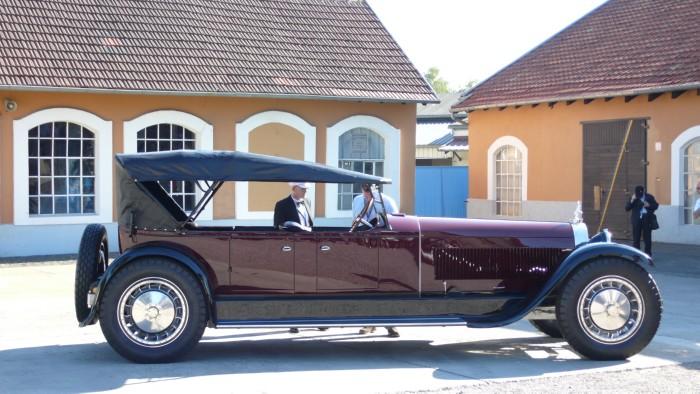 As the original body was destroyed, the existing photographs, only 12 of them, were used to make a 3D-model of the car and especially the body. The car is said to be reconstructed in every detail, until the last nut and bolt.
---
May 20 - 22, 2016
Corcorso d'Eleganza Villa d'Este
Lake Como, Italy
The Concorso d'Eleganza Villa d'Este on Lake Como is the most exclusive location for historic automotive treasures. 2016 will again see owners and aficionados of rare automobiles and the most beautiful historic motorcycles coming together from Friday 20th May to Sunday 22nd May. The Corcorso d'Eleganza Villa d'Este owes its very special status among the world's prestigious heritage events for historic vehicles to a number of elements. They include the elegance of the event, its long and illustrious tradition, its unrivalled flair at a beautiful location situated directly on the shores of Lake Como, and the small and select groups of participants.
BMW Group Classic and Villa d'Este have great pleasure in informing you that we have a few free spaces for participants in a total of nine vehicle classes which will be presented for the appraisal by the international and distinguished expert Jury. Perhaps one of your club members is in possession of a rare treasure which – following approval by the Selecting Committee – could receive a place in the starting line-up.
---
June 3 - 11, 2016
Carovana Romantica, marche: Italy in one region
Marche, Italy
---
June 20 - 26, 2016
International Bugatti Rally
Montreux, Switzerland
---
September 11 - 18, 2016
Solo Brescia 2016
Limousin, West of Angouleme, France
The spirit of this event will be simplicity and friendship.
---
Visit this online college writing blog to find academic tips.
Get free writing tutorials from academic experts.
---
Please let
me know
if you know the dates of any Bugatti events in the future.
---
This page of WWW services is currently maintained by Jaap Horst.
I can be reached by email at J.J.Horst@BugattiPage.com.
---
Vive La Marque !!
---
This page exists since February 27, 1995