Bugatti news
July 29, 2018
Next Bugatti Chiron set to be electrified
Only electrification can improve on the Chiron's current performance, CEO Wolfgang Dürheimer says
The next-generation Bugatti Chiron – still at least seven years from production – will have to be electrified to enhance its performance beyond the current car's record-breaking capabilities, CEO Wolfgang Dürheimer said.
The Chiron can reach 62mph in less than 2.5sec, despite weighing 1995kg, and has a top speed of 261mph. At its heart is a quad-turbocharged 8.0-litre W16 configured petrol engine that develops 1479bhp at 6750rpm, giving the Chiron a power-to-weight ratio of 741bhp per tonne. Torque peaks at 1179lb ft from 2000rpm.
"Electrification will happen," said Dürheimer. "The next car is a long way from being developed, but the way battery and electric motor technology is moving on – as well as regulations – it seems certain that the next car will be electrified in some way. It will still be too soon for a full electric car, I think – but electrification will happen."
Can electricity give the Chiron an extra edge?
As such, Dürheimer has also declared that there "will probably never be a car with the pure mechanical capabilities of the Chiron" – and, as a result, he is considering buying one. "The fact is that it may never be beaten in pure mechanical terms makes it incredibly desirable," he said.
In 2016, Dürheimer told Autocar that hybridisation was initially considered as a way of extracting the required power from the W16 to ensure the Chiron eclipsed the Veyron. In the end, though, the power increase was simply achieved by upgrading many of the engine's components.
Already, the McLaren P1, LaFerrari and Porsche 918 Spyder have employed hybrid technology to deliver hypercar performance. For instance, the P1 is powered by a 3.8-litre twin-turbocharged V8 petrol engine and electric motors, together generating 903bhp. It accelerates from 0-62mph in 2.8sec, 0-124mph in 6.8sec and 0-186mph in 16.5sec.
Dürheimer also hinted that ongoing plans to introduce a second Bugatti model to the firm's line-up could delay production of the next generation Chiron, as the firm would possibly switch to a strategy of alternating between new car launches. If that happens, a new Bugatti model could be launched around 2024 and the next Chiron not until 2032.
"We are looking at what customers want if we do something different, and we have some ideas," said Dürheimer. "But we are not under pressure to decide – production of the Chiron is expected to last for around eight years. We are at the predevelopment phase, preparing technically and asking clients what they expect."
Dürheimer declined to reference any bodystyles for such a vehicle. The Bugatti Galibier five-door fastback concept was shown in 2009 but did not get the go-ahead for production. However, the concept of a more practical but still standard-setting high-performance vehicle remains a potential target for Bugatti. To date, 280 of the planned 500 Chirons have been sold.
---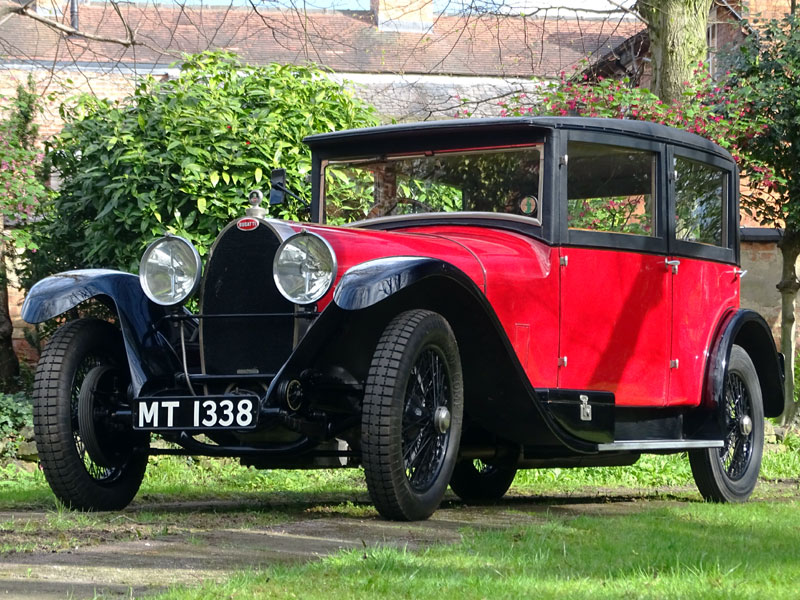 July 28, 2018
Auction result
H & H Auction, Imperial War Museum Duxford, UK, July 26, 2017
1929 Bugatti Type 44 Saloon, Chassis: 44667 / Engine: 191, Estimate: £200,000 - 240,000. Sold for: £196,875
---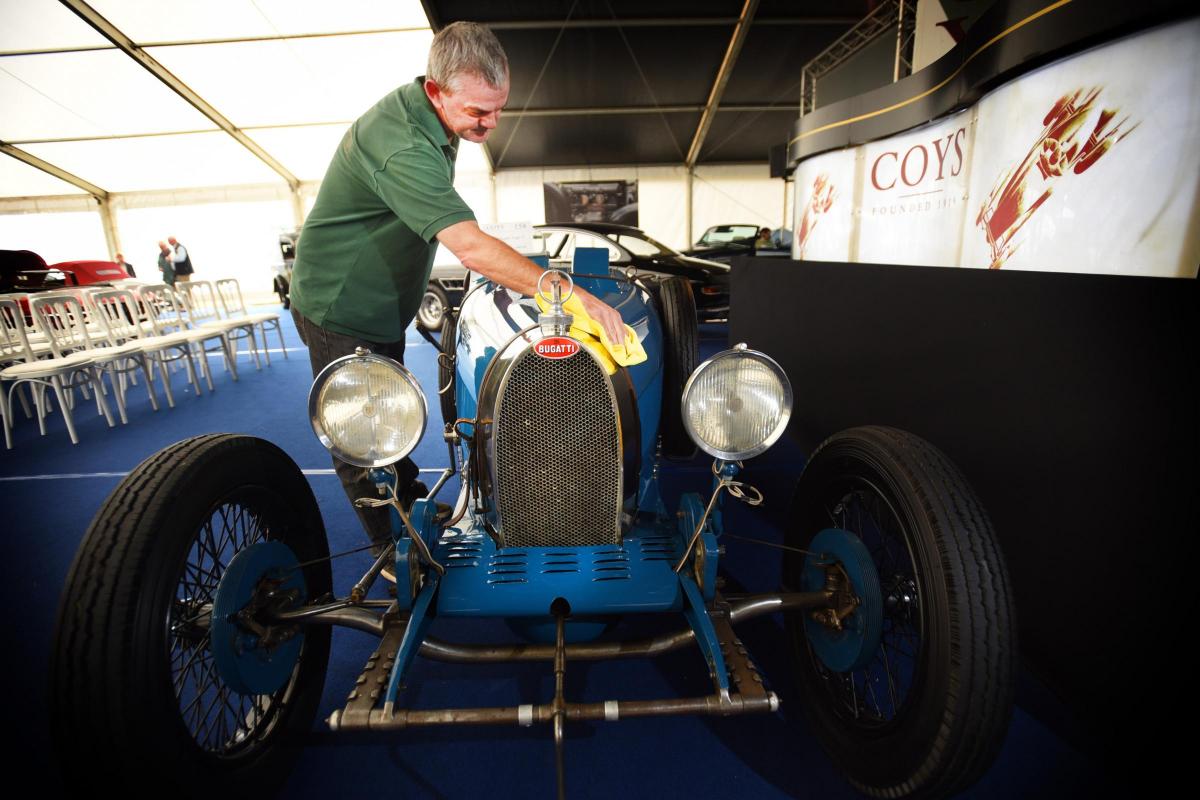 July 18, 2018
Auction result
July 15, 2017, Coys Blenheim Palace Auction, UK
1926 Bugatti Type 37, chassis 37140, maximum estimate £600,000, sold for £650,000
Photo: Coys Auction at Blenheim Palace Andy Mays with 1926 Bugatti Type 37 with only two owners since 1940 Picture by Richard Cave Photography 15.07.17
---
July 14, 2017
The Finest Auctions - Not so fine at all?
The Finest Automobile auctions See their website is a new auction company, trying to get a piece of the large classic car auction cake. In fact, they are currently organising their new auction, to be held soon.
However, there seem to come some not so fine clouds:
A friend of mine had won the auction of a Bugatti last year (June 11, 2016), but never could take delivery. The "Finest" put up all kinds of problems about payment and collecting the car, in the end not accepting the bid from my friend any more because he had not paid in time, while it was them not answering his questions. The suspection was, that they received a higher bid later, and sold the Bugatti to somebody else...
Now, there are newsreports Read it all here about a series of five lawsuits against the new auction firm allegedly owing half a million to different parties, a small part of the article:
More firms going after Finest Automobile Auctions company by Chad Abraham, Aspen Daily News Staff Writer, Tuesday, May 23, 2017
Five East Coast companies are suing the same automobile auction firm that allegedly owes The Snowmass Club over $80,000.
A principal of one company, Kadan Productions, said he and the other plaintiffs are owed over $500,000 from Finest Automobile Auctions for services provided in a separate event.
The defendant recently abandoned its business address in Bedford Hills, N.Y., moving "out in the middle of the night," said The Snowmass Club's attorney, Matt Ferguson of Aspen, on Friday. He cited the process server he employed to try to serve the lawsuit, who talked to adjacent tenants and was told, "They're gone."
The Snowmass Club sued the company last week, contending they owe for using the venue for an auction in September and for cocktail parties, alcohol, waiters and the like.
But Ferguson said he believes the alleged actions by Finest Automobile Auctions have crossed from a civil issue into criminal acts.
"They came into our town and ripped off a lot of good people," he said. "Now it's time to go after these people individually. They're not just breaching contracts, they're committing fraud."
Jay Abrahamovich, partner and co-founder of Aspen-based Premier Party Rental, agrees. He said his company was one of the few to obtain a deposit from Finest Automobile Auctions ahead of the event.
"They don't owe us that much," Abrahamovich said. "We got lucky."
---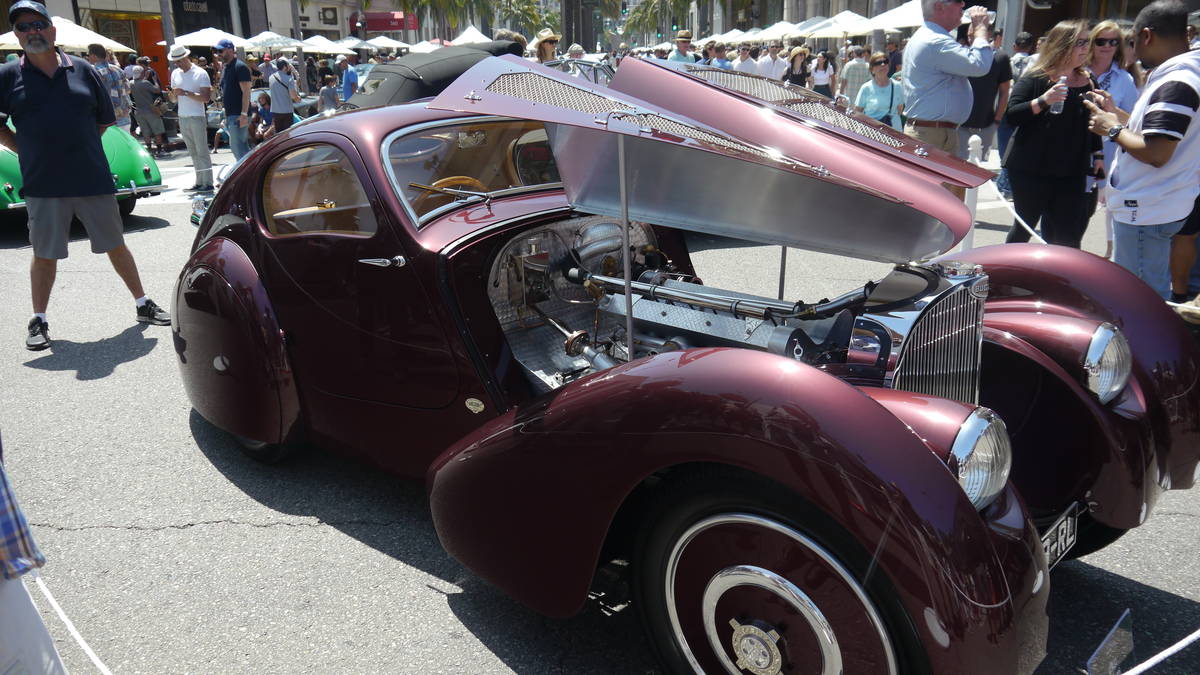 July 14, 2017
Bugatti T51 best of show at Rodeo Drive Concours 2017
The City of Beverly Hills held its 24th annual Rodeo Drive Concours d'Elegance on Sunday, June 18, 2017. The Father's Day tradition on California's famed thoroughfare featured a superb selection of rare and contemporary automobiles within a three block area between Wilshire and Santa Monica boulevards.
Over 40,000 people attended the Rodeo Drive Concours 2017, despite the record high temperatures that were in store for the day. The Concours featured dozens of unique vehicles and was curated by car collector and founding chairman of the Petersen Automotive Museum, Bruce Meyer.
The Rodeo Drive Committee — in conjunction with the City of Beverly Hills, organizes this yearly automotive event on what is arguably one of the most expensive shopping districts in the world. This year's event featured a wide selection of high-performance sports and collector cars valued at more than $100 million. Examples from Ferrari, Porsche, McLaren, Bugatti, Maserati, Jaguar and several others, lined the upscale streets in both directions.
The intersection of Rodeo and Brighton was the show's featured exhibited area where the unique vehicles displayed included a 1953 Delahaye Type 178 by Chapron from the Margie and Robert E. Peterson Collection, Peter and Merle Mullin's Pebble Beach-winning 1934 Voison Aerosport, Jim Hull's 1947 Delahaye 135 MS Vedette Roadster by Chapron and the "Best of Show" winner, the 1931 Bugatti Type 51 Dubos Coupe from the Nethercutt Collection.
The Rodeo Drive Concours d'Elegance is the largest single-day Concours in North America, drawing record spectators each year. The event attracts connoisseurs, collectors, tourist and locals who have the opportunity to admire a curated collection of impressive automobiles, all while shopping along one of the world's most legendary and exclusive shopping destinations.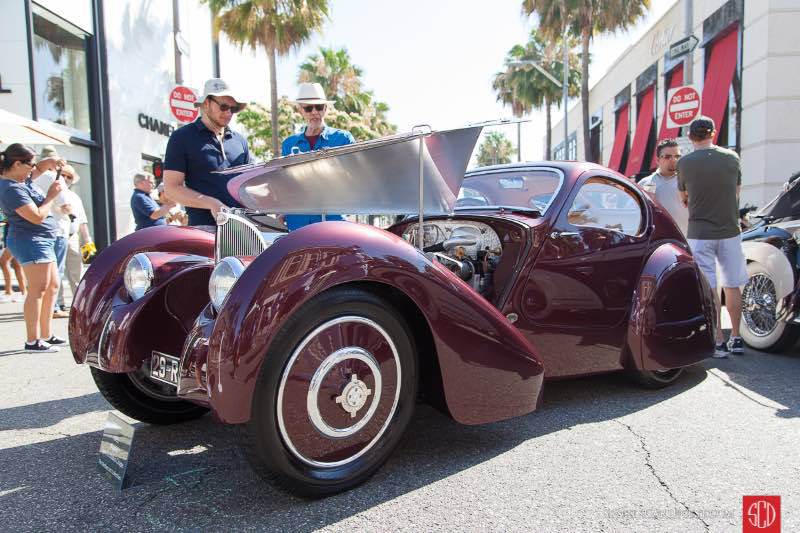 From Sports Car Digest
---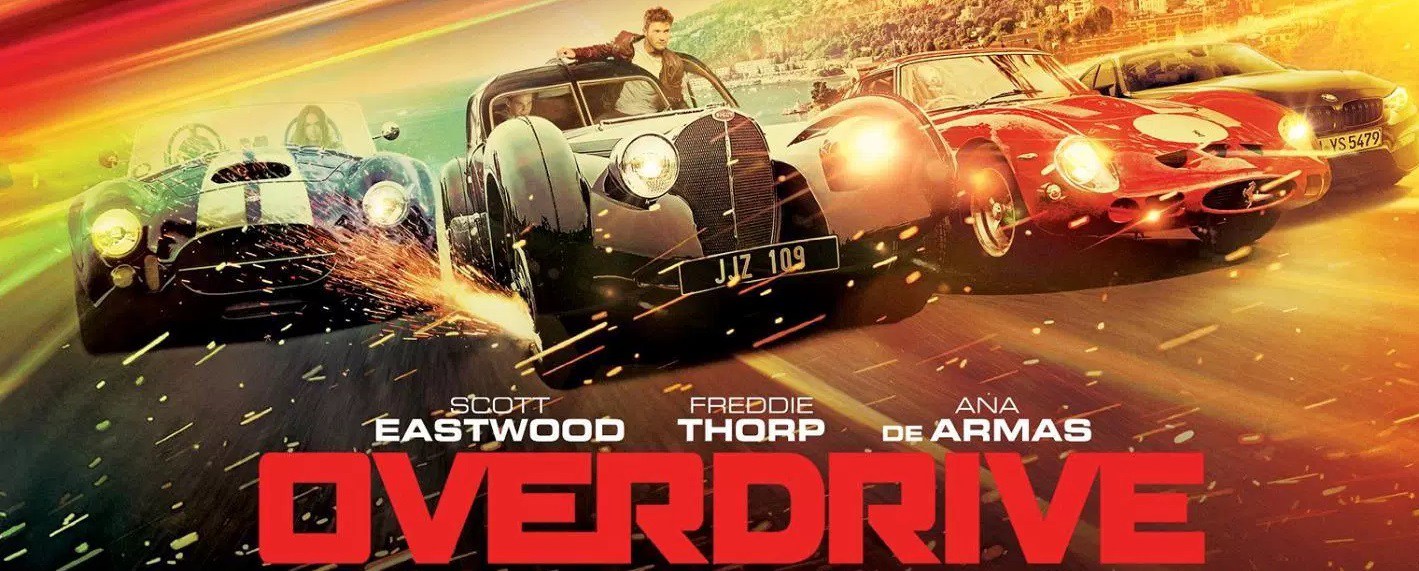 July 9, 2017
Overdrive movie
There have been other movies before featuring Bugattis, in period like the 1933 move "Christopher Strong" featuring Katherine Hepburn, but also in more recent times like in the 2012 movie "À l'aveugle" by Xavier Palud and in a much different style, with a very different Bugatti, in the also 2012 movie "Elysium"
However, this is a new movie, with the most Bugatti driving action since Katherine Hepburn driving her T38 in 1933! Check out the trailer on Youtube:
Overdrive is a French action thriller film directed by Antonio Negret and written by Michael Brandt and Derek Haas. On May 12, 2011, it was announced that Pierre Morel would produce the action thriller film Overdrive. The film stars Scott Eastwood, Freddie Thorp, Ana de Armas, and Gaia Weiss. Principal photography began finally on January 4, 2016 in Paris and Marseille, France. The movie was released in the summer of 2017.
The film is all about a gang stealing high - end classic cars, including the Bugatti Type 57SC Atlantic. Though there are a lot of nice action sequences, including that of the Bugatti chasing an AC Cobra, critics are not so very positive. However, seeing the Bug in action would be enough to go see the movie for me! (Out on August 3 in the Netherlands, and already late June in France).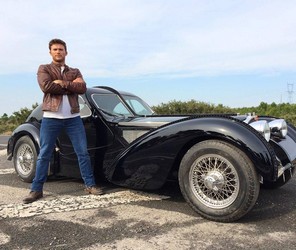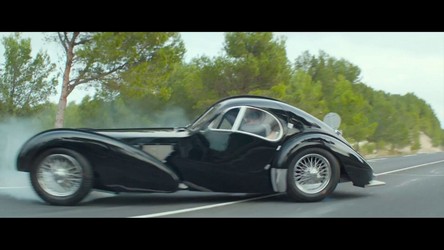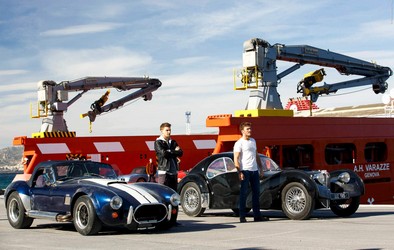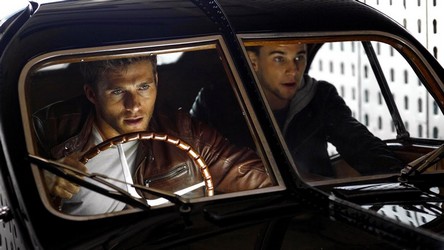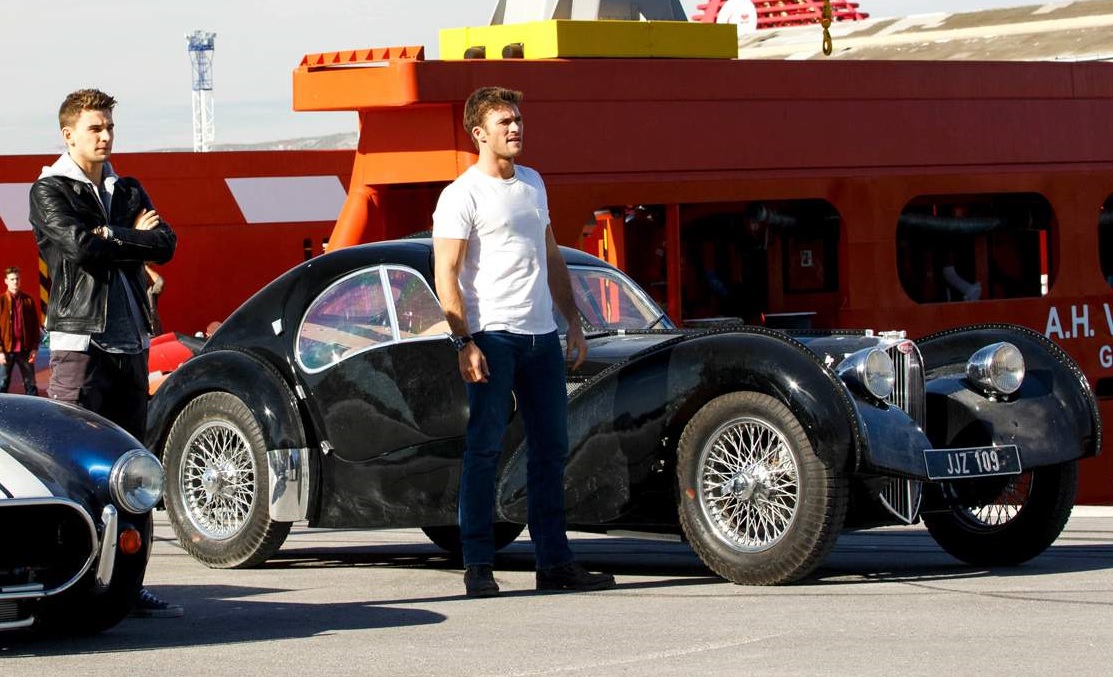 Now of course there is one very serious question to answer:
Which Bugatti did they use for the movie? The car looks very good indeed, with the right dimensions, right wheels and good interior (for as far as visible).
Of course not one of the two originals, but there is a whole series of Erik Koux's replica's that are available, as well as a few other ones. I have had one Jaguar-based Atlantic replica on my website in 2010 that looked quite good (Below, unluckily I do not have better images) though the wheels seem too small, and later there has been another one, or the same but repainted, for sale in Germany.
1937 Bugatti Atlantic
This classic automobile has been hand crafted from the ground up using a combination of modern technology and classic artisan craftsmanship. The car sits on a custom tubular and box steel chassis with integral forward firewall and cowl structure for torsional rigidity. A T 3.8 Litre twin overhead cam straight six motivates the car, while the twin carbs, polished manifold and covers, as well as generous bright work adorn the engine compartment that features an authentic engine-turned aluminum firewall. This exquisite automobile is the result of over two and a half years of construction.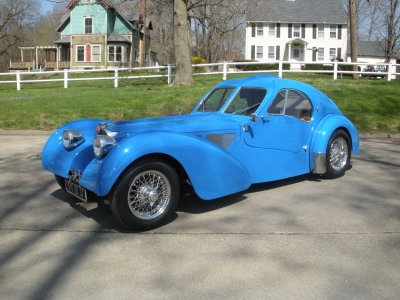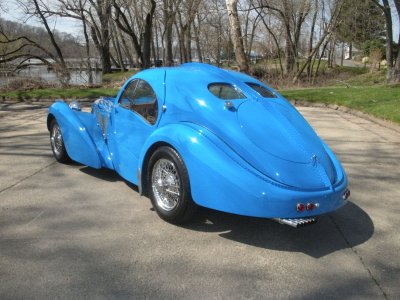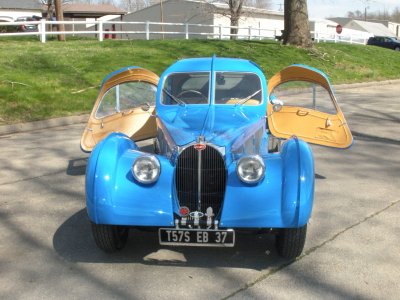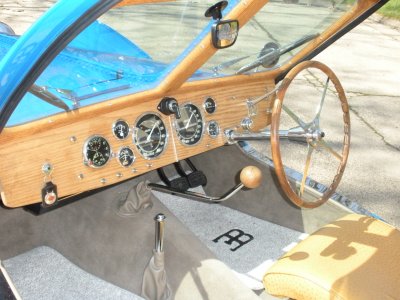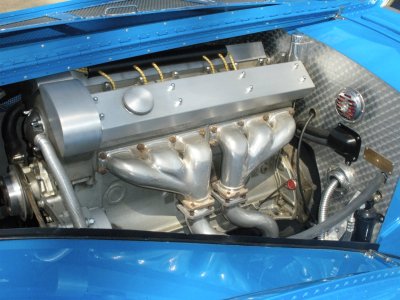 $250,000 , F-40 Motorsports, 464 Portland-Cobalt Rd, Portland, CT, USA
So, anybody knows exactly which one has been used in "Overdrive"? It seems not logical that one of the Erix Koux's replica's was used, as these are a lot more expensive than the 1/4 million for the blue one above....
BugattiRegister.com states the following, is this the same as the one shown above?:
Engine: Jaguar XK150,
Year: 2000,
Licence plate: W-608-EL (F), JJZ 109 (Licence plate in movie only)
So, pay attention to the top image, from the movie-poster. One of the main characters is getting out of the driving Atlantic, opening the door (which of course should be ripped off at such speed), but he is holding on to the rivited flange or spine! Never thought that that was the real reason why Jean Bugatti put it on the outside!
---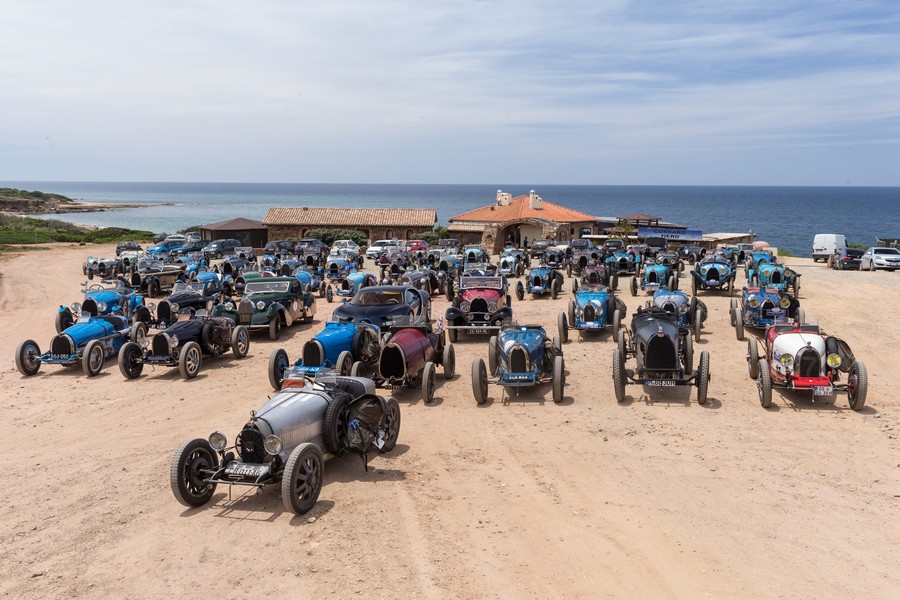 July 9, 2017
Bugatti Sardinia Rally
Superb first outing for Gentry-restored cars
Bugatti specialists Gentry Restorations were once again invited to provide technical support for the most important event of the Bugatti calendar: The International Bugatti Meeting (5th to 11th June, 2017).
Hosted this year by Bugatti Italia in Sardinia, the rally covered just under 1000kms over five days, during which the participants experienced the most breath-taking scenery, glorious food – and extremely hot weather. The extensive itinerary included visits to the archeological site at Tharros, the castle at Sanluri and the mine at Montevecchio.
Gentry Restorations was asked to provide a support crew for all 103 rally participants - all but two of them vintage Bugattis. A comprehensively-equipped support van with spare parts, tools and equipment was transported from the UK on 31st May. Joint managing director Stephen Gentry, along with head technician Ian Pavely, flew out from Heathrow in preparation for the rally on Saturday 3rd June.
Owing to the number of times that Gentry Restorations has given their help and support at these type of events, the Gentry team already knew most of the rally participants and their cars. Over half of them are previous customers of Gentry Restorations, having either bought parts, contracted routine servicing and maintenance or undertaken complete restorations since the business started 17 years ago. Two of the cars participating have been completely restored by Gentry Restorations recently, and completed the course without a hitch.
Right from the outset it was a very relaxed and sociable rally. The Gentry team were kept reasonably busy and were asked to carry out a total of 41 different jobs on the participants' cars. The problems ranged from repairing phone chargers and checking tyre pressures, to replacing a broken half shaft on a 1924 Type 30.
Commenting on the rally Stephen Gentry said; "Sardinia is a wonderful island and despite the relentlessly hot weather the rally participants had a really great time. It was a pleasure to catch-up with so many of our customers and it was warming to know that over half of the rally participants have put their cars through our workshops at some point in the past. Just recently, two of those cars have undergone complete, major restorations by us and this rally was their very first outing. In total, we were asked to assist with minor problems on just twelve of our customers' cars. Needless to say, the two cars that were completely restored recently weren't amongst them (see photographs below)."
Info and photographs provided by Keith Child, Business Manager, Gentry Restorations Ltd. Email: keith@gentryrestorations.co.uk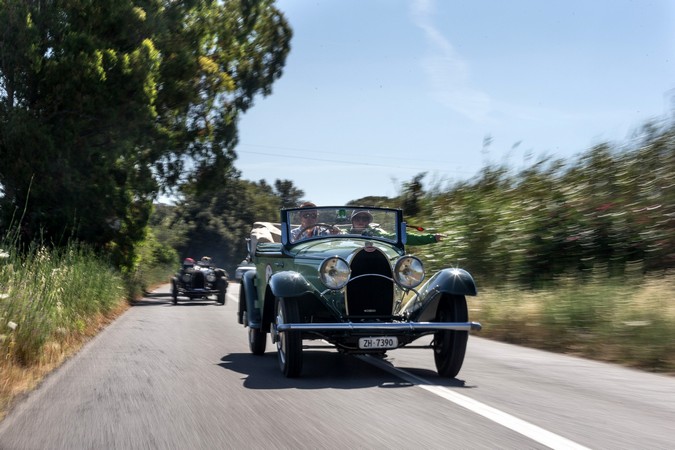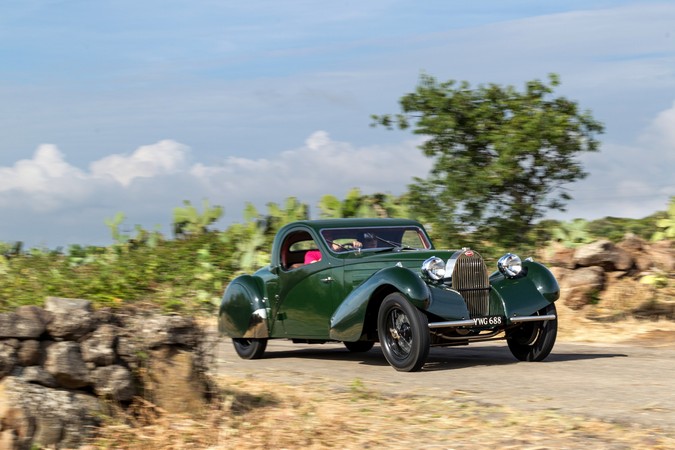 However, not everybody was so lucky...
Guy Huet had a very unforunate event, shortly after leaving the ferry on the way to the hotel; the tow bar of his Toyota broke, leaving the trailer with his T43 on it to choose it's own path in life. Of course, without proper guidance this was highly unsuccessful, leading to the trailer being a total loss, and the Bugatti damaged, with at least a fractured steering house and a lot of dents.

Rumours that this accident caused such panic on the other side of the highway that a motorcyclists crashed are not true. Guy did not see anything strange (though a lot of motorcyclists!) near, though an ambulance did pass.
---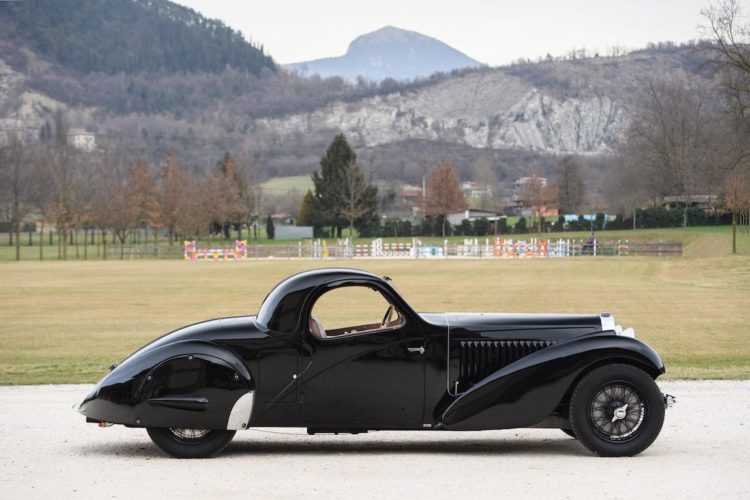 June 28, 2017
Auction Results
RM Sotheby's Villa d'Este auction, 27 May in Lake Como, Italy during the Concorso d'Eleganza Villa d'Este weekend.
1935 Bugatti Type 57 Atalante Prototype by Carrosserie Bugatti, Chassis no. 57254, Engine no. 202: Sold for €3.024.000
Osenat Auction, June 18, 2017, Fontainebleau, France
1928 Bugatti by Alin, Liautard & Cie, Chassis #441177 Estimate: 180,000 / 230,000 €, Sold for 288000 € '
Bugatti Type 57C cabriolet Gangloff Chassis #57836, Estimate: 500,000 / 700,000 €, Sold for 1.269.000 €
---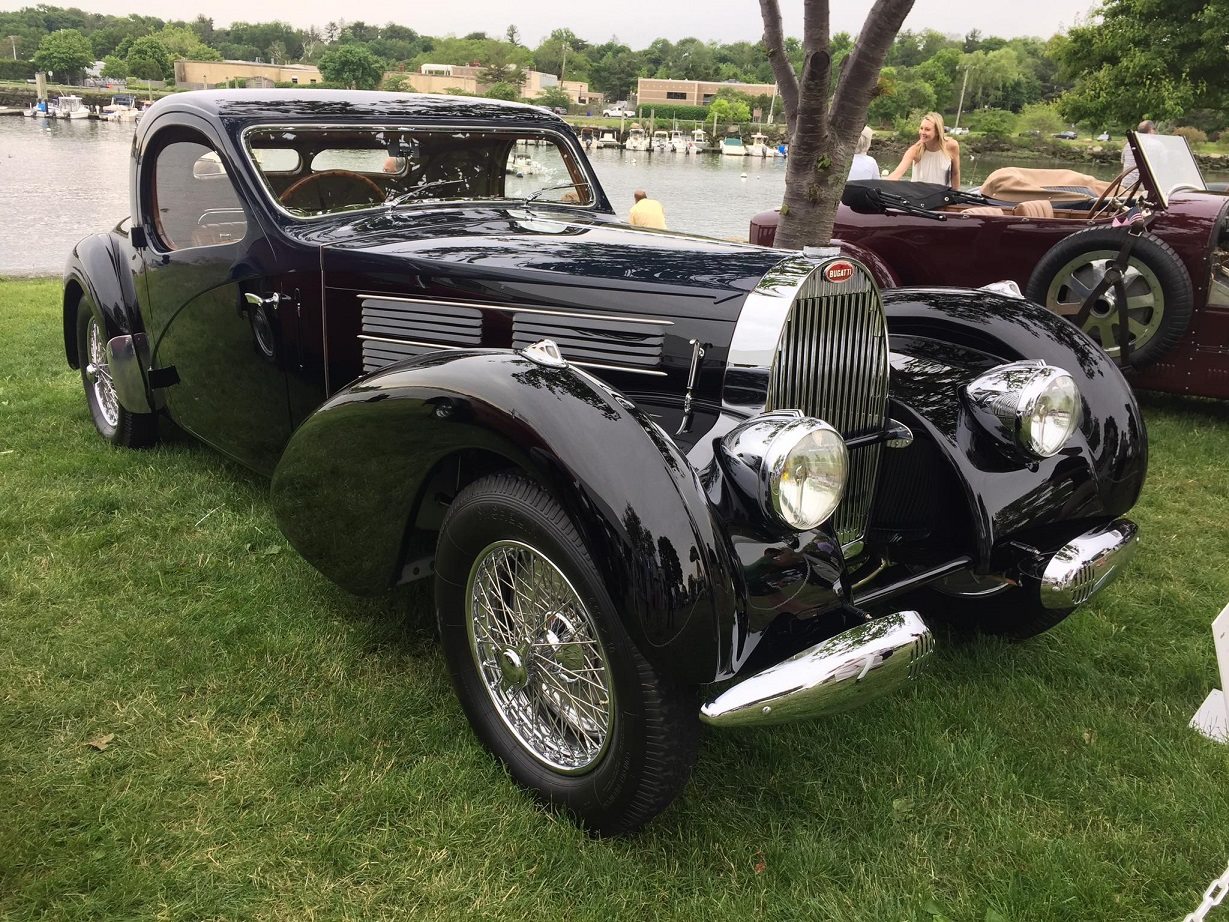 June 10, 2017
Bugatti T57C Atalante wins Best of show at Greenwich Concours d'Elegance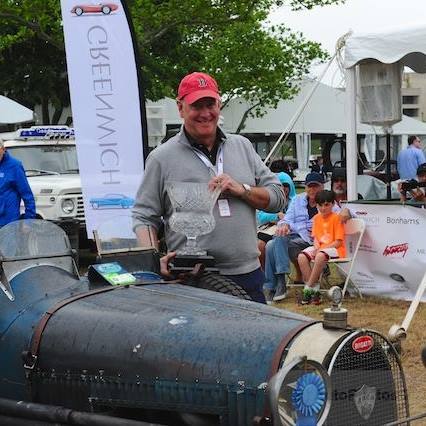 The 22nd edition of the Greenwich Concours d'Elegance was held this past weekend June 3/4 at the beautiful waterfront venue in Roger Sherman Baldwin Park in Greenwich, Connecticut. It was an event celebrating both vintage and some of the latest offerings from the auto industry. The event featured the American Classes on Saturday and the International Classes on Sunday. (so there was one best of show for each day!)
Bugatti was one of the featured marques for the Sunday, so not surprising that one of them won the grand prize!
However, there were more Bugattis that received prizes:
Best in show: 1938 Bugatti Type 57C Atalante "Private Collection"
Chief Judge's award: 1932 Bugatti Type 49, Gene Cesari
The Journalist's award: 1925 Bugatti Type 30, Peter Charlap
Preservation award: 1926 Bugatti Type 37, Sarah Rheault
HVA Award: 1931 Bugatti Type 37, Sandy Leith (Photo on the right)
4 people received the Bugatti - BIC award (don't know what that means):
1929 Type 40 Grand Sport, Ted and Christina Zamjahn
1927 Type 37A, Maureen Serri
1938 Type 57C Atalante Coupe, "Private Collection"
Type 43 Grand Sport, Richard S. King
For more photographs, go to:
newenglandrockreview.com
richardscarblog.com
---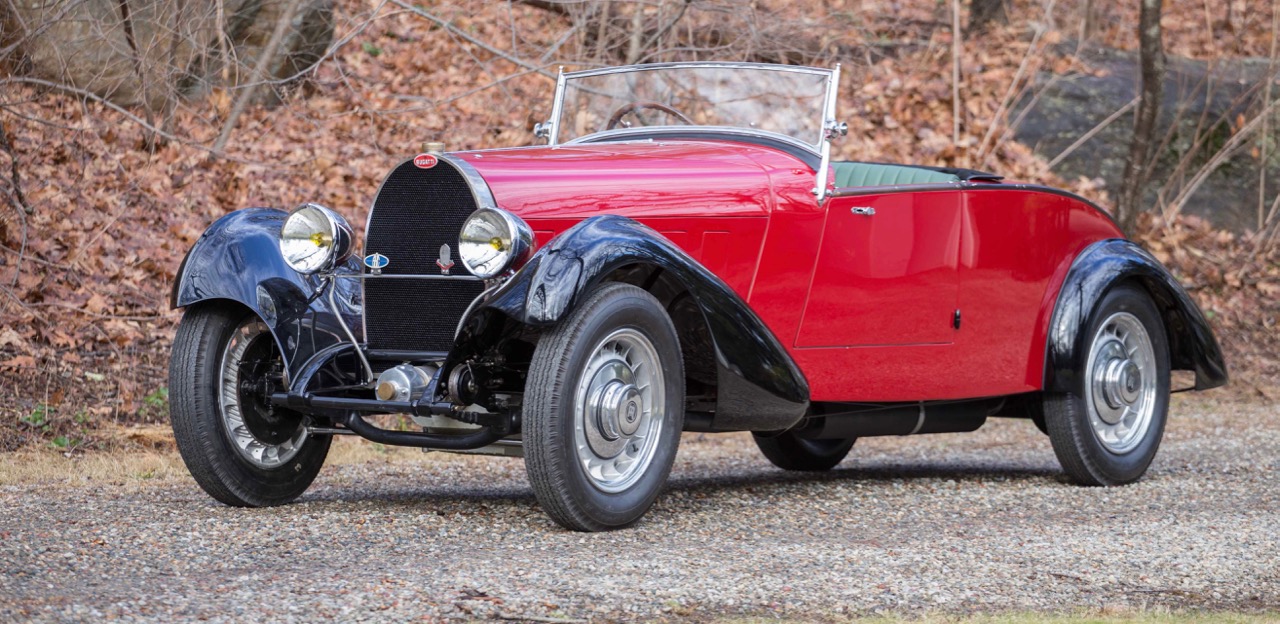 June 8, 2017
Auction Results
Bonhams' Greenwich Concours d'Elegance Auction, June 4, 2017
Lot 178, 1932 Bugatti TYPE 49 ROADSTER, Coachwork by Labourdette, Chassis no. 49534, Estimate €580,000 - 760,000, Sold for US$ 676,500 (€602,457) inc. premium
Lot 187, 1937 Bugatti Type 57 Pillarless Sports Coupe, Chassis no. 57443, Estimate €360,000 - 430,000, Amended (Not sure if that is the same as not sold?)
Lot 181, 1993 Bugatti EB 110GT, Chassis ZA9AB01E0PCD39034, Estimate €450,000 - 630,000, Sold for US$ 605,000 (€538,783) inc. premium
---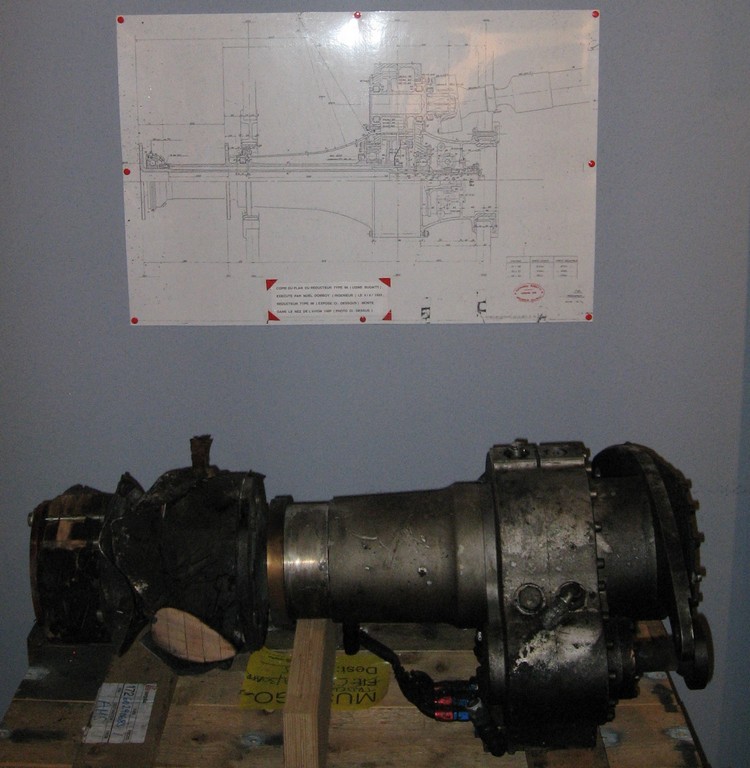 June 4, 2017
Permanent memorial for Scotty Wilson in Molsheim
Last week I heard from my friend Daniel Lapp in Molsheim that a permanent memorial for Scotty Wilson, the valiant builder and pilot of the replica Bugatti 100P raceplane who so tragically crashed last summer, has been set-up in Molsheim. Today I received the photographs presented above and below.
The center of the memorial is the actual reduction gearbox from the nose of the airplane, even more impressive because it still has all the marks of the burnt-out airplane. Above the gearbox is a copy of the original drawing for the gearbox, which was designed by Noël Domboy in 1938. A copy of this drawing was presented to Scotty Wilson at the Molsheim Festival in September 2015, a little less than a year before the crash.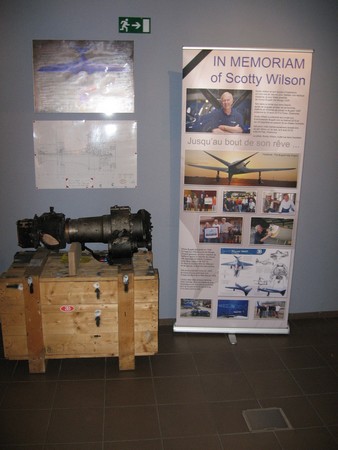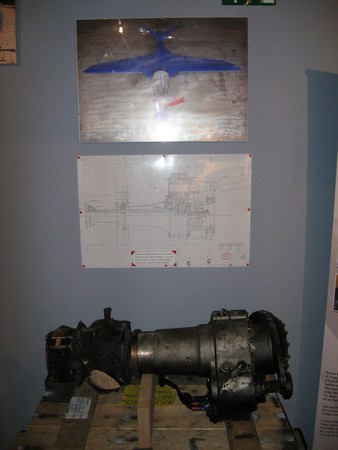 The memorial is at the "Fondation Bugatti", which is inside the Chartreuse museum, open to the public on most days, during the summer season.
Flyer for the Chartreuse museum, with location details and opening times.
---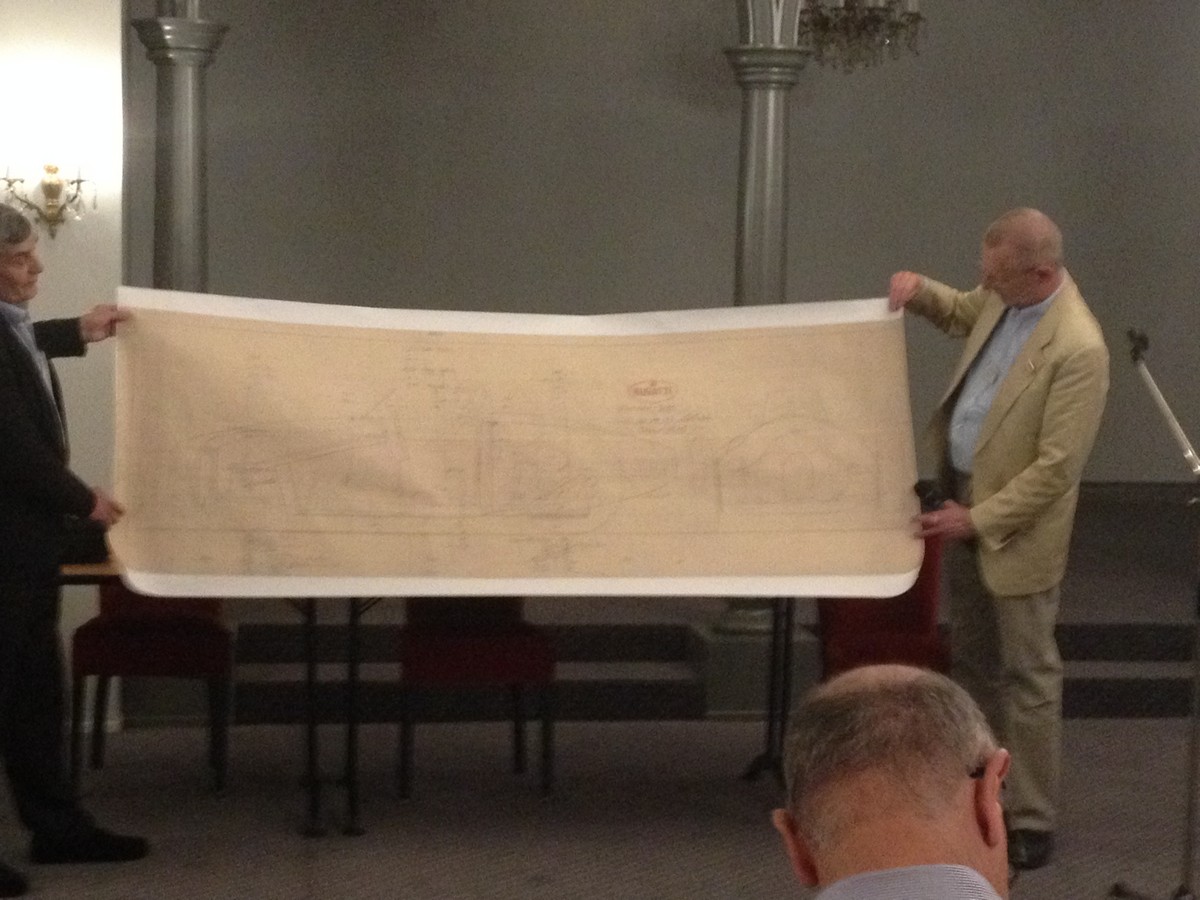 June 3, 2017
Earliest Colombo Type 251 drawing presented at Conference!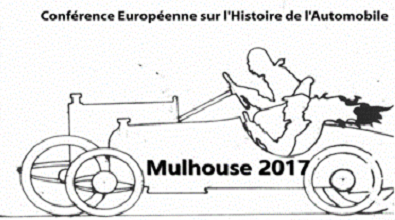 On May 26 - 28 the First Pan-European Automotive History Conference took place in the Musée National de l'Automobile, collection Schlumpf in Mulhouse, France.
At the conference John Barton, Englishman living in France, held a presentation on Bugatti 1943 - 1963, and focussing on the many four-cylinder designs that were made, but never fully developed. Interestingly, he brought with him the only surviving person who worked in the post-war Bugatti race department. René Strub worked with Bugatti from 1950 to 1957, in the race department which was fully locked-up; nobody was allowed to enter without permission.
René worked for example on the "turbofrein", a ventilated disk brake with forced cooling pump effect. John Barton, who is the owner of many drawings and patterns from the post-war Bugatti period, built the brake using the original patterns, and brought this with him to the conference also. René, 92 years of age, gave a very lively speach for the complete audience!
Finally, John presented an original Colombo drawing from 1953! (Top Photo, with John Barton and Anders Ditlev Clausager) The drawing shows the outline of the car, and very clearly shows the independent front suspension. In fact the drawing was presented to other manufacturers, who thought it too innovative, before Colombo showed it to Roland Bugatti.
As we know now, both the turbofrein and the independent front suspension were not used on the very unsuccesful Type 251, but Colombo could stay, and was in the race department for one week per month, during the development of the Type 251.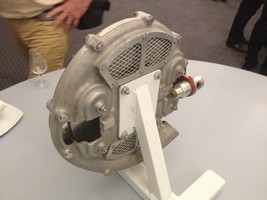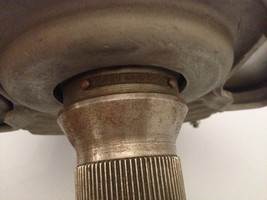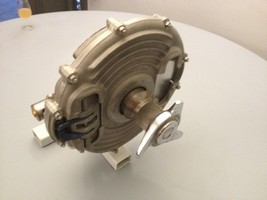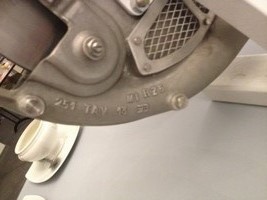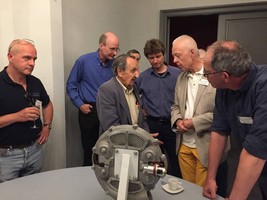 Four views of the Colombo sketched and René Strub designed disk brake, in the last photo René talking about and explaining the brake.
The conference itself was a huge succes, with about 80 people attending. As everybody present was technically oriented and mostly expert in a specific field (be it microcars or a specific marque, coachbuilder or era), the discussions were lively and interesting.
The conference, the first in it's kind, and with a focus on subjects which have a cross-border European interest, was organised by Thomas Ulrich (AHG, Automobil-Historische Gesellschaft e.V., Germany) and Anders Ditlev Clausager (SAHB, Society of Automotive Historians in Britain) from Germany respectively England. There were talks by Richard Keller, with a welcome from the Musée National and Cité de l'Automobile, France, as well as:
Christopher Balfour, UK: Personal experiences relating to the decline of the British motor industry
Dr Stefan Dierkes, Germany: Do we need more science in automotive history research?
Fons Alkemade, The Netherlands: Hard times for the European automotive industry after the Great War: The case of Spyker and Maybach
Prof. Alessandro Silva, Italy: The re-start of European Grand Prix after World War Two
Guy Loveridge, UK: The first European Grand Prix at Silverstone, 1950 (with a short film)
John Barton, France: The last Bugattis from Molsheim
Prof. Patrick Fridenson, France: The beginnings of Renault in Belgium
Oliver Heal, UK: Louis Coatalen, a French designer in England
Dr Gundula Tutt, Germany: History, materials, and technology of car paintwork, 1900 to 1945
Frederik Scherer, Germany: Aesthetics and design of motoring books