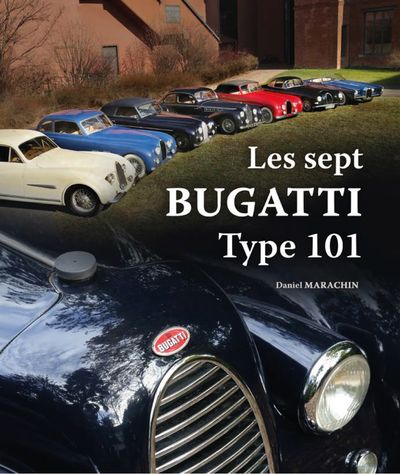 Les sept Bugatti Type 101
Daniel Marachin
Leaflet with info, photo's and ordering details in English y en Francais.
The type 101 constituted Bugatti's renaissance after the 1939-1945 years. Six cars were built in 1950, 1951 and 1952, with a last chassis bodied in 1965 following the sale of the firm by the Bugatti family in 1963. These seven 101's have all 'survived'!
The author, a collector from Mulhouse, has fulfilled three ambitions: to acquire a type 101, to reunite the seven 101's which is a world first, and to edit a book on the 101's.
This book of 180 pages contains over 460 photographs including some previously unpublished of the seven Bugatti 101's, reunited for the first time ever at the Musee National de l'Automobile-Collection Schlumpf, Mulhouse, in 2022: photographs by Xavier de Nombel, Yves Ridon and the author.
The book also includes a number of anecdotes mainly relating to clubs, concours (Pebble Beach, Villa d'Este...) and numerous references to the Alsace region where all of these Bugatti's were built.
Comments on the book in the press.
The author, Daniel Marachin, is a former President of Club Bugatti France and presently the President of the ACM, Association des Clubs de Marque automobile francaise.
Language: French
24 x 29 cm format, hardcover, 180 pages, over 460 photographs
EUR 90.- (excluding shipping)
For more info and ordering: info@id-edition.com