Bugatti books for sale
Fraud Warning
I do NOT check the background of all the sellers on this site, so please be careful when sending money without knowing exactly if the offer is genuine.

Please contact me when in doubt, I will be able to inform you if the seller is somebody whom I know for a longer time, or if the seller is somebody unknown to me. In that case an extra check (not cheque!!) may be wise!

Maintained by Jaap Horst
---
In this Page Bugatti Books and related items are offered, so if you need something, look here! If you have books to offer, please write or e-mail me.
---
---
Bugatti books new and old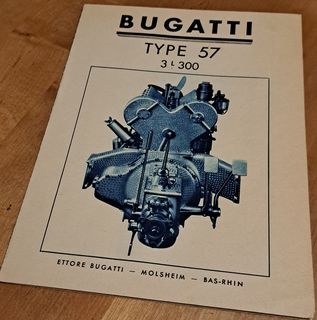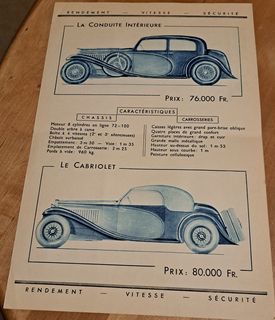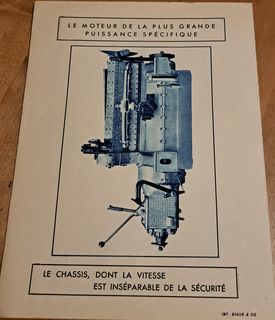 Bugatti Type 57 early brochure for sale
Original Brochure, probably 1933.
Printed at Imp. Braun & Cie
4 pages, 15 x 20 cm
175 euro or best offer.
Please contact the seller by e-mail: j.j.horst@bugattipage.com
3-12-2023
---
Bugantics and more for sale
I'm clearing out some things and want to sell the following articles dating back from my years as a Bugatti Owners's Club member (1977-1981):
Bugantics volumes 40 to 44
Newsletters
Rule book
Parts list
Windscreen stickers
Prescott badge with date bars
Please contact Yves Boulanger by e-mail: ro.yvesliet@oricom.ca
30-11-2023
---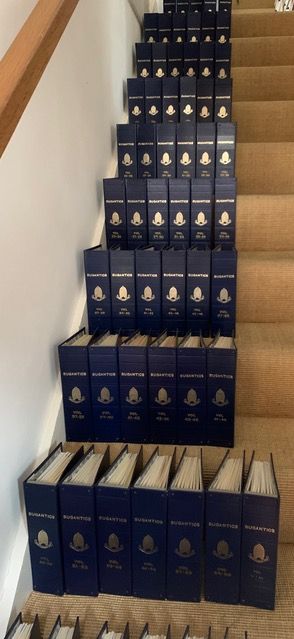 Bugantics for sale
I have been collecting two sets Bugantics over several years and the time has come to part with one set: Volume 1 to 62.
The first 8 volumes are from the second print run that the club did a few years back and there is approx 6 individual copies missing. All are in club binders and copies are in good condition.

Offers invited, for the complete set only.

Please contact the seller through the webmaster by e-mail: j.j.horst@bugattipage.com

19-8-2023
---
For sale
BUGANTICS – Spring 1977 (Vol. 40, No. 1) to Summer 2005 (Vol. 68, No. 2) – total 110 copies, plus 4 loose copies (1962 Vol.25 No.1+2; 1967 Vol. 30 No.2; 1973 Vol. 36 No. 1) – excellent condition
BUGANTICS – Reprint of the full prewar series – complete, new in box
BUGATTI INTERNATIONAL MAGAZINE OF AUTOMOBILES AND OTHER ART OBJECTS – No. 0-7, complete, excellent condition
ELIZABETH JUNEK (book) – Czech edition (1972) – perfect

Please make offers (individual items or complete lot)
As a free bonus there are booklets of copies of interesting articles from Bugantics from the 1950s/1960s/1970s when searching for a Bugatti.

Please contact the seller Hans Veenenbos by e-mail: hans_veenenbos@planet.nl

19-8-2023
---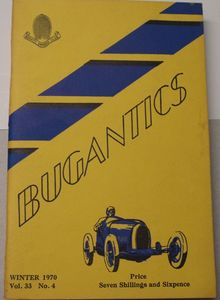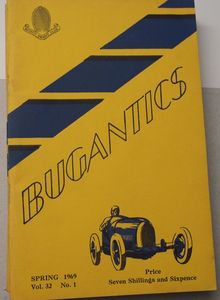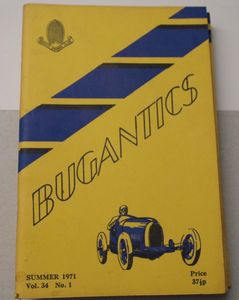 Bugantics for sale
16 Bugantics, from the years 1967 - 1971
Total price 280. €
Please contact the seller Johann Boyer in Germany by e-mail: aam-miniaturen@t-online.de or phone: 0039 8457 934 840
12-8-2023
---
Bugatti book collection for sale
Due to age, I would like to sell my Bugatti book collection. I am 81 years old and it is my concern that the collection could be preserved for posterity.
The collection includes Many books, including some rarities.
Click here for the list of books Price is negotiable.
Please contact the seller Hanspeter Forster by e-mail: bugatti1@gmx.net
2-4-2023
---
My friend Donald Toms specializes in selling books which recently came out, in the USA mainly.

However, he also offers a whole variety of less recent and also older books, as well as more general books on Automobile History, but with a Bugatti focus. Furthermore catalogs, articles and much more!

Bugatti book inventory (including contact details).

Donald also offers a lot of books about other marques, but who would be interested in that?
---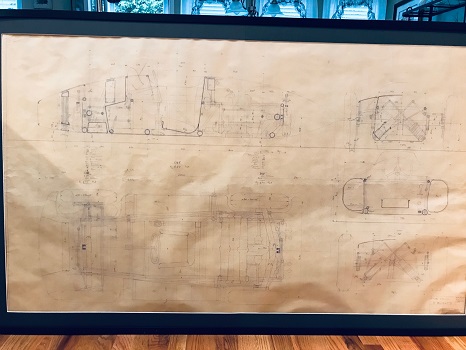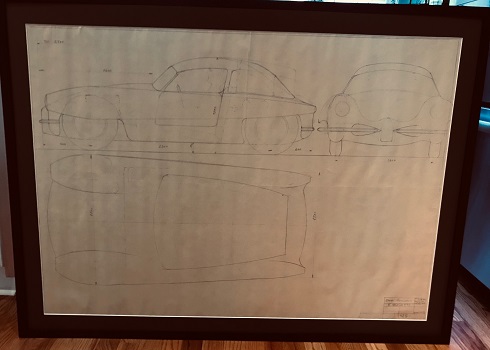 Bugatti blueprints and photographs:
Type 251 blueprint, 3'X5'
Type 125 blueprint, both by Gioacchino Colombo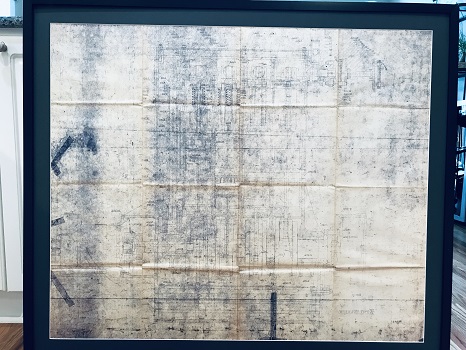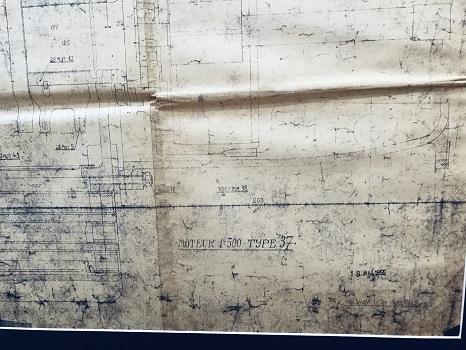 Type 37 engine blueprint, 31"X34"
Two Type 251 photographs, one (with Trintignant in the car) is signed.
The photographer was Jesse Alexandra famous race car driver and photographer.
On eBay, Jesse's photos are selling for $2000+. The photo from above was taken by
Jesse as well but it's not signed.
Supercharged Type 35 chassis photograph
Dismantled Type 37 engine photograph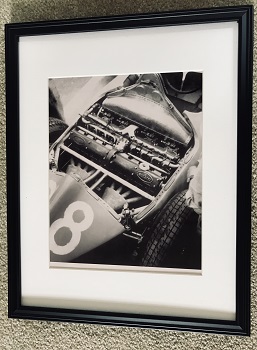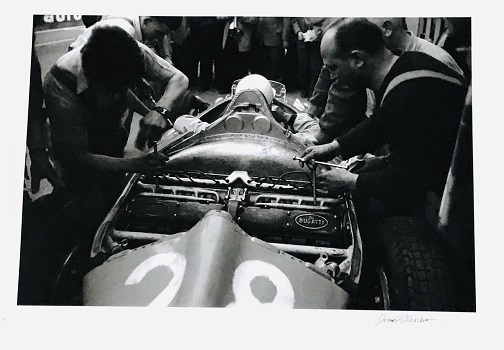 All drawings and photographs are framed and in good condition.
Sold as a complete collection only, Price: $5500
Email: glmckinley@mindspring.com
Tel: + 1 404 610 6488
18-7-2020
---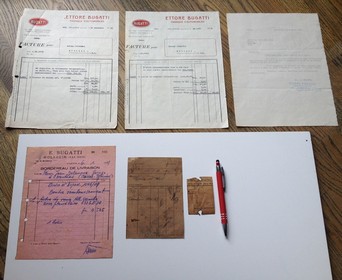 Original Bugatti Factory Literature:
Facture (Receipt) 1931 to the Famous M. Jean Delanoue of Delanoue Garage of Morlaas (Basses - Pyrenees), France
Facture (Receipt) 1932 to the Famous M. Jean Delanoue of Delanoue Garage of Morlaas (Basses - Pyrenees), France
Lettre 1937 to the Famous M. Jean Delanoue of Delanoue Garage of Morlaas (Basses - Pyrenees), France
Bordereau de livraison (Delivery Slip) 1949 to the Famous M. Jean Delanoue of Delanoue Garage of Morlaas (Basses - Pyrenees), France
Type 57 Parts Bin Inventory Card
Parts Tag
(Please note the pen in the image for scale)

Selling as a Package for 275 €

Email: eldonsculpt@gmail.com
Tel: + 1 403 922 3370

7-4-2020
---
I am reducing my Bugatti book collection, with the following books for sale:
(Prices in Euros)
Centenaire Ettore Bugatti 15
Thoroughbreds from Molsheim Dumont (Dust jacket a bit nibbled !) 35
Grand Prix Bugatti 1st Edition 1968 (Slight waterstaining on 1 corner) 60
Bugatti Borgeson (2 Copies) 25 each
Evolution of a Style Kestler 60
Bugatti a Racing History Venables 40
Seventh Royale Don Stanwood 10
Great Marques Bugatti 5
Amazing Bugattis 15
Elizabeth Junek My Life (1972 Czech Excellent dustjacket ) 60
Bugatti VHS video set in box with book 25
Bonhams Bugatti Hardback auction book 25
Bugatti racing 1920-39 (German ) 75
Pur sang 1974 Hugh Conway (Some fading to dust jacket) 25
Grand Prix Bugatti (1983 2nd edition) Conway 25
The Bugatti Queen Seymour 10
Bugatti Type 35a (Resto book, very rare ) Richard Bernhart (As new ,boxed ) 100
Bugatti La Gloire Franco Zagari (Slight crease on one corner of dustjacket ) 245
Bugattis Jean De Dobbeleer (Still shrink wrapped and boxed ) 95
Bugatti Poster book 10
Hardback set of 8 Bugatti magazines (1990's 0-7 English edition, incl. intro letter to Alain de Cadenet) 110
Condition varies from good to excellent. Details can be given for specific books if required.
(I'm happy to discuss some discount for multiple purchases.)

Bugatti Owner's Club BUGANTICS magazines 1931-2015 COMPLETE SET
(Prewar are Club reprints, postwar originals incl. very rare 1946 issues )

All in BOC Club binders (40 in total ) Included is Bugantics index covering Vols 1-31
produced in 1970 (I've only ever seen this one !)
Includes some spare binders and various BOC newsletters. 2000 Euros

All prices exclude postage, which will be charged at cost. Collection in France also acceptable.
Please contact the seller by e-mail: dave.bugatti@orange.fr

15-3-2020
---
Bugatti Veyron color and trim box
Complete and full Bugatti Veyron color and trim box. Only 33 produced and delivered 2005 by the factory to the dealers who purchased the box for 6500€ as part of their branding package by the factory.
Most sets have been used and are either incomplete or heavily scratched and used. This one is like new.
Asking price 5500€ without shipping and including leather bag.
Bugatti Veyron Vitesse conrod
This is an original gift by the factory given to invited dealers to the world dealer meeting in 2013. It's limited and each numbered to 50 pieces only and comes with its original box.
It's highly polished and mega rare. Asking price 3000€
Please contact the seller by e-mail: patrick.notzon@gmx.net
1-3-2020
---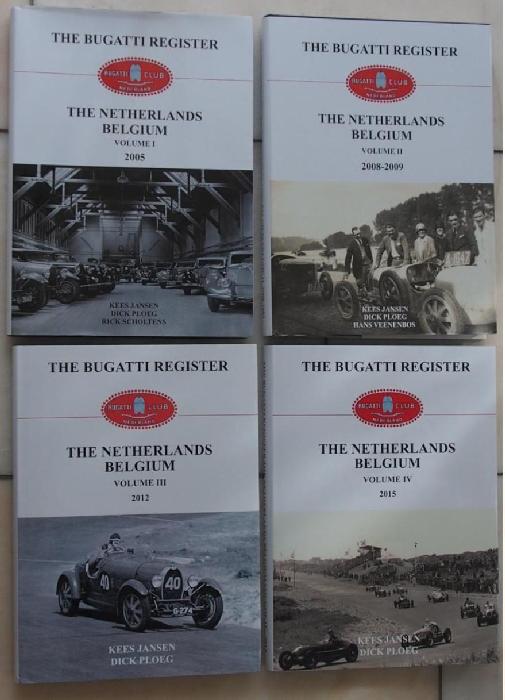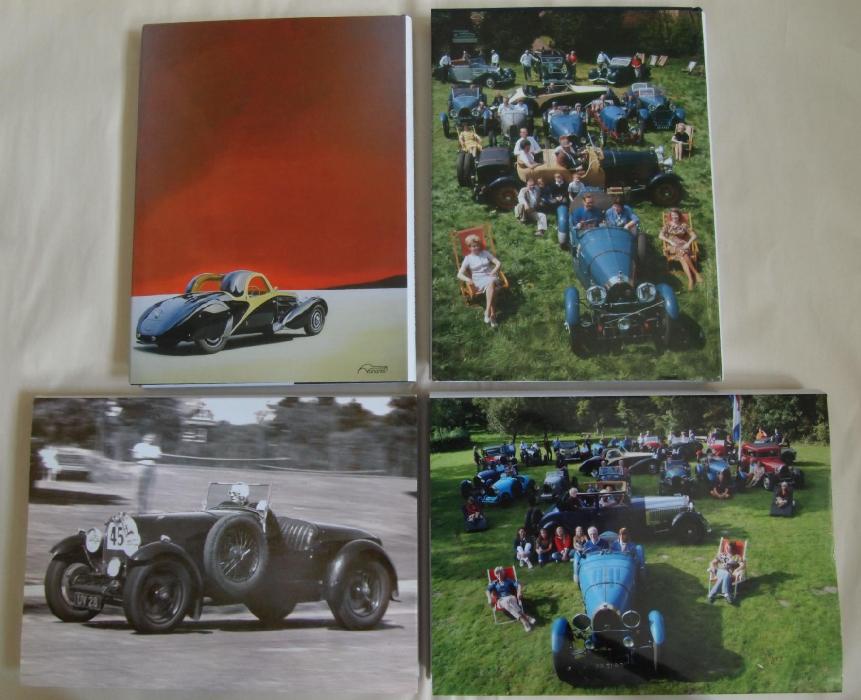 For sale:
Rare complete series of all 4 parts of the Bugattiregister, Netherlands and Belgium

All books are numbered, and matching numbers.

Asking price: 400 Euro

Please contact the seller Erik Hakstege, E-mail: erik.hakstege@upcmail.nl

2-10-2019
---
Books wanted
Wanted
Bugatti T49 Original Sales Brochure.
Bugatti T49 Original Manual.
Bugatti T49 Original Parts Catalogue.
Contact Geoff McCarten, e-mail gtmccarten2013@hotmail.com
6-6-2020
---
Wanted
Bugatti 57 Sport
by Pierre-Yves Laugier
Marc de Klerk, phone: +27824467459, e-mail nr77v@icloud.com
3-5-2020
---
Wanted
Brochure of the Baby Bugatti
Please email glasius@euronet.nl
14-3-2020
---
Wanted
I am trying to get a few missing copies (no reprints) of the so called Bugantics magazines.
I am interested in:
Year: 1935, Volume:4, Edition:6
1939 8 5,6
1946 9 2
Please send any offers through the editor:J.J.Horst@BugattiPage.com .
4-7-2018
---
This page exists since March 1, 2003
Vive La Marque !!
---
Back to
the Bugatti Page