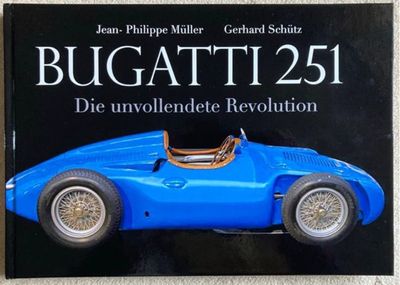 Bugatti 251
Die unvollendete Revolution
Jean-Philippe Müller - Gerhard Schütz
In 1956, Bugatti attempted to build on the brand's pre-war successes with the revolutionary Formula 1 Type 251. Although technically far ahead of its time, this project ended in failure.
This first book on the Type 251 places the car in its contemporary setting and presents the revolutionary technology in detail.
The carefully researched text is also based on studies of the vehicles themselves. They were in Molsheim and met Mr. Burck and Mr. Bossu. Mr. Bossu is the last surviving person who actually worked on the 251. This was after the 1956 Reims GP.
Now available (20-11-2022)
Language: German
A4 landscape format, hardcover, 168 pages, 194 illustrations (new and historical photographs, original plans)
EUR/CHF 78.- (excluding tax & shipping)
For more info and ordering: jpm@jpmc.ch