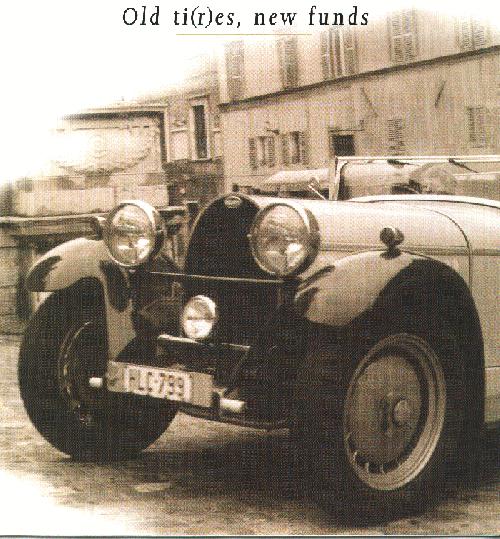 Two 1930's Bugattis will be fund racing around the world!
News!
Finally the Fund race has started! Bob Meijer and Macko Lacquer started July 31, from Molsheim, for their round-the-world trip. Several Bugattistes came to wish them good luck for their 33.000 km Journey, amongst them Caroline Bugatti, granddaughter of Ettore, in her T35A, accompanied by her friend François Rinaldi.

So, after some delays, the prestigious project is going to start! The two Type 46 "Petit Royale" Bugattis are ready, as are their drivers. The cars, capable of 150km/h, equipped with a tourer body, can take 200 litres of petrol, 50 of oil, two spare tires, tools and parts. The start was from the front of the Schlumpf museum in Mulhouse, the first visit was to Molsheim. From France the trip goes to Holland, where the Bugs will be shipped from Rotterdam, through Buenos Aires to Ushuaia, the most southern city of the world on the Argentinian half of Fireland. From there the voyage will lead through Chile, Northern Argentina, Bolivia and Peru. From there the cars will be shipped to Tokyo and will ride to Hirosjima and Nagasaki (May 1998). Again shipment to Peking, followed by a ride through China to Tibet, Nepal and India, September next year. After a stop for the winter, spring 1999 the voyage will be continued to Pakistan, China again, Uzbekistan, Turkmenistan, Azerbeidjanand Georgia. Finally, fall of 1999, the two valiant T46's will go through the Ukrain, St. Petersburg, Helsinki, the Baltic states, Poland and Hungary, back to Mulhouse, France, where the "Bugatti Motoring Adventure" will end towards the turn of the century (or Millenium).

It will be hard to imagine that Bob and Macko will then keep still, probably they will invent something new!
---
Original text from april 1969, some changes have been made since! The Two Dutch Initiators, Bob Meijer and Macko Lacquer, will be racing around the world in two Type 46 "Petit Royale" Bugattis.

They will be traveling 32000 kilometers, over Barren plains and mountains as high as 5300 meters! Great distances have to be covered over barely passable open roads. The open vehicles will offer drivers and passengers little cover from the burning sun, torrential rains or biting winds. Densely populated urban areas and endless empty plains will have to be crossed with unabated concentration. Countless potential dangers and problems lurk around every corner: from engine troubles to avalanches, from stick-up's to getting caught in storms. In other words: "never a dull moment".

The journey will begin end of 1996, last for about a year, and go through the following places:
Amsterdam
London
Genoa
New York
Washington
Atlanta
San Francisco
Tokyo
Shanghai
Lhasa
Almaty
Tbilisi
St. Petersburg
Budapest
Amsterdam
The final schedule is being prepared at the moment and will be available soon.
---
The Cars
The monster journey will be undertaken in two Bugattis type 46, nicknamed "Petit Royale", both built in the 1930's. The two Types 46 which will make the journey around the world have an unbelievable top speed of 150 kilometres per hour. Although the chassis of the cars are identical, they both have absolutely unique bodies. The open body of both cars will be used for storing 200 litres of petrol, 50 litres of oil, 2 spare tyres, emergency rations, firelighters, tents, a field kitchen, spare parts and a satellite telephone.
---
If You're interested, especially in sponsoring the project, contact Ariane Scheffer at VCI on (tel.): +31 20 6261696.
---
Vive La Marque !!
---
Back to Bugatti Home Page or to the Bugatti Web