Bugatti news, 2017 Plus events
Bugatti news: 2016 , 2015 , 2014 , 2013 , 2012 , 2011 , 2010 , 2009 , 2008 , 2007 , 2006 , 2005 , 2004 , 2003 , 2002 , 2001 , 2000 , 1999 , 1998 , 1997 , 1996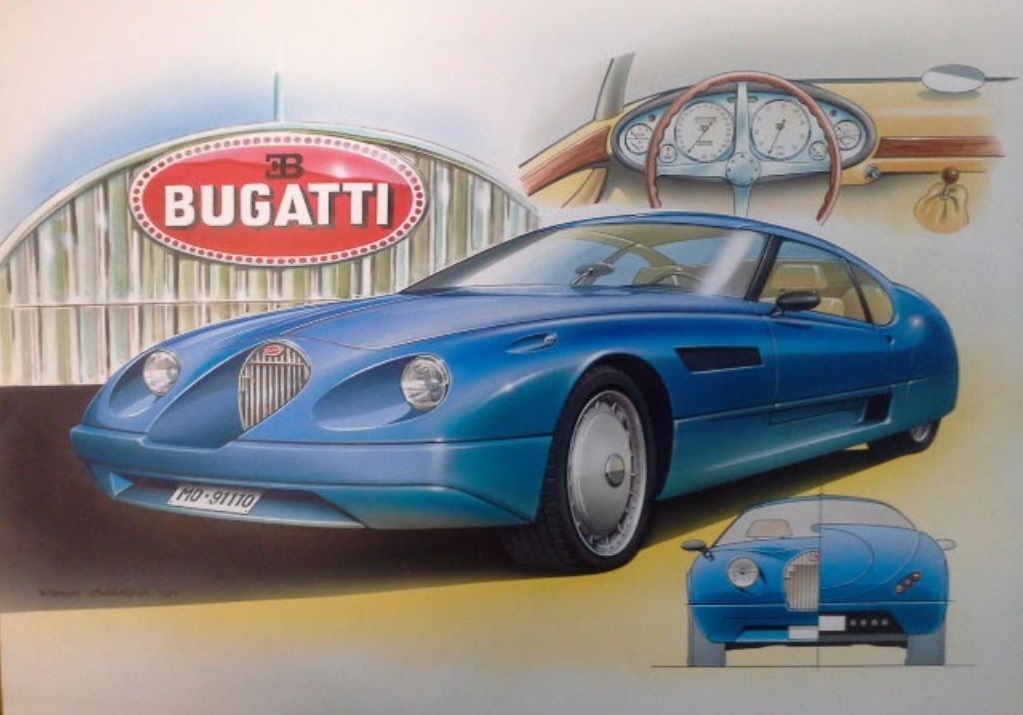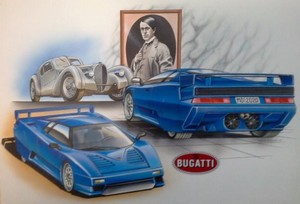 Design for a new Bugatti.
All drawings from 1991 by R. Biesma.
---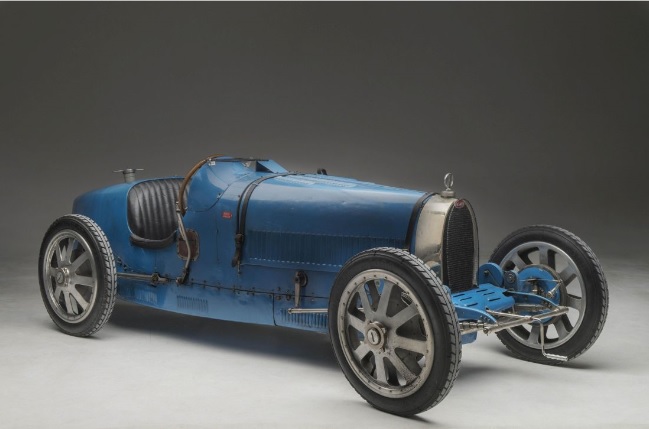 November 5, 2017 Artcurial Automobiles sur les Champs 11 auction Avenue Montaigne, Paris, France
1925 Bugatti Type 35
Dutch title
Chassis 4451 (see text)
Engine 25
Estimate 1 000 000 - 1 350 000 €
Ex-Jo Siffert
In the ownership of the former Dutch Bugatti Club President
Untouched car since the 40's, well maintained
One of just two Sicilian Type 35s to have survived
Italian History
The car on offer was discovered in Sicily at the start of the 1940s. All the available evidence leads us to believe that the car had until that point spent its entire life in the south of Italy.

This car is fitted with an original chassis plate, re-stamped 4491 over the number 4451, with a 9 engraved over the still visible number 5. The cars corresponding to these two numbers were both Type 35s that were delivered new in Italy in the Spring of 1925:
Chassis 4451 (with engine 25) was delivered on 21 March 1925 to Bianchi, 5 via Muratori in Milan.
Chassis 4491 (with engine 34) was delivered on 13 May 1925 to Michele Baccoli, from Milan. These were the two Milan agents for the marque.
An inspection of the vehicle in its current configuration, untouched since the 1930s, has provided valuable information that we can now report:
The chassis is an original Type 35 chassis, without supercharger, and dates from the spring of 1927.
The engine bears the number 25 on the lower section of the case, which corresponds to chassis 4451.
The chassis number 4451 is also engraved on the same part of the engine; it has simply been re-stamped with a 9 over the 5, and now reads 4491.
The style of letters used to stamp the number 4451 is the same as that used by the factory; 4449/27 has an identical style, the same as other original Bugattis.
Molsheim controlled the stamping on the lower crankcase of the vehicle with the numbers 4451 and 25. The two cases, as well as the gearboxe and the steering box, also show adjustment marks " 0 ", which suggests the fitting of new factory parts during the refurbishment of the vehicle. It is logical to suppose that this work would have been carried out around 1927, when a new chassis was supplied by Molsheim.
The frame is engraved with the logo of the Saint-Denis manufacturer, and the original stamping of the assembly number indicates assembly in March or April 1927.
Some of the mechanical elements of this Type 35 pre-date this restoration as the front axle bears the number 11 and the water pump displays number 12. The rear axle belongs to the very first model: it has, along with the strut (currently welded and not mounted), the number 2 and stroke ratio 14-54.

This must be the rear axle of the first Type 35, ex-Grand Prix de Lyon, chassis 4324, delivered in Italy to Count Masetti from Bagnano, who used the car until September 1926. This car disappeared around 1934, having been fitted with a Maserati engine by Luigi Premoli. For comparison, the rear axle from chassis 4326 is identical in its build and displays, along with the strut, the number 3.
We therefore find ourselves in the presence of a Bugatti Grand Prix with mechanical elements dating from 1924 - 1925, on a 1927 Type 35 chassis without supercharger. It cannot be a Type 35A chassis, the production of which ceased in March 1927, or a chassis for a car with supercharger, as it has no trace of holes for a steering box set further back. A hole was made in the bulkhead for the support for a second spare wheel on the driver's side and there are signs of the attachment for the leather strap, high up on the body. These elements suggest that the vehicle took part in one of the rare races that required a second spare wheel. Of these, the Targa Florio and the Mille Miglia are, in Italy, the most well known.
We have not been able to find a Type 35 without supercharger that was entered by an amateur Italian driver in the prestigious Targa Florio, but in the 1928 Mille Miglia, we found evidence of a team, Chiabbetti-Crosti, at the wheel of a Bugatti Grand Prix which could be our car. We have not been able to confirm this yet, but there are no doubt all kinds of wonderful historical discoveries yet to be made about the car presented in the sale. We must note that in July 1928, chassis 4491 belonged to Ottavio Scherm, a driver from Catania, who took part in the Syracuse Cup on 27 May. The following year, he participated in the Tour of Sicily in an Alfa Romeo, while one of his acquaintances, a man named Spampinato de Syracuse, entered a Type 35 with wings, quite similar to our car. It is possible that, by 1928, the registration document for 4491 was already being used for 4451, but we have no proof of this.
A Sicilian youth
The last part of the puzzle that helped us piece together the history of this car, was the discovery on the cover of the cam box and on the petrol cap, of a name that, although partially erased, appears to spell " Guglielmo Costanzo ". This is the name of an owner of the vehicle, who held registration papers for chassis 4491, in 1934. Guglielmo Costanzo bought the car on 28 June 1934 from a lawyer from Catania called Antonio Garozzo, who had, in turn, bought it from Syracuse in September 1932. Costanzo appears in 1928 on the list of licences of international drivers, at the address 164 rue de la Liberté, in Catania. From that point, at the latest, we can assume that the Bugatti 4451 used the papers of 4491, following restoration of the vehicle by this mechanic. In correspondence in 2006, Corrado Cupellini confirmed that Costanzo was indeed a Sicilian mechanic. This information is important as it shows that he was a sufficiently well-known figure for Cupellini to note it and relate him to the history of the car. Two months after registering the restored vehicle, Costanzo sold it to two Catanian enthusiasts called Antonio Lombardo and Salvatore Scuderi, before the Bugatti left Sicily for the region of Cosenza in the north of Italy.
The Bugatti spent the war years in the region of Crotone. It was found in 1958 in Catanzaro and was bought by the Venturi brothers from Rome, who had been told about the Sicilian history of the vehicle.
Roman discovery
And so during the 1950s, the car found itself in the collection of the Venturi brothers in Rome. The collection housed other automobile treasures including another Bugatti, this one a Type 37 in original condition (chassis 37240). This car and the Type 35 then joined the garage of Count Giovanni Lurani, the friend and associate of Corrado Cupellini. The historian Francesco Guasti tells us : " Franco Venturi was a renowned Roman collector who owned, amongst others, the ex-Nuvolari Alfa Romeo Monza. He had a brother called Fernando who survived him and who shared his passion for beautiful motor cars. In the documents we have been able to study relating to their vehicles, were registration papers for 4491 in the province of Catanzaro, in Calabria ".
The Bugatti was registered there in March 1941 in the name of Francesco Solanda, in Crotone, before being acquired by Giuseppe Viraldi, from Catanzaro, in September 1958. Shortly afterwards, the car joined the Venturi collection in Rome. On 14 September 1967, it was sold to Corrado Cupellini.
Cupellini advertised the car in MotorSport in May 1968 :
" Bugatti Grand Prix Type 35, Chassis 4491. Engine 25. Concours condition. $ 9500. Corrado Cupellini, Mazzini 30, Bergamo, Italy. "
In 2006 Cupellini wrote: " I bought this car with my friend Lurani from the Venturi Collection in Rome. Venturi told me that the car came from Sicily. We used it for a while and then I sold it to the Swiss driver Joseph Siffert who told me he gave it to his sponsor Rob Walker. " We have been able to trace the invoice from Joseph Siffert's garage in Belfaux, dated 13 August 1968, signed by Cupellini : " Received, the sum of 13.000 SFR, in payment for the vehicle, consigned to Mr Freddy STREIN. " Strein was an optician from Bern and a friend of Jo Siffert, who raced a Cooper Maserati.
When Rob Walker died, the car was sold at auction in March 1975 by Christie's in Geneva. The catalogue mentions a restoration by the mechanic of Count Lurani. The car was bought by the Dutch collector, Tom Meijer, from Wassenaar, before being bought by the current owner in 1985.
A story of chance and survival
Italy was a good customer for the Bugatti factory during the period 1920 - 1930, before the politics of the country led to the closing of borders. The Bugatti Grand Prix cars delivered between 1924 and 1930 took part in races and numerous events held around the country as far as Sicily. In addition to the mythical Targa Florio, these events included the Mugello circuit, the Coppa Etna, Mont Cenis, Madanella, the Coppa Montenero, the Coppa Perugia, the circuit del Garda... and the Mille Miglia !
Almost 100 Bugatti Grand Prix were delivered new in Italy between the end of 1924 and 1930. The survival rate is terrible: less than 10 cars survived !
The difficulty of the races and the lack of spare parts, no doubt due to the country's isolation after 1931, all contributed to this massacre. Of around 15 examples of the Type 35 delivered, just 4451 and 4698 have survived, and only one Type 35A of 14 sold. Of 15 supercharged Bugatti Grand Prix Type 35 B/C exported to Italy, only two are currently conserved in collections. Of the 50 Type 37 and 37A examples sold in Italy, just one car, without supercharger, (which was also part of the Venturi collection : chassis 37240), and two Type 37A have survived. At the start of the 1930s, certain Bugatti Grand Prix had their engines replaced with Fiat or Maserati engines... and were used until they finally gave up, and were then scrapped. During the 1950s, the American Bugatti 'hunters' didn't appear to have good contacts in Italy and were unable to find and save these beautiful machines.
In conclusion
This Bugatti Grand Prix, in its 1925 configuration, spent the greatest part of its life between Sicily and the three provinces making up the heel of Italy : Cosenza, Crotone and Catanzaro. We can assume that intensive use in competition during its early years, and probably a serious accident, led to the car being given a new chassis supplied by Bugatti in 1927. The car then continued its sporting career and is today still equipped with most of the parts from the period it was built (1925).
This Bugatti chassis 4451 is a survivor. All the historical elements and details that can be seen on the coachwork lead us to believe that it is the car that took part in the 1928 Mille Miglia driven by the team Chiabbetti-Crosti. It is also clear that it participated in numerous races in Sicily and the south of Italy. It must have undergone a few operations to have driven through the pre-war years in preserved, running condition. Although its history up to 1934 was certainly eventful and remains rather mysterious, its journey since it arrived in Catanzo in 1941 is clearer, with just two or three owners before it was discovered in the Roman collection of the Venturi brothers.
If we had seen this car in the streets of Catania or Catanzo in the post-war years, we would have wanted to follow it and possess it. The opportunity to do that has arisen today, and this beautiful, ageless machine is in perfect working condition, having been looked after for more than 30 years by a loving and thoughtful owner.
Text by Pierre-Yves Laugier Photos © Guy Van Grinsven
There are also some other interesting Bugatti items in the same auction.
---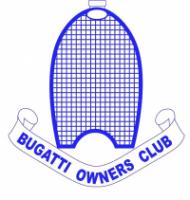 November 10 - 12, 2017 Lancaster Insurance Classic Motor Show NEC, Birmingham, UK

That's right, 2,500 stunning, unique and rare cars will be filling the halls of the NEC at the Lancaster Insurance Classic Motor Show, with Discovery, next weekend from the 10th to 12th of November.

The Bugatti Owners Club, with support of the Bugatti Trust, will have nine original Bugatti Grand Prix cars on display.
---


August 25 / 26 and 26 / 27, 2017 Mondorf Grand tour AND Classic Days & Concours d'Elegance 2017 Mondorf les Bains, Luxemburg
Mondorf-les-Bains Concours d'Elegance & Luxembourg Classic Days is Luxembourg's most prestigious motor event. The event is organised by Gentlemen Drivers Club ASBL & MAW Events SARL. All proceeds will be donated to Make-A-Wish Luxembourg Asbl.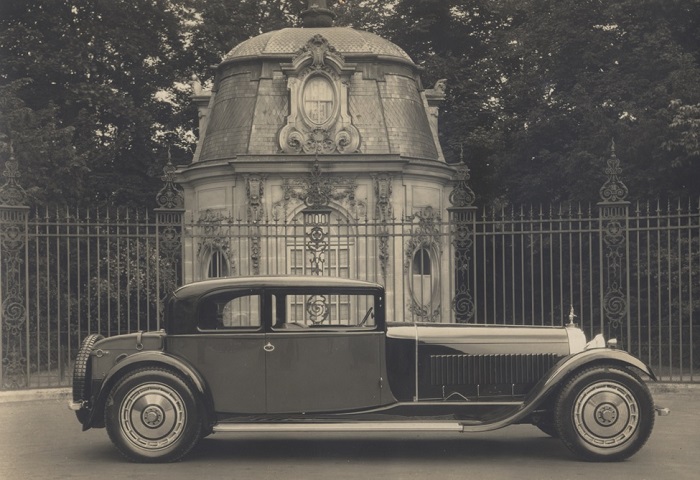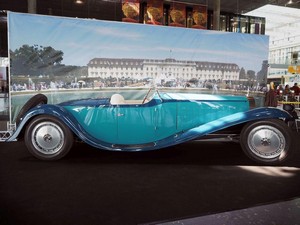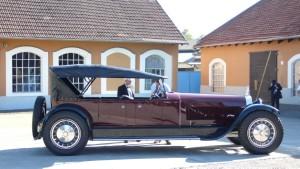 There is a specific Bugatti Class for the tour and there will be a specific Bugatti exhibition showing in a World Premiere:
(These Bugattis will be there only on the Saturday and Sunday)

Bugatti T41 Royale Phaeton (Packard)
Bugatti T41 Royale Coach Weymann
Bugatti T41 Royale Esders Roadster
Bugatti T57 Atalante (Bugatti body)
---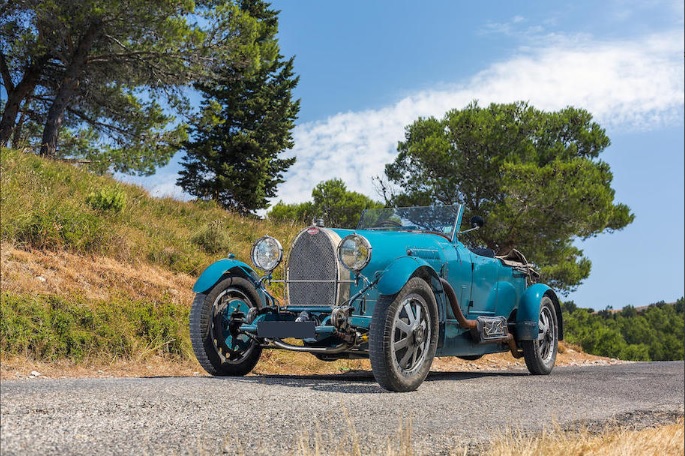 September 10, 2017 Bonhams Chantilly auction Chantilly, France
Bugatti Torpédo Grand Sport 1928
Châssis n° 44366 (see text), the original anouncement stated T43 Bugatti Torpédo Grand Sport, now removed
Estimate: €500,000 - 700,000
Bugatti front axle, gearbox, and rear axle
Engine by Ventoux Moteurs and Laurent Rondoni
Pierre Yves Laugier report on file
EU registered
By the early 1930s Ettore Bugatti had established an unrivalled reputation for building cars with outstanding performance on road or track; the world's greatest racing drivers enjoying countless successes using the Molsheim factory's products and often choosing them for their everyday transport.
His earlier efforts notwithstanding, the foundation of Bugatti's not inconsiderable repute was his family of eight-cylinder cars, the first of which – the Type 30 – appeared in 1922. The Type 30 shared its chassis, axles and gearbox with the later four-cylinder Type 13 Brescia model and was powered by an inline eight displacing 1,991cc. Developments of this superb engine, with its single overhead camshaft and three valves per cylinder, would go on to power the Type 35 Grand Prix car, the Type 38 tourer and Type 43 sports car.
Introduced in 1927, the Type 43 was, in essence, a road-going version of Bugatti's most successful Grand Prix racing car, the Type 35. The Type 43 used the 2,262cc engine, complete with Roots supercharger, introduced on the Type 35B, which was installed in a new chassis similar to that of the Grand Prix racer. Type 35 wheels were used, together with the larger radiator and brakes also found in the Type 38. Not surprisingly, considering its Grand Prix derivation, the Type 43 proved immensely successful in sports car racing, being campaigned by the factory and a host of private owners.
This Bugatti Type 43 has been built on a recent chassis to the original pattern. It incorporates three major in-period components: the front axle, gearbox, and rear axle, while the engine has been built by France's foremost Bugatti Specialist: Ventoux Moteurs in Carpentras. Needless to say, with such a pedigree this car will perform better than an entirely original example.
The chassis plate is of the 'Alsace' type (correct for the period) and is numbered '44366'. This number corresponds with a brown Type 44 Torpedo, sold new to minister Achille Fould in April 1928. The plate was given to the owner by his friend, François Chevalier, and comes from a vehicle scrapped in the South West of France.
The chassis had been built in 1990 for Laurent Rondoni and is of the correct wheelbase (2.97m) for a Type 43. A Bugatti specialist, Laurent Rondoni had accumulated many of the parts needed to build a Type 43. As it happened, he did not have time to complete he project, which was purchased by the current vendor.
Of the mechanical parts: the rear axle is original while the gearbox is a Type 44 (number '255') from a car produced in Spring 1928. It was supplied by the UK's foremost Bugatti specialist, Brineton Engineering of Walsall, West Midlands. The front axle (number '707') comes from a Type 44.
The 2.3-litre engine is entirely the work of Ventoux Moteurs in Carpentras, and has been assembled by Laurent Rondoni. The clutch is the classic Bugatti type. The radiator has been overhauled and an additional oil tank fitted beneath the passenger's seat, as on the Bugatti racing cars. The fuel tank comes from a touring Bugatti.
The aluminium coachwork was fabricated in France towards the end of the 1990s by the specialist, Patrick Barrier. Torpedo in style, it is similar to that of the three Type 43 Bugattis entered in the RAC Tourist Trophy in August 1928. There is only one door (on the driver's side) while the Type 57S seats have been cut down to fit the Torpedo body. The dashboard boasts original SEV instruments, a period-correct Jaeger 8-day timepiece, a Ki Gass pump, and pressure gauges supplied by Vintage Restorations in Kent. Weighing approximately 1,040kg, this particular car is some 10km/h faster than the original model, with a top speed of around 170km/h.
In conclusion: this car has been built with many original Bugatti parts, most of which come from Type 44, a model very similar to the Type 43. Serviced regularly by Ventoux Moteurs, it is in generally excellent condition and makes an amazing sound thanks to the very special exhaust. Accompanying documentation consist of a French Carte Grise and a detailed report compiled by Bugatti authority, Pierre Yves Laugier.
---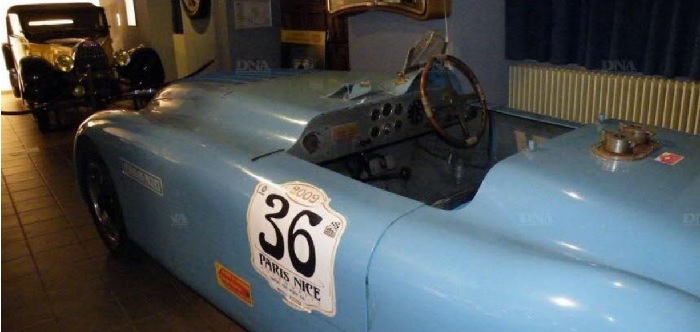 Until September 25, 2017 "Bugatti intime" Musée de la Chartreuse, Molsheim, France
New exhibition at the Chartreuse, specially to coincide with the Festival, as was organised last year. Special attraction of course the T57G tank.
But, more interesting, there will be a 80 minute private movie from the Bugatti family, scenes shot between 1920 and 1930.
---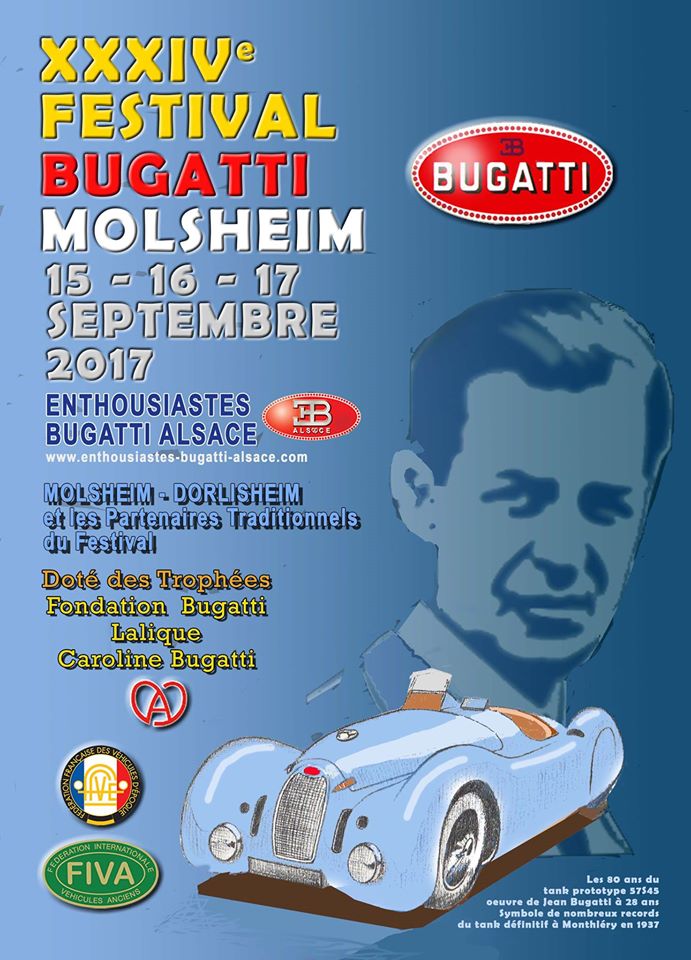 September 15 - 17, 2017 Bugatti Festival Molsheim, France
The only event which always takes place in the birthplace of Bugatti.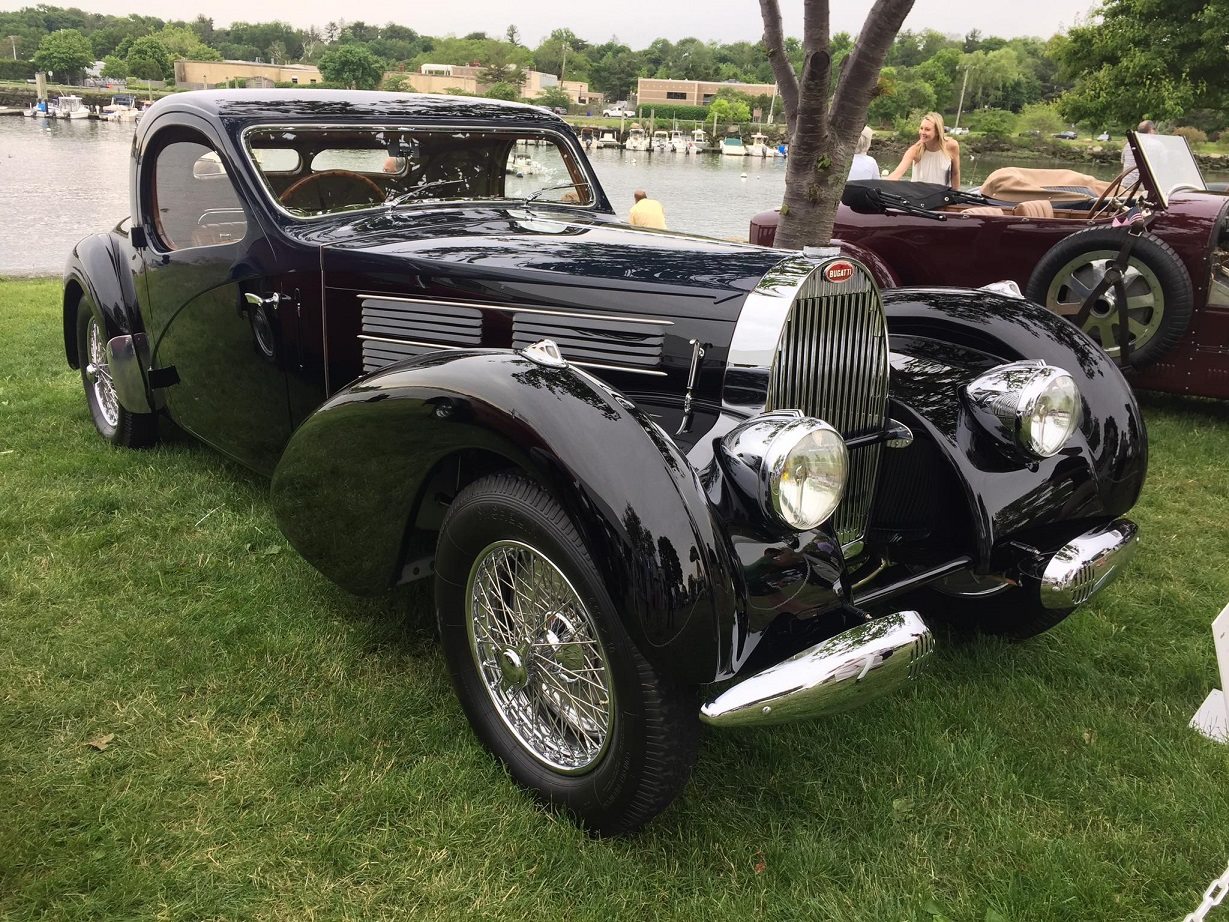 ---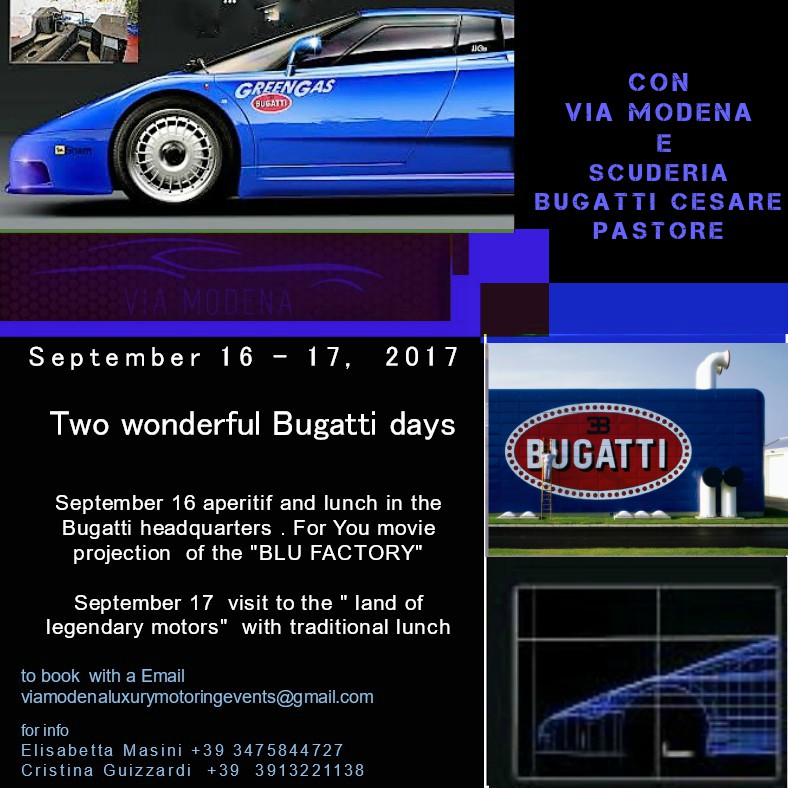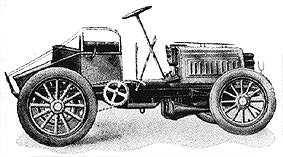 September 16 - 17, 2017 Two wonderful BUGATTI days Campogalliano, Italy
On this occasion will be presented the Avanti Bugatti Type 2 by Race of 1901 "1st COPPA OF MILANO 10 MAY 1901"
Program
Programma e Iscrizione alle giornate nella Motor Valley del 16 o del 17 settembre tra memorie,amici e auto da sogno
SEPTEMBER 16, 16 Settembre:
Departure for the "Blue Factory"
Aperitif and lunch in the historic Bugatti headquarters
For You Movie projection of the Blue Factory
Incontro a Campogalliano
aperitivo e pranzo nella mitica "FABBRICA BLU". Sarà poi proiettato l'omonimo film di Davide Maffei.
SEPTEMBER 17, 17 Settembre:
Visit to the "Land of Legendary Motors"
That is the place that saw the birth of the legendary EB110 and we will let you know this cradle of mythical autos .
Visitiamo la "Terra dei Motori Leggendari"
Questo è il luogo che ha visto la nascita della leggendaria EB110 e la culla di miti automobilistici poi tutti a tavola con le ricette della tradizione.
PARTICIPATION QUOTA €.100,00 per person for one day
QUOTA DI PARTECIPAZIONE €.100,00 cad. persona cad.giornata
FOR TO BOOK CONTACT - PER PRENOTARE CONTATTARE
Elisabetta Masini cell +39 3475844727
Cristina Guizzardi cell +39 3913221138
viamodenaluxurymotoringevents@gmail.com
Programme and subscription form
---
June 10, 2017

Bugatti T57C Atalante wins Best of show at Greenwich Concours d'Elegance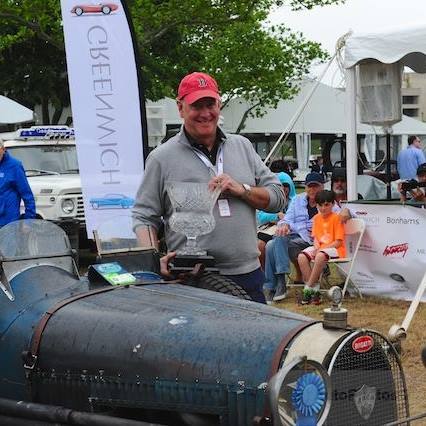 The 22nd edition of the Greenwich Concours d'Elegance was held this past weekend June 3/4 at the beautiful waterfront venue in Roger Sherman Baldwin Park in Greenwich, Connecticut. It was an event celebrating both vintage and some of the latest offerings from the auto industry. The event featured the American Classes on Saturday and the International Classes on Sunday. (so there was one best of show for each day!)
Bugatti was one of the featured marques for the Sunday, so not surprising that one of them won the grand prize!
However, there were more Bugattis that received prizes:
Best in show: 1938 Bugatti Type 57C Atalante "Private Collection"
Chief Judge's award: 1932 Bugatti Type 49, Gene Cesari
The Journalist's award: 1925 Bugatti Type 30, Peter Charlap
Preservation award: 1926 Bugatti Type 37, Sarah Rheault
HVA Award: 1931 Bugatti Type 37, Sandy Leith (Photo on the right)
4 people received the Bugatti - BIC award (don't know what that means):
1929 Type 40 Grand Sport, Ted and Christina Zamjahn
1927 Type 37A, Maureen Serri
1938 Type 57C Atalante Coupe, "Private Collection"
Type 43 Grand Sport, Richard S. King
For more photographs, go to:
newenglandrockreview.com
richardscarblog.com
---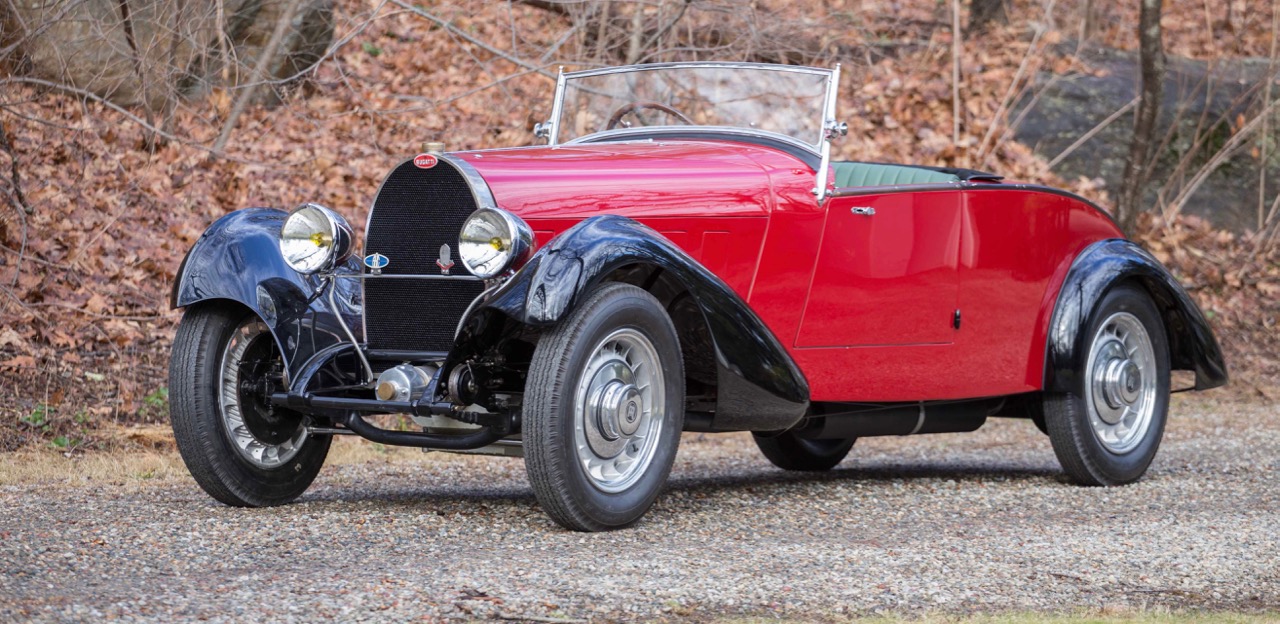 June 8, 2017
Auction Results
Bonhams' Greenwich Concours d'Elegance Auction, June 4, 2017
Lot 178, 1932 Bugatti TYPE 49 ROADSTER, Coachwork by Labourdette, Chassis no. 49534, Estimate €580,000 - 760,000, Sold for US$ 676,500 (€602,457) inc. premium
Lot 187, 1937 Bugatti Type 57 Pillarless Sports Coupe, Chassis no. 57443, Estimate €360,000 - 430,000, Amended (Not sure if that is the same as not sold?)
Lot 181, 1993 Bugatti EB 110GT, Chassis ZA9AB01E0PCD39034, Estimate €450,000 - 630,000, Sold for US$ 605,000 (€538,783) inc. premium
---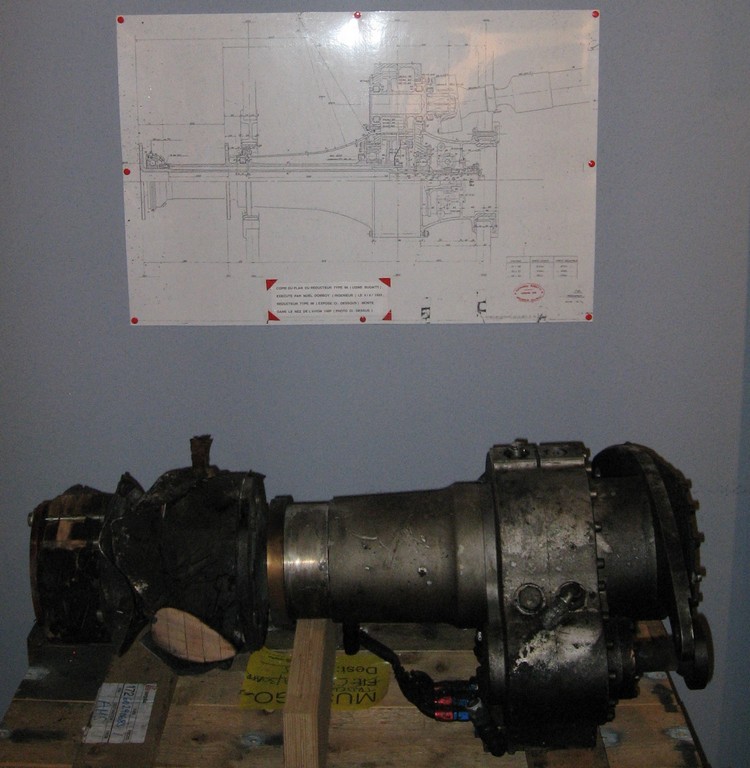 June 4, 2017
Permanent memorial for Scotty Wilson in Molsheim
Last week I heard from my friend Daniel Lapp in Molsheim that a permanent memorial for Scotty Wilson, the valiant builder and pilot of the replica Bugatti 100P raceplane who so tragically crashed last summer, has been set-up in Molsheim. Today I received the photographs presented above and below.
The center of the memorial is the actual reduction gearbox from the nose of the airplane, even more impressive because it still has all the marks of the burnt-out airplane. Above the gearbox is a copy of the original drawing for the gearbox, which was designed by Noël Domboy in 1938. A copy of this drawing was presented to Scotty Wilson at the Molsheim Festival in September 2015, a little less than a year before the crash.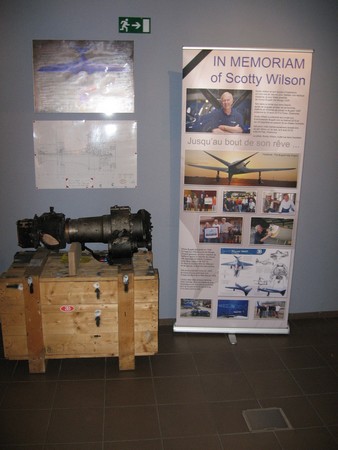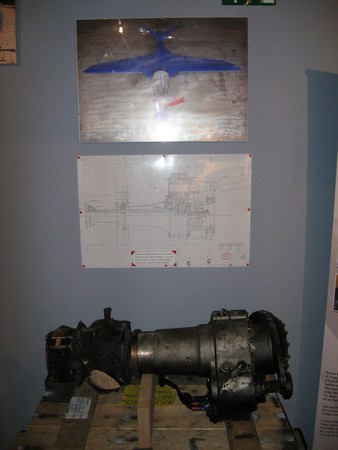 The memorial is at the "Fondation Bugatti", which is inside the Chartreuse museum, open to the public on most days, during the summer season.
Flyer for the Chartreuse museum, with location details and opening times.
---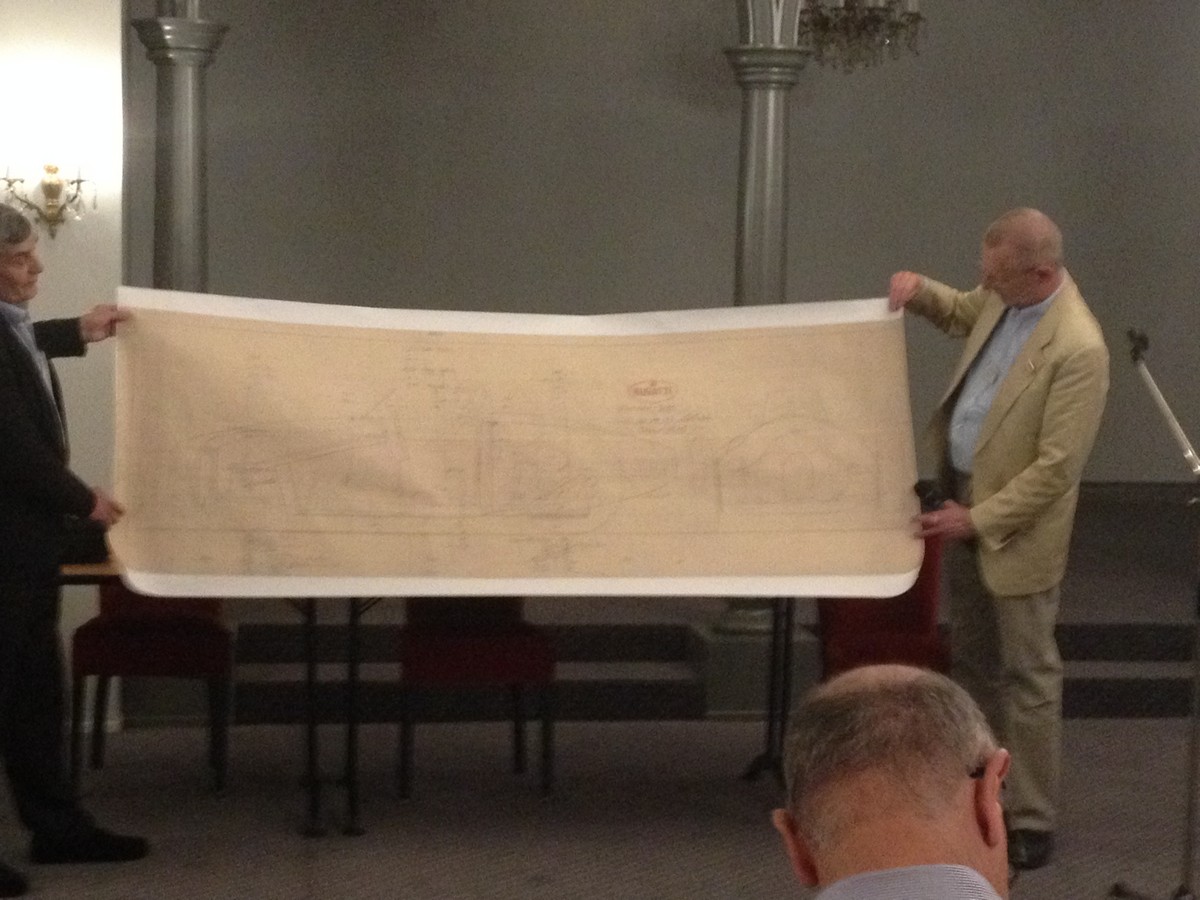 June 3, 2017
Earliest Colombo Type 251 drawing presented at Conference!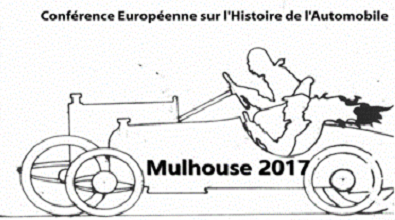 On May 26 - 28 the First Pan-European Automotive History Conference took place in the Musée National de l'Automobile, collection Schlumpf in Mulhouse, France.
At the conference John Barton, Englishman living in France, held a presentation on Bugatti 1943 - 1963, and focussing on the many four-cylinder designs that were made, but never fully developed. Interestingly, he brought with him the only surviving person who worked in the post-war Bugatti race department. René Strub worked with Bugatti from 1950 to 1957, in the race department which was fully locked-up; nobody was allowed to enter without permission.
René worked for example on the "turbofrein", a ventilated disk brake with forced cooling pump effect. John Barton, who is the owner of many drawings and patterns from the post-war Bugatti period, built the brake using the original patterns, and brought this with him to the conference also. René, 92 years of age, gave a very lively speach for the complete audience!
Finally, John presented an original Colombo drawing from 1953! (Top Photo, with John Barton and Anders Ditlev Clausager) The drawing shows the outline of the car, and very clearly shows the independent front suspension. In fact the drawing was presented to other manufacturers, who thought it too innovative, before Colombo showed it to Roland Bugatti.
As we know now, both the turbofrein and the independent front suspension were not used on the very unsuccesful Type 251, but Colombo could stay, and was in the race department for one week per month, during the development of the Type 251.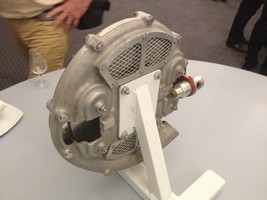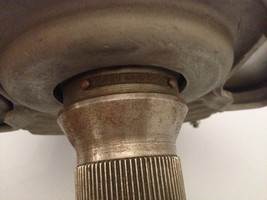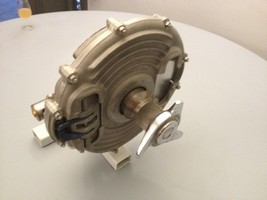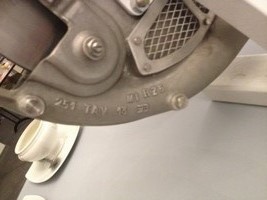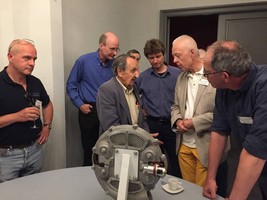 Four views of the Colombo sketched and René Strub designed disk brake, in the last photo René talking about and explaining the brake.
The conference itself was a huge succes, with about 80 people attending. As everybody present was technically oriented and mostly expert in a specific field (be it microcars or a specific marque, coachbuilder or era), the discussions were lively and interesting.
The conference, the first in it's kind, and with a focus on subjects which have a cross-border European interest, was organised by Thomas Ulrich (AHG, Automobil-Historische Gesellschaft e.V., Germany) and Anders Ditlev Clausager (SAHB, Society of Automotive Historians in Britain) from Germany respectively England. There were talks by Richard Keller, with a welcome from the Musée National and Cité de l'Automobile, France, as well as:
Christopher Balfour, UK: Personal experiences relating to the decline of the British motor industry
Dr Stefan Dierkes, Germany: Do we need more science in automotive history research?
Fons Alkemade, The Netherlands: Hard times for the European automotive industry after the Great War: The case of Spyker and Maybach
Prof. Alessandro Silva, Italy: The re-start of European Grand Prix after World War Two
Guy Loveridge, UK: The first European Grand Prix at Silverstone, 1950 (with a short film)
John Barton, France: The last Bugattis from Molsheim
Prof. Patrick Fridenson, France: The beginnings of Renault in Belgium
Oliver Heal, UK: Louis Coatalen, a French designer in England
Dr Gundula Tutt, Germany: History, materials, and technology of car paintwork, 1900 to 1945
Frederik Scherer, Germany: Aesthetics and design of motoring books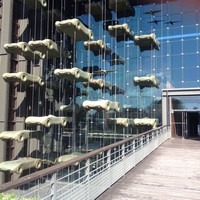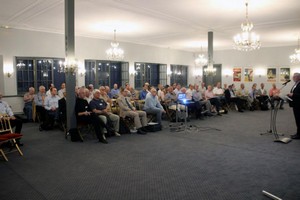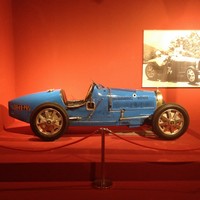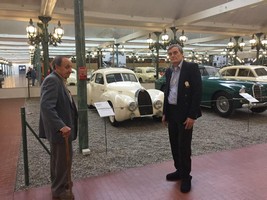 Left to right: Entrance to the museum, the audience listening to the welcome speach by Richard Keller, Fritz Schlumpf's Bugatti Type 35B, and John Barton with René Strub in front of the Bugatti Type 73, which, as John explained on several occasions, is uncorrectly identified on the museum's information shield as Type 73A.
On the Sunday the conference was continued in the Volante museum near Freiburg, just over the border from Mulhouse. However, I did not attend that part, as I had already been to the Volante museum in September 2016.
The conference was such a success, that a 2nd conference will be held in about two years time; exact date still to be fixed. This will be held in the Louwman museum, the Hague, the Netherlands.
Some of the photographs were provided by John Barton and Thomas Ulrich, the others were taken with my phone, excuses for the quality....
---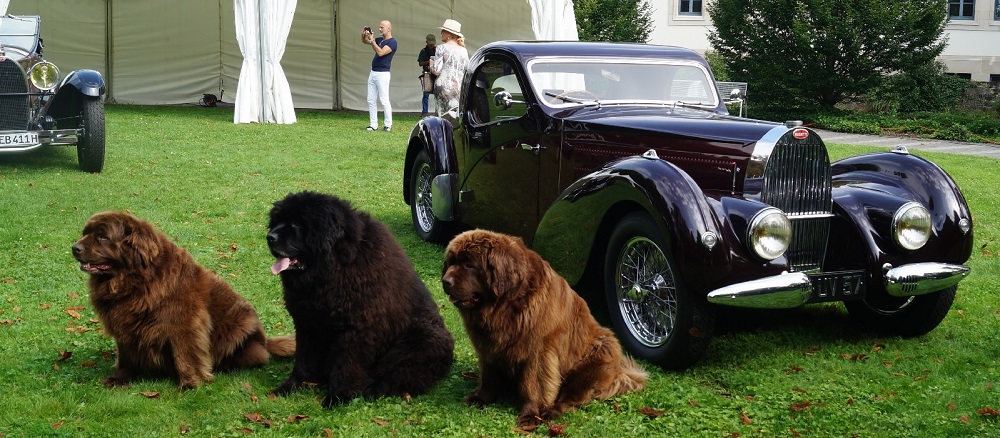 Beautiful scene at the recent Mondorf "Make a Wish" Classic Days & Concours d'Elegance 2017 in Luxemburg:
Three Beautiful and enormous bear-like dogs alongside an impressive T57 Atalante.
What they are watching: three big cats hiding in the bushes, see on the right!
Photographs: Jaap Horst
---

Design for a T46 (5 litres) Torpedo Sport from a René Villemer prospectus for special car paints,
this one being in the "Pétunia Clair" colour of the "Radiose" series "Email à froid pour carosseries" (or cold-drying paints for car bodies).
The design for this (Planche 516), and for all others I saw, was signed B.E.A.C. which stands for Bureaux d'Études de l'Auto-Carrosserie.
I acquired this just a few days ago in a small 2nd-hand bookshop in a small village in Belgium. It was one of a whole series they had, this one being the only Bugatti.
---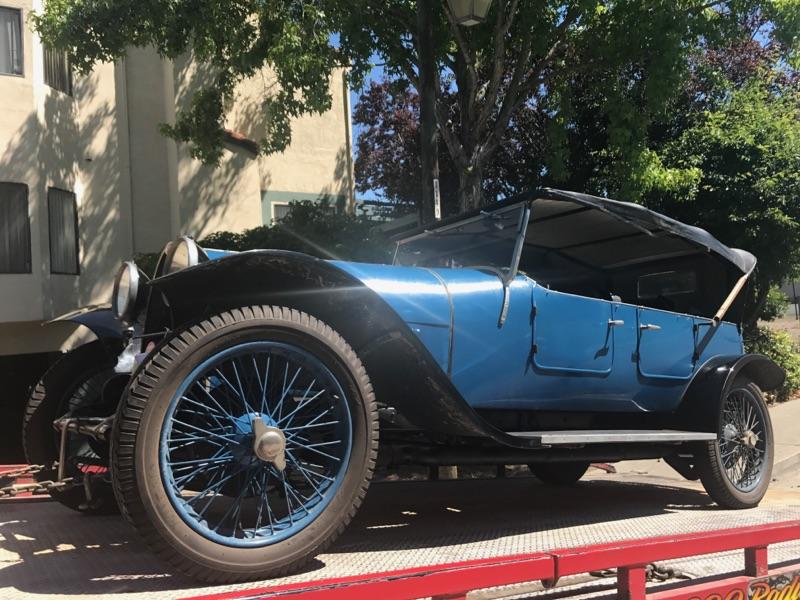 May 31, 2017
Stolen Type 30 Bugatti found back!
Joe Freeman's type 30 (4503) has been found. The police have a "person of interest!"
Margaret Puttman who sent the message around, and was a former owner of the car, says the following about this:
A touch of humour in this sad episode. When I owned the car, various friends would often say 'aren't you worried about someone stealing it?" My reply was always "If they can start it they can have it." Guess what – they tried but they couldn't start it!
---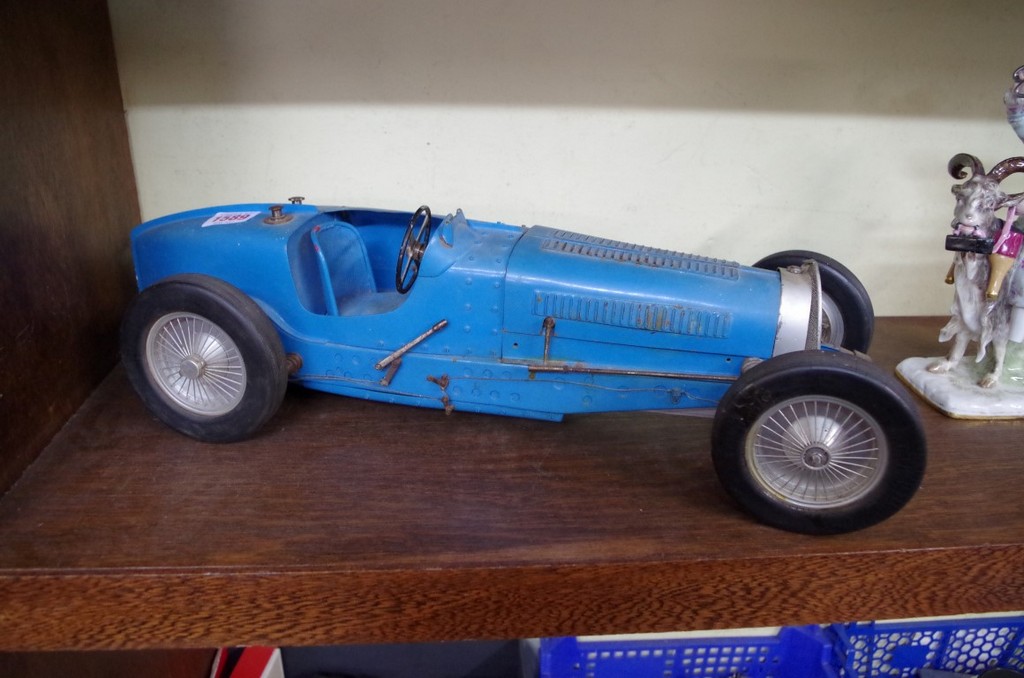 May 31, 2017
Auction result
In the recent "Stride & Son" Auction, which was held on May 26 in Chichester, West Sussex, UK, this (scratch built) Model of a Bugatti T59 racing car was offered.
The model is approximately 22" long (55cm), which would make it about 1:12 scale.
I announced the auction on my website, and the miniature was sold for a staggering 1600 pounds! The seller first thought it had gone for 160, but then he noticed the additional zero...
---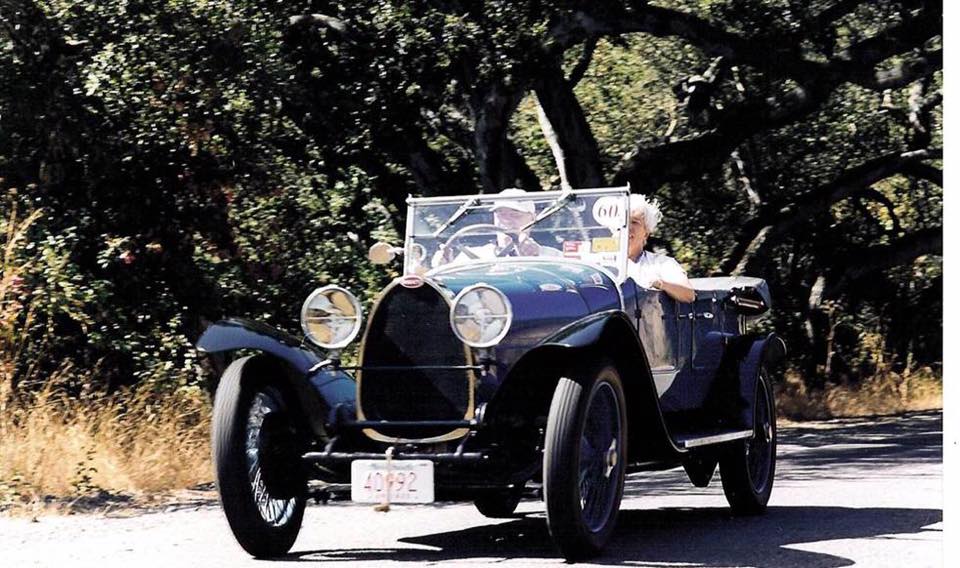 May 18, 2017
Stolen Type 30 Bugatti
A Bugatti Type 30 belonging to the Freeman family has been stolen! (Posted on Facebook first)
I have a most unfortunate piece of news:
Almost immediately after its arrival back in the U.S. from Australia, on the night of May 12-13th my Type 30 (known as "Adelaide"; Chassis 4503; engine 4384) was stolen in a locked and secured trailer parked in the lot of the Phill Reilly Restorations shop, 5842 paradise Drive, Corte Madera CA. In case any parts are sold separately: The engine number is 360 ex 4384, the gearboxnumber is 898.
Officials from several Marin County police units and the Hagerty Insurance crime specialist are already investigating the theft, which we believe might have originated at the dock when the car was unloaded from its container on Friday. Very few other people would have been aware of its return to the States.
I am attaching a picture of the car taken several years ago, although I know many have seen it recently. I am offering a generous reward for any information that leads to the safe return of my beloved car. While I doubt it will head in your direction, I thought you should know.
A truly sad end to our wonderful tour down under
Thanks, Joe Freeman
Below a photo of the unique and extremely practical chokes which Stuart Saunders made for the carburettors of the engine of this Bugatti.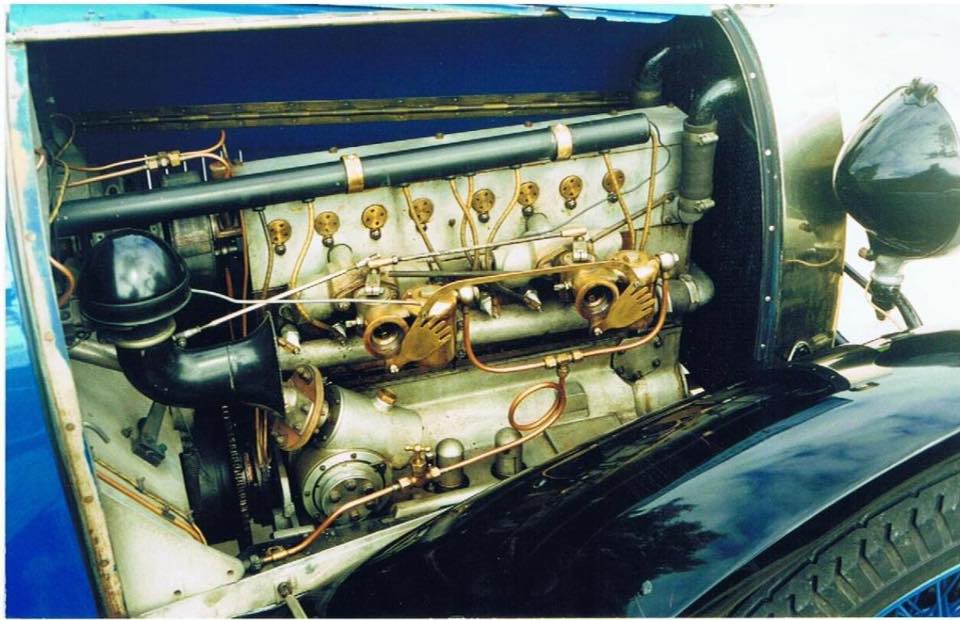 ---
May 18, 2017

Watch out for this scammer.

I get reports from a Bugattiste that a scammer is on the loose; he (He uses the name Chris Blake, e-mail: chris22blake@yahoo.com) offered 5 Type 51 wheels on PreWarCar.com. However, the same wheels, using the same photographs and exactly the same advert text, were offered two years ago (and still on my site, as nobody asked me to remove them, I did this only now), and are now in the Bugattiste's garage...

Apparently, this guy "Blake" offered some other parts on PreWarCar as well, plus he offered parts directly to Bugattistes.

Thus: Always be careful, whenever buying parts from the Internet, and when in doubt, ask me (for adverts on my website) if I know the seller or not.
---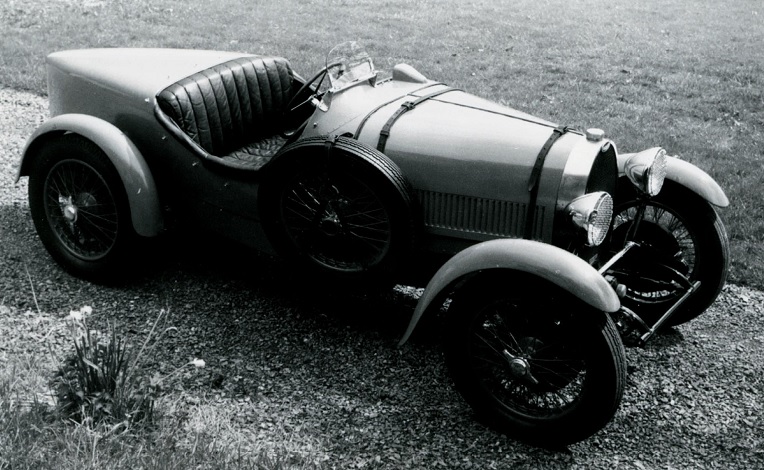 May 11, 2017
Auction results.
Osenat Auction, Obenheim, France, May 1, 2017.
1928 Bugatti T40, Chassis 40657, engine 501, estimate: 200,000 - 300,000 €: Sold for: 348,000 €
Bugatti Baby, Chassis 188, estimate: 50,000 - 70,000 €: Sold for: 86 800 €
Bugatti Type 40 coupé body, By Million Guiet, estimate: 15,000 - 25,000 € : Not sold

---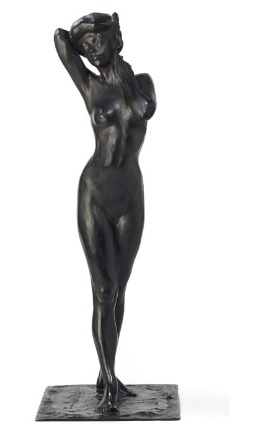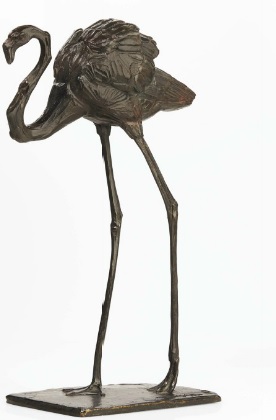 April 19, 2017
Rembrandt Bugatti Sculptures on auction
REMBRANDT BUGATTI 1884-1916
FEMME NUE DEBOUT, LES MAINS SUR LA NUQUE, PIÈCE UNIQUE, VERS 1906
Estimate EUR 300,000 - EUR 500,000 (USD 319,864 - USD 533,107)
FLAMANT EN MARCHE, LE MODÈLE CRÉÉ VERS 1912
Estimate EUR 60,000 - EUR 80,000 (USD 63,973 - USD 85,297)
The auction will be Christie's Design Vente Du Soir, 16 May 2017, Paris, France
Rembrandt Bugatti is of course most famous for his animal sculpture, but he did quite a few very attractive sculptures of humans, most of them (luckily!) nude females.
---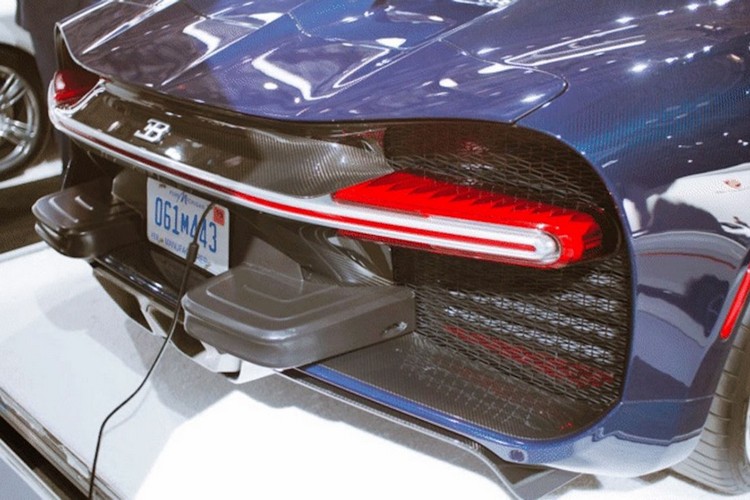 April 19, 2017
USA specification rubber extensions are back - on the Chiron
The dreadful bumper protrusions are back! The US-spec Bugatti Chiron put on display at the 2017 New York Auto Show has the exact same rubber extensions as seen on past European imports.
Apparently, the Bugatti Chiron bumper extensions are solely for insurance reasons and have nothing to do with any kind of federal regulation. Jalopnik had a quick chat about the odd Chiron bumper with a Bugatti executive. According to the spokesman, the insurance company requires the vehicle to have low-speed bumper protection and hence the protrusions.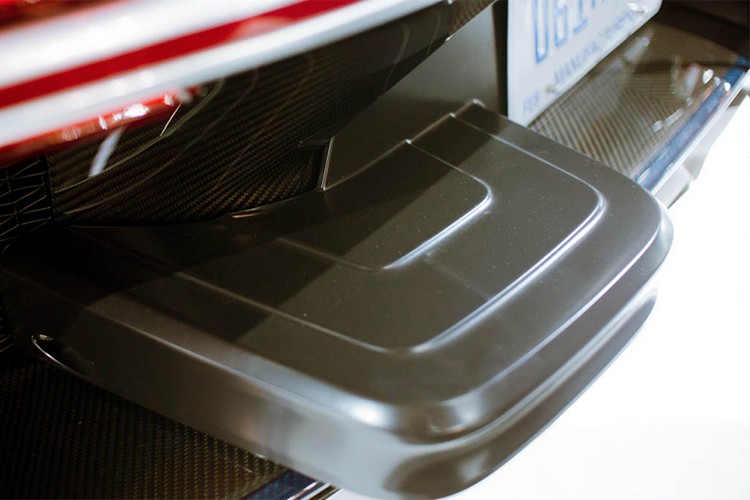 Editor: I have two questions:
How easily can these dreadful things be removed?
If you have the cash to buy a Chiron, would you need to worry about an insurance at all?
---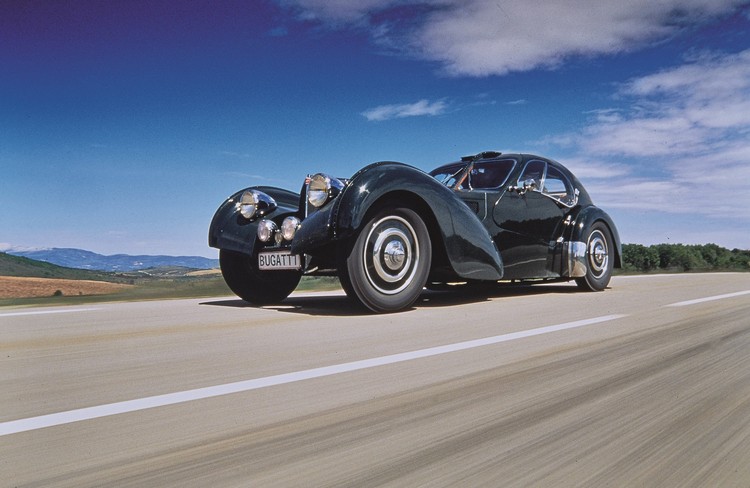 April 4, 2017
Bugatti Type 57SC Atlantic wins the category "Classics of the 1920s and 1930s"
The Bugatti Type 57SC Atlantic, one of the French traditional brand's most impressive masterpieces and one of the most valuable automobiles in the world, has been chosen by readers of the motoring magazine Motor Klassik as the best car of the 1920s and 1930s. At this year's "Motor Klassik Award" ceremony, the design icon from Molsheim took first place in the category of "Classics of the 1920s and 1930s." The award ceremony was held yesterday evening at Schloss Dyck.
"We are very pleased about this award, which honours one of the world's most famous and most valuable classic cars," said Julius Kruta, Head of Tradition at Bugatti Automobiles S.A.S., who received the award in person. "The Type 57SC Atlantic is a superlative automobile and is certainly one of the most impressive designs of Jean Bugatti. This is the fourth time that the Motor Klassik Award has gone to the pre-war supercar, which was the clear winner against five competitors in its class, with 32.6 percent of the votes cast.
In 1936 to 1938, only four examples of the 57SC Atlantic were built. Nowadays, only two of these cars still exist in entirely original condition. The Atlantic is the most famous variant of the Type 57. With the SC model ("SC" stands for "supercharger"), Jean Bugatti, son of company founder Ettore, wanted to offer a sports racing variant in addition to the standard version. The sports coupe was equipped with an in-line 8-cylinder engine with a displacement of 3,257 cm³ which developed about 200 PS. The vehicle could reach speeds in excess of 200 km/h.
Jean Bugatti, who had already proved his talent for special body designs with the Type 41 Royale, the Type 55 Roadster and the Type 50, designed an extremely lightweight, aerodynamic body for the Atlantic. Aluminium was used for the body panels. The result was the distinctive design feature of the Atlantic, a clearly accentuated dorsal seam running from the windscreen to the rear bumper. This is a riveted joint that holds the two halves of the aluminium body together and can still be seen clearly on the new Bugatti Chiron1 as a characteristic design element of the brand. The wheels stand out from the body and are accentuated by huge wings. Viewed from above, the beautiful, elegant shape of the Atlantic becomes especially clear, with the extremely long bonnet running into the round rear, forming an oval.
During the annual survey held by Motor Klassik, a motoring magazine published by Motor Presse of Stuttgart, readers are asked which classic cars they especially appreciate and which modern vehicles could become coveted classics or recent classics in a few decades. There are six categories based on the year of production and six special categories.
Editor's comments:
Of course I agree 100% with the T57SC Atlantic winning this survey, but they did a few things wrong:
Of course a photograph of an original Atlantic should have been displayed with the article, not a replica.
The prize should not have been given to VW-Bugatti, who just bought the name. It should have been given to members of the Bugatti family, like one of Ettore's living children Therèse and Michel or his granddaughter Caroline, who seems to be most involved with the family tradition nowadays.
---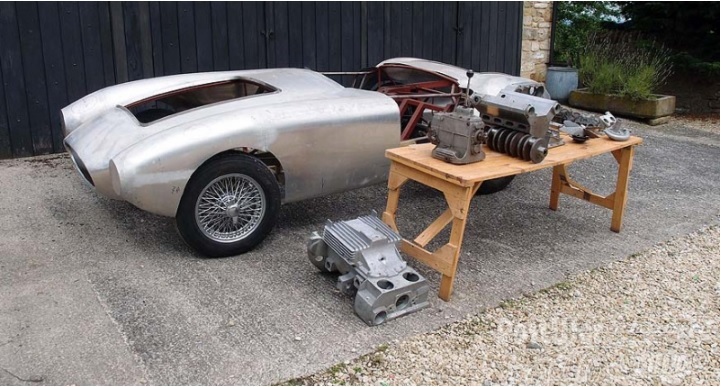 April 4, 2017
Very unknown post-war Bugatti T102 surfaces
Through an advert on Prewarcar/postwarclassics this project for a T102, with original parts, only recently surfaced.
Your opportunity to build this unique Bugatti!
1953 Original Bugatti Project
Unrestored dissmantled original engine
Unrestored assembled gearbox
Unrestored assembled Steering box
Unrestored Borrani/Bugatti wheels
Unrestored brakedrums, backplates and brakes ( possibly 57)
Chassis with dating evidence 25+ years
etc....
Some new casting for rear axle, engine, as well as hundreds of copies of drawings.
Unfinished 2 seater Barchetta style body by Steeve Bernaud, former head of Design of Bugatti SpA
More info
Thanks to Mark Hofman
---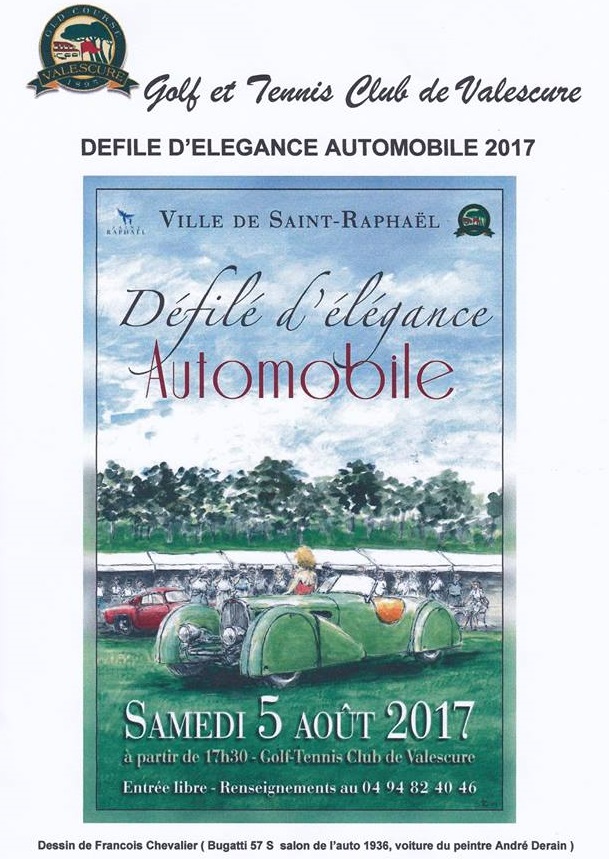 August 5, 2017 Défilé d'Élégance Automobile Golf club Valescure, St Raphaël, France
Maybe some Bugattis will show up...
More info on the site of Pierre Vieuille
---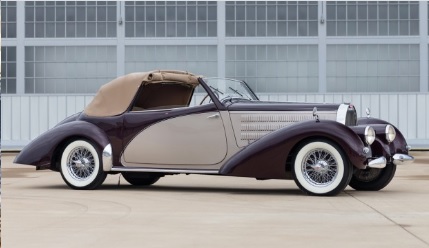 August 18 - 19, 2017 Gooding & Co Pebble Beach Auction Pebble Beach, USA
1939 Bugatti Type 57C Cabriolet
Coachwork by Letourneur et Marchand
Chassis: 57841
Engine: 109C
---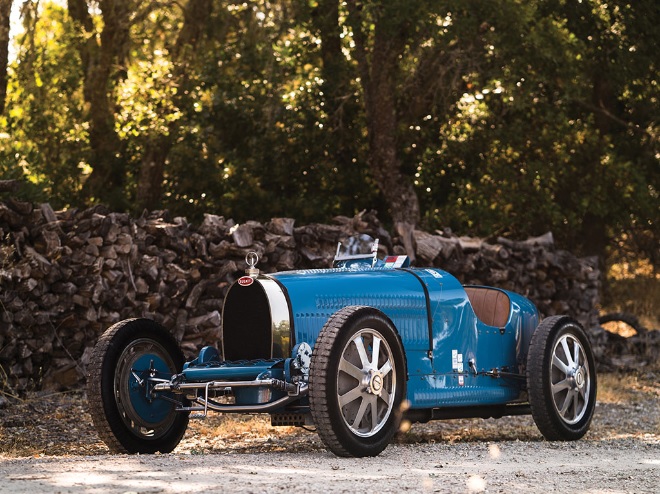 August 18 - 19, 2017 RM Sotheby's Monterey Auction Monterey, USA
1925 Bugatti Type 35C Grand Prix
Chassis no. 4572, Engine no. 50, Gearbox no. 20
Estimate: $1,100,000 - $1,300,000
Offered from a prominent private collection
Formerly owned by J.B. Nethercutt, O.A. "Bunny" Phillips, and Dr. Richard Riddell
Prominently campaigned by Dr. Riddell for almost four decades
An active participant in West Coast vintage racing for many years
Exhaustively researched by David Sewell
A legendary California Bugatti for six decades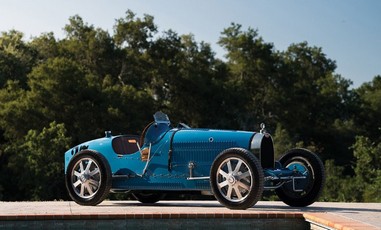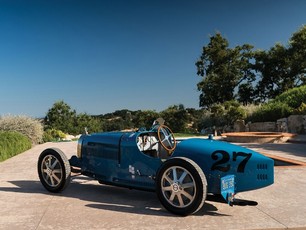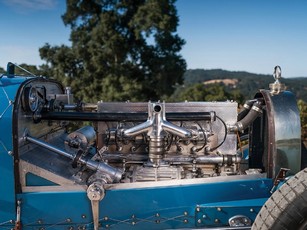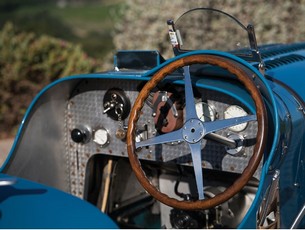 The Bugatti Type 35C offered here is believed to be one of at least four Grand Prix Bugattis driven out of the factory under this same chassis number for tax reasons, all of which were owned and raced by the legendary Elizabeth Junek.
While the car's earliest history remains to be positively identified, it has been known in its current form since its acquisition by the renowned collector J.B. Nethercutt on 4 November 1959, from John E. Rogers of Salinas, California. Mr. Nethercutt paid $1,800 for the car, which was in rough condition but intact, running, and in its current form and configuration at the time, including the present chassis number and engine, as documented by period photographs. It was recorded as being in the same order in 1962, when listed in Hugh Conway's now-famous Bugatti Register of the same annum.
Subsequently the car passed to the famed "Bugattiste," Overton Axton "Bunny" Phillips, from whom it was acquired in 1972 by American Bugatti Club past president, Dr. Richard Riddell. In Dr. Riddell's ownership the car appeared at the Pebble Beach Concours d'Elegance in 1979, then ran at the Monterey Historics no fewer than 12 times over the next 30 years! It was then acquired in 2011 by the current owners, themselves longtime Bugatti enthusiasts on the West Coast, who have continued to enjoy it in the manner for which it was built.
In a letter on file, marque specialist and historian David Sewell noted that all of the car's major components are authentic period Type 35 and 35C pieces, with the exception of the bodywork, replaced by the talented Mr. Phillips in the late 1960s, and the chassis plate, which is a Bugatti Owners Club replacement issued by Hugh Conway in 1985. Other documentation includes the car's appearance in Beverly Rae Kimes' seminal 1990 book, The Classic Car.
This authentic supercharged Type 35 is ready to be enjoyed as it has been for decades, under its own abundant power, at events all around the world. Among West Coast enthusiasts, there are few more well-known examples, and few so-proven on Laguna Seca's twists and turns.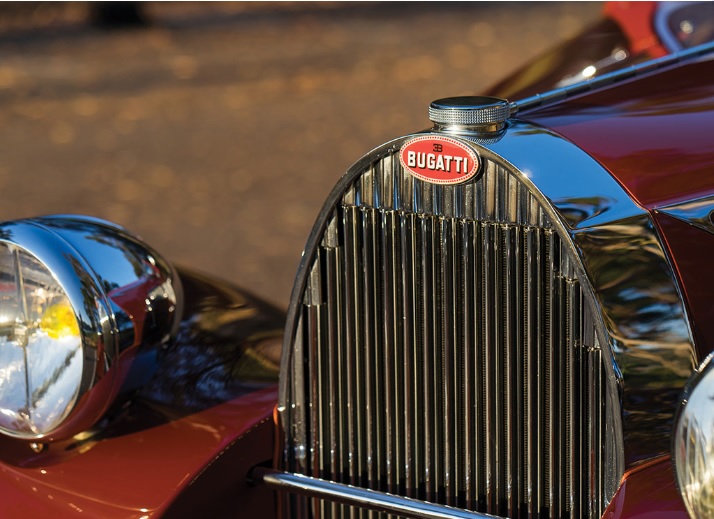 1937 Bugatti Type 57 Cabriolet
Chassis no. 57156, Engine no. 48
$1,200,000 - $1,500,000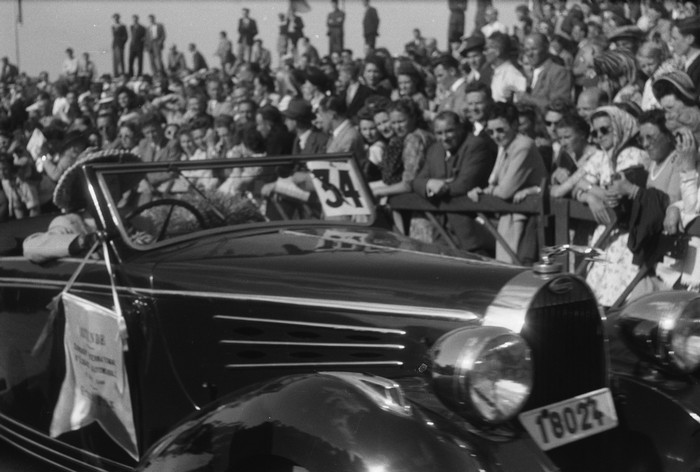 Photograph of 57156 at the 1946 Ostende Concours d'Elegance, with a very unusual mascotte.
Photograph was sent to me by Anton van Luijk (found on Flickr) and identified by me as 57156.
The records of French Bugatti historian Pierre-Yves Laugier note that Type 57 chassis number 57156 was assembled in June 1934 for Belgian customer, mill owner, and sportsman Frederic Deflandre, with engine number 48. This rolling chassis was bodied by Bugatti as their Galibier, a four-door sedan, on 29 June 1934, and delivered through Parisian agents Bucar the same day.
In 1936 the car was rebuilt for Mr. Deflandre by the factory, with a new, updated second-series frame of the same number, 57156, still noted as retaining engine number 48. This car remained with Mr. Deflandre until April 1938, at which point it is believed to have been traded to the Belgian coachbuilders d'Ieteren toward a new body for his new Bugatti.
A local Belgian coachbuilder then produced a new two-passenger cabriolet body for 57156; the identity of the shop has never been conclusively established, although it may well have been d'Ieteren themselves. Dutch Bugatti historian Kees Jansen attributes the work to Paul Nee, as does the current owner, but no documentary proof has been found. It is important to note that at this time the car was also upgraded to the latest and best specifications, including the installation of hydraulic brakes.
The car remained in Antwerp for many years, then was acquired by the famous Bugatti dealer Jean de Dobbeleer, still on a 1930–40 Belgian registration 154486. Mr. de Dobbeleer claimed that the car had been traded in by a priest, Abbé Dubois de Sévry, to whom it had been donated by a Mr. Cadans. Inspection of the car's numbers by Mr. Laugier indicates that the rear axle and gearbox are both original and authentic replacements from other Type 57s, likely dating to de Dobbeleer's ownership.
The Bugatti was subsequently exported to the United States in 1955 by Gene Cesari for Porsche dealer Jack Fritsche, passing next to Al Wall and, in 1958, to Joseph Fine of Silver Spring, Maryland. Mr. Fine began restoring the Bugatti but in the 1960s was distracted from the work, and the dismantled car was stored on his property until his death in 2003. It was then sold by his widow and acquired by the consignor, who elected to have it fully restored by Alan Taylor Company of Escondido, California.
As part of the restoration, the car was redesigned with new fenders, door skins, hood, and trim, beautifully hewn in aluminum by Mr. Taylor's employee Edouard de Valcorbeil, as well as numerous other improved details, such as the addition of a wine basket and beautifully crafted fitted luggage, which stow vertically behind the seats, and a Type 57C-style dashboard. The finish of the leather, woodwork, and paint is all spectacular and a tribute to its restorers' craftsmanship.
The cabriolet has been proudly exhibited at several concours d'elegance, including several times at Amelia Island; the annual La Jolla Concours, where it was judged Best of Show Pre-war in 2013; and Keels and Wheels, where it received the People's Choice award in 2014. Further, it has been a First Prize winner (no. 3176) in Classic Car Club of America National judging. It is presented in beautiful condition and is still ready for further concours appearances as a stunningly restored machine and surefire crowd favorite.
---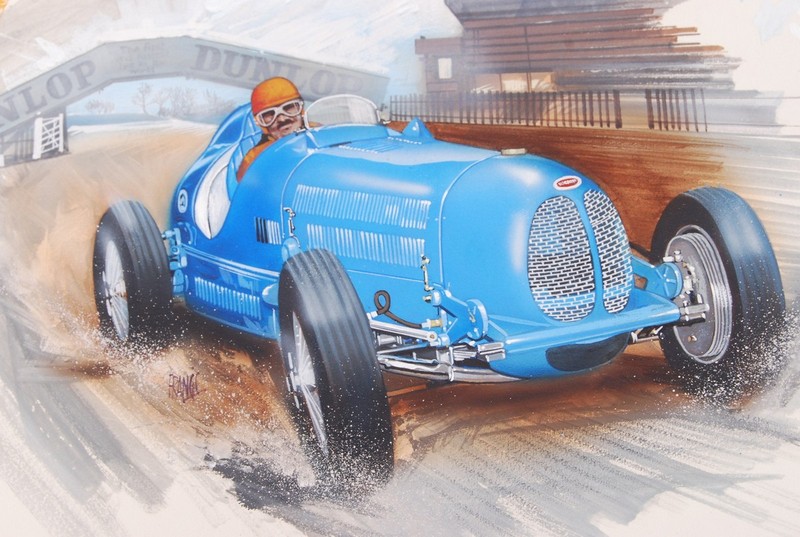 Mike Francis artwork for Castella Cigars 'Donington Collection' cigar / cigarette cards
---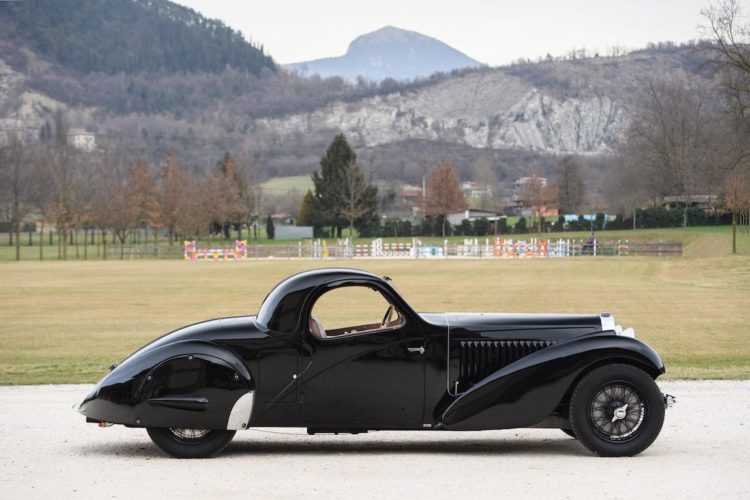 April 2, 2017
Highlights for 2017 RM Sotheby's Villa d'Este
The 2017 RM Sotheby's Villa d'Este auction will be held 27 May in Lake Como, Italy during the Concorso d'Eleganza Villa d'Este weekend.
Early highlights for RM's biennial sale include:
1935 Bugatti Type 57 Atalante Prototype by Carrosserie Bugatti
Chassis no. 57254
Engine no. 202
More information will become available here
---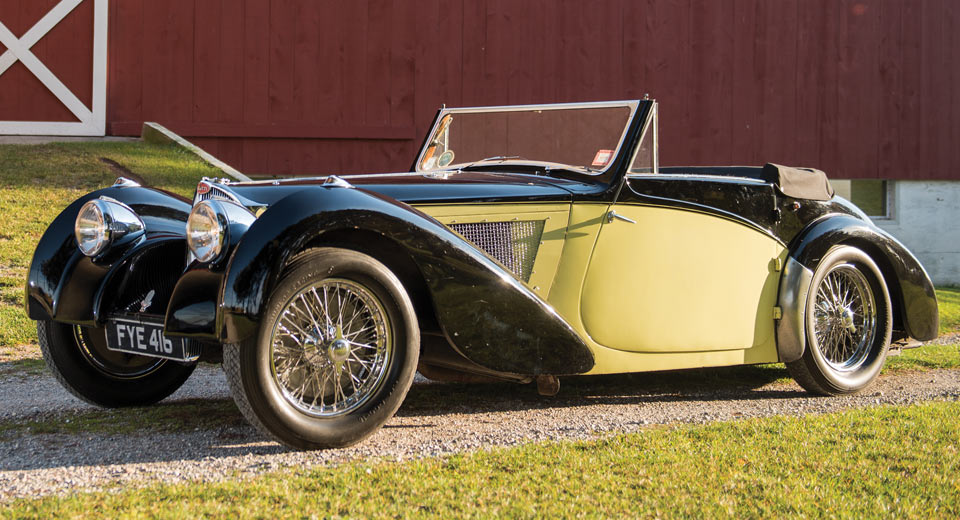 March 15, 2017
Auction results.
RM Sotheby's Amelia Island, 10-11 March 2017.
Lot 232 - 1937 Bugatti Type 57S Cabriolet by Vanvooren, Chassis no. 57513 - Sold for $7,700,000 (estimate $8.5 million)
---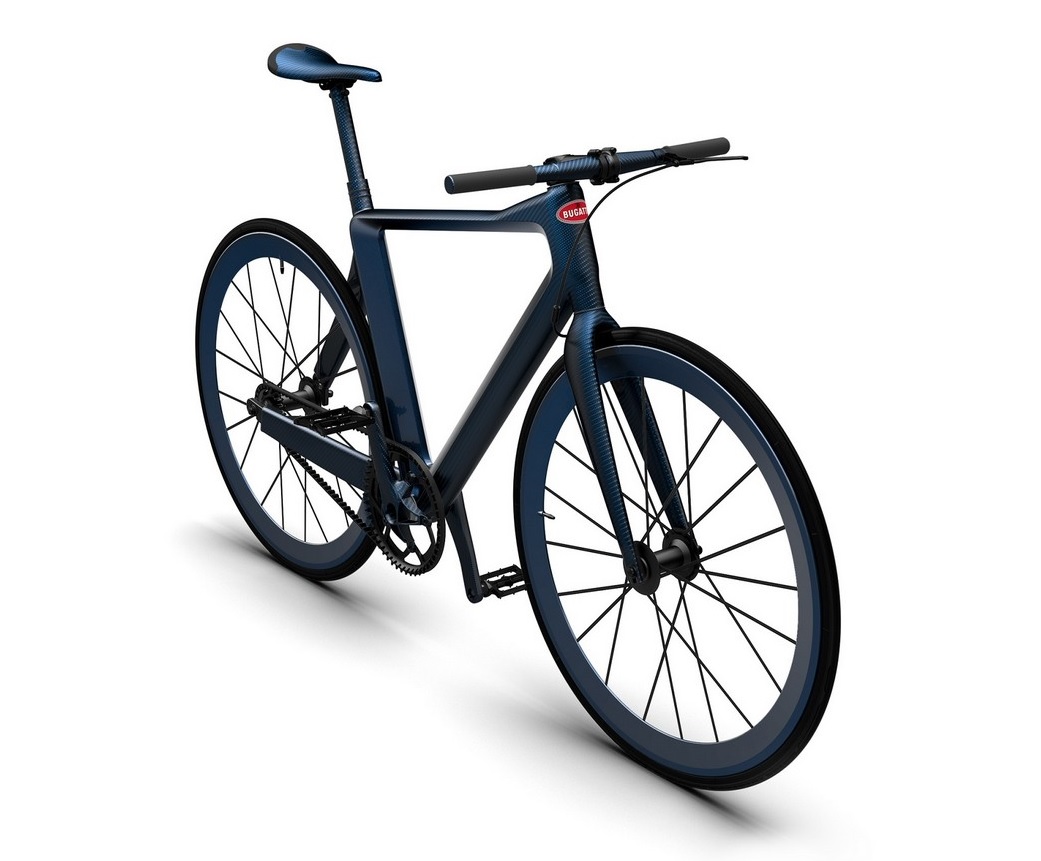 March 15, 2017
Finally an affordable Bugatti
In the foodsteps of Ettore - innovative bike design
PG in Germany manufactures this extreme bicycle, fully made of carbon fibre, for Bugatti. The weight at only 4,5 kg is extremely low, and much lower than the Chiron of course!
Prices start at 35.000 Euro and continue upwards to at least twice that number.
More info: pg.de
As we know, Ettore Bugatti himself was very interested in bicycles, with different designs from his hand, most well known the one where the classic large tubes of the bicycle frame are replaced by four small ones. See bugattirevue.com/revue37/bike.htm and bugattirevue.com/revue19/bikes.htm

Of course, if you don't like that much excercise, you can also choose another Bugatti
Bugatti Automobiles and Palmer Johnson Yachts launched the Limited Edition Bugatti Niniette 66, a 66-foot sport yacht designed to match the Bugatti Chiron. Following the same classic horseshoe lines as Bugattis, Palmer Johnson and Bugatti worked in conjunction with A++ to create the yacht's exterior styling and interior design that is reminiscent of the Bugatti Chiron. Palmer Johnson took care of the Niniette 66's naval architecture and engineering. The Limited Edition Bugatti Niniette 66 is the first in a new line of yachts that will go from 50 to 80 feet, all inspired by the Bugatti Chiron. And true to the fast car design, this fast yacht will hit a top speed of 44 knots. The vessel's slender monohull is stabilized by a sponson on each side, which dampens rolls at all speeds, making a great ride for its two guests and one crewmember.
The Bugatti Niniette 66's 21-foot beam allows for a roomy master suite—featuring soft leather, polished metal, suede, and carbon—an automotive-inspired salon with macaron skylight, a marble-clad guest bathroom, and a galley kitchen with all the basics. The modern interior creates a cocooning effect via its Bugatti horseshoe shape.
On deck, guests will enjoy the fire pit, Jacuzzi, sunpads and Champagne bar, plus plenty of seating to choose from.
Powered by fuel-efficient MAN V-8 engines, and featuring MJP waterjets, the Bugatti Niniette 66's stable and efficient hull will get you to the Bahamas fast, where you will be able to jet around without trouble, thanks to the yacht shallow 4-foot draft. Guests will compete to pilot this joy-stick-controlled speedboat from the Bugatti-designed helm chairs and command center.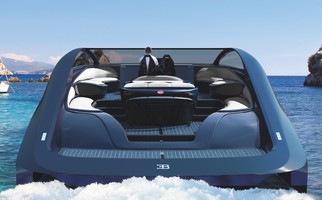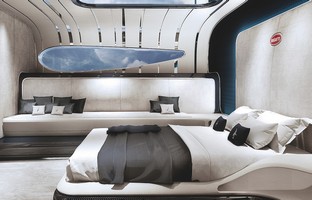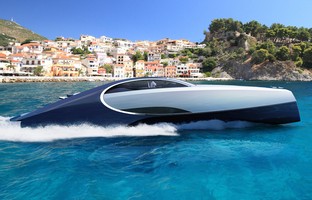 While the Bugatti yachting connection may seem odd, the fast-car maker dabbled in the boat-building business in the 1930s, when it was commissioned to create a bespoke boat for Prince Carlo Maurizio Ruspoldi. Bugatti founder Ettore named this speedy craft Niniette, his youngest daughter Lidia's nickname.

And Monaco-based Palmer Johnson was the most obvious choice for the automaker to pair with, given the yacht builder's known success in building mold-breaking, sleek, powerful, and efficient sport yachts.

Those interested should get their orders in soon: Only 66 examples of the Limited Edition Bugatti Niniette 66 sport yacht will be made. (bugattininiette.com)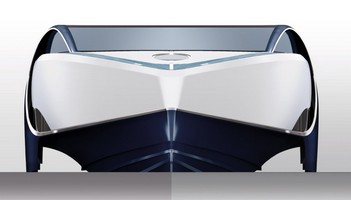 But it is pretty easy to see how the new Niniette 66 was directly inspired by the Bugatti Chiron. And you don't really need to be an expert to see how this stunning, never-seen-before yacht is going to rock the "yachting" world with the beast-like super car power that all Bugatti's are known for.
---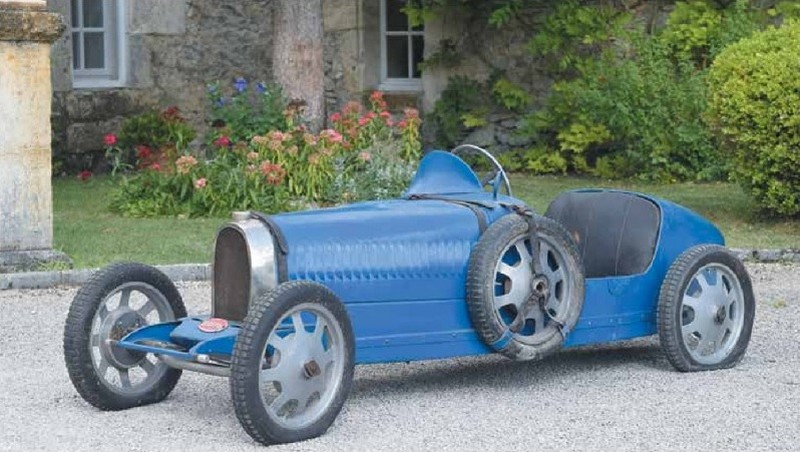 February 19, 2017
Auction results.
Artcurial: Rétromobile 2017 The Official Sale. (February 10, 2017, Paris)
Prices include the buyer's premium and taxes.
Lot 25 - Bugatti Baby - Chassis 388A - Est. 30 000 - 50 000 €: Sold for 90,480 €
Lot 27 - Bugatti Type 57 Atalante découvrable - Châssis n° 57330, Moteur n° 548 - Est. 1 000 000 - 1 500 000 €: Sold for 2,331,200 €
Lot 40 - Bugatti Type 57 coach Pre-Série Gangloff - Châssis n° 57106, Moteur n° 40 - Est. 430 000 - 530 000 €: Not sold
Artcurial: Automobilia Rétromobile 2017 (February 11, 2017, Paris)
Lot 500 - Ettore BUGATTI (1881-1947) Etudes mécaniques (Sketch) - Est. 500 - 1 000 €: Sold for 650 €
Lot 520 - Géo HAM (Georges Hamel) (1900-1972) Pilote au casque bleu - Est. 700 - 1 000 €: Sold for 1,040 €
Lot 527 - GANGLOFF Bugatti 3,3L Limousine - Est. 400 - 600 €: Sold for 650 €
Lot 528 - Willy VAN DEN PLAS - Cabriolet transformable Bugatti - Est. 300 - 500 €: Sold for 780 €
Lot 531 - Pierre DUMONT (1920-1987) - Bugatti Royale Double Berline décapotable 1928 - Est. 1 000 - 1 500 €: Sold for 780 €
Lot 543 - BUGATTI Type 35 engine - sectioned - Est. 15 000 - 25 000 €: Sold for 15,000 €
Lot 556 - BUGATTI Boyce - Est. 500 - 800 €: Sold for 520 €
Lot 557 - JAEGER-BUGATTI Montre de bord, vers 1930 - Est. 500 - 800 €: Sold for 4,290 €
Lot 558 - BUGATTI - Boyce et ampéremètre - Est. 700 - 1,000 €: Sold for 3,380 €
Lot 559 - BUGATTI Enjoliveur - Est. 300 - 500 €: Sold for 325 €
Lot 560 - BUGATTI Plaque émaillée - Est. 800 - 1,200 €: Sold for 1,820 €
Lot 562 - BUGATTI Montre bracelet publicitaire - Est. 200 - 300 €: Sold for 325 €
Lot 566 - Philippe LALAGÜE (né en 1955) Bugatti et Delahaye - Est. 200 - 300 €: Sold for 520 €
Lot 570 - Philippe LOUZON (Né en 1956) - Bugatti Type 30 - Est. 1 000 - 1 500 €: Not Sold
Lot 572 - GERI - Bugatti Automobiles, Autorails Molsheim - Est. 600 - 800 €: Sold for 910 €
Lot 573 - PROVENANT PROBABLEMENT DES USINES BUGATTI - Matrice de radiateur et son support - Est. 4 000 - 6 000 €: Sold for 11,250 €
Lot 574 - AGUILA-BUGATTI N°45469, circa 1930 - Chronographe bracelet - Est. 10 000 - 15 000 €: Sold for 11,700 €
Lot 575 - BUGATTI - Le Pur-Sang de l'Automobile - catalogue de 1937 - Est. 300 - 500 €: Sold for 1,040 €
Lot 576 - BUGATTI - Ettore Bugatti - Est. 400 - 600 €: Not sold
Lot 577 - JEAN PERRET - BUGATTI - Montre bracelet - Est. 300 - 500 €: Sold for 390 €
Lot 578 - BUGATTI - Montre de bord - Est. 300 - 500 €: Sold for 1,950 €
Lot 579 - BUGATTI Pendulette de bureau publicitaire - Est. 300 - 500 €: Sold for 455 €
Lot 580 - BUGATTI Radiateur publicitaire - Est. 500 - 800 €: Sold for 3,250 €
Lot 581 - BUGATTI 55 ROADSTER (Children's car) Fabrication de La Chapelle - Est. 6,000 - 9,000 €: Sold for 6,760 €
Lot 589 - EUREKA -BUGATTI Modèle sport 302 - Est. 1,500 - 2,500 €: Sold for 1,560 €
To take a look at the descriptions go to:
PDF Catalogue Automobiles
> PDF Catalogue Automobilia
---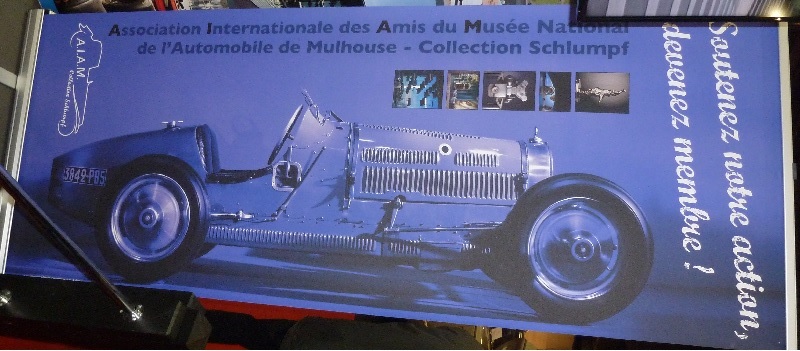 February 12, 2017
Seen at Retromobile: AIAM
Association Internationale des Amis du Musée National de l'Automobile de Mulhouse
Help the Schlumpf collection!
---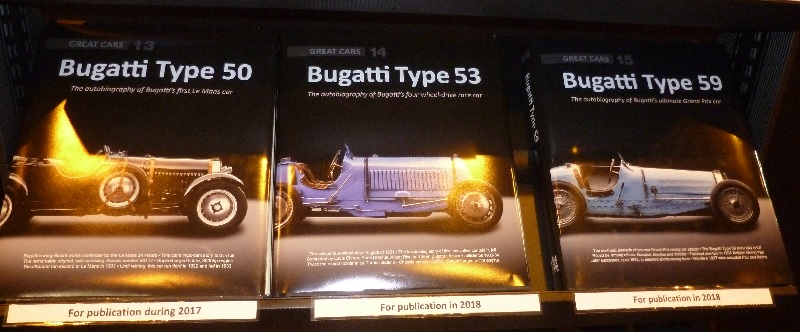 February 12, 2017
Seen at Retromobile: Book announcements
At the side of the Lukas Hüni exhibition: Bugatti vs Bentley, there was an announcement of various books in the "Great Cars" series. 3 of them were Bugattis. Mind you, the books are each on one individual car!. They are:
Bugatti Type 50 - Autobiography of Bugatti's first Le Mans car - on chassis 50177 - To appear in 2017.
Bugatti Type 53 - Autobiography of Bugatti's four-wheel-drive race car - on chassis 53002 - To appear in 2018.
Bugatti Type 59 - Autobiography of Bugatti's ultimate grand prix car - To appear in 2018.
By Porter Press Books, www.porterpress.co.uk

I also talked to Pierre-Yves Laugier, author of the famous T57S book. He has been busy with other things for a while, but will soon get back to writing on either the T51 or the T55 book.

From Jaap Horst, two books are to be expected: One on the views of Noël Domboy on Bugatti, both pre- as well as post-war, to appear hopefully in 2017. For 2018, there will be his long awaited book on the Bugatti Patents. The patents show what technological developments interested Ettore Bugatti (and other members of the family), from year to year.
---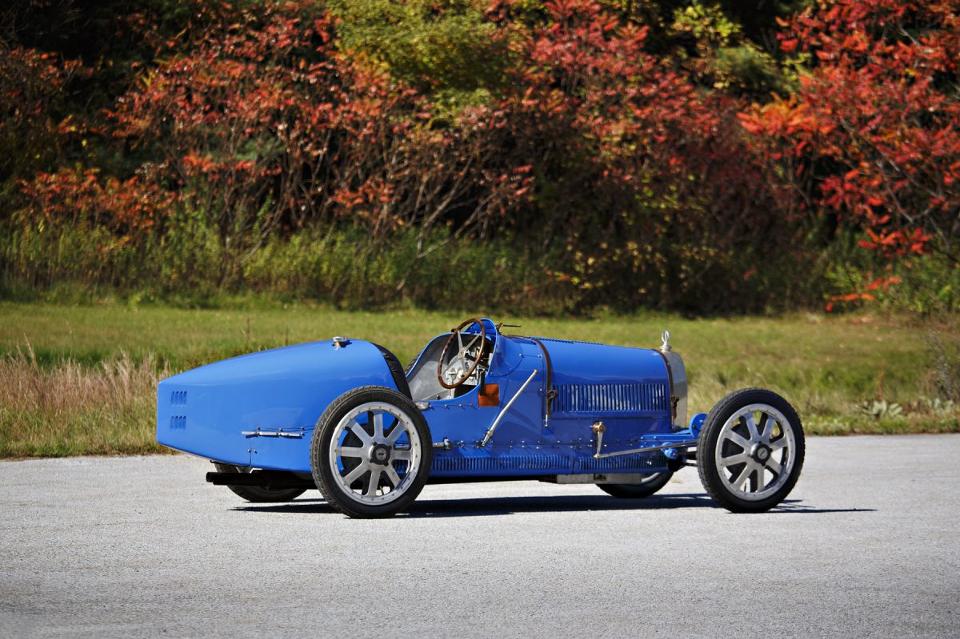 January 24, 2017
Auction Results
Gooding Scottsdale 2017 Auction January 20 / 21, 2017
Lot 22 - 1925 Bugatti Type 35 Grand Prix, Chassis 4487: Sold for $3,300,000
Lot 23 - 1928 Bugatti Type 52 Bebe, Chassis 245A: Sold for $88,000
Both cars were sold at more than the maximum estimate, the Bébé by a considerable amount!
---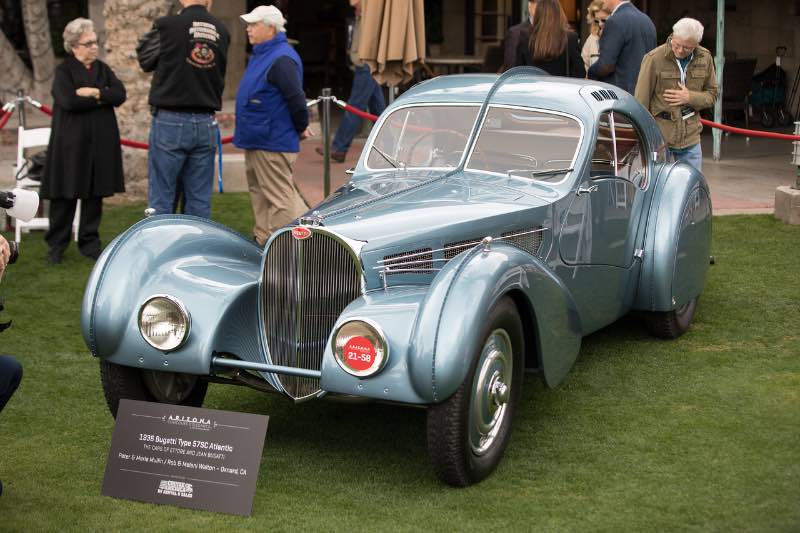 January 18, 2017
Bugatti Atlantic Shines at Arizona Concours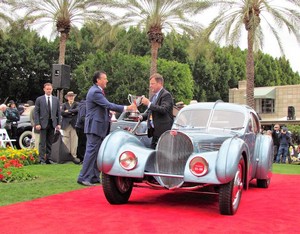 The Arizona Concours d'Elegance 2017 was held Sunday, January 15th at the Arizona Biltmore Resort in Phoenix. Held during Arizona Auction Week, ninety cars were arrayed on the show field for the 4th annual event, divided into 17 classes.
A 1936 Bugatti Type 57SC Atlantic owned by Peter and Merle Mullin and Rob and Melani Walton was awarded Best of Show. The handbuilt Bugatti has prominent front fenders and a narrow aluminum body uniquely joined by rivets running along its fenders and down its spine. The car usually is housed at the Mullin Automotive Museum in Oxnard, California, but had been on loan to the Petersen Automotive Museum in Los Angeles where it has been part of a special display.
Formerly the pillar of the Williamson Bugatti Collection, the Atlantic (chassis 57374) was awarded Best of Show at the 2003 Pebble Beach Concours d'Elegance. It is one of two completely original Type 57SC Atlantics in existence, with the other owned by Ralph Lauren.
To be eligible to win Best of Show — the event's top award — a car must first win its class. Four class winners emerged as finalists. In addition to the Bugatti Atlantic, they included:
1937 Lagonda LG45 Rapide Sport Tourer, owned by the Stephens family of San Francisco. The car is one of 25 Rapides built.
1955 Ferrari 250 Europa Coupe with coachwork by Vignale. The car is owned by Kevin Cogan of Louisville, Kentucky, and was the first Europa model produced by Ferrari, debuting at the Paris Auto Salon in 1953.
1933 Marmon V16 Convertible Coupe, owned by Aaron and Valerie Weiss of San Marino, California, a large luxury vehicle and the last car produced by the Indianapolis automaker best-known for the Marmon Wasp that won the inaugural Indianapolis 500-mile race.
The Type 57SC Atlantic had won the special class of Cars of Ettore and Jean Bugatti, which included eight examples of Bugatti artistry and performance, including three historic 1920s Grand Prix cars once raced by famous women drivers in Europe.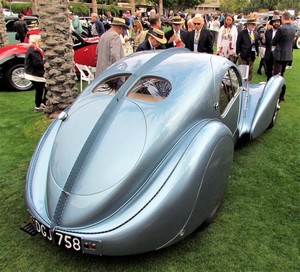 Warner Hall, a senior docent from the Mullin Automotive Museum, was the Bugatti's caretaker at the concours. Could he possibly have been surprised when the judges' decision was announced?
"Maybe a little," he said. "We didn't want to count on anything, especially in a field (of cars) this fabulous. This is such an amazing event, and there are some really amazing cars here."
The Arizona Concours was held under threatening skies and forecasts of rain, but it stayed dry all day, much to the relief of Concours officials and the car owners who had brought such an assembly of automobiles for the show. The crowd of spectators strolled through the inner lawns of the Arizona Biltmore Resort where the cars were displayed.
On Monday, many of the cars from the Concours participated in the Arizona Tour d'Elegance that included a free public display of the vehicles at the South Canal Bridge in Scottsdale, Arizona.
Net proceeds from the Arizona Concours, as well as generous donations from participants and spectators, benefit Make-A-Wish® Arizona, the founding chapter of the organization that grants wishes to children with life-threatening medical conditions.The fifth annual Arizona Concours will be held January 14, 2018.
From Sports Car Digest
---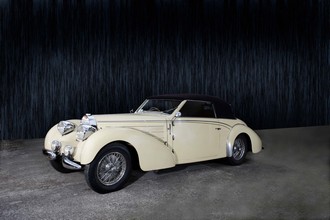 June 18, 2017 Osenat Auction Fontainebleau, France

Bugatti Type 57C cabriolet Gangloff

Chassis #57836

Same owner since 1978

Estimate: 500,000 / 700,000 €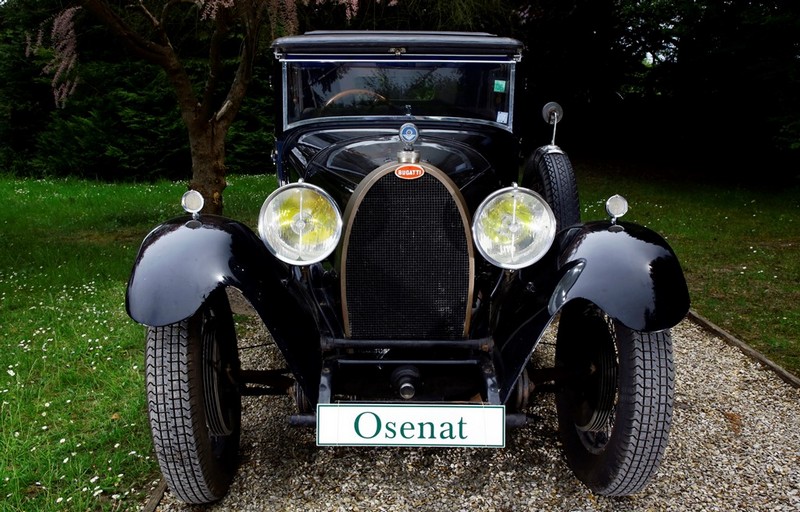 1928 Bugatti #441177 by Alin, Liautard & Cie
Estimate: 180,000 / 230,000 €
Download the full PDF of the auction, including the history of both Bugattis (as well as some other Bugatti items).
More info on Osenat.fr
---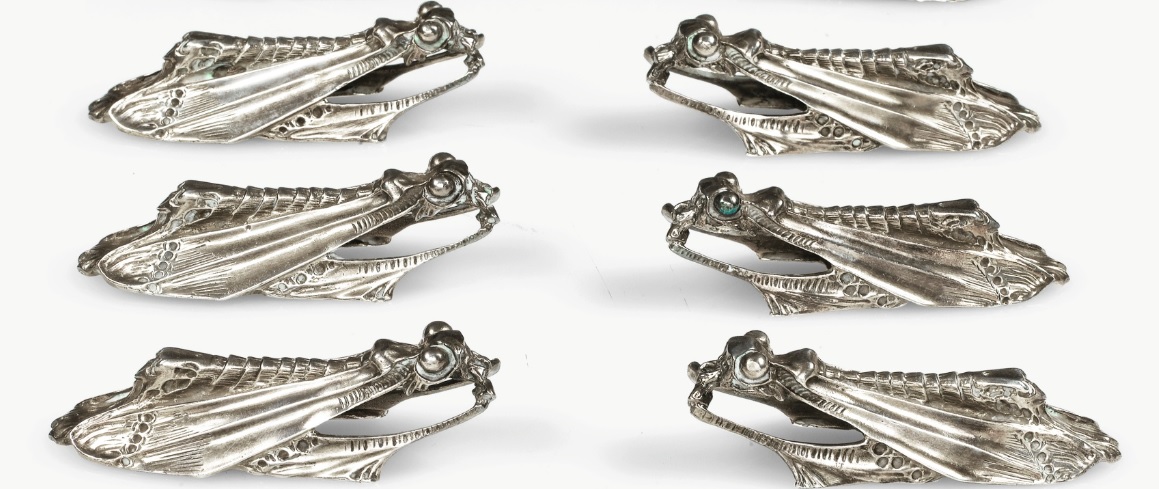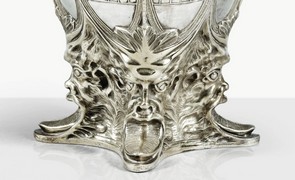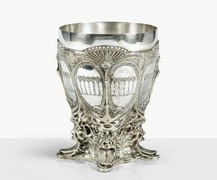 June 29, 2017 Sotheby's Auction: Ginette et Alain Lesieutre, Collection Privée Paris, France
2 interesting Carlo Bugatti Silverware items, and 11 Rembrandt Bugatti Bronze's!
Lot 39, CARLO BUGATTI, TEN KNIFE RESTS, CIRCA 1905, Estimate 30,000 — 50,000 euro.
Lot 40, CARLO BUGATTI VASE, CIRCA 1907 Estimate 60,000 — 80,000 euro
Lot 28, REMBRANDT BUGATTI, BOULEDOGUE FRANÇAIS, SMALL VERSION, DESIGNED CIRCA 1905, Estimate 25,000 — 35,000
Lot 29, REMBRANDT BUGATTI, CHIEN D'ANNAM, DESIGNED CIRCA 1905, Estimate 30,000 — 50,000
Lot 30, REMBRANDT BUGATTI, JEUNE GARÇON NU, DESIGNED CIRCA 1906, Estimate 40,000 — 60,000
Lot 31, REMBRANDT BUGATTI, UNE OIE, SMALL VERSION, DESIGNED CIRCA 1911-1912, Estimate 15,000 — 20,000
Lot 33, REMBRANDT BUGATTI, LÉOPARD MARCHANT, DESIGNED CIRCA 1911, Estimate 200,000 — 300,000
Lot 34, REMBRANDT BUGATTI, , RHINOCÉROS DE JAVA, SMALL VERSION, DESIGNED CIRCA 1907-1908 Estimate 70,000 — 100,000
Lot 35, REMBRANDT BUGATTI, ATHLÈTE DEBOUT, DESIGNED CIRCA 1906, Estimate 150,000 — 200,000
Lot 36, REMBRANDT BUGATTI, PETIT ÉLÉPHANT AU REPOS, DESIGNED CIRCA 1912, Estimate 80,000 — 120,000
Lot 37, REMBRANDT BUGATTI, CHAMEAU BUVANT, DESIGNED CIRCA 1903, Estimate 120,000 — 180,000
Lot 38 REMBRANDT BUGATTI, BISONS D'AMÉRIQUE, L'UN DERRIÈRE L'AUTRE, DESIGNED CIRCA 1906, Estimate 150,000 — 200,000
---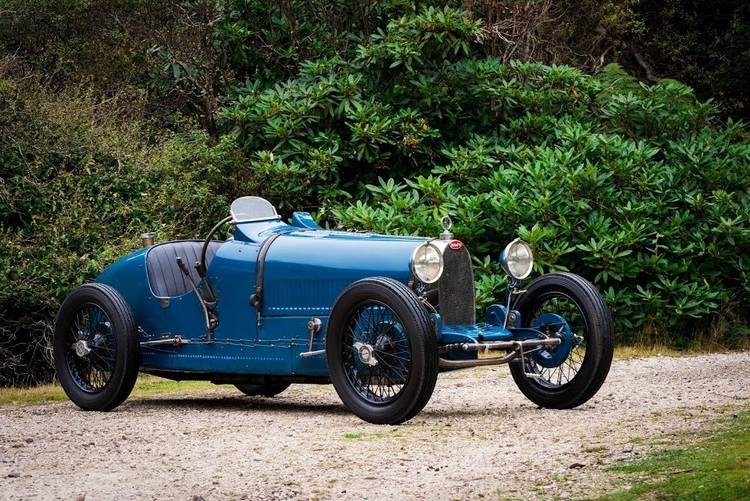 July 15, 2017 Coys Blenheim Palace Auction Blenheim Palace, Oxfordshire, UK
On offer: nice original Bugatti Type 37 (chassis 37140)
Full known ownership history dating back to new
The car is supplied with its original chassis, engine block, gearbox and both axles.
---

July 15 - 16, 2017 "Between the Pavilions" revival event Brno, Czech Republic
Brno Revival "Mezi pavilony" / "Between the Pavilions" is a social sport event, that presents the noble beauty of sports and racing vehicles in motion. On the track, where the last race was fifty years ago, cars and motorcycles from pre-war until mid-eighties will be presented. The Revival is arranged similarly to events in the world – short drives of very various categories of vehicles and mainly the spectators-accessible depot full of unique technique. The festival for cars and motorcycles enthusiasts. Part of the event is also an exhibition of present-day sports and racing cars and motorcycles, offering crafts and services in the Pavilion A and adjacent open areas.
Quite a few Bugattis are expected, according to Helge Hauk!
---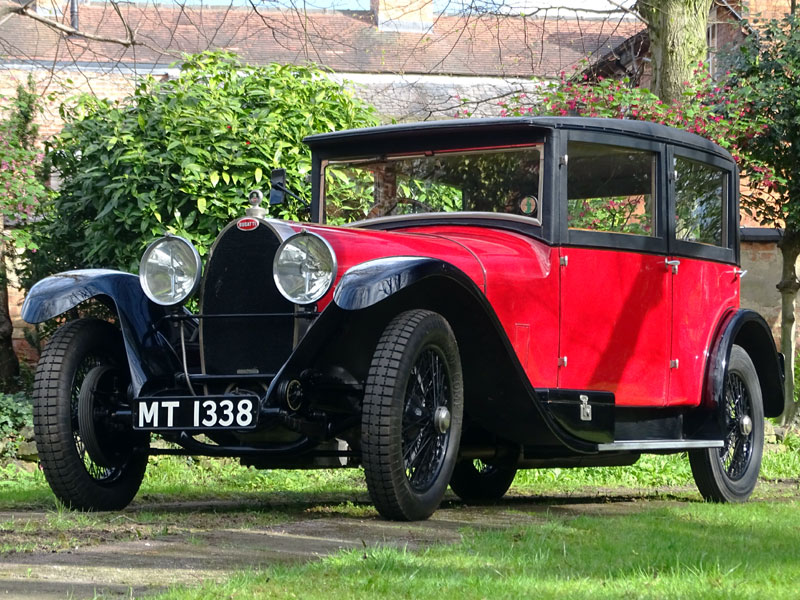 July 26, 2017 H & H Auction Imperial War Museum Duxford, UK
On Auction:
1929 Bugatti Type 44 Saloon
Chassis Number: 44667 / Engine Number: 191
Estimate £200000 - 240000
- Extensively restored by Wilkinson's Coachbuilders of Derby from 1990-94 and 8,500 miles since
- Exquisite Vanvooren saloon body began life aboard another T44 that was supplied new to Jean Jacques Peugeot (of the car making dynasty)
- Beautifully detailed with unusual triple-hinged doors and among the most delightful Vintage Saloons we have encountered
H & H Press release: Bugatti Survivor
---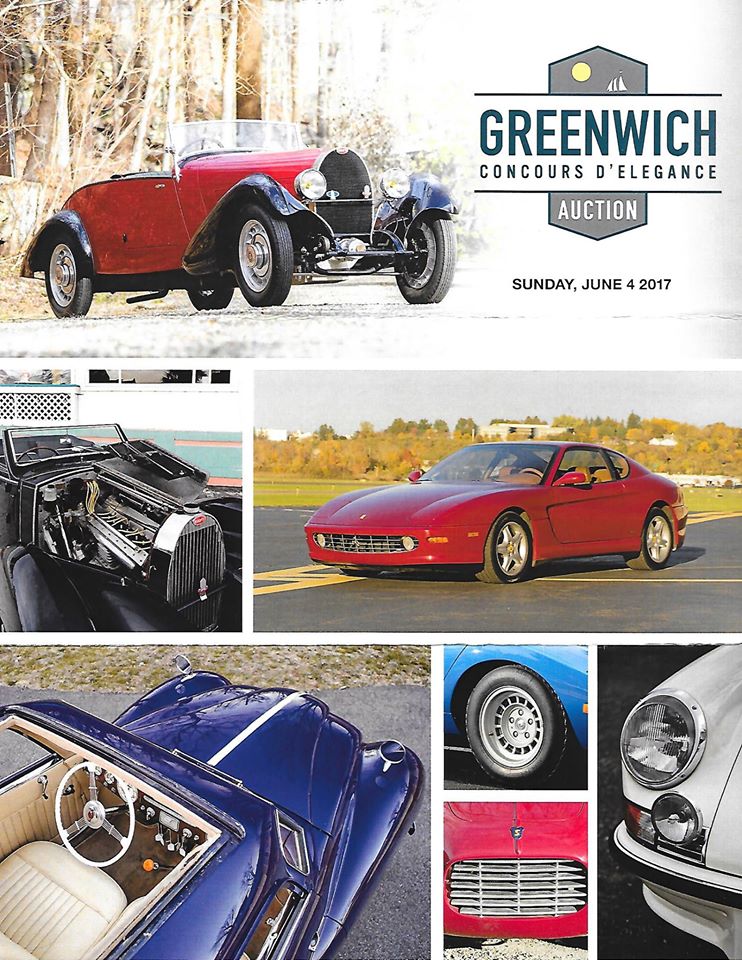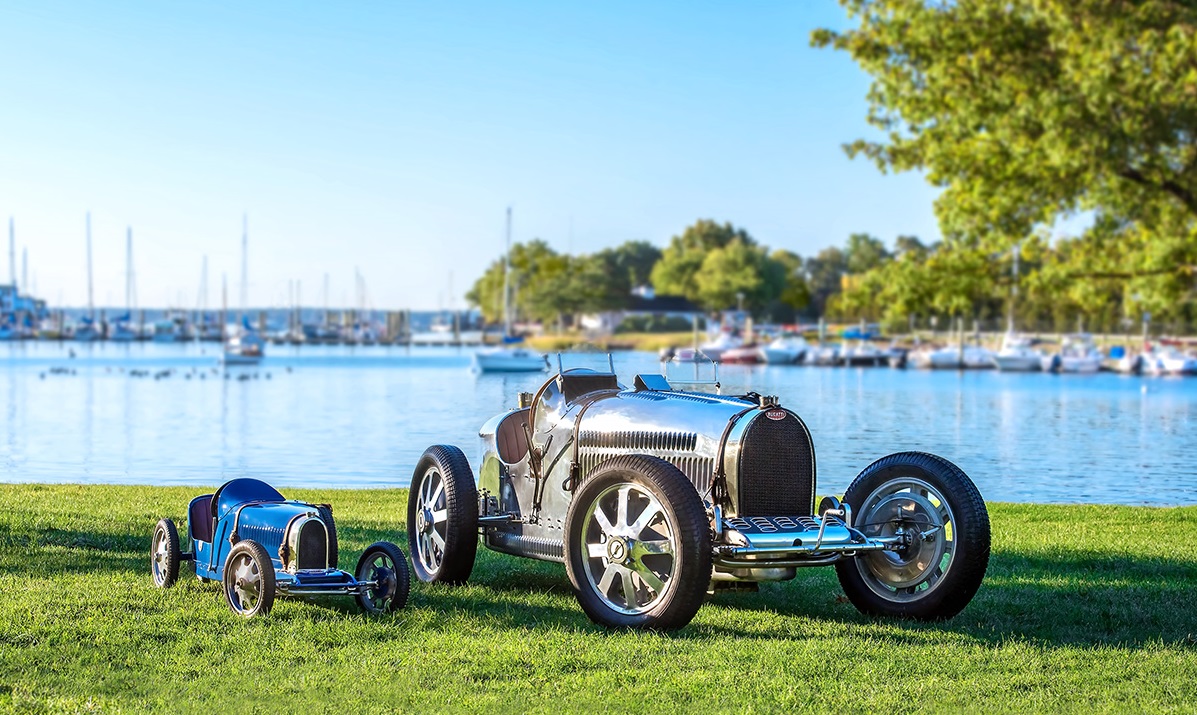 June 3 - 4, 2017 Greenwich Concours d'Elegance Greenwich, CT, USA
With Bugatti as special interest marque!
The event includes an auction on June 4, I have no info yet if any Bugattis will be on offer there, though the image on the right does give the idea that it would be so.
Bonhams Auction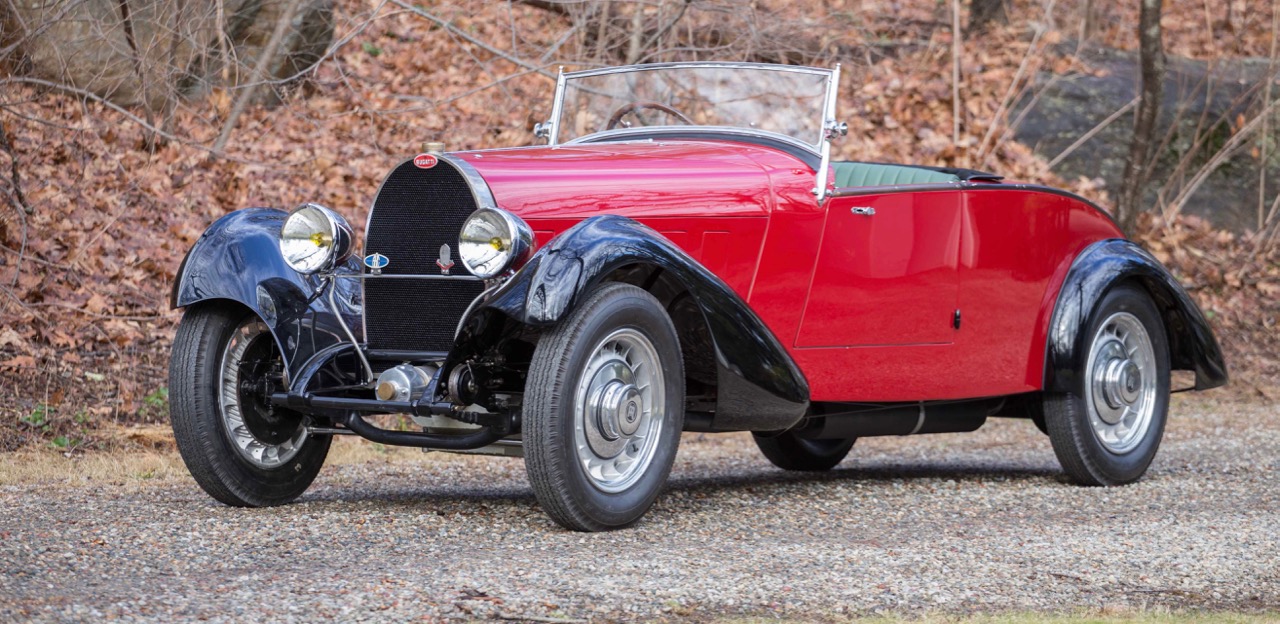 Lot 178, 1932 Bugatti TYPE 49 ROADSTER, Coachwork by Labourdette, Chassis no. 49534, Estimate €580,000 - 760,000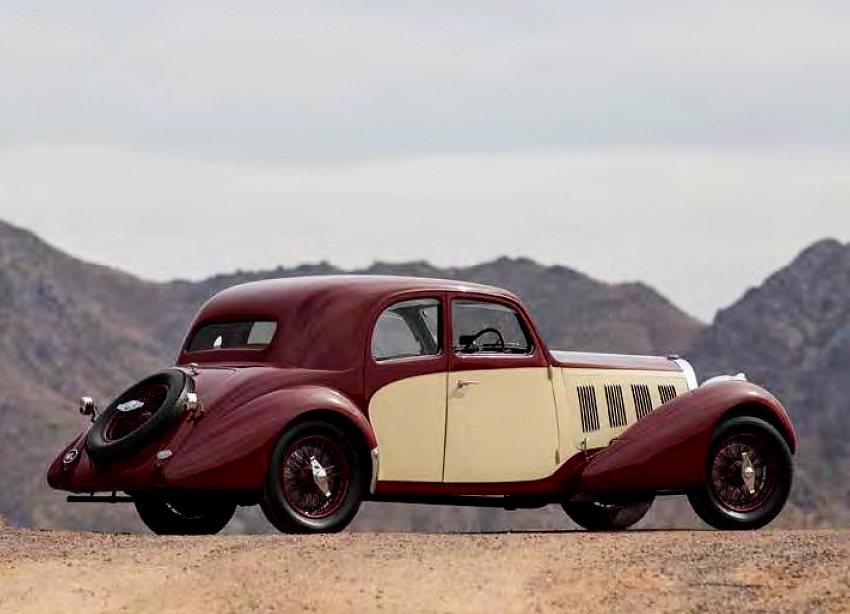 Lot 187, 1937 Bugatti Type 57 Pillarless Sports Coupe, Chassis no. 57443, Estimate €360,000 - 430,000
Almost unrecognisable after it's recent respray, of course the car is much better known in it's dark blue colour in which the Sauerbier family in the Netherlands drove around in it for decades!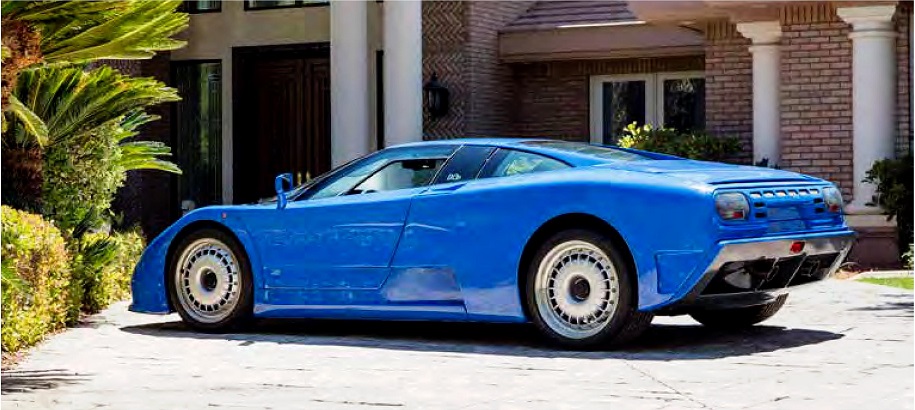 Lot 181, 1993 Bugatti EB 110GT, Chassis ZA9AB01E0PCD39034, Estimate €450,000 - 630,000
Download the PDF of the Bugattis in the auction
Download the full PDF of the auction
More info on the auction at www.bonhams.com
---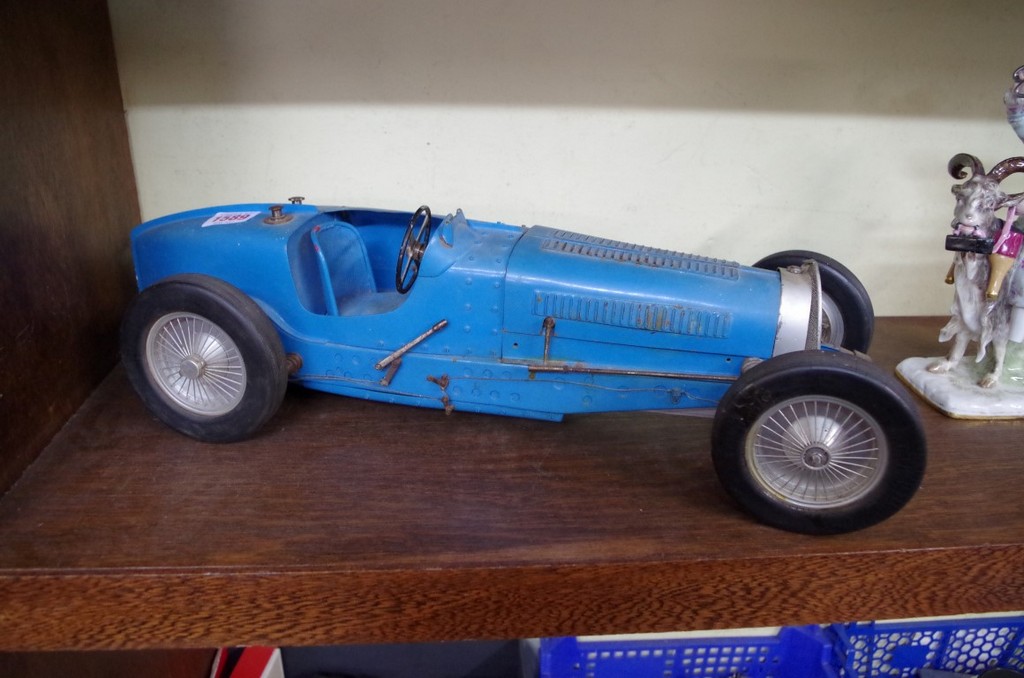 May 26, 2017 "Stride & Son" Auction Chichester, West Sussex, UK
(scratch built) Model of a Bugatti T59 racing car.
The model is approximately 22" long (55cm), which would make it about 1:12 scale.
It is made in metal of various types. I would say the car was built in the 1950's or 1960's
The auction is on-line you can register to place a bid with the auction house or to bid by telephone here www.strideandson.co.uk (the auction house is "Stride & Son" of Chichester,West Sussex UK their phone number is 01243-782626)
the auction will be live on-line and you can register to bid at: www.the-saleroom.com
---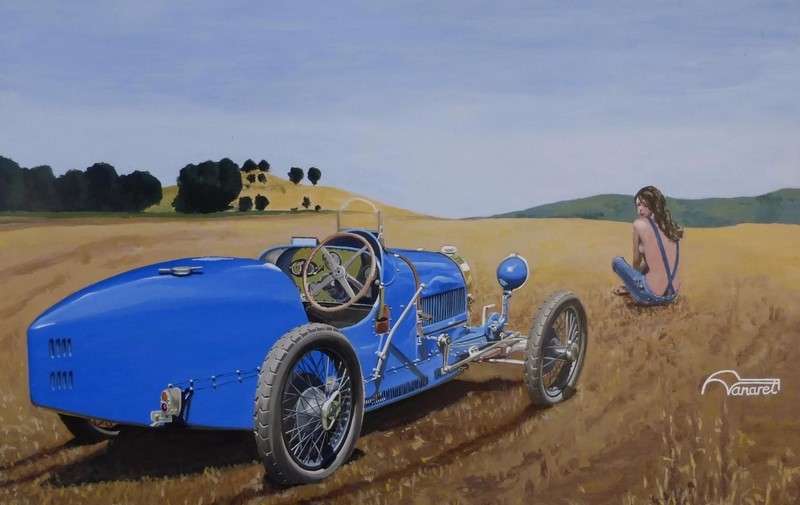 Bugatti Type 37 by Francois Vanaret
---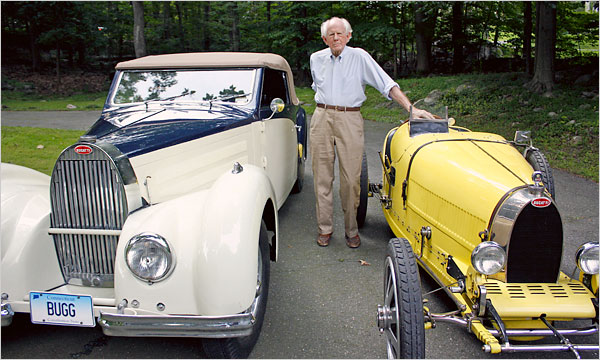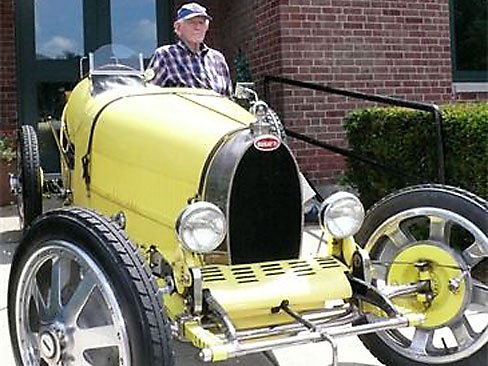 April 30, 2017 Concours d'Caffeine Westport, USA
The Concours d'Caffeine in Westport will showcase a number of classic cars including two from Weston — Alden Sherman's 1938 Bugatti Type 57C and Jim Petty's 1960 Porsche 356 Super 90 Roadster.
The Concours is an informal gathering of car enthusiasts, where proud drivers congregate to kick tires, enjoy relaxed conversation with other enthusiasts and have a cup of coffee.
Hosted by The Concours Consulting Partners, owners of domestic and foreign sports cars, classic and collectible cars and those interested in viewing beautiful vehicles and talking with their owners, are invited to the event which is being held Sunday April 30, starting at 8 a.m. Several area car clubs plan to be in attendance.
At approximately 11:30 a.m., those owners who have registered for the Sunday Tour d'Caffeine will depart, following a route designed by Rich and Jean Taylor of Vintage Rallies of Sharon, meandering through lower Fairfield County and finishing at the Hayfields Market, where the drivers and their passengers will enjoy a special lunch provided by the market. Participants in the tour will receive a commemorative license plate and a gift bag from Hagerty Insurance and other sponsors.
This event is a fundraiser for the Westport Police Benevolent Association's Scholarship Foundation.
Top Photo's: Also owned by Alden Sherman: 1926 T37.
---
May 1, 2017 Bugattis in Osenat Auction Obenheim, France

Automobiles de collection - Collectionneurs Alsaciens

Route de Daubensand 67230 Obenheim

On offer: 1928 Bugatti T40
Chassis 40657, engine 501, estimate: 200,000 - 300,000 euro

Bugatti Baby
Chassis 188, estimate: 50,000 - 70,000 euro

Bugatti Type 40 coupé body
By Million Guiet, estimate: 15,000 - 25,000 euro
Pity that this original body was taken from chassis 40565, and replaced by a replica Grand Sport body, now owned by Caroline Bugatti. I do hope that somebody finds a good home (and chassis) for it!

Additional info on the Bugattis can be found here, with interesting history on especially the T40.

The entire sales catalogue Large File!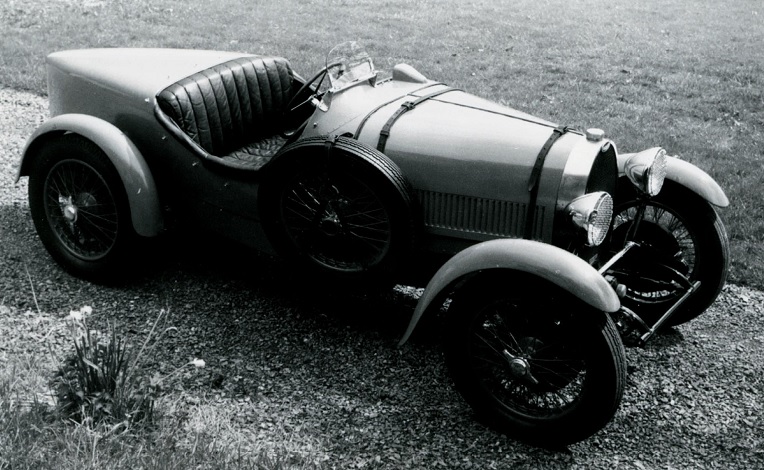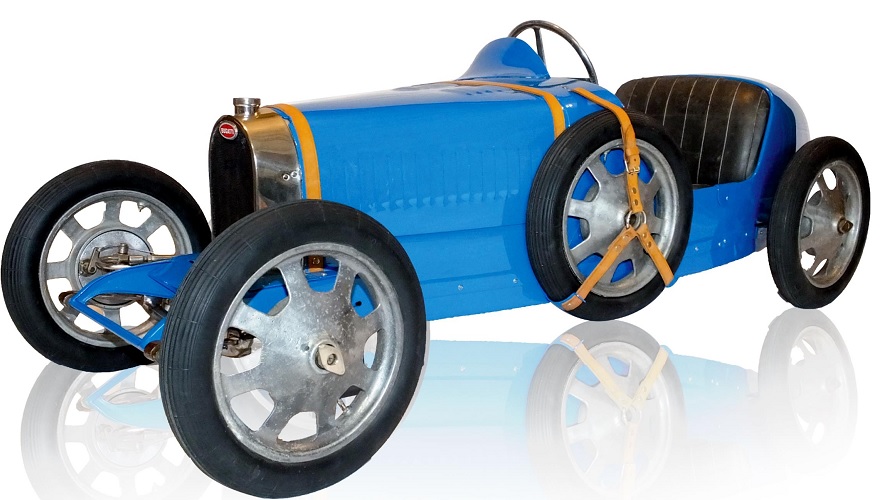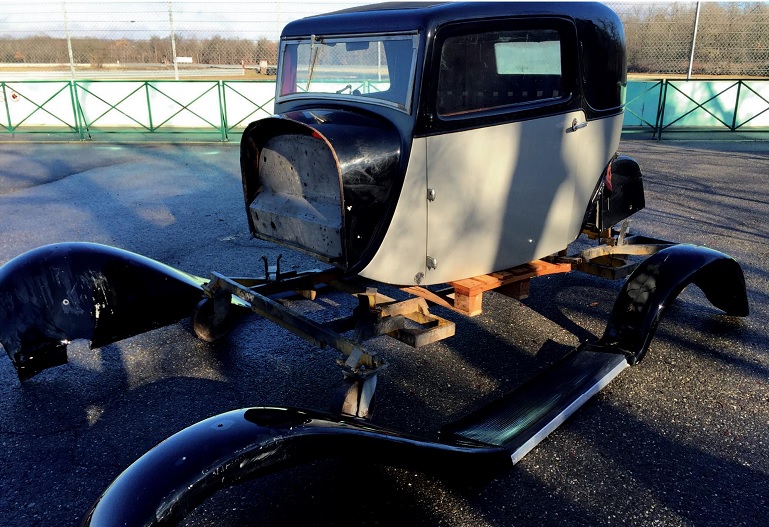 More info on Osenat.fr
---
January 12 - 15, 2017 Interclassics Maastricht, the Netherlands

This event is traditionally the first big event of the year

Usually with the stand of Jean Prick, showing at least a few Bugattis
---

February 8 - 12, 2017 Retromobile Paris, France
The event in France is usualy the 2nd big event of the year, shortly after the one in Maastricht
The Retromobile always surprises us with an unexpected number of Bugattis
---
February 10, 2017 Artcurial Motorcar auction at Retromobile Paris, France

With many Bugattis and Bugatti Automobilia from the "Collection Hervé & Martine Ogliastro".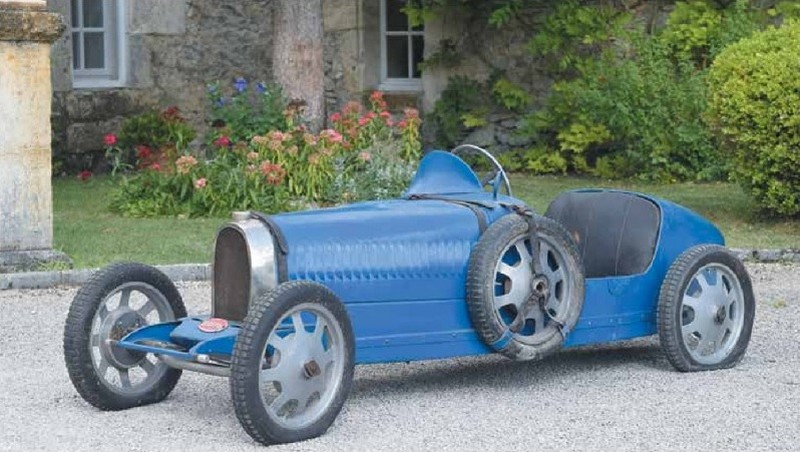 Lot 25 - Bugatti Baby - Chassis 388A - Est. 30 000 - 50 000 €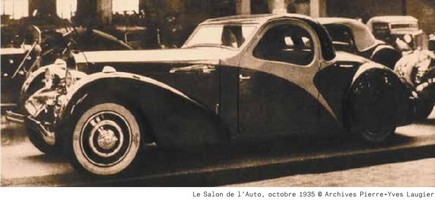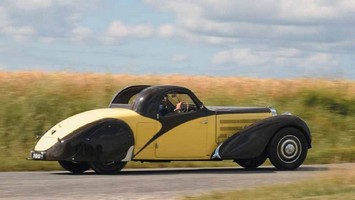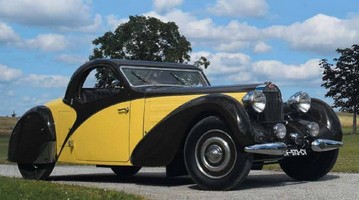 Lot 27 - Bugatti Type 57 Atalante découvrable - Châssis n° 57330, Moteur n° 548 - Est. 1 000 000 - 1 500 000 €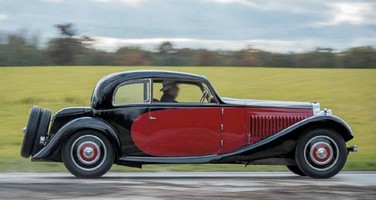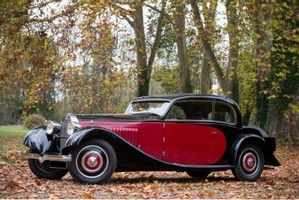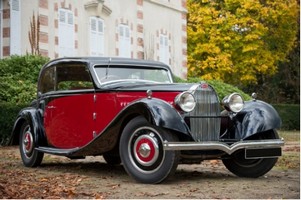 Lot 40 - Bugatti Type 57 coach Pre-Série Gangloff - Châssis n° 57106, Moteur n° 40 - Est. 430 000 - 530 000 €
PDF Catalogue (BIG file!)
---
February 11, 2017 Artcurial Automobilia auction at Retromobile Paris, France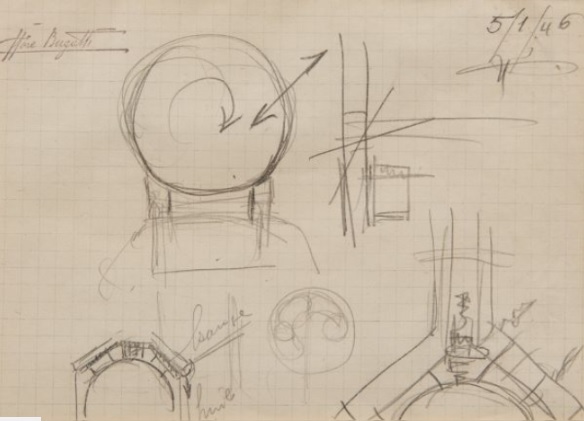 Lot 500 - Ettore BUGATTI (1881-1947) Etudes mécaniques (Sketch) - Est. 500 - 1 000 €
But what is it??
Lot 520 - Géo HAM (Georges Hamel) (1900-1972) Pilote au casque bleu - Est. 700 - 1 000 €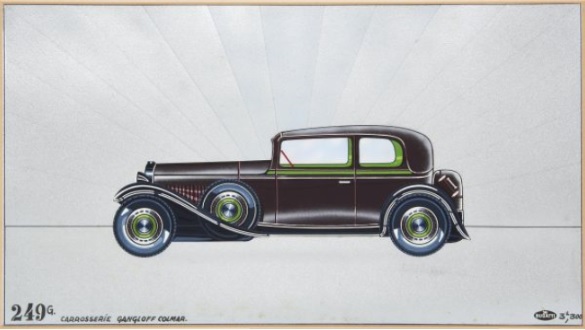 Lot 527 - GANGLOFF Bugatti 3,3L Limousine - Est. 400 - 600 €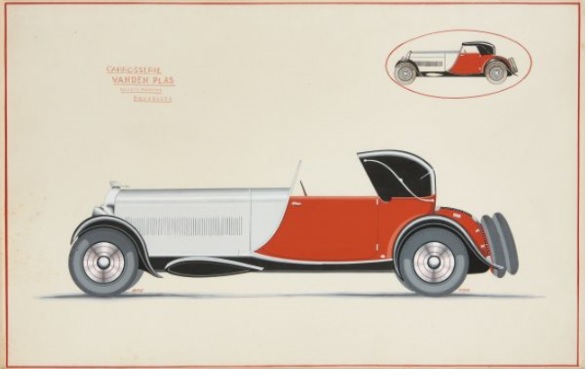 Lot 528 - Willy VAN DEN PLAS - Cabriolet transformable Bugatti - Est. 300 - 500 €
Lot 531 - Pierre DUMONT (1920-1987) - Bugatti Royale Double Berline décapotable 1928 - Est. 1 000 - 1 500 €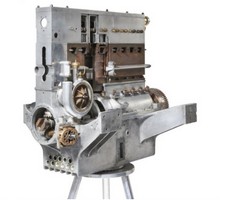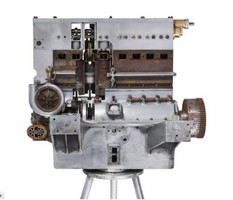 Lot 543 - BUGATTI Type 35 engine - sectioned - Est. 15 000 - 25 000 €
Lot 556 - BUGATTI Boyce - Est. 500 - 800 €
Lot 557 - JAEGER-BUGATTI Montre de bord, vers 1930 - Est. 500 - 800 €
Lot 558 - BUGATTI - Boyce et ampéremètre - Est. 700 - 1,000 €
Lot 559 - BUGATTI Enjoliveur - Est. 300 - 500 €
Lot 560 - BUGATTI Plaque émaillée - Est. 800 - 1,200 €
Lot 562 - BUGATTI Montre bracelet publicitaire - Est. 200 - 300 €
Lot 566 - Philippe LALAGÜE (né en 1955) Bugatti et Delahaye - Est. 200 - 300 €
Lot 570 - Philippe LOUZON (Né en 1956) - Bugatti Type 30 - Est. 1 000 - 1 500 €
Lot 572 - GERI - Bugatti Automobiles, Autorails Molsheim - Est. 600 - 800 €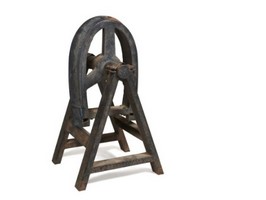 Lot 573 - PROVENANT PROBABLEMENT DES USINES BUGATTI - Matrice de radiateur et son support - Est. 4 000 - 6 000 €
Lot 574 - AGUILA-BUGATTI N°45469, circa 1930 - Chronographe bracelet - Est. 10 000 - 15 000 €
Lot 575 - BUGATTI - Le Pur-Sang de l'Automobile - catalogue de 1937 - Est. 300 - 500 €
Lot 576 - BUGATTI - Ettore Bugatti - Est. 400 - 600 €
Lot 577 - JEAN PERRET - BUGATTI - Montre bracelet - Est. 300 - 500 €
Lot 578 - BUGATTI - Montre de bord - Est. 300 - 500 €
Lot 579 - BUGATTI Pendulette de bureau publicitaire - Est. 300 - 500 €
Lot 580 - BUGATTI Radiateur publicitaire - Est. 500 - 800 €
Lot 581 - BUGATTI 55 ROADSTER (Children's car) Fabrication de La Chapelle - Est. 6,000 - 9,000 €
Lot 589 - EUREKA -BUGATTI Modèle sport 302 - Est. 1,500 - 2,500 €
---
February 26 - March 13, 2017 Bugatti Club Australia - Tour of Victoria Australia

The tour will start with a welcome dinner and night in a hotel overlooking one of Melbourne's iconic beaches on the evening of Sunday 26th of February 2017 prior to departing the next morning with 2 1/2 days touring the West Coast with a different exploration of the Great Ocean Road to the normal drive through. Two nights will be spent in accommodation high up on Beacon Point with fantastic views across the Road, the beach and the Southern Ocean toward Tasmania; this venue has a highly rated restaurant. The colourful native birdlife outside your window is fascinating and koalas and other native animals are usually seen. While in the area we plan a visit to the Otway Fly Tree Top Walk where you will walk through the tops and above giant native trees, and a special visit to Cape Otway Light House, one of Australia's most important, which has been operating since 1848 on the area known as the Ship Wreck Coast, where numerous ships had a tragic end in the mid-and late 1800s. On a recent run over the route for these two days, we saw 7 koalas including one with baby.

On the third day we will continue to follow the coast and then head inland through one of Australia's most recently active volcanoes, now the home to a group of emus and a few koalas, to spend 2 nights at the highly rated Royal Mail Hotel in the scenic Grampians area. Thursday will be a relaxing day with a gentle tour of this scenic area including visit to an historic winery and lunch at a very early homestead. We will then move to Ballarat to visit Sovereign Hill, a reproduction of a gold mining town from the early 1800's.

On the seventh day, Saturday, April 4, we will head North via a fascinating water driven flour mill built in 1862, a hilltop morning stop and lunch at an old sheep station homestead to the Murray River at Echuca where we will stay for two nights. On Sunday, our 1910 steam driven paddle steamer will pick us up to take is to lunch at a nearby winery. After leaving Echuca we will head for the hills; the Mount Hotham ski resort (although no snow at this time of year) and then on to Lakes Entrance in Gippsland for two nights. We will go by a different type of boat to lunch and a tour of the Gippsland Lakes.

On Thursday, we will transfer to the Inverloch Resort for the last 4 nights to have 3 days touring the beautiful areas of Southern Gippsland including Wilson's Promontory. This will be the annual Bugatti Club Australia three day rally. On Monday 13th of March, the Labour Day public holiday, we will return to Melbourne, with possibly an interesting Mornington Peninsula lunch venue on the way.

We expect the total distance driven in Victoria to be around 3,000 km.

We have received interest from Bugattists in countries as far afield as UK, France, Netherlands, Belgium, Luxembourg, Switzerland, Italy, USA, Japan and New Zealand with Bugattis including T 13, T 22, T 23, T 30, T 35, T 40, T 43, T 44, T 51, T 55 and T 57 with many of some of these models. (also for the rally below)
---
March 16 - 31, 2017 Bugatti Club Australia - Tour of Tasmania Australia

For a small island, Tasmania has an enormous amount to offer the visitor and I have been very surprised at the number of new venues to visit and exciting events since the Club was in Tasmania in 2008 whilst the amazing, World Heritage listed, National Parks remain in great condition. We have tried to pick the top places to cover in two weeks what people say takes six weeks to cover properly.

After three nights in Melbourne, we will catch the overnight ferry to Devonport on Thursday 16th of March, and on leaving the ferry at around 7 AM we will have an interesting breakfast on our way to 2 venues where Platypus and Sea Horses are cultivated. We will then have a typical Australian pub lunch on our way to Woolmers Estate, a very early (1840s) convict built Homestead and outbuildings which has hardly changed since it was built. We will then move to Launceston for the night.

On our second day in Tasmania we will head east to the coast for lunch on our way to Freycinet Peninsula where the next day will be free to explore this incredibly scenic area which includes Wineglass Bay (1 of the 10 top beaches in the world) and numerous walks through the National Park. We should then have plenty of oysters available at lunch and on our way south to the Port Arthur convict site where we will stay nearby for one night and have a tour of that site, hopefully a little more joyously than in its convict heyday.

Before leaving Port Arthur, on Tuesday morning we will have a speedboat eco cruise around of the Tasman Peninsula, which is not only great fun, but also is the best way to see a lot of the interesting coastline including some of the highest sea cliffs in the Southern Hemisphere. We will then travel via Australia's oldest road bridge, near one of the oldest towns, to Hobart for three nights. In Hobart we plan to visit Mona (Museum of Old and New Art) an amazing new building with some interesting and challenging "art", but there are so many interesting visits possible in Hobart, that we will have some spare time and some recommendations.

On the morning of the eighth day in Tasmania we will head west right across the island, and on the way visit "The Wall" a truly amazing sculptured wall of Huon Pine 3 m high and 100 m long completely carved by one man to show the history of the Tasmanian Central Highlands; we can also visit Lake St Clair, claimed to be Australia's deepest lake, in its World Heritage environment, and both of these near our lunch venue. That night we will reach Strahan where we again have two nights.

Our day in Strahan will offer a trip through beautiful, rugged heritage listed countryside to Queenstown on the amazing West Coast Wilderness Railway with its fascinating duplex ABT steam locomotives which were built around 1900 and which drive on the track and on a rack and pinion down the centre. After lunch we will view Macquarie Harbour and the Gordon River with its old convict settlement, natural forests, salmon cultivation and very treacherous entrance which wrecked many ships. The next morning, we will leave the East coast and head to beautiful and historic Stanley on the north coast for lunch, via several interesting possible visits on the way, and on to the new Tall Timbers Resort in Smithton.

On Monday, our 11th day in Tasmania, we will take the recently sealed road to Arthur River to take a cruise on the River to lunch; the heritage forests here are completely natural virgin and there has been no logging on this river. The next day we will go to a Whisky distillery for lunch (Tasmanian whisky's have recently been winning international awards) and visit an artists' workshop/gallery and a fascinating garden on our way to Cradle Mountain, where we will then have a free day to visit the Tasmanian Devil conservation park, walk around the lake and explore this World Heritage National Park.

On our final day in Tasmania, on our way to the ferry that evening, we will make a morning stop at "Tasmazia" – mazes and a shrunken village; befitting its address: Staverton Rd. Promised Land. We will then make our way to Clarendon House, said to be "the grandest colonial house in Tasmania" for lunch and a tour. Our final destination will be the overnight ferry arriving back in Melbourne early in the morning of Friday 31st of March.

The total distance driven touring Tasmania will be around 2,000 km.
---
---
Bugatti news: 2016 , 2015 , 2014 , 2013 , 2012 , 2011 , 2010 , 2009 , 2008 , 2007 , 2006 , 2005 , 2004 , 2003 , 2002 , 2001 , 2000 , 1999 , 1998 , 1997 , 1996
---
Back to the Bugatti Page